Terry G (Real Name: Gabriel Oche Amanyi, born March 17, 1986) is a popular Nigerian music artist and producer who has received critical acclaim for his unique brand and style of music. 
The singer has released some well-received albums and is described as the craziest Nigerian musician. With a net worth of $3.8 million, he can be regarded as one of the richest artists in the industry. His songs include Run Mad, Love affair, Sexy Lady, So High, etc. From a concise account of his biography, music career, and the facts thereof to details of his family life and wealth, here are the things to know about the Akpako Master.
Terry G Bio and Profile Summary
Full name: Gabriel Oche Amanyi
Stage name: Terry G
Date of birth: March 17, 1986
Age: 37 years old
Place of birth: Benue State
Education: Starfield Educational Centre in Lagos State
Occupation: Musician, Songwriter
Net worth: $3.8 million
Relationship status: Dating
Spouse: Mimi
Children: Prince Tee Rex
He was born into a Musically Inclined Family
Gabriel Oche Amanyi, professionally known as Terry G, was born on March 17, 1986, in Benue State, Nigeria. Born into a Christian home as the first of his parents' four children, Terry G grew up in Lagos, where he attended Starfield Educational Centre but could not further his education due to financial problems. He joined his local church choir at the encouragement of his mother, who is also a chorister at Redeemed Christian Church of God. It was there that Terry G developed an interest in music and learned the basics of music production.
Apart from the Run Mad crooner, two of his siblings are also into music. His younger brother, Daniel Eche Amanyi, goes by the stage name Drizzle D'money and is currently signed under his record label. Unlike his older brother, Daniel sings R&B. In an interview with BuzzNigeria, Gabriel revealed that he fully supports his brother's musical career and believes in him.
His younger sister, Glory, is a gospel singer and prefers to be called Glowrie on stage. She released two songs in less than two years and participated in Nigeria's most popular music competition, "The Voice 9ja." She made it to the semi-final stage in season two of the show on team Waje. Glory revealed in an interview that music obviously runs in her family. She added that she hardly spoke about her brother, Terry G, in public because she wants people to listen to her voice because of what she has to offer and not because of her brother.
Terry G's Crazy Dance and Party Rhythm Songs Made Him a Fan Favourite Among Nigerians
Terry G started his music career in 2006, and so far, he has released 4 albums: Free Me, Ginjah ur Swaggah Season 1, Terry Gzuz, and Book of Ginger. His fame grew in the late 2000s after he released the song Pass Me Your Love. His experiences in his church days were an added advantage and helped him grow through the music industry. He has produced several songs throughout his career as a singer.
Songs from his albums were well received by Nigerians, majorly due to their crazy dance and party rhythm. So far, Terry G has released up to 32 songs, including Phokus (2009), Lift Kit (2011), See Ya Face (2012), Brukutu (2014), Ferrari (2015), Oba Ogo (2016), and Troway (2017).
Meanwhile, he started as a gospel singer but later diverted to pop music due to a lack of financial security. The Ginjah master is currently signed to Black Wall Street and is the TCP Entertainment record label CEO. After what seems like ages, Terry G has revealed that he will be returning to the music industry with new and exciting content.
In an interview he granted to the BuzzNigeria crew, he stated that he had taken a break from music to give more attention to his other investments. According to him, He does not want to be like other Nigerian artists who are not concerned about investments but only focus on music. Besides music, the Akpako master is also an entrepreneur who owns a pure water factory. He declared his interest in politics in 2017 when he campaigned for governorship at his home state, Benue.
The singer, who has not been on screen for a long time now, said that he has been cooking something while on his break, and he is coming back with a fresh style. He also noted that there had not been any decrease in his number of fans despite the break. Below is a list of some of his hit songs and albums.
Albums
Free Me
Ginjah ur Swaggah Season 1
Terry Gzuz
Book of Ginger
Singles
So High
Run Mad
Phokus
Lift Kit
See Ya Face
Testing Microphone
Free Madness
Love affair
Sexy Lady
Oba Oga
Ora
Baby don't go
Furret
Omo Dada
Troway
Adura
Chimo
Koleto (Not Good Enough)
Collaborations
Timaya – Malonogede feat. Terry G
Terry G ft 9ice – Ori Mi
Terry G feat. Wizkid, Phyno, Runtown – Knack Am
Terry G feat. Skiibii – Adura
YungBilo (Martins Osodi) – Money Matter feats Terry G
Jaywon feats Terry G – Gbongbon
Terry G – Brukutu feats Awilo & Timaya
Terry G – Inspiration ft. Prettyboy D-O
Controversies Surrounding His Music Career
While his song lyrics stood him out as someone who court controversies, Terry G claims it doesn't reflect his real personality. However, he admits to being a victim of controversial issues. Speaking in an interview with Sunday Scoop, the artist said everything he's done in the past that made him controversial wasn't intentional.
Referring to the reports of his fighting and smoking in public, Terry G said he was young and did some regretful things in the past. Nonetheless, he hopes that Nigerians and his fans across the globe would someday understand that most of the crazy things he does are just for the art.
In a few other interviews, he revealed that controversies did not allow him to enjoy fame because he was criticized for almost everything he did. Ironically, those things are becoming the norm today, and people are celebrating them. He mentioned that he was greatly disliked for his kind of music, which he noted was intentional as a way of doing something different from the trend at that time. He also added that having piercings and smoking were other reasons people criticized him.
When asked about how people relate with him in church as the child of a deaconess, he revealed that people normally look at him somehow, but he believes that he goes to church for God and not for man. So he still attends church services whenever he can.
Terry G Has Accumulated a Net Worth of About $3.8 Million 
Terry G's net worth is estimated at $3.8 million, making him one of the Nigerian artists living the dream. While this is yet to be confirmed by the musician, his luxury lifestyle speaks volumes of his wealth. For all we know, he lives in one of the most expensive buildings in Lekki, Lagos, and is a proud owner of a Ferrari that cost about N40 million – the house and car were purchased following a 3-year deal with Black Wall Street.
Although the prominent musician is rich, he is not the richest among his contemporaries. Likewise, he is not the artist with the least net worth. Among the artists that came into the limelight around the same period with the Akpako master is Timaya, a River State-born musician that refers to himself as the "Plantain Boy."
Even though Timaya and Terry G are musicians from the same generation, the former has a net worth nearly three times the net worth of the latter. With a net worth of $10 million, the Plantain Boy is way richer than the Akpako master and is also one of the richest musicians in the industry.
Similarly, D'banj, another singer, who has stayed in the industry for a long time, and is almost in the same generation as singers Timaya and Terry G, has a net worth that dwarfs that of the other two singers. D'banj's net worth is estimated at $30.1 million. He makes his money through music and endorsement deals.
Comparing 9ice to the self-acclaimed Jesus of the industry, it is seen that 9ice is worth much less than his colleague. His net worth is estimated to be $1.7 million. There is a list of other musicians, which, when compared with Terry G, will reveal that he is doing very well for himself, even though he might not be the richest. He is also definitely not the poorest artist in Nigeria.
The Scoop on Terry G's Family Life 
Besides being in a serious relationship and a proud father to his son, Terry G seems very close to his mother. He shared a photo of his mother on her birthday in early 2018. The picture came with praises for the woman. He even urged fans to join him at his mother's school for the birthday celebration.
The singer has a son who is about nine years old. He welcomed his baby boy with his baby mama in 2012. One can tell that his love for his son is out of this world by the way he flaunts pictures of the kid on social media. He has also revealed his plans to give the boy the best he can for the sake of his future.
The boy, whose name is Prince Tee Rex, is a member of the Chelsea academy. According to his father, he would love for him to learn different skills to become a footballer. He also wanted to be a footballer, but he could not continue on this career path because the academy he wanted to join did not give the right training, according to his judgment. He said that he had gone to the Pepsi Academy to enroll, but they made him jog around the field for weeks. The singer finally gave up and left the academy.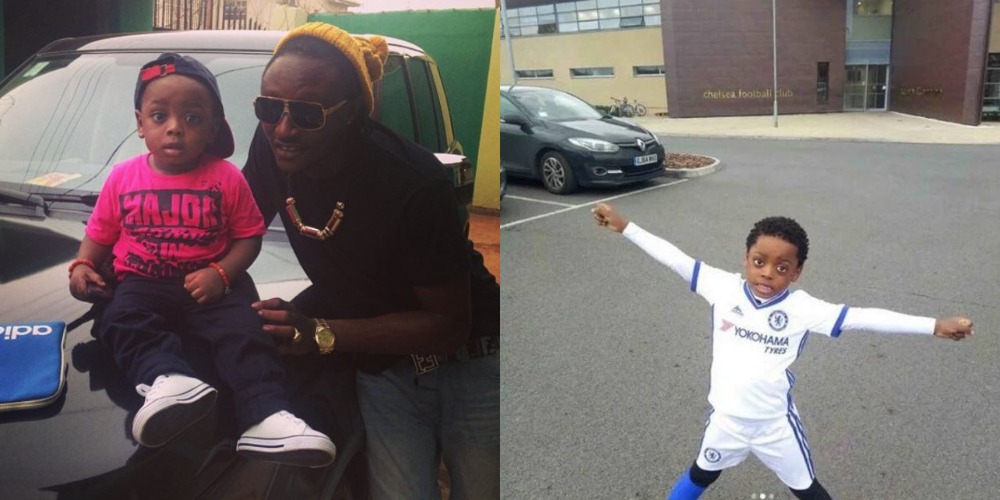 Apart from football, Prince Tee has been seen playing musical instruments, and when the celebrity dad was asked, he said that he wants to give his son as many opportunities as possible. He mentioned that although he would love his son to become a footballer, he cannot impose anything on him. Hence, it is his duty as a father to give his son all he needs to become great in life regardless of the career path he chooses.
He Doesn't want to Rush into Marriage
When asked about the mother of his son, the musician revealed that he does not want to rush into marriage and fail, thereby disappointing those who look up to him. Although he admitted that the lady identified as Mimi is his fiancée and they live together, he registered his displeasure about those who often asked about marriage without considering the possibility of a divorce. Besides, his baby mama lives with him and his son, which technically makes them married.
He further stressed in his interview that he does not know so much about marriage, and he does not want to go into it in a hurry and end up with regrets. In addition, he disclosed that his baby mama calls him by his real name, Gabriel. He mentioned that she is not a fan of his music because she is classy. Also, he said that she is his biggest critic and is not bothered that they are not married.
A few years back, he was seen in photos with an American lady whom people said was his new girlfriend and that he may ditch his baby mama and get married to her. However, he never said anything like that, and those were mere speculations as the radical singer is still unmarried to this day.
Other Facts To Know About Terry G
1. Terry G once admitted to using hard drugs and alcohol via his songs but later said he stopped in an interview in September 2014.
2. He is widely known for his eccentric dress sense, controversial lyrics, and weird identity.
3. His music genres include hip-hop and dancehall.
4. The Run Mad crooner earned the nicknames Akpako Master, Ginjah Master, and Hitman.
5. According to Terry G, The African Queen crooner, 2Face Idibia is his greatest music mentor.
6. It is also worth mentioning that the Akpako master shares the same birth date as his mother.
7. Terry G was one of Nigeria's celebrities who contested for a leadership position. He took to his Instagram page to announce his intention to become the governor of Benue State but failed to mention which party he belonged to.
8. He was involved in an accident with his black Range Rover in 2016, on his way back from a nightclub.
9. Terry G once disclosed that it was the prophecy of Pastor Enoch Adeboye at Redeem Camp in 1996 that changed his life for good. According to him, the renowned pastor laid his hands on him and prophesied; thus, his life changed totally.