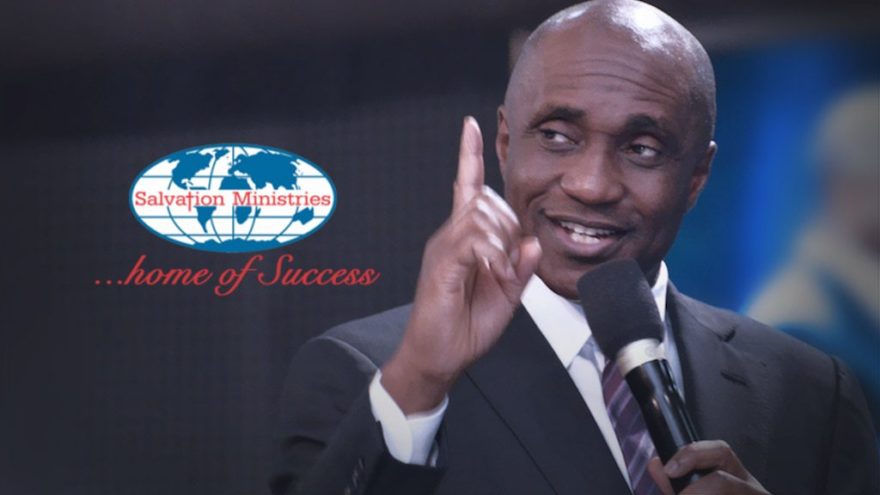 Salvation Ministries is a pentecostal church founded by Pastor David Ibiyeomie in 1997. With the headquarters  in Port Harcourt City, Nigeria, the church which had a humble beginning is now a mega church worth over N1.5 billion.
The story of Salvation Ministries (Home of Success) began when Pastor David Ibiyeomie, having completed his bible school training at Bishop David Oyedepo's Word of Faith Bible Institute, the Bible training arm of the Living Faith Church aka Winners'Chapel, started a house fellowship with his family at 1689B, Buraimo Kenku Street, Victoria Island, Lagos.
Also See: 15 Interesting Facts About  Gospel Artiste Nathaniel Bassey
He later located to Port Harcourt, Rivers State, and started Salvation Ministries (Glorious Chapel) on April 13, 1997, at Plot 35, Birabi Street, G.R.A. Phase 1, Port Harcourt with a little over twenty (20) persons in attendance including himself and his wife.
As a result of the ever surging crowd, the church relocated from its site at Plot 35, Birabi in July 1999, to Plot 17, Birabi Street  (its present place). The church, however, plans to relocate to her permanent site at Igwuruta, along International Airport Road, Port Harcourt.
The capacity of the cathedral is said will be amongst the largest in the world after completion with the state of the art and hi-tech facilities and is penned at N5 billion.
Today, Salvation Ministries is one of the fastest growing churches in Nigeria which has blossomed into over 50,000 adult regular worshippers at the headquarters alone aside its branches.
And by reason of the teeming population, the church runs five services every Sunday and two services on Thursdays in all their satellite churches also.
Also See: Steve Crown: Everything You Need To Know About The Gospel Artist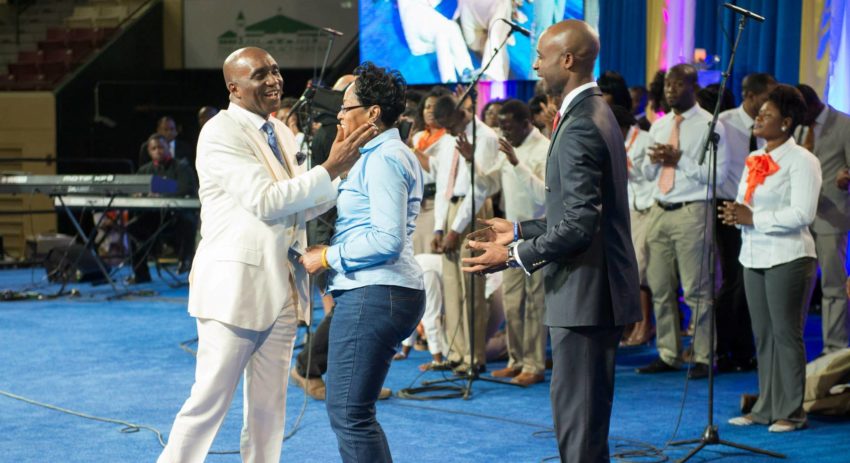 David Ibiyeomie
David Ibiyeomie was born in Bonny Island on October 21, 1962. His late parents were indigenes of Bolo Town in Ogu/Bolo Local Government Area of Rivers state.
He attended Banham Primary School, Port Harcourt, from 1969 to 1974 and  Government Comprehensive Secondary School from 1974 to 1979; after which he proceeded to  Rivers State University of Science and Technology, Port Harcourt, from 1980 to 1084.
He also an honorary doctorate degree holder in divinity from the Bradley University of America.
David Ibiyeomie became born again in 1995 and  discovered his divine calling in 1995.
He was mentored by Bishop David Oyedepo and attended the Word of Faith Bible Institute in 1996. In the course of his training, he was greatly influenced by Bishop Oyedepo's standards.
Pastor David Ibiyeomie, who is the founder and General Overseer of Salvation Ministries, is widely known as the Apostle of Prosperity and good health. He is arguably one of the biggest and richest pastor from the south-south part of the country.
As part of the divine vision received from God, Pastor David Ibiyeomie runs a virile television outreach named Hour of Salvation in several local stations which also cuts across the nations of the world like Daystar Television (U.S.A), KICC (London), GodTV, Inspiration International (U.K), and BenTV. WJYS (Chicago), MCTV (Chicago), ACBN amongst others.
Also See: Kemi Adeosun: Who Is Nigeria's Minister For Finance?
His television ministry is a multi-million naira project which gulps over N100 million annually.
Aside his Television Ministry, Pastor David Ibiyeomie has also authored several books. Some of his best sellers include:
The Power Of Vision
Walking In Divine Health
Six Steps To Multiplication,
Touch Of Excellence
See You At The Top
Wonder Of His Grace
Recovering Your Inheritance
Power Of Small Beginning
The Prosperous Family
Miracle Hands
Living Without Financial Pressure
Releasing Your Destiny
Created For Distinction
Unlimited Success
Wisdom For Family Peace
Secrets For Generational Impact
How To Get Married
The Pathway To Greatness
Succeeding With Challenges, among many others.
Pastor David Ibiyeomie also runs one of the most vibrant bible schools called Word of Life Bible Institute (WOLBI). It is a non–denominational Institute where the word of God is taught with the aim of equipping Christians with the knowledge to handle issues of life with results.
The school runs three (3) different programmes – Basic Certificate Course, Advanced Certificate Course, Diploma Certificate Course. Several people have passed through this Institute.
He also runs a multi-million naira philanthropic ministry, where he empowers the poor, widows, orphans, offers scholarships to indigents and housing for pastors. All his pastors (over 40) drive the same brand of jeep he drives and own houses.
Also See: 20 Things You Didn't Know About Helping Hands International (H2i)
David Ibiyeomie is happily married to Peace Ibiyeomie, who is also a pastor by calling and they are blessed with a son, David.