Pastor David Ibiyeomie is a Nigerian pastor, author, and television evangelist best known as the founder and presiding pastor of Salvation Ministries. With an estimated net worth of $41 million, he is listed among not just the richest pastors in Nigeria but on the African continent. 
Nigeria is a very diverse country made up of people from various ethnic groups. Generally, citizens of the country are very religious people, regardless of whether they are Christians or Muslims. On the Christian side, Nigeria has become the home of many popular and wealthy pastors. One of the richest among them is Pastor David Ibiyeomie.
He is the general overseer and founder of the Pentecostal church, Salvation Ministries. The very popular pastor began his church in 1997 and today, it is one of the fastest-growing ministries with over thirty branches in different parts of the world.
Profile Summary of Pastor David Ibiyeomie 
Full Name: David Ibiyeomie
Date of Birth: 21st October 1962
Age: 61 years old
Place of Birth: Bonny Island, Rivers State, Nigeria
Ethnicity: Ijaw
Nationality: Nigerian
Education: Rivers State University of Science and Technology, Port Harcourt, Nigeria
Occupation: Pastor, Televangelist
Marital Status: Married
Spouse: Peace Ibiyeomie
Net Worth: $41 million (est.)
Pastor David Ibiyeomie Hails From Bolo Town, Rivers State
Pastor David Ibiyeomie was born in Bonny Island, Rivers State on October 21, 1962. His late parents were indigenes of Bolo Town in Ogu/Bolo Local Government Area of Rivers State. Sadly, there are no details about members of his family or even his childhood except for the fact that his father worked for an oil exploration company in the area. David grew up in an average Christian home and he chose to follow that path as he grew older.
As per his education, he had all his schooling in Port Harcourt. He first attended Banham Primary School Port-Harcourt before he transferred to Government Comprehensive Secondary School, Borikiri. In 1980, he got admission to study Microbiology at the Rivers State University of Science and Technology, Port Harcourt.
He Started His Ministry In Lagos At The Age of 35
After his education, David gave his life to Christ and received the divine message from God to set up his own church. In order to equip himself for the ministerial journey, he enrolled himself for bible school training at Bishop David Oyedepo's Word of Faith Bible Institute (WOFBI), the Bible training arm of the Living Faith Church aka Winners' Chapel. The name salvation ministries came after he finished from the Bible school. Upon completion, he sought the permission and blessing of his spiritual father and mentor, Bishop David Oyedepo, to begin the mandate he has received from God.
After receiving blessings and being granted permission by his spiritual father, he started a house fellowship with his family at 1689B, Buraimo Kenku Street, Victoria Island, Lagos. David Ibiyeomie later relocated to Port Harcourt and started Salvation Ministries (Glorious Chapel) on April 13, 1997, at Plot 35, Birabi Street, G.R.A. Phase 1, Port Harcourt. He started the church with thirty-four members; 5 males, 10 females and 9 children in attendance including himself and his wife. Giving reasons for relocating his church to his home state, the minister said it is because he found that his father in the Lord, Bishop David Oyedepo, was already dominating the Lagos area.
Settling in Port Harcourt, the church continued to grow in size as attendees increased, prompting it to relocate again from its site at Plot 35, Birabi in July 1999, to Plot 17, Birabi Street.
Salvation Ministries Now Has Branches Across The World
Salvation Ministries officially began operating as a full ministry on April 13, 1997. Today, the Ministry has now become one of the fastest-growing churches in Nigeria with over 100,000 adult regular worshippers at the headquarters alone. The Ministry's Cathedral Site (Hand of God) at Igwuruta, Port Harcourt in Rivers State is listed among the largest auditoriums in the world. It cost roughly N5 billion to complete with state-of-the-art, hi-tech facilities.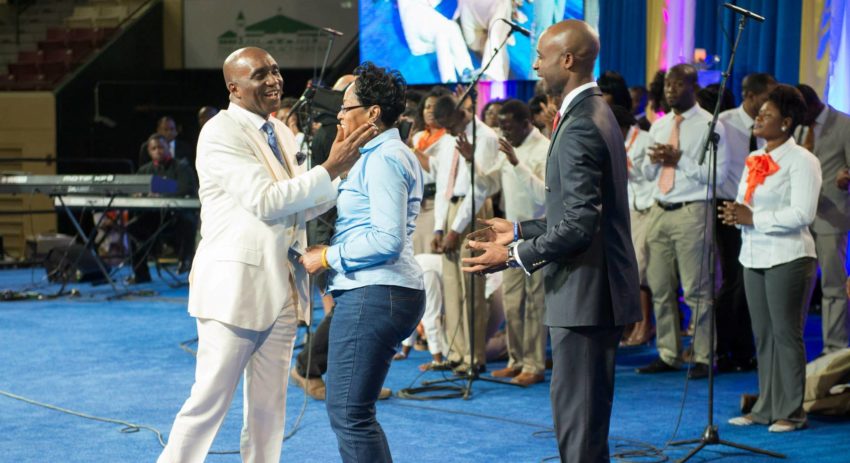 The mandate of the church is to spread the gospel around the world. To fulfill its course, the church is said to have planted over 1,000 satellite churches and over 20,000 home cell centers around the globe.
How Pastor Ibiyeomie Accrued His $41 Million Estimated Net Worth
The church business is a very lucrative business and Pastor David Ibiyeomie, like many other prominent pastors in the world, has devised many ways to accumulate wealth. They include public speaking, books, network TV shows – and of course offerings and tithes. These measures have indeed helped Ibiyeomie to accumulate so much wealth such that he is listed among the top five richest pastors in the world. Here is a breakdown of how David Ibiyeomie's net worth come about:
His Ministry
With over 26 years in the ministry, David Ibiyeomie now preaches to millions of worshipers around the world. While many get to see him every Sunday in church, a lot of other people tune in online to hear him speak.
On the 26th of January 2020, the church started Seven Services and all were interpreted simultaneously in both indigenous and foreign languages such as Igbo, Hausa, French, Spanish, Arabic, Portuguese, German, Russian, Chinese, Italian, and Dutch. The church presently has well over 1,000 pastors (full time and part-time) and many missionaries assisting in fulfilling Pastor David's God-given mandate. The minister also runs an annual program called '5 Night of Glory' which has metamorphosed into a global event.
As part of his divine vision, Pastor David Ibiyeomie runs a virile television outreach named Hour of Salvation on several local stations which also cuts across the nations of the world like Daystar Television (U.S.A), KICC (London), GodTV, Inspiration International (U.K), and BenTV. WJYS (Chicago), MCTV (Chicago), and ACBN amongst others.
With thousands of members in attendance at most of his programs, the church is believed to have accumulated so much in offerings, vows, and tithes. Even the pastor himself had in one of his programs, revealed that he once gave one million dollars as an offering during a Sunday service. His television ministry is a multi-million naira project which gulps over N100 million annually.
His Word of Life Bible Institute (WOLBI)
In addition to the numerous church programs hosted by the prominent man of God, he also runs a non-denominational institute where people preparing to become ministers are trained. The institute is similar to Oyedepo's WOFBI which he attended in his early ministerial career. It is a place where the word of God is taught with the aim of equipping Christians with the knowledge to handle issues of life with results.
Ibiyeomie's WOLBI, which was first launched on December 8th, 1997, runs three (3) different programs – Basic Certificate Course, Advanced Certificate Course, and Diploma Certificate Course. Peace Ibiyeomie, the pastor's wife, is said to have exquisite leadership of the institute that has trained thousands of people.
Apostle David Ibiyeomie's Books
Aside from his Television Ministry, Pastor David Ibiyeomie has also authored several books which sell on Amazon at an average price of $10. Some of his best sellers include:
God's Creative Force
Enjoying Marital Bliss
Keys to the top
The Master key
The Blessed family
God's medicine
Total Dominion
The Profitable Business
The power of praise
The Faithful Father
The Power Of Commitment
The Power Of Obedience
Wisdom For Creativity
The Force Vengeance
Supernatural Abundance
The Totality Of a Man
Positioning for Success
Courage to Posses Your Possession
Business secret
Unveiling the power John 3:1
Wisdom Quotes (vol 1)
Wisdom Quotes (vol 2)
The helper of the helpless
Miracle in Your mouth
The prayer that works
The power of Resurrection
Lasting exploits
Success Pilar's
Releasing Your Destiny
Walking in the Anointing
The Real you
How to fulfil Your destiny
Dealing with Habits
Holy Spirit my helper
Understanding Divine Protection
How to hear from God
Powers in the name of Jesus
The wonders of faith
Recovering your inheritance
How The Man of God Spends His Money
As arguably the biggest and richest pastor from the southern part of Nigeria, Pastor Ibiyeomie sure knows how best to spend and enjoy his wealth. He reportedly lives in a very luxurious home in Port Harcourt. The pastor owns another big property in Lagos where he shuffles for his ministry.
Pastor David is also popular for his philanthropic activities. He runs a multi-million naira philanthropic ministry through which he empowers the poor, widows, and orphans. The Man of God further offers scholarships to indigents and housing for pastors. All his pastors (over 50) reportedly drive the same brand of car he drives and each own houses.
Pastor David is further known to have contributed thousands of dollars to the University of Port Harcourt Teaching Hospital to renovate and buy modern equipment for its paediatrics section. He is lauded for sending relief material to people who have been affected by natural disasters and conflict in places like Jos, Bayelsa, Liberia, etc. Ibiyeomie gave international faith preacher, Dr Mike Murdock, 1 million dollars as an honorarium for coming to his church in Port Harcourt.
He Builds and Refurbishes Schools
On February 2, 2020, the pastor dedicated an A-level primary school named Home of Success Academy. The school, which is well furnished with all the basic amenities needed and a very conducive environment for learning, is located at number 100 Aggrey Road in the old Port Harcourt Township, Rivers State, Nigeria. The school, according to the minister, will cater to the primary-education needs of the populace, free of charge. To be enrolled in the academic institution, students are expected to pass the entrance examination of the school.
In addition to the aforementioned school, the prominent pastor and his family were recently lauded for their commitment to building and equipping Community Secondary School, Bolo which he handed over to the community. The Minister is widely known for his positive contribution to society and beyond. He was honored alongside other distinguished Niger Delta personalities like ex-President Goodluck Jonathan, and elder statesman; Chief Edwin Clark.
He Owns A Private Jet
The brand new jet which was apparently bought in 2020 came in about the same time David Ibiyeomie celebrated his fifty-fifth birthday. While celebrating his new addition, the pastor said he's overqualified to buy a jet because he once gave God a million dollars as an offering during a Sunday service.
His Car Collection
Added to many other luxury items in the apostle's magnificent home is a collection of luxury cars, the kind you would only find with the moguls. His fleet of cars mostly come as gifts from members and well-wishers around the world. In October 2021, Ibiyeomie revealed that Komaiya, the founder of The Master's Place International Church, bought him 12 cars in 12 months and offered him a wristwatch worth millions. His revelation about the car gifts came months after the minister revealed he gave out 56 cars in one month. Ibiyeomie's car collection includes luxury rides like:
Rolls Royce Phantom
Limousine
Range Rover
Controversies Involving Pastor David Ibiyeomie
Pastors in the calibre of Apostle David Ibiyeomie are not free from controversies. The minister, like many others of his kind, has been dragged for some controversial comments that mostly concerns the public.
1. His Alleged "Hate Speech" Against the People of Ogoni
In January 2017, Ibiyeomie was alleged to have made prejudiced comments against the Ogoni people, leading the Movement for the Survival of the Ogoni People to demand that he apologise. It was alleged that the minister had on January 16, 2017, during his 5 nights of glory crusade, describe the Ogoni people as the most wicked and cruel tribe in Nigeria and that with only N500, an Ogoni man could make somebody go mad.
Reacting to the alleged claims, the apex organization of the Ogoni People known as The Movement for the Survival of the Ogoni People (MOSOP) described the comments as a show of immense hatred for the Ogoni people and essence for organizing the crusade in a time when the country is making efforts to build national unity and integration.
2. His Alleged Affair with Nollywood Actress Iyabo Ojo
In March 2017, journalist Kemi Omololu-Olunloyo alleged that Ibiyeomie was having an affair with Nollywood actress Iyabo Ojo. Olunloyo was subsequently arrested and refused bail for defamation. However, she has been released. Ibiyeomie strongly denies the allegations.
3. His Alleged Threat To Kill Daddy Freeze
In September 2020, the Salvation Ministries pastor was dragged for allegedly threatening to kill Daddy Freeze, a Nigerian internet personality and radio show host, for criticizing Living Faith Pastor David Oyedepo. The video, which had Ibiyeomie repeatedly cursing Daddy Freeze by calling him a bastard, also has him threaten to kill him and tear him to pieces. The comments by the two popular figures had Nigerians taking sides with many criticizing the minister for his threats.