The Ooni of Ife (Ọọ̀ni of Ilè-Ifẹ̀) is the traditional leader of Ile-Ife which is a Nigerian town regarded as the place of origin of the Yoruba people.
Since Ife is known as the cradle of Yoruba, the town features the highest religious center of the Yoruba people. Seen as the highest ranked Oba or, even more, Ooni of Ife is seen as the natural chairman of the Council of Yoruban Chiefs.
History Of Ooni
The Ooni dynasties go back many decades ago. All the Ooni are linked back to Oduduwa who is regarded as the ancestral father of all the Yoruba people.
Ooni Oranmiyan, believed to have lived between 1200 and 1300 A.D, became honored for birthing new towns. One of his sons named Ajaka, became the first Alaafin of Oyo while another, Eweka, became the first Oba of Benin and another became Osile, of Oke-Ona Egba.
Ooni Lajamisan, who is another descendant of Oranmiyan is celebrated for opening a new history of Ife. The four actual Ruling Houses are named from Ooni Lafogido, Ooni Osinkola, Ooni Ogboru and Ooni Giesi. The first three were sons of Ooni.
The ruling Houses include; The Oshinkola House, Iremo (present) [as of 1957], the Giesi House, More, the Ogboru House, Ilare, the Lafogido House, Okerewe.
The Current Ooni of Ife
The recent Ooni is Adeyeye Enitan Ogunwusi Ojaja II, the 51st Ooni of Ife. He became the ruler after the 50th Ooni of Ife, Oba Okunade Sijuwade joined his ancestors.
Adeyeye is known as an astute entrepreneur driven by turning impossibilities to 'possibilities'. This is because he began to gather experience in outstanding entrepreneurship while still in school. He didn't stop there, he went further to garner professional certifications which included that of the Institute of Chartered Accountants of Nigeria.
Ooni of Ife's Bio
Adeyeye Enitan Ogunwusi was born on October 17, 1974, to his parents; Oluropo an experienced broadcaster, and Wuraola Ogunwusi of the Giesi Royal House in Ile Ife. The Ooni whose birth was said to have been predicted was named Enitan by his mother and Adeyeye by his grandfather.
He had his primary education Subuola Memorial Nursery and Primary School Ibadan, after which he attended Loyola College Ibadan and later went to St. Peters Secondary School for his secondary education. Adeyeye obtained a Higher National Diploma in Accountancy from The Polytechnic Ibadan where he had his tertiary education.
He is the third son of his parents' six children – he has three sisters. Adéyẹyè's family – Giesi- was one of the four royal families in Ilé-Ifẹ̀ whose turn it was to produce a king. Being a prince from the family, Adéyẹyè won several competitions including one with his elder brother.
Coronation
On October 26, 2015, Governor of Osun, Ogbeni Raufu Adesoji Aregbesola crowned Adéyẹyè a king-elect out of 21 competitors to the Ọọ̀ni stool.
He received his Staff of Office from the Governor on Monday 7 December 2015 at Enuwa Square, Ile-Ife in the presence of several dignitaries from all walks of life including the Vice President of Nigeria, Prof Yemi Osinbajo. The new king said one of his visions is to bring Yorùbás together under a peaceful and prosperous reign.
His reign has been marked by a good number of modern and progressive outlook and policies.
The last Ọọ̀ni produced by his family was Ọọ̀ni Dérin Ọlọ́gbẹ́nlá (1880-1894). Ọba Ògúnwùsì assumed the title of Òjájá (II). Ojaja (I) was from Agbedegbede Compound, Irẹmọ Quarters (the ancestral home of the Giesi).
Wife, Wedding
Ọba Ògúnwùsì became married to Adebukunola Bombata in 2008 but they separated in 2016. He took another wife named Wuraola Zynab Otiti, in March that same year.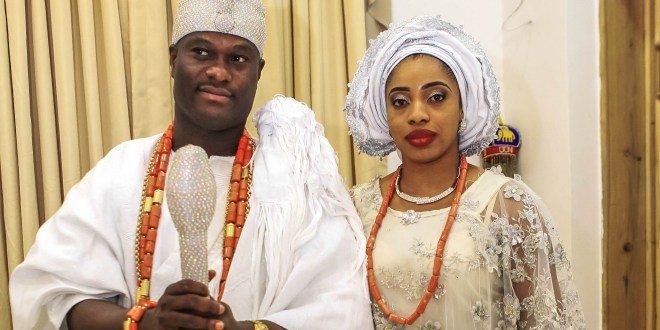 The marriage is believed to have been organized by the Oracle. The wedding took place in Benin City while the reception held in Ile-Ife.
However, in August 2017, information was rife that his marriage with Olori Wuraola had ended under vague circumstances. Following a slight uproar on social media, the now ex-wife of the Ooni came out to affirm that the marriage had indeed ended. Taking to her Instagram handle, she added that she had moved on with her life and would continue her work as a humanitarian.
See Also: Yoruba People, Tribe, Language, Religion, Culture, Women, Quick Facts
Net Worth, Rolls Royce, Fleet of Cars
Owing to his hierarchical prominence in the society, expect nothing average from a man of such reputable and prestigious personality.
It's unclear what his exact net worth is but the Ooni of Ife who is among the first class Obas in Nigeria who enjoys so much wealth amassed from his numerous entitlements and investments.
One of the richest kings in Nigeria, a businessman-turned-monarch, Oba Ogunwusi uses world's best luxury cars, which include a 2011 Rolls-Royce Phantom.
Facts
The Ooni of Ife, His Imperial Majesty, Oba Adeyeye Ogunwusi, is known as a man of class who knows the best thing to use for his position as a traditional ruler in Africa's most populous nation. His dressing style; carriage and choice of items all represent royalty in every sense of the word.