Prof. Yemi Osinbajo (born March 8, 1957; Age: 66 Years Old) is a Nigerian politician, lawyer, and professor best known as the 14th Vice President of Nigeria. He has a degree in law (LLB) from the University of Lagos and a Master of Law degree (LLM) from the London School of Economics.
When Professor Yemi Osinbajo was announced as Buhari's running mate in 2015, many Nigerians wondered how a man of such physical height would lead the country. Beyond physical appearances, the man is not just one of the notable lawyers in Nigeria, he is a Senior Advocate of Nigeria and a Senior Partner with SimmonsCooper Partners, a top-tier commercial law practice in Lagos.
Surprisingly, many Nigerians don't know much about their Vice President. We bring you fascinating facts you really need to know about Yemi Osinbajo.
Profile Summary Of Yemi Osinbajo
Full Name: Oluyemi Oluleke Osinbajo
Place of Birth: Lagos, Nigeria
Date of Birth: March 8, 1957
Age: 66 Years Old
Parents: Mr. & Mrs. Opeoluwa Osinbajo
Occupation: Lawyer, Pastor, Politician
Educational: University of Lagos (LLB), Nigerian Law School, London School of Economics (LLM)
Marital Status: Married
Wife: Dolapo Osinbajo (née Soyode)
Children: Kiki, Kanyinsola, Fiyinfoluwa Osinbajo
Political Party: All Progressives Congress
Yemi Osinbajo is a 66 Year Old Lagos Indigene
Born Oluyemi Oluleke Osinbajo on March 8, 1957, at Creek hospital in Lagos State, Nigeria, Yemi is the second of his parents' five children. His father is late Sir. Opeoluwa Osinbajo, a well-known engineer, while his mother is Olubisi Osinbajo, a teacher.
Yemi Osinbajo grew up with his siblings; older brother Femi and younger siblings named Tunde, Tolu, and Akin. Not much is known about his siblings except for Akinlolu (Akin) Osinbajo, an ex-attorney general and commissioner for justice in Ogun State who was in 2017 conferred with the prestigious title of Senior Advocate of Nigeria (SAN). Yemi and his brothers were raised in a Christian family and they all followed in that path with Yemi and Femi both being pastors.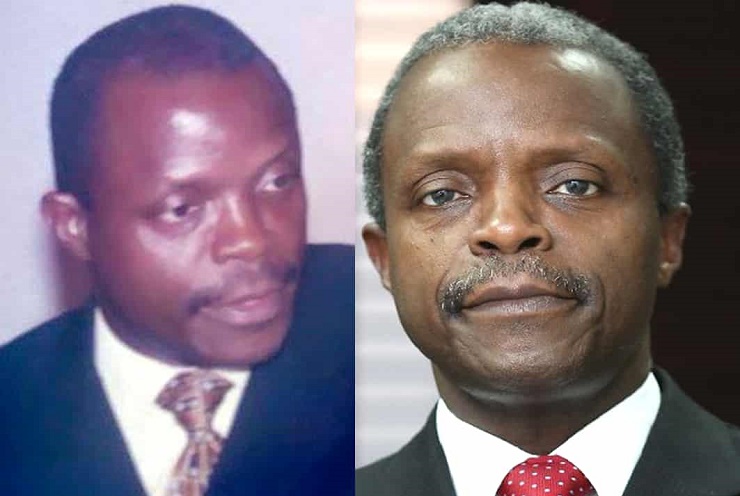 He Has a Master of Law Degree and Other Academic Awards
Yemi Osinbajo started his education at Corona primary School in Lagos before attending Igbobi College in Yaba for his secondary school education from 1969 to 1975. As a secondary school student, Yemi received numerous awards for his intelligence and academic prowess. These awards include:
State Merit Award (1971)
School Prize for English Oratory (1972)
Adeoba Prize for English Oratory (1972-1975)
Elias Prize for Best Performance in History (WASC, 1973)
School Prize for Literature (HSC, 1975)
African Statesman Intercollegiate Best Speaker's Prize (1974).
Despite his skills in mostly art-related courses, Yemi's father preferred that he study science so that he would become a doctor in the future. However, with the help of his college principal who tried to convince his father, Yemi was finally allowed to study law at the university. The young man would go on to gain admission to the University of Lagos to study law. He eventually graduated in 1978 with a second class (Upper) honors degree in Law. He was also awarded the Graham-Douglas Prize for Commercial Law.
After completing the one-year mandatory professional training at the Nigerian Law School from 1979 to 1980, and at the same time going through his one year mandatory youth service where he became the Bendel Development and Planning Authority Legal Officer, he left the shores of the country for the first time in 1980. He did so to attend the London School of Economics, London, England to obtain a Masters of Law degree.
Yemi Began His Career As A Lecturer At The Age Of 23
Yemi Osinbajo has tremendous oratorical skills. Many who know him often refer to him as a motivational speaker and erudite scholar. His career began almost immediately after his return to Nigeria. He gained his first professional job as a junior lecturer at his alma mater in 1981. He grew to the position of a senior lecturer by 1983. While he was busy progressing in his ranks as a lecturer, he also got himself busy with other law and non-legal pursuits.
Yemi became the Special Advisor to the Attorney-General of the Federation and Minister of Justice of the Federal Republic of Nigeria between 1988 to 1991. He later became a professor of Public Law and was appointed the Head of the Department of Public Law in 1997 at the University of Lagos where he held the position for 2 years (1997-1999).
In 1999, he was made the Attorney General and Commissioner for Justice of Lagos State under the administration of Bola Tinubu. Yemi Osinbajo held this position for 8 years, until the end of his tenure in 2007. That same year, he became a Senior Partner at Simmons Cooper Partners (Barristers and Solicitors), Nigeria –  a position he occupies till date.
From 2007 to 2013, Osinbajo was once again employed as a Professor of Law, Department of Public Law, Faculty of Law, University of Lagos. He also got employed as a Senior lecturer at Lagos State University.
Yemi was a member of the United Nations Secretary General's Committee of Experts on Conduct and Discipline, a United Nations organization for Peacekeeping around the world. He is currently an ethics advisor to the Ethics Committee of the African Development Bank and also the Chairman of the Board of Trustees of Redeemer's University. The vice president is also a co-founder and Board Member of Convention Business Integrity and the Justice Research Institute where he contributes massively to many publications and even wrote lots of books. As an orator and profound writer, Yemi has authored, edited, and contributed to many books relevant to his profession.
Books Authored / Edited by Yemi Osinbajo
"Integration of the African Continent Through Law" (Edward Foakes Publishers, 1989, vol. 7, Federal Ministry of Justice Law Review Series)
"Towards A Better Administration of Justice System in Nigeria" (Edward Foakes Publishers, 1989)
"Women and Children Under Nigerian Law" with (Awa Kalu Co. Ed.) FMJL Review Series
"The Unification and Reform of the Nigerian Criminal Law and Procedure Codes with (Awa Kalu Co. Ed.) – (Malthouse Press), 1990, FMJL Review Series
Law Development and Administration (Malthouse Press), 1990
Narcotics: Law and Policy in Nigeria, FMJL Review Series 1990
Nigerian Media Law, with (Prof. PK Fogam) GRAVITAS Publishers 1991
Perspectives on Human Rights in Nigeria with (Awa Kalu, Co.Ed) FMJL Review Series 1991
Democracy and the Law, FMJL Review Series, 1991 Perspectives on Corruption in Nigeria, FMJL Review Series 1992
Cases and Materials on Nigerian Law of Evidence, Macmillan, 1996
The Citizens Report Card on Local Governments (with Omayeli Omatsola) 1998
Economic, Social and Cultural Rights – A training Agenda for Nigeria (with Bankole Olubamise and Yinka Balogun,) Legal Research and Resource Development Centre, 1998
"Annotated Rules of the Superior Courts of Nigeria (with Ade Ipaye)" Lexis-Nexis Butterworths 2004
Cross-Examination: A Trial Lawyer's Most Potent Weapon (with Fola-Arthur Worrey) Lexis-Nexis Butterworths 2006
Yemi Osinbajo's Career As A Pastor
Yemi Osinbajo's decision to become a pastor shouldn't be so much a surprise especially to those who are aware of his strong Christian background. Even with his strong background in Christianity, Yemi only came in contact with his creator and became a born-again Christian after he became a professor of law. He made a decision to become a pastor in the Redeemed Christian church of God (RCCG) after coming in contact with Pastor Tony Rapu, the senior pastor of the Apapa parish of the Redeemed Christian Church of God. After attending an annual program organized by the Redeemed Church, Osinbajo settled within himself to serve God under Adeboye's ministration.
Ever since that day, Prof Yemi Osinbajo has risen through the hierarchy and finally became a pastor in charge of one of the most popular Redeemed Church parishes in Lagos. That was the beginning of his unrestricted encounters with the general overseer of the Redeemed Christian Church of God, Pastor Adeboye.
Before his inauguration into office as the Vice President of Nigeria, Yemi served as the resident pastor at the Olive Tree House of Prayer for All Nations, Banana Island, a parish of the Redeemed Christian Church Of God. He was also a close aid to the Church's General Overseer, Enoch Adeboye. He has at various times been Master of Ceremony at the church's Holy Ghost Convention and Congress usually held at its Camp Ground along the Lagos-Ibadan Expressway.
Despite his journey into politics, Yemi insists he is still the pastor-in-charge of the said province regardless of his position in the government. He said he is only giving himself as a loan to the political world. Even when he was appointed to be Buhari's political running mate, Pastor Yemi Osinbajo sought the consent of his wife and "Daddy" (Pastor Adeboye).
His Foray into Politics
While it is not clear when exactly Yemi Osinbajo first entered politics, it is a known fact that the professor and pastor learned so much about politics during his service year as Attorney General and Commissioner for Justice of Lagos State under Tinubu's Administration. Of course, his loyalty and commitment to Tinubu's tutelage helped him gain ground in the political hems of Lagos State. In 2013, he was tasked alongside other notable Nigerians to design the manifesto for the All Progressive Congress (APC). The manifesto culminated in the presentation of the 'Roadmap to a New Nigeria', a document published by APC as its manifesto in the 2015 general elections.
The highlights of the Roadmap included a free schools meal plan, a conditional cash transfer to the 5 million poorest Nigerians if they enroll their children in school and immunize them. There were also a number of programs designed to create economic opportunities for Nigeria's massive youth population.
Months later, Yemi Osinbajo was a made running mate to the party's presidential candidate, Muhammadu Buhari in 2014. Before his inauguration, he was a solicitor to the former Governor of the Central Bank of Nigeria, Alhaji Sanusi Lamido Sanusi, on the suits against the former President of the Federal Republic of Nigeria, Goodluck Ebele Jonathan.
He Became The 14th Vice President of Nigeria in May 2015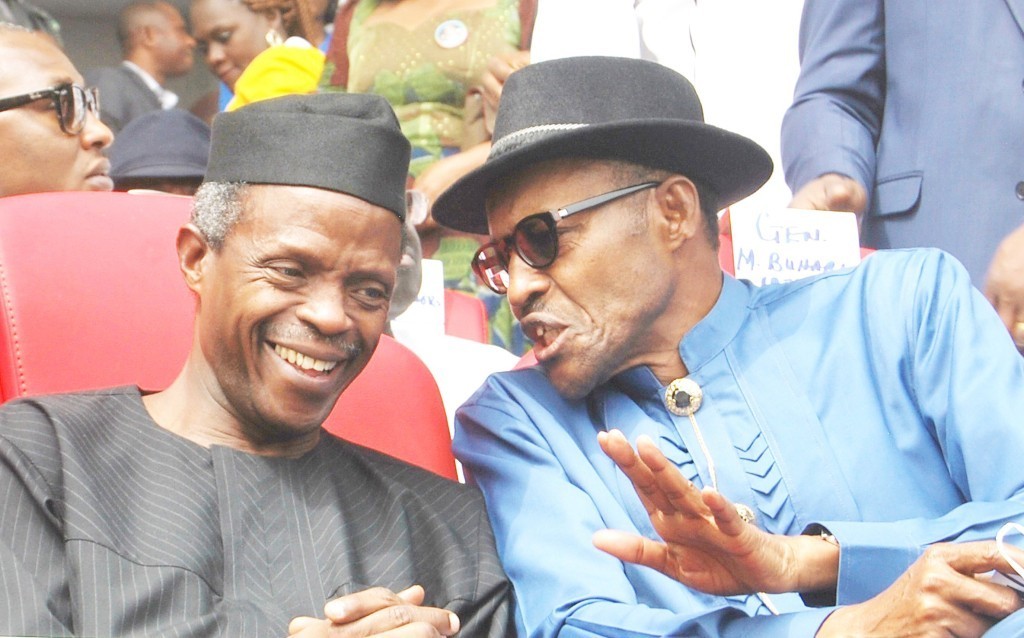 Osinbajo assumed office as the Vice President of Nigeria after taking the oath of office on 29 May 2015 at the Eagles Square, Abuja. As the Vice President of the Federal Republic of Nigeria, part of his responsibilities was to oversee the economic planning team and report as well as make recommendations to the president who takes the final decision. Because of his legal background and antecedents as a commissioner for justice in Lagos State, many expected that he will contribute a great deal to the much-needed reform of the judicial system at the national level.
Osinbajo also spearheads a number of projects aimed at making life a bit easier for people in a country where daily existence is hard. One of such projects is N-power – a special program aimed at unemployed university graduates, part of a broader Nigerian youth unemployment and development scheme. The program, created on 8 June 2016 and designed for Nigerian citizens between the ages of 18 and 35, has its main focus on addressing the challenge of youth unemployment by providing a structure for large-scale and relevant work skills acquisition and development while linking its core and outcomes to fixing inadequate public services and stimulating the larger economy. The program has received commendations for overseeing the employment of thousands of Nigerian youths who are unemployed.
Yemi Osinbajo was Acting President for 38 Days
Yemi Osinbajo has served as the acting president of Nigeria while President Buhari goes on medical leave. While his boss was away, the Osinbajo-led administration made some meaningful decisions that were highly applauded by Nigerians. Two of his major moves as an acting president from 7 May 2017 to 19 August 2017 were presiding over the Federal Executive Council meeting where he mandated the Presidential Task Force on Food Security to reduce prices of food items in the country. He also declared that the federal government would work with illegal refineries and help convert them to modular refineries. Other drastic moves he made that were highly applauded include:
Approving the sum of N21 billion for the construction of the Ilorin-Omu Aran-Kabba Road, Section I.
Awarded N126 billion road projects spread across Kano, Bauchi, Adamawa, Kwara, Gombe, Enugu and Kaduna States
Ordered an immediate overhaul of SARS after a public outcry by Nigerians over extrajudicial killings carried out by the police unit.
Visited Yenagoa, the Bayelsa state capital, in continuation of his interactive engagements with oil-producing communities in the Niger Delta region.
Ordered all Service Chiefs to relocate to Maiduguri, Borno.
Signed the Executive order of Ease of Doing Business.
Presided over the first National Economic Council meeting of the year and directed the CBN to review the foreign exchange policy
Signed seven bills into law: Oaths (Amendment) Act 2017; Defence Space Administration Act 2017; Veterinary Surgeons (Amendment) Act 2017; and others.
Through his actions within a short period of time, Professor Yemi Osinbajo was considered by many Nigerians as the special kind of leader the country needed. Someone who takes swift action whenever there is malfeasance.
In addition to the awards received during his academic years, Yemi Osinbajo was on May 28, 2015, conferred the Grand Commander of the Order of the Niger, by the then-president Goodluck Jonathan.