When Professor Yemi Osinbajo was announced as Buhari's running mate in 2015, many Nigerians wondered how a person with such petite figure would be the country's Vice President.
Beyond physical appearances, the man called Osinbajo is not just one of the notable lawyers in Nigeria, he is a Senior Advocate of Nigeria and a Senior Partner with SimmonsCooper Partners, a commercial law practice.
Surprisingly, many Nigerians don't know much about Yemi Osinbajo. We bring you fascinating facts you really need to know about Yemi.
See Also: 10 Fascinating Facts You Must Know About General Muhammadu Buhari
Yemi Osibanjo Biography
Born Oluyemi Oluleke Osinbajo on March 8, 1957, in Lagos State, Nigeria, Yemi was born into the family of late Sir. Opeoluwa Osinbajo family. He had his basic and secondary education in Lagos and graduated from the University of Lagos where he studied Law and obtained his LL.B. He was called to the bar in the year 1979 and he gained his LLM in 1980 from the London School of Economics.
Early Career
Yemi has a tremendous oratorical skill. Many who love him often refer to him as a motivational speaker and erudite scholar.
Yemi was the Special Advisor to the Attorney-General of the Federation and Minister of Justice of the Federal Republic of Nigeria Between 1988 to 1991, he later became a professor of Public law. He was appointed the Head of Department of Public Law in 1997 at the University of Lagos where he held the position for 2 years (1997-1999). In 1999, he was made the Attorney General and Commissioner for Justice of Lagos State under the administration of Senator Bola Tinubu immediately after his tenure. Yemi Osinbajo held this position for 8 years, until the end of his tenure in 2007.
Yemi was a Member of the United Nation's Secretary General's Committee of Experts on Conduct and Discipline, a United Nations organisation for Peacekeeping around the world. He is also a Co-founder and Board Member: Convention Business Integrity and the Justice Research Institute and has written a good number of books which include; The Unification and Reform of the Nigerian Criminal Law and Procedure Codes" ; "Law Development and Administration"; "The Annotated Civil Procedure rules of The Superior Courts in Nigeria"; and "Cross-Examination: A Trial Lawyer's Most Potent Weapon". In addition to this, Yemi and his wife Dolapo Osinbajo birthed a non-governmental organisation known as "The Ordinary Society's Trust" in 2007 which tends to improve Christian practices and organisation.
Prof. Yemi Osinbajo is also a profound writer. He has written and co-authored (and edited) several books and publications. Some of his books and publications are: "The Unification and Reform of the Nigerian Criminal Law and Procedure Codes"; "Law Development and Administration"; "The Annotated Civil Procedure rules of The Superior Courts in Nigeria"; and "Cross-Examination: A Trial Lawyer's Most Potent Weapon".
Career As a Pastor
Before his inauguration into office as the Vice President of Nigeria, Yemi served as the resident pastor at the Olive Tree House of Prayer for All Nations, Banana Island, a parish of the Redeemed Christian Church Of God. He was also a close aid to the Church's General Overseer, Enoch Adeboye. He has at various times been Master of Ceremony at the church's Holy Ghost Convention and Congress usually held at its Camp Ground along Lagos-Ibadan Expressway.
Yemi is currently an ethics Advisor to the Ethics Committee of the African Development Bank and also the Chairman, Board of Trustees of Redeemer's University. Despite his journey into politics, Yemi insists he is still the pastor-in-charge of the said province regardless of his position in the government. He said he is only giving himself as a loan to the political world.
See Also: 10 Absorbing Facts You Didn't Know About Atiku Abubakar
Political Career
Osinbajo began the Lagos State justice reform project, which gives free legal services and legal representations to Lagos state's habitats who are less-privileged and can't afford to pay for legal services. He was also a Senior Advocate of Nigeria (SAN) and a non-executive Director of Citibank and on 17 December 2014, he was picked as the All Progressive Congress running mate of General Buhari for 2015 presidential election. Before his inauguration, he was a solicitor to the former Governor of the Central Bank of Nigeria, Alhaji Sanusi Lamido Sanusi on the suits against the former President of the Federal Republic of Nigeria, Goodluck Ebele Jonathan.
Osinbajo assumed office as the Vice President of Nigeria after taking the oath of office on 29 May 2015 at the Eagle Square, Abuja. He was among the notable Nigerians who designed and produced a manifesto for the All Progressives Congress (APC) when it was formed in 2013. He also joined in drafting the manifesto that offered free school meals to 25 million poorest Nigerians who are enrolled in public schools.
Former President Goodluck Jonathan conferred on Osinbajo the Grand Commander of the Order of the Niger on May 28, 2015. Following President Mohammadu Buhari's declaration on May 9, 2017, Yemi Osinbajo became the acting president during president Buhari's medical leave.
Net Worth
Yemi Osinbajo is among the top richest people in Nigeria and Africa. During his public declaration of assets in 2015, he declared that he has about N94 million and $900,000 in his bank accounts. He also has a two-bedroom flat at the popular Redemption Camp along Lagos-Ibadan Expressway and a two-bedroom mortgaged property in Bedford, England.
In a recent comment, he revealed that he earns a monthly income of N1.5 million as Vice President and according to him, the salary is poor when compared to the office he holds.
Yemi Wife, Children
Yemi Osinbajo lives with his wife Dolapo Osinbajo, who is a grandchild of the late sage, Chief Obafemi Awolowo. She was born on July 15, 1967, and she is a foremost writer-cum-philanthropist. You are right to call him a bonafide Lagosian with a huge vision.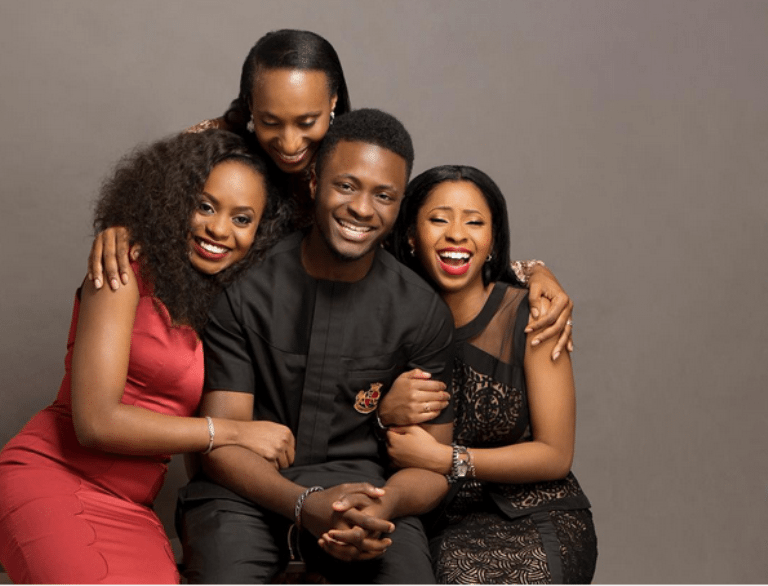 The couple hey got married on the 25th of November, 1989 and has three children- two daughters, Kiki and Kanyinsola, and a son Fiyinfoluwa Osinbajo. Despite his load of work schedule, Osinbajo he never misses the opportunity to spend time with his family.
 Quick Facts About Yemi Osinbajo
FULL NAME: Oluyemi Oluleke "Yemi" Osinbajo
PLACE OF BIRTH: Creek Hospital, Lagos
DATE OF BIRTH: March 8, 1957
PARENTS: Mr & Mrs Opeoluwa Osinbajo
OCCUPATION: Politician, Lawyer and Pastor
EDUCATION: University of Lagos, Nigerian Law School, London School of Economics
MARITAL STATUS: Married to Dolapo (née Soyode) Osinbajo
CHILDREN: Kiki, Kanyinsola, Fiyinfoluwa Osinbajo
NET WORTH: N94 million and $900,000
POLITICAL PARTY: All Progressives Congress
ASSUMED OFFICE: 29 May 2015