Olusegun Obasanjo (born March 5, 1937; Age: 86 years old) is a former Nigerian military officer who twice served in the country's highest office as Head of State (February 1976 to October 1979) and President (May 1999 to May 2007).
As a military ruler, Obasanjo oversaw various reforms in the Nigerian government before handing over power to a newly elected civilian government. He further played key roles that saw to the end of different conflicts across Africa while encouraging cooperation across the continent.
Many years later, after having spent time in prison while Nigeria was under the military dictatorship of various military officers, Obasanjo entered electoral politics and became president. He served two four-year terms before moving into life in diplomacy. Today, the 86-year-old statesman remains a key figure in Nigerian politics.
Olusegun Obasanjo Bio and Profile Summary
Full Name:

Olusegun Matthew Okikiola Aremu Obasanjo

Date of Birth: 5 March 1937
Age: 86
Place of Birth:

Ibogun-Olaogun, Ifo, Ogun State (formerly Ibogun-Olaogun, Western Region, British Nigeria)

Nationality:

Nigerian

Ethnicity:

Yoruba

State of Origin:

Ogun State

Occupation:

Politician, Businessman

Years of service:

1958-2007

Net Worth:

$4 billion

Marital Status:

Married (Polygamist)

Spouses:

Bola Alice,

Esther Oluremi (ex-wife), Lynda (deceased), Mojisola Adekunle (deceased), Stella Abebe (deceased).
Children: Iyabo, Adeboye, Gbenga, Dare, Olubumi, Damilola, Seun, Olujonwo, Kofo, Funso, Toyosi, Bukola, Busayo, Bisoye, Funke, Segun, Bola, Dayo, Olu and Kunle.
Obasanjo is an Indigene of Ogun State
It has never been a hidden fact where the former president of Nigeria originally hails from. Olusegun Obasanjo is of Yoruba ethnicity and was born in the village of Ibogun-Olaogun, present-day Ogun State in the western region of the country.
Topics about Obasanjo's real age and his date of birth has remained controversial especially as the elder statesman has confirmed not knowing his actual date of birth because his parents could not recall these dates and that his late mother merely told him she gave birth to him on a market day. Being unable to say or celebrate his date of birth was a huge challenge for a young Obasanjo who had to answer questions regarding it from his peers. To resolve the issue, he chose a date for himself using the ages of his agemates. Hence, March 5 1937 became his birth date. Using this data, Obasanjo's current age is 86.
The first of nine children born to his parents, Olusegun was raised in a Christian home in Owo, Abeokuta. Sadly, of the nine kids born to Olusegun Obasanjo's parents, only he and his younger sister, Adunni Oluwole Obasanjo, survived childhood. His family attended Babtist church which happens to be the only church in his hometown. However, growing up in a community with various other regions, Olusegun was exposed to other religions, like Islam. Even his sister would later get married to a Muslim faithful thereby converting to Islam.
Obasanjo's father,  Amos Adigun Obaluayesanjo "Obasanjo" Bankole, and his mother Bernice Ashabi Bankole were well-known farmers and all the children, including him, were raised to follow in the profession for a living. Olusegun worked with his parents on their family farm until he attained the age of 11 when he was then enrolled to begin his primary education.
Obasanjo Is Very Well Educated
Olusegun Obasanjo is very educated even though he did not begin his academic journey early. He started his primary education at the age of eleven and was only able to achieve his academic successes in bits. Beginning with Baptist Day school in Owu, where he gained three years of basic education, Obasanjo enrolled at Baptist Boys' High School for his secondary education. His academic years at the high school lasted for four years (1952 to 1956) and all through these years, he did quite well. He was even a keen member of the local Boy Scouts. However, his poor family background made him work harder to raise capital for his tuition fee.
Obasanjo worked on cocoa and kola farms, fished, collected firewood, and sold sand to builders just to see himself through school. He even had to borrow money just so he could take his secondary school exams. Leaving high school, he moved to Ibadan, where he took a teaching job. There, he sat the entrance exam for University College Ibadan. Obasanjo passed the exams but could not attend school due to his low financial circumstances. Instead, he answered an advert for officer cadet training in the Nigerian Army in 1958. Later the same year, he was enrolled for a six months programme at Mons Officer Cadet School in Aldershot, southern England.
There, he received a commission and a certificate in engineering. While fulfilling his mandate in the Nigerian military, Olusegun Obasanjo was also busy fulfilling his dreams of attaining academic success. He seized every opportunity of his service to gain all the necessary education he needed for his future advancement and many years later, he was able to fulfil his dream of going to university and even obtaining a PhD certificate for all his troubles. The former president earned a PhD in Theology from the National Open University of Nigeria.
Highlights of Olusegun Obasanjo's Educational History
Baptist Day School, Owu, Abeokuta, Nigeria
Baptist Boys' High School, Owu, Abeokuta, Nigeria
Mons Officers' Cadet School, Aldershot, England
Royal College of Military Engineering, Chatham, England
School of Survey, Newbury, England
Defence Services Staff College, Wellington, India
Army School of Engineering, Poona, India
Royal Defence Studies, London, England
National Open University of Nigeria (PhD)
Obasanjo's Success and Achievements in the Military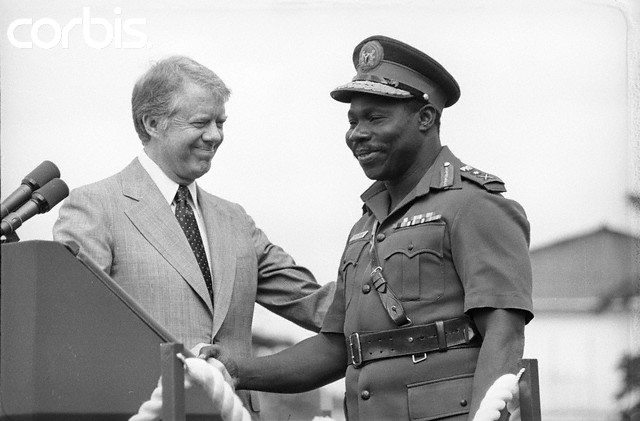 Olusegun Obasanjo's achievements in the Nigerian military cannot be overemphasized. He was largely described as one with so much ambition and desire to achieve success and through hard work, he was able to make a huge impact in the Nigerian military.
At the age of 20 in 1958, he enlisted in the Nigerian Army and was sent to Mons Officer Cadet School in Aldershot, England for a six months Short Service Commission training. At 25, he was promoted to the rank of a captain and by the age of 27, in 1965, he had progressed to the rank of a major heading the Engineering Unit of the Nigerian Army. With his earnings, he was able to buy landed properties in Ibadan, Kaduna, and Lagos.
At the age of 31, during the Nigerian civil war in 1969, he took over command of the 3rd Marine Command from Colonel Benjamin Adekunle and immediately launched "Operation Tail Wind," which helped to bring the civil war to a quick end with the Biafran forces accepting to surrender in 1970. Obasanjo's role in ending the war made him a war hero and a nationally known figure in Nigeria.
Olusegun Obasanjo was 37 years old when he was appointed to become the second-in-command to Brigadier Murtala Muhammed as the Chief of Staff, Supreme Headquarters in the following year after the coup of July 29, 1975. He was age 38 when he stepped into Muhammed's shoes after the latter was assassinated in a military coup on February 13, 1976. As the new head of state, he formed the Nigerian National Petroleum Corporation (NNPC), organized the second World Black and African Festival of Arts and Culture (FESTAC '77), introduced the controversial Land Use Decree, introduced the N20 currency note in honour of his friend and predecessor, the Late General Murtala Muhammed, and confirmed the movement of the Federal Capital from Lagos to Abuja in accordance with the Murtala-Obasanjo policy programme, among many other achievements.
Before leaving office, in April 1979, Obasanjo promoted himself to the role of general. On 1st October 1979, Obasanjo handed power to Shehu Shagari, a democratically elected civilian president, hence becoming the first military head of state to transfer power peacefully to a civilian regime in Nigeria. All through his tenure in office, he eagerly established Nigeria as a prominent leader in Africa and under his tenure, the country's influence in the continent increased.
Olusegun Obasanjo's Political Career as Civilian President
Twenty years after he relinquished power to civilian rule, Obasanjo returned to the Nigerian political system and with the formation of new political parties across the country, he joined the Peoples Democratic Party (PDP) and became the party's candidate for the presidential seat. The former military head of state would go ahead to emerge as President of the Federal Republic of Nigeria after the 1999 elections.
The Olusegun Obasanjo administration was marked for its series of anti-corruption and transparency initiatives. The president was also lauded for introducing universal basic education, implementing significant banking reforms, and liberalizing several industrial sectors. He initiated and executed projects that positively impacted the lives of Nigerians irrespective of their status.
Obasanjo's excellent performance in his first tenure in office inspired people's choice for his return for a second tenure in 2003. Although the election was marred by violent ethnic and religious overtones, he still emerged as the winner of the election defeating his opponent, General Muhammadu Buhari, with more than 11 million votes.
In sum, Obasanjo's first term in office essentially centered on ensuring political stability and providing the platform to tackle Nigeria's economic challenges. His second term in office as a civilian president saw him address the economic challenges of the nation through the various reforms he introduced.
Highlights of Obasanjo's Achievement As A Civilian President
The renegotiation and eventual settlement of Nigerian debts
Consolidation of the banking industry
The institutionalization of transparency in the financial sector
Opening up of the telecommunication industry
Anti-corruption campaign/recovery of loots from national treasury from past and serving government functionaries
Liberalization of the education sector and the opening up of space for private sector participation and investment in tertiary education.
The space technology program – the launch of two satellites, SAT 3 and NICOMSAT
Creation of the Niger Delta Development Commission
Forming National Poverty Eradication Programmes
Universal Basic Education, etc
Awards and Honours Received by Olusegun Obasanjo
After 2008, Olusegun Obasanjo was appointed by the United Nations as a special envoy for Africa. He has since overseen democratic elections on behalf of the African Union and ECOWAS in countries across the continent.
Obasanjo is a member of the Africa Progress Panel (APP), an independent authority on Africa launched in April 2007 to focus world leaders' attention on delivering their commitments to the continent. The Panel launched a major report in London on Monday, June 16, 2008, entitled Africa's Development: Promises and Prospects. He is also a member of Club de Madrid, an independent non-profit organization created to promote democracy and change in the international community. Its members are over 100 former democratically elected Presidents and Prime Ministers from more than 60 countries.
Complete List of Olusegun Obasanjo's Awards and Recognitions
1981-87, Member, UNESCO Commission for Peace in the Minds of Men
1983-89 Member, Independent Commission on Disarmament and Security (the Olaf Palme Commission)
1983, Member WHO Committee of experts on the Effects of Nuclear Weapon
1986, Co-Chairman, Commonwealth Eminent Persons Group on South Africa
1986, Member, United Nations Panel on Eminent Person on the Relationship between Disarmament and Development
1987-93, Director, Better World Society, Washington D.C.
1988-89, Founder and Chairman, African Leadership Forum and Chairman, Board of Directors, African Leadership Foundation Inc. New York
1988 (May), Chairman, Hearing on Namibia, the World Council of Churches, Washington D.C
1988-99, Special Adviser to the International Institute of Tropical Agriculture, Ibadan
1989, Honorary Member, Committee on the United Nations Population Award
1989, Member, Independent Group on Financial Development for Developing Countries (the Schmidt Commission)
1989 Member, Advisory Council, Parliamentarian Global Action
1989-99, Chairman, Advisory Council, Transparency International (TI)
1990, Member, Advisory Council, the Institute for Global Ethics
Member, Board of Trustees, African American institute
1991-93, Publisher, African Forum Quarterly
1991, Member, Eminent Persons Council, International Negotiations Network, the Carter Centre of Emory University, Atlanta
1991, Member, Council of Advisers, The World Food Price, Des Monies Lowa
1992, Member, Advisory Group on United Nations Financing (Ford Foundation)
1993-95, Member, United Nations Secretary General's Advisory Panel on Africa
1994 – Official Observer of the Elections in Mozambique at the invitation of the Government of Mozambique
1994-99 Member, Advisory Council, Carnegie Commission on Preventing Deadly Conflicts
1995-99, UNDP Human Development Ambassador
Proprietor and chief Promoter, Bells University of Technology, Ota.
These and many others have helped to raise the stature of President Obasanjo above that of any other living Nigerian. In 1992, he was even in the race for the position of Secretary-General of the United Nations.
Controversies Involving Olusegun Obasanjo
One main controversy that involved Olusegun Obasanjo was that he was accused of being responsible for political repression. In one particular instance, during his reign as military head of state, the compound of legendary musician and political activist Fela Kuti was raided and burned to the ground after a member of his commune was involved in an altercation with military personnel. Fela and his family were beaten and raped and his mother, political activist Funmilayo Ransome Kuti, was killed after she was thrown from a window. Her coffin was carried to Obasanjo's barracks as a protest against political repression.
During his reign as a democratically elected president, Obasanjo was also embroiled in other controversies that include human rights abuses and corruption. One major had to do with his plan to modify the constitution so he could serve a third, four-year term as president. This led to media uproar in Nigeria. The proposed bill was not ratified by the National Assembly and consequently, President Olusegun Obasanjo stepped down after the April 2007 general election.