Most people love their natural hair, yet, can't do without artificial extension. You will certainly agree that there is something so fascinating about being natural. Though we are all created with certain unique attributes, it is amazing how beautiful one can look with just one's natural hair. No more spending a lot of money on artificial hairstyles, nature has already bestowed upon us what we need. It doesn't even matter if your natural hair is short as there are natural hairstyles for short and long hair.
To effectively rock your natural hair, extra care and attention are required. You can't afford to neglect it as you do with artificial ones. Also, moisture is very important with natural hair, and be sure to have good natural conditioners. There are many DIY (Do It Yourself) videos out there on how to make yours. Common ingredients required to make good-conditioned natural hair include virgin olive oil, banana, coconut oil, lavender oil, plain Greek yoghurt, honey, and egg whites. Having well-moisturized hair would keep it from breakage – a nightmare every lady aims to avoid.
Beautiful Natural Hairstyles with Pictures and Videos
Here are 20 beautiful natural hairstyles. In this photo gallery, We'll give you examples of great natural hairstyles for round faces, long faces, diamond faces, and heart faces. The styles include short and long ones for all hair textures.
1. High Puff with Head Wrap
This kind of natural hairstyle packing is regarded as a perfect lazy day hairstyle. Are you feeling too lazy to pack your hair, have no time for it, or lost clues of any style today? Here, you've got a way out. Pack all the hair towards the top of your head and cover your hairline with a scarf. Try this out and see how chic and cute you will look even without any hassle.
2. Perm Rod Set
Do you want voluminous curls but don't have a curling iron? This is the perfect style for you. In order to achieve a bouncy look, ensure that your hair is completely dry before you start unravelling it.
3. Undercut Cornrows
Undercut cornrow works great for preserving a twist for a long time. Also, if you want to add some edge in order to switch up your look, you can go for this deep side part fixed with laid cornrows.
4. Crown Braids
If you know how to do French braids with some bobby pins, then this style is for you. You will look like a queen in a crown braid.
5. Afro Updo
This is a celebrity hairstyle that is perfect for 4c hair. To protect and maintain this style, especially when sleeping, loosely tie a scarf or use a hair bonnet.
6. Low/high Puff
This is another one of the easy natural hairstyles you can go for. A low or high puff gives you a classy and chic look without a lot of work.
7. Striking Mohawk
Striking mohawk perfectly shows off your facial features and expressions. It is also a great protective style for transitioning hair
8. Braided Ponytail
This style is great for smooth long natural hair. It is sleek and doesn't require a lot of heat on your hair. You can choose to add just a cornrow in the front into the ponytail and smooth out the rest of your hair, and you are good to go, looking so chic.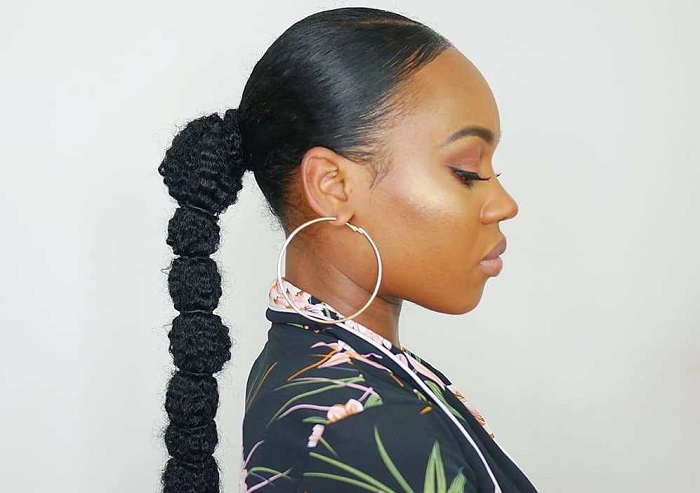 9. High Puff
This is similar to the low puff style but the only difference is that it's longer than the low puff. It is just as simple as it sounds to the ear. Gather all your hair to the top of your head and you are done and ready to go.
10. Afro
We found out that some people dread keeping natural hair because of its seemingly high cost of maintenance. An afro hairstyle looks quite great with any look and has a low maintenance cost.
11. Pineapple
Are you running late on going out and don't have time to start a series of hair packing? The pineapple hairstyle is perfect for you. Just throw all your hair up like a pineapple and use a band to hold it. This is an on-the-go look that is easy, especially on curls. This natural hairstyle is a great way of preserving your curls from damage, especially when sleeping at night.
12. Power Braid
This is one of the simplest celebrity natural hairstyles to achieve, yet, has a unique and commanding look. It can last you more than a week and it is perfect for one who doesn't wish to commit to braiding.
13. Wash and Go
This style is great for you if you just went natural as it will enable you to learn the exact texture of your hair. The time involved to achieve this style is not actually like the name but the result you get is really worth it.
14. Textured Updo
An updo is a great natural style for relaxed or curly natural hair. You can choose to add a few extensions to it so as to get more volume and also facilitate the styling options
15. Twist-Out
Twist-out is one natural hairstyling that you can't go wrong with. The style is basic for anyone going on natural. It keeps your curls defined and tangle-free during the whole week.
16. Bantu Knot
This is a traditional African hairstyle that looks absolutely gorgeous on all kinds of faces and scalps.
17. Milk Maid Braid
This is one of the fastest and easiest ways to style your natural hair to look beautiful. You need to be careful so that the braid does not pull too tight and probably cause tension on your scalp.
18. Curly Chignon
This style is great during the heat period and the aim is to keep it loose and simple. Gather your hair at the nape of your neck and roll it into a rough messy low bun.
19. Flopped Ringlet
If you're dealing with frizzling natural hair, then this style is for you. It can also last you for a few days before you think of a redo.
20. Twaid-Out
Twaid out is one of the gorgeous natural hairstyles that give you the stretch of a braid and at the same time spiral cut of a twist out.
What Style is Best For Natural Hair?
Marley Twist is the best style for natural hair. Marley twists are type of braided hairstyle that uses Marley braiding hair. The two-strand twist technique creates a textured look with a soft finish.
This style incorporates wrapping your hair around itself with Marley braiding hair to get a two-strand pattern that gives off a textured, natural look. Other recommended styles are Crown Braids, Pineapple Updo, Side Swept Cornrows, Jumbo Cornrows, Stitch Braids, and Reverse Cornrows.
What is the Natural Hair Awkward Stage?
The natural hair awkward stage is a period of great difficulty when it comes to managing one's hair, as it is both too long and too short. This can be especially discouraging for those who are trying to embrace their natural hair, potentially leading to them giving up.
At this stage, you can try ponytails, braids, or even buns to keep your hair under control.
What Long Hairstyles Make You Look Younger?
Some long hairstyles that can make one look younger include long hair with waves, relaxed mid-length, casual shag cut, straight chin length bob, side-swept bangs, shaggy curly cut, layered cut with fringe, as well as ombre ringlet hairstyle.
If you considering braiding, these long hairstyles will make you look younger – long cornrows, box braids, bantu knots, boho braids, shuku, twin braids, twisted braids, as well as knotless braids.
What are the Hardest Hairstyles to Maintain?
The Goddess braid is considered the hardest hairstyle to maintain because it involves frequent touch-ups and can put a lot of tension on the hair due to its tight nature. Others include box braid and cornrow.
Though the goddess braid has different variations and can be styled in a variety of ways, it can be time-consuming to maintain.
What Hairstyle Damages Your Hair the Most?
Tight braids such as tight cornrows, tight side braids, small tight braids, tight knotless braids, and tight double dutch braids all damage the hair the most. This is because they strain and cause unnecessary stress to your scalp.
Excessively tight braids can equally lead to headaches, hair loss, damage, and pain that may take time to resolve.
What is the least Damaging Hairstyle?
Knotless braids are considered to be the least damaging hairstyle as the installation does not involve added hair, but only the hair that is already present. This type of braid is lightweight and can be installed and removed with ease, while also promoting hair growth.
Lastly, the knotless braids give room for less pulling and tension, making the braiding process a pleasurable and less painful experience.
Common Mistakes To Avoid if Going on a Natural Hairstyle
While you try some of these hairdos, here are some common mistakes everyone with natural hair should avoid.
1. Not Knowing Your Hair Texture
Rolling a single strand of hair on your finger is one way to know your hair texture. Treatments given to tough or coarse hair may not necessarily be good for the soft hair types and vice-versa. The best thing to do is to first know your hair texture and the treatment that is best for it.
Going natural is like having to take care of a newborn baby and no matter how much literature you read, you still need to patiently take care of it in its own unique way.
2. Flat Ironing Hair on High Heat
Flat ironing hair on high heat leaves your cuticles and scalp damaged. You need to avoid this mistake. Both natural and artificial hair is prone to damage if constantly placed under high heat.
Doing this will definitely rip your hair off the nutrients – particularly, the hair proteins that will help it grow. Instead, go for the easy and loose hairstyles listed above. They will help straighten your hair.
3. Using the Wrong Routine
Using the wrong routine is one of the biggest mistakes to avoid if you are going for a natural hairstyle. There are so many factors that go into taming – a natural mane–humidity, a cloudless sky or a light drizzle, products used, the amount of water in your hair, air drying vs. blow-drying.
As the body constantly changes, so does your hair. The key to keeping your sanity is taking each day as it comes, embracing your good days, and shrugging off the bad ones.
4. Using too Much or Not Enough Product
It is not advisable to use too much product on your hair. Using too much product will leave your hair feeling heavy and greasy, while not using enough product can leave your hair under-moisturized.
Some people with natural hair think that excessive use of a hair product will help their hair grow faster while others just go below that quantity of the product recommended for their hair, perhaps for the sake of not going to buy another one soon.
5. Treating your Natural Hair Like Relaxed Hair
It is wrong to treat your natural hair like relaxed hair. Treatment for both is not the same. Some use the same hair products and routines they use for their relaxed hair on their natural hair. This will definitely not give you the result you need.
Using the same tools, similar products and techniques only leads to breakage and stunted growth. For example, if you are used to washing your hair un-sectioned when it is relaxed, your washing regimen should change once you go natural. Sectioning your natural hair before washing saves it from detangling.