Tony Edochie (born on 2nd January) is a Nigerian businessman famous as the younger brother of veteran Nollywood actor Pete Edochie and the husband of the Nollywood actress Rita Edochie. He is also the uncle of famous Nollywood actor Yul Edochie.
Tony is the link between Pete and Rita Edochie, as people have in the past wrongly thought that they are husband and wife. Because of his relationship to the two celebrities, he receives some form of attention from the media. Here, we will explore Tony Edochie's biography to learn more about him.
Tony Edochie's Biography Summary
Full name: Anthony Edochie
Gender: Male
Date of birth: 2nd January
Ethnicity: Igbo
Nationality: Nigerian
Zodiac Sign: Capricorn
Sexual Orientation: Straight
Religion: Christianity
Marital Status: Married (m. 1990)
Tony Edochie's Wife: Rita Edochie
Tony Edochie's Children: 4 – Great Valentine Edochie, Nkiru Judith Ibekwe-Edochie, Amanda Maria Abraham-Edochie, and Rondy Peters Edochie
Tony Edochie's Parents: Maazi and Mrs. Edochie
Siblings: Pete Edochie
Tony Edochie's Net Worth: $350,000
Famous for: Being Rita Edochie's husband and Pete Edochie's brother
Tony Edochie's Instagram: @anthonyedochie
Twitter: @AnthonyEdochie1
Facebook: @Anthony Edochie
Tony Edochie is From Anambra State, Nigeria
Tony Edochie comes from Nteje in the Oyi Local Government Area of Anambra State. While his birth year is unknown to the public, Tony celebrates his birthday on the 2nd of January. A good guess would be that he was born in the 1950s.
Information about Tony Edochie's date and place of birth is not available to the public as his wife is not so open about him. He also does not have personal interviews about himself yet.
Also, Tony is an educated man to have worked with a broadcasting corporation. For his secondary school education, he attended Government College, Afikpo. He then attended the University of Nigeria, Nsukka, where he studied Public Administration.
Tony Edochie is a Younger Brother to Pete Edochie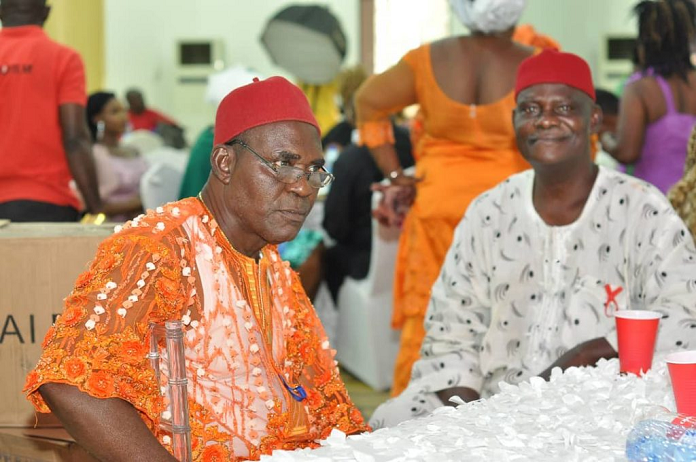 Most people know the veteran Nollywood actor Pete Edochie, but very few know about his brothers and sisters. Tony Edochie is the younger brother of this Icon. Pete was born in 1947, while Tony was born in the 50s. He does not receive the kind of attention his brother gets because he is not as popular as Pete. Tony's popularity is due to the fact that he is related to a popular figure in society.
As we have mentioned earlier, Pete Edochie is a veteran Nollywood actor. He started his acting career in 1980 with the movie Things Fall Apart. He is also a movie director and producer. This movie sold Pete as it has been translated into many languages and shot him into the spotlight. Since his entrance into the entertainment world, Pete has continued to add relevance to the industry. He has over 100 movies to his name.
Unlike other actors, Pete Edochie is an actor and producer with a difference. He believes in good portrayal and representation of African culture. Such is his life, and we cannot think less of him and his family. Very little is known about their childhood or how they relate to each other. But there are no scandals between the two brothers, who live happily with their wives and children.
Tony is a Broadcaster
Just like his brother and wife, Tony Edochie worked at ABS (Anambra Broadcasting Service) as a broadcaster. He rendered a good service and retired in due time. After his retirement, Tony entered into business and is doing well there. He is a newscaster, producer/presenter of television and radio at Anambra broadcasting services.
The two brothers are doing well for themselves. By virtue of being a public figure and a celebrity, Pete can be said to be more successful. But the two are doing well in their rights.
He is Married to the Popular Nollywood Actress, Rita Edochie
Tony Edochie married his lovely wife, Rita Edochie, traditionally in 1988, and in 1990 the Christian wedding ceremony took place. He has been married to his celebrity wife for over three decades now, and their love for each other is still waxing strong. Their marital affairs are kept from the public, and their marriage is free of scandals and controversies.
Tony married his wife soon after she finished her secondary school education, and with his help, she furthered her education at the university. With his help and support, Rita studied Mass Communication at Nnamdi Azikiwe University, Awka, and graduated with a degree. At the time of their traditional marriage, Rita was 20 years old and 22 when she did her white wedding.
She worked at Anambra Broadcasting Service for 15 years and was unlawfully laid off because of her acting career. Rita officially started her career in the movie industry in 1997. As many would think, she was offered a role on a platter because of her relationship with Pete Edochie. She worked for it by auditioning and was picked.
In an interview, Rita admits that her husband, Tony, is a very loving and caring man. She said that he has been there for her throughout her career and has been her backbone. In addition, Rita affirmed that she would marry Tony over and over again and would not want to do life without him by her side.
His Marriage is Blessed with Four Children
Children are a gift from God, and Tony Edochie received these blessings. His over three decade's marriage is blessed with four children – two boys and two girls. These four children are Great Valentine Edochie, Judith Nkiru Ibekwe-Edochie, Amanda Maria Edochie-Abraham, and Rondy Peters Edochie, who have all grown up to be successful.
Like their mother and uncle, Valentine and Amanda found their careers in the entertainment industry. They are both actors, while Amanda is also a model and designer. Rondy and Judith are also doing well for themselves, although they have not been spotted in the entertainment industry.
In addition, Tony and his wife Rita are grandparents already. Judith and Amanda are married with kids. Tony has always been there for his children, even on their special days, and has made sure that they remain together as one family.