Margaret Brownson Usen is the wife of Peter Gregory Obi, the former Anambra State governor, and the 2023 Labour Party presidential candidate. Peter Obi's wife was born on 9th September 1974 and is presently 49 years old.
Most people know Margaret as the former first lady of Anambra State, but she is also a human rights activist and was the mastermind of her husband's National Gender Affirmative Action. Margaret is a loyal wife to Peter Obi and the opposite of Obi's reserved personality. She has two children with her husband, a boy, and a girl, and both of them reside in the United States.
Margaret Brownson Usen's Biography Summary 
Full name: Margaret Brownson Usen Obi
Gender: Female
Date of birth: 9th September 1974
Margaret Brownson Usen's Age:

49 Years Old

Nationality: Nigerian
Zodiac Sign: Virgo
Sexual Orientation: Straight
Religion: Christianity
Marital Status: Married
Margaret Brownson Usen's Husband: Peter Obi
Margaret Brownson Usen Children: Gabriella Nwamaka Frances Obi and Gregory Peter Oseloka Obi
Margaret Brownson Usen's Parents: Mr. and Mrs. Usen
Famous for: Being the Wife of Peter Obi
How Old Is Peter Obi's Wife, Margaret Brownson Usen?
Margaret Brownson Usen is currently 49 years old. She was born to her parents, Mr. and Mrs. Usen, on 9th September 1974.  Her birth sign is Virgo. And she is 13 years younger than her husband, Peter Obi.
Where Is Peter Obi's Wife From, and What Is Her State Origin?
Margaret Brownson Usen, Peter Obi's wife, is from Akwa Ibom State, Nigeria. However, she was born and grew up in Calabar, Cross River State. There's no information on her tribe, as the information on her private life is limited.
Margaret Brownson Usen's Father and Mother
Margaret's parents are Mr. and Mrs. Usen. Margaret is not so open about her parents, siblings, or childhood. Little is known about her siblings, the kind of childhood she had, what her parents do for a living, and whether or not they are still alive.
Margaret Brownson Usen's Educational Background
Mrs. Obi is an educated woman, as evident in her impact on society. But the schools she attended and the course she studied at the university is unknown to the public. And she doesn't have any social media presence.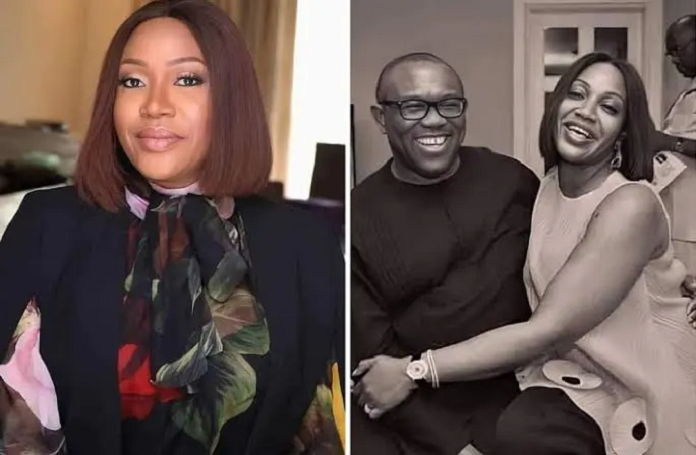 Margaret Brownson Got Married To Peter Obi in 1992
According to Peter Obi, he and his wife got to know one another through a friend and immediately felt a connection. It did not take long for them to tie the knot because they were both prepared to start a family at that time.
Only about 50 guests attended Peter Obi and his wife's quaint wedding in London in 1992. He was a young, fledgling businessman who was seeking to establish himself at the time of his marriage. Although Peter Obi rarely discusses his family, he previously said that his wife is more outgoing and loves life than he does. In fact, he said they are the complete opposites of one another.
The Couple Have Two Children Together 
The marriage, which has lasted for over 30 years, is blessed with two children, a boy and a girl. Her children, Gabriella Nwamaka Frances Obi and Gregory Peter Oseloka Obi are based in the United States.
Oseloka is a British-American actor and producer. And Gabriella got married to Chukwuma Okeke-Ojiudu in 2022. They are both successful in their own rights, and none of them depend solely on their parents.
Mrs. Margaret Obi's Achievements as a First Lady
Peter Obi served as Anambra State governor from 17th March 2006 to 17th March 2014. During that time, Margaret served as the First Lady of the state. Mrs. Obi was proactive during her husband's tenure as the governor. She backed the National Gender Affirmative Action campaign, which pushed for more women to be elected or appointed to office while her husband was the governor of Anambra State.
A family court that is housed within the state's Ministry of Women's Affairs and Social Development was also established with her help. Concerns about the abuse of children and abuses of women's rights are addressed with the court's assistance.
Many have described Mrs. Obi as a humanitarian who worked hard to elevate her husband's political position. She has advocated for the welfare of women and children in Anambra and beyond.
Also, Margaret Brownson Usen oversaw the distribution of subsidies and agricultural equipment to women's cooperatives for dry season as part of one of her programs. Due to this, female farmers were able to access production machinery, which enabled them to support their families.
In addition, she helped to establish the Anambra State Annual Mothers Summit. And to aid in the rehabilitation of female trafficking victims, Brownson additionally worked with the National Agency for the Prohibition of Trafficking in Persons (NAPTIP).