Destiny Etiko is not yet married and therefore does not have a husband, but whether or not she is currently in a relationship is not known for sure; However, she has been linked to several high-profile men in the past.
Destiny Etiko is one of the shapeliest Nigerian actresses. Seeing some of the posts on her Instagram page where she is dressed up as a bride, many have concluded that she is married. This assumption is wrong because those wedding pictures are from her marriage movie scenes. Some pictures show her with other Nigerian actors as her partner, but the captions of the posts always suggest that it is from her movie roles.
Destiny is a beautiful Nigerian actress, who wishes to be in those wedding dresses someday, but for now, those are mere movie costumes. The fact is that she is still single even though she may have had other relationships. We will explore Destiny Etiko and her relationships to see if she is currently dating anyone and who the person is.
Who Is Destiny Etiko's Boyfriend?
Being one of the finest actresses in the movie industry, judging from her social media posts and relationships with fellow actors, people conclude that Destiny Etiko is either married or in a relationship. Well, the gorgeous actress is not married to anyone yet. And asides from a few of these men who she has been linked to, Destiny Etiko does not have any other record of a previous boyfriend. Also, she has not been officially engaged to or married anyone before and has had no known relationships.
Destiny is hardworking and knows what she signed up for in the movie industry. This is clearly one of the reasons behind her appearance in many movie roles. She knows her craft to the core and is not stereotyped to a particular role in the industry. The actress started with minor roles and has gradually taken up major roles, one of which is the major role in marriage movies. This role avails her the opportunity to dress up like a bride, and she looks good on them, too.
Dr. Success John Was Once Rumored to Be Destiny Etiko's Boyfriend
A few days after her father's burial, Destiny posted a picture of her with a man she called "The Successful Man." In the post, she tendered some appreciation to the man for sacrificing to be there for her. She called him darling and thanked him for playing the role of a brother, boyfriend, and father to her. The two are fond of saying sweet things about each other on social media. For these reasons, her fans are left to wonder whether they are in a relationship or not.
Further investigations about the man revealed that his name is Dr. Success John. He is a movie producer, skin dermatologist, and fashionista. He is the CEO of Infiniti Int'l Empire. As a fashion lover, he is seen in many classy attires which are posted on his Instagram profile. He made a video for Destiny on the occasion of her last birthday and has been spotted several times with her.
It has not been ascertained whether Etiko and Success are in a relationship or not since they have not made any comment on the claims. But they have been seen together countless times, and they react to each other's posts with heart emojis and sweet comments.
Was Destiny Etiko Married to Zubby Michael?
It is normal for celebrities to be caught up in one controversy or the other. It was rumored that the actress is married to Zubby Michael, a fellow Nollywood star. This rumor arose from how the two stars relate to each other; both in movies and outside the movie world. Fans see them as an item and conclude that they have something serious going on.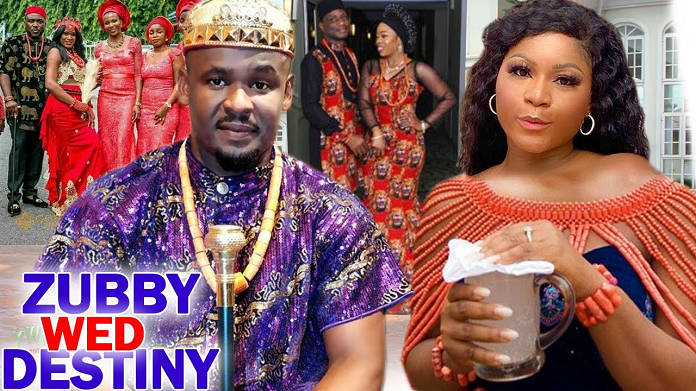 The outcome of the rumor is contained in Destiny's post on social media. The actress took to her Instagram page to respond to these claims, saying they are false. She revealed that they are neither married nor in a relationship. However, she admitted that her relationship with Zubby is exceptional and intimate, too. On his part, Zubby Michael has remained silent on this issue.
It is known that both actors have starred alongside each other in several movies. They have also acted as husband and wife in a few of them. Hence, the pictures of these two appearing in wedding scenes are all over the internet, which might have fueled the rumor.
Controversy Surrounding Destiny Etiko's New Car
When news spread about Destiny's acquisition of an SUV worth over N30 million, people questioned the source of the money. They argued that the salary of an actress is not enough to buy her such a car. Bloggers took to their blogs and said many things about the person that gifted the actress the car. However, an Instagram gossip blogger called Gistlover wrote that a billionaire businessman named Tein Jack-Rich is the sugar daddy that gifted her the car. Tein is a married man and the CEO of Belema Oil.
The blogger dug deeper into the actress's old posts and found a post she made on a special beaded bracelet she said was gifted by someone special. Coincidentally, the businessman has been spotted wearing that kind of bracelet, too. The blogger then concluded that the two are lovers, and Tein is the one who gifted Destiny the car.
Tein Jack-Rich's Reaction
When he heard the rumors, the business tycoon took to his Facebook page to express his surprise and clear himself of the accusations. On 8th February 2021, Jack-Rich denied the rumor making its rounds on social media. He wrote that people's achievements and works are not given loud publicity, but false rumors from a blogger have received such ground. The businessman maintains that he has never met or heard of Destiny Etiko in his life.
More so, Tein expressed his anger with society for giving magnitude for false accusations rather than rewarding and commenting on the good endeavors of the victims and their contributions to society.
Destiny Etiko's Reaction and the Outcome of the Controversy
On 5th February 2021, the Drama Doll took to her Instagram page and left a one-minute live video about the rumor. In the video, she denied all the allegations against her. In addition, she denied knowing the man. She said that she has never met the man in question, has never received any gift from him, and her car is not a gift from him either.
More so, the actress went ahead to swear with her life, everything she holds dear, and her mother's life. She said that if she knows the man and has ever received any gift from him, let her generation suffer. But if not, the blogger and everyone who are part of the rumors will suffer. She further said that greatness would be far from those working against her success.
Apparently, Destiny Etiko hasn't been in many relationships, and the claims that Jack-Rich is Destiny Etiko's sugar daddy and was the one who bought her a N30 million SUV Prado are wrong. The two parties have denied knowing each other and debunked the claims themselves. Destiny maintains that she is hardworking and can afford whatever she wants to buy. In addition, she said that not all expensive things that a woman has comes from a man.