Benue State was created on 3 February 1976 and it is made up of 23 Local Governments, including the capital city, Makurdi. The local governments are further situated in the 3 senatorial districts of Benue – the "Food Basket of the Nation."
The north-central state is made up of diverse ethnic groups known as Tiv, Idoma, and Igede. Benue State was carved out of Benue-Plateau and Kwara States; and gradually, the local governments within it started to form.
Here is a list of all the Local Government Areas found in the state and their headquarters.
How Many Local Governments are in Benue State?
There are 23 local governments in Benue State and they are further divided into 276 wards. Going further, the local governments are grouped into 3 senatorial districts – Benue North (comprising of 9 local governments), Benue North-West (7 local governments), and Benue Zone A or Benue Northeast (7 local governments).
These local governments hold the core of the state which was named after River Benue. It also serves as the home for one of Nigeria's most famous languages, Tiv.
Moreover, the state houses at least 10 ethnic groups. Some of them include Idoma, Jukun, Igede, and Igbo. People of these ethnic groups are found in different local government areas of the state.
List of Local Governments in Benue State in Alphabetical Order
1. Ado Local Government
Ado Local Government is one of the local governments found in Benue State. Its headquarters is located in the North-South region of Nigeria and on the railway line of Ado LGA.
The local government was created in 1989, 13 years after the creation of the State, and it is home to Idoma natives. It is one of the 9 councils under the southern senatorial district and it is made up of 5 council wards. The local government is famed for sharing boundaries with Ebonyi State as well as being known for its agricultural exploits.
2. Agatu LGA
Obagaji is the headquarters of the Agatu LGA in Benue State created in 1996. Agatu is located in the Southern Senatorial Zone of Benue State.
The main tribe found in Agatu is Idoma. There are 10 wards found in the LGA and it is famous for being a highly agricultural-producing place in Nigeria. Some of its major products are yams and rice, and it produces over 80% of fish in Benue.
3. Apa Local Government
Ugbokpo is the headquarters of Apa LGA. The Ugbokpo headquarters is located in the Northwestern region of the state capital, Makurdi.
Apa was first created in 1981, was defunct in 1983, and was recreated in 1991. This Idoma-speaking community is rich in mineral resources such as gypsum, limestone, and salt.
4. Buruku
Buruku is one of the 23 local governments of Benue State formed in 1989. Its headquarters is in Buruku town and its address is in the riverine area of the Katsina-Ala Basin.
The LGA was known as Ambighir during the Second Republic before it later stood on its own. The local government is one of the least populated places in Benue as it has slightly over 200,000 population in Nigeria's last conducted census.
Ethnic groups which can be found in Buruku are Tiv, Etulo, and Nyifon.
5. Gboko LGA
Gboko is the headquarters of Gboko Local Government Area in Benue State. It is located in the township area of the North-Central part of Benue State which is predominated by the Tiv people.
Gboko is one of the largest LGAs in Benue as it has 17 council wards, 18 districts, and 2 council districts. Its size is 2,264 sq. km and it is known for housing Dangote Cement Plc.
6. Guma
In 1987, Guma Local Government Area was created and has its headquarters in Gbajimba. Gbajimba is located in the Benue Northwest senatorial district.
Guma which was formerly a part of Makurdi has a landmass of 240,000 square KM. It has 10 council wards and its population is mostly Tiv people. Other tribes found in the LGA are Guma, Jukun, and Kabuwa.
7. Gwer East
With Aliade as the headquarters, there are a total of 14 council wards in Gwer East Local Government Area. The headquarters address is located at the Southwest of Tar-Tiv.
The LGA was created by General Murtala Mohammed in 1976. Its landmass is 2,294 sq km and its main habitat is the Tiv and Igede people.
8. Gwer West 
Gwer West has its headquarters in Naka in Benue State. The LGA was under Gwer East till 1991 and is located in the western region of Benue.
The ethnic groups found in the LGA are Tiv and Idoma. The major occupation of the people is farming, trading, and fishing. Moreover, mineral resources such as salt, clay, limestone, and pyrite can be found in the local government.
9. Katsina-Ala
Katsina-Ala is one of the oldest LGAs in Benue and its headquarters is Katsina-Ala. It was created in 1976 and is located in the Northwest part of the State of Benue.
The local government is famous as it was a major route used by the Royal Niger Company in the colonial era. The LGA which consists of 12 council wards is also known for its richness in agriculture.
There are 2 major indigenous ethnic groups found in Katsina-Ala and they are Tiv and Etelo.
10. Konshisha
Tse-Agberagba is located in the North-East of Benue State as the headquarters of Konshisha LGA. It was initially a part of Vandeikya Local Government before it was carved out in 1983.
Later, it was scrapped by the military and was remade as an LGA in 1989. Konshisha has 10.089 square kilometers of landmass and the ethnic groups found there are Tiv and Igede.
11. Kwande
Kwande is one of the Local Government Areas of Benue State. Its headquarters is located in the town of Adikpo, also called London by its inhabitants.
The LGA has 15 council wards and a 2,744 Sq Km landmass. Its population is recorded to be over 345,000 at the 2006 census.
12. Logo
Ugba is the headquarters of Logo Local Government Area of Benue State. It is located near Zor and Atamba and is predominated by Ugondo and Gaambe-Tiev groups.
About its size by area, Logo is 1,408 km2. There are 10 council wards in the LGA and the major language spoken there is Tiv.
13. Makurdi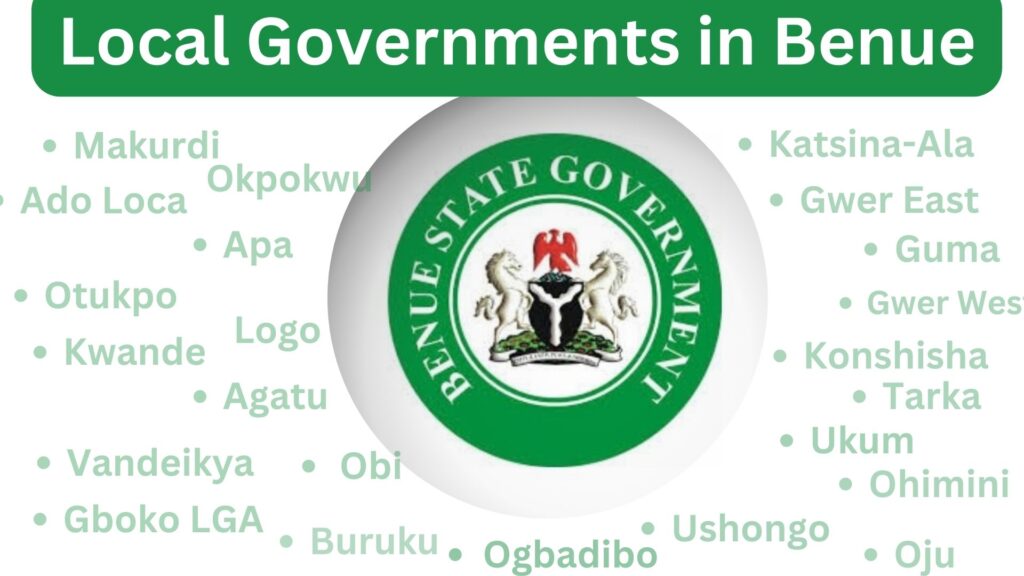 Makurdi is considered the most popular Local Government Area in Benue State. It is the capital city of Benue and its name is in synchrony with the headquarters of the local council. It is located in the southern region of the Benue River.
14. Obi
The headquarters of Obi Local Government is Obarike-Ito. Largely, the Igede ethnic group is found in the LGA and their main source of livelihood is farming.  It is located in the South-Central region of Benue State and was created in 1996.
15. Ogbadibo
This LGA was created in 1991 with its headquarters located in Otukpa. The Otukpa Town is made up of three districts – Orokam, Owukpa, and Otukpa.
Predominantly, the people of this LGA speak the Idoma language.
16. Ohimini
With 12 council wards, Ohimini has Idekpa-Okpiko located in the South-Eastern region as its headquarters. It was created 1996 and is popular for its flowing streams. Most of the Ohimini community is dominated by Idoma the people.
17. Oju
This LGA shares the same name with its headquarters. It was created in 1976 and is now regarded as one of the oldest LGAs in Benue State. It is mostly dominated by the Igede ethnic group.
18. Okpokwu
Okpoga is the headquarters of Okpokwu LGA and was created during Olusegun Obasanjo's administration in 1976. The headquarters is located near Idobe and Idiri n Benue
19. Otukpo
Otukpo is one of the easily identifiable local governments in Benue State aside from Makurdi. It is known as the LGA of some of the most notable people from Benue such as 2Baba and Senator David Mark.
The LGA shares the same name with its headquarters and it is mostly dominated by Idoma people.
20. Tarka
In 1996, Tarka Local Government Area was created and Wannune was made its headquarters. Located close to Gboko LGA and Yarogye in Benue, it is made up of ten council units.
21. Ukum
Ukum is another LGA in Benue State and it is dominated by Tiv people. It was created in 1991 and has its headquarters in Sankara at the East-North of Benue State.
22. Ushongo
Lessel is the headquarters of the Ushongo local government in Benue State. The headquarters is located near the Mbayegh District. It was created in 1989 by the Ibrahim Babangida administration.
23. Vandeikya
Vandeikya, another prominent LGA in Benue was created out of Gboko Local Government in 1976. Its headquarters, Vandeikya is located in the South Eastern region of Benue State sharing borders with Obudu, Cross-River State.
Which Local Government is the Biggest in Benue State?
The biggest Local Government in Benue State is Kwande and has its headquarters in Adikpo. The Local Government Area boasts a total landmass of 2,891 square kilometers.
According to the 2006 National Population Census, it was gathered that the total population of people in Kwande LGA is 345,850. This population may have skyrocketed ever since.
Surrounding the large landmass of Kwande local government are other local governments such as Katsina-Ala to the Northwest, Vandeikya LGA to the West, and Ushongo LGA on the North. At its borders are states like Cross-River, Akwa Ibom, Taraba, and Adamawa States.
The Tiv people mostly occupy the area as the largest ethnic group in Benue state and the 6th largest in Nigeria.
Natively, the farming community in Kwande produces crops such as Sweet potatoes, Groundnuts, Rice, Soya beans, and Cassava.
Tiv Local Government in Benue State
Tiv is not a local government. Rather, it is a renowned ethnic group in Benue. Tiv people can also be found in several other Nigerian states such as Taraba, Nassarawa, Cross-River, and the Federal Capital Territory, Abuja. They also make up about 5% of Nigeria's total population.
In Benue, Tiv people dominate about 14 of the 23 LGAs. Here are the local governments dominated by Tiv people:
Gwer East
Gwer West
Logo
Kwande
Buruku
Ushongo
Guma
Katsina-Ala
Konshisha
Gboko
Tarkaa
Vandeikya
Ukum
Makurdi
Is Benue State Part of Biafra?
Benue State is not part of Biafra – a group agitating on secessionism and independence from Nigeria. The state has been alleged to be a part of the group due to the fact that there is a minority of Igbo people in the State. Furthermore, Benue State shares boundaries with Ebonyi and Enugu States.
Despite the state not being a part of Biafra, the leader of the group, Nnamdi Kanu has spoken about the inclusion of the state. In 2017, Kanu claimed to have been offered the sovereignty of five Igbo states while in Prison. However,  due to the exclusion of Benue State in the deal of the listed states to be handed over to him, he rejected it.
On the contrary, Benue State leaders and the ethnic people of the state have vehemently rejected any connections of the North Central state to the Igbo revolutionary group. In their claims, the state is made up of the Tiv, Idoma, and Igede as the majority ethnic groups while Etulo, Abakpa, Jukun, Hausa, Akweya, and Nyifon are the minority groups. Therefore, their land cannot be claimed by the Biafra, neither are they part of the movement.
Who Was the First Governor of Benue State?
Benue State has had at least 17 governors since its creation in 1976 and the first governor to rule Benue State was Abdullahi Shelleng. He became the military governor in March 1976 during the Olusegun Obasanjo regime. He remained governor until 1978.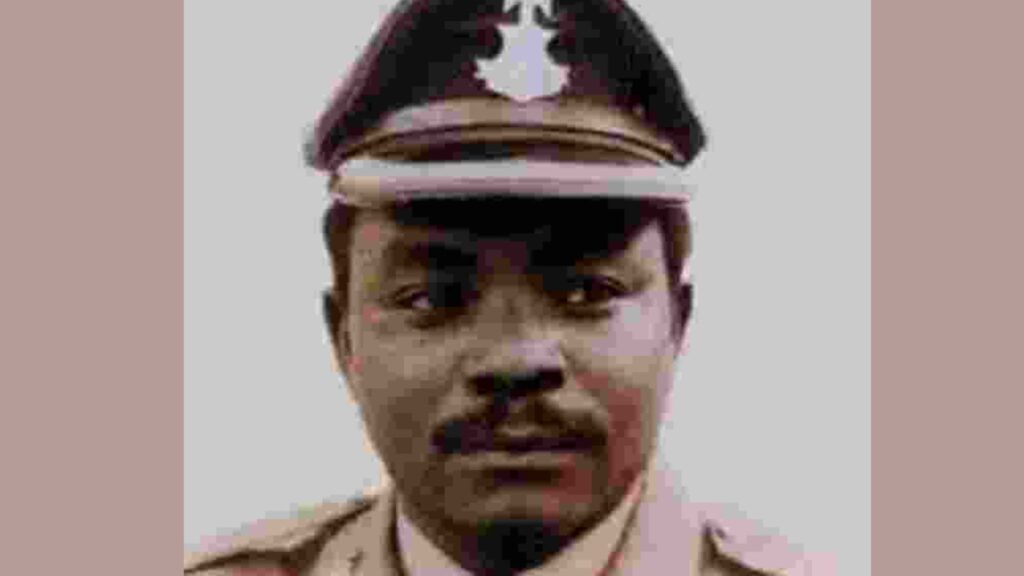 As a governor, Shelleng, who was born on 20 January 1942 and is a native of Adamawa State, was not entirely successful. His administration was criticized for its inability to create more jobs, and not being able to bridge to general less function of the state.
However, the current 81-year-old former governor built accommodations for civil servants, established schools and colleges, and started industries such as the Benue Brewery at Makurdi, the Idah Sanitary Ware Industry at Idah, and the Burnt Brick Industry at Otukpo.
In his private life, Abdullahi Shelleng was born into a Muslim family of five children in the Numan Local Government Area of Adamawa State, formerly known as Gongola State. He began his schooling in Yola and eventually headed to Government College Zaria for his secondary school education from 1957 to 1961.
By 1962, fresh out of secondary school, he joined the Nigerian Defence Academy in Kaduna for four months then left Nigeria for Pakistan from 1962 to 1965 to join the Pakistan Military Academy in Kakul. He also attended the Kansas Command and General Staff College in Fort Leavenworth, USA from 1973 to 1974.
Before he was appointed as the first governor of Benue State, his military career was already hightailed a budding success. Returning to Nigeria in 1965, Abdullahi Shelleng was commissioned as Second Lieutenant to serve as Company Commander during the civil war in Nigeria. Subsequently, he was appointed Colonel, General Staff of the Second Infantry Division Headquarters, Nigerian Army from 1974 to 1975 in Ibadan, Oyo State.
Aper Aku is the First Elected Governor of Benue
While Abdulahi Shelleng was the first military governor of Benue, Aper Aku was the first elected governor of the State. He was elected governor of the state in 1979 and in 1983, he was reelected under the National Party of Nigeria (NPN).
He was remarkable for building the agricultural sector of Benue, an aspect of the state that is still known. He further developed the technology and educational sectors among others.
His tenure was cut short by Muhammadu Buhari's regime in 1983. Buhari jailed Aku and the former governor died in 1988, shortly after he was released. Nonetheless, he is still regarded as one of the best rulers of Benue State.