There are more than 250 ethnic groups in Nigeria with Hausa, Igbo, and Yoruba being the major ones found in the North, East, and West respectively. Among the ethnic groups, Hausa is recorded as the largest with an estimated 25-30% of speakers of Nigeria's more than 200 million people.
Each of the ethnic groups in Nigeria are unified and brought together by the same ancestry, language, history, and culture in different ways. The exact number of the ethnic groups in Nigeria remains unknown but there are over 500 languages found within these ethnic groups. Among the 36 states in Nigeria, Bauchi and Adamawa States have the highest number of languages, each recording more than 50 first languages.
How Many Ethnic Groups Are In Nigeria?
There are more than 250 ethnic groups in Nigeria and each is unique in its own right. These ethnic groups in Nigeria contribute to making the country a nation of some of the world's diversified languages, people, cultures, and traditions. These ethnicities cut across the 774 local government areas of the country and are also identified with different dialects and languages which are said to be up to 500 or more.
With a landmass of 923,768 km² inhabiting a population of over 200 million people scattered across 36 states and a federal capital territory, it will indeed be a herculean task to be able to accurately identify all the over 500 languages of the country.
Nevertheless, here is a list of identified ethnic groups in Nigeria, their languages, and the states where they are located.
The 3 Major Ethnic Groups in Nigeria
The 3 major ethnic groups in Nigeria are Hausa, Igbo, and Yoruba. These same languages are the largest in Africa with each having more than 40 million speakers. In Nigeria, these 3 major ethnic groups are located in three geographical regions of the six regions in the country.
Hausa is The Largest Ethnic Group in Nigeria
The Hausa ethnic group of Nigeria is found in Northern Nigeria and is recorded as the largest with about 25-30% of speakers. Hausa, a Chadic language is found in the Northern part of Nigeria and they are distinctively grouped into 3 categories with the first known as the Pure Hausas. The Pure Hausa are referred to as 'Habe' and their tribes include Gobirawa (Kebbi), Kabawa (Sokoto), Rumawa (Katsina), Adarawa (Sokoto), Maouri, and others.
Another category of Hausa is the Hausa-Fulanis who came into being following the 1804 Islamic Revolution led by Usman dan Fodio against the Hausa kingdoms. They took over the rulership of the Hausa kingdom and founded a Centralized Caliphate in Sokoto. These distinct sets of the Hausa people include the Jobawa (Kano), Dambazawa (kano), Mudubawa (Jigawa), Mallawa (Zaria), and Sullubawa tribes originating in Futa Tooro.
The third category of the Hausa ethnic group is referred to as the 'Banza Bakwai' or 'Banza 7'. This set of Hausas are recognized as the seven outcast territories of the Hausa kingdoms not linked to the central authority of the caliphate. They were isolated, never enjoyed the privileges of the caliphate such as security, and were a constant subject of outside domination. They include Hausas from Zamfara, Kebbi, Yauri, Gwari, Nupe, and Kororofa (Jukun).
The Yoruba Ethnic Group in Nigeria
The Yoruba ethnic group of Nigeria is undoubtedly one of Africa's largest ethnic groups and it belongs to the Niger-Congo family of languages. The Yoruba language is spoken by the Yoruba people found mainly in South-western Nigeria which they refer to as the Yorubaland.
The Yorubaland has been inhabited by the people and dates back as far as the 8th century. However, in modern-day Nigeria, they are found largely in states such as Ekiti, Ogun, Oyo, Osun, Ondo, and Lagos and each of these places has different dialects.
Aside from occupying the Southwestern part of the country, the Yoruba ethnic group can also be found in the Northcentral Nigerian state of Kwara and is one of the five major ethnicities of the state. A relative number of Yoruba-speaking people reside in Kogi State but are however referred to as the Okun people. The term Yoruba which is used to describe the people is also used to refer to the language spoken.
Sometimes regarded as the most educated of the ethnic groups in the country, many myths surround the origin of the Yoruba people, culture, and language. Regardless, the people in unison believe they are descendants of Oduduwa who migrated to Ile Ife where he created the Oyo Empire. From there, their kingdom expanded into neighboring African countries and beyond the continent due to transatlantic slave activities.
The Igbo Ethnic Group in Nigeria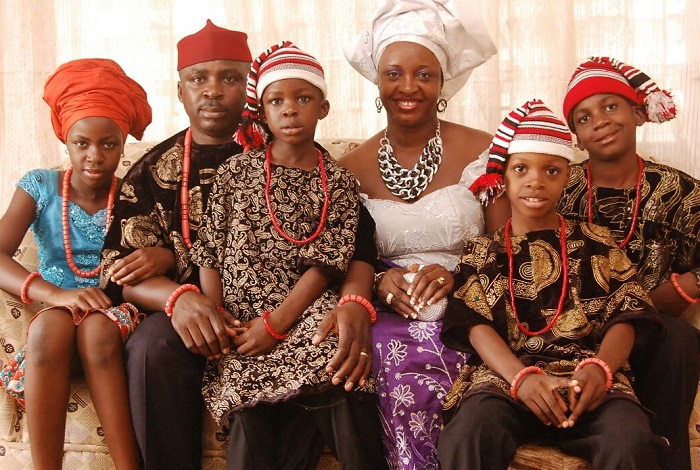 The Igbo ethnic group of Nigeria has often been referred to as one of the single largest ethnic groups in Africa. It belongs to the Igboid branch of the Niger-Congo language family. Igbo speakers make up about 15-17% of the population of Nigeria according to several reports.
The major states in Nigeria occupied by the Igbo ethnic groups are Anambra, Abia, Imo, Ebonyi, and Enugu, with about 25% in states like Delta and Rivers. A relative amount of the Igbo ethnic group could be found in neighboring states like Cross River, Akwa Ibom, and the Bayelsa States. The Igbo language is predominantly spoken in cities such as Onitsha, Aba, Owerri, Enugu, Nnewi, Nsukka, Awka, Umuahia, and Asaba, among others, and it is the third most spoken language in the country.
Ethnic Groups in FCT, Abuja
There are about 9 different ethnic groups in Abuja, per reports. Although the Federal Capital Territory of Nigeria, Abuja's indigenous peoples are said to be the Gbagyi (Gwari) ethnic group and are also the largest ethnolinguistic group, followed by Koro.
Other enthnic groups in Abuja
Afo
Bassa
Ganagana
Gwandara
Abia State Ethnic Groups
The Abia State of South-South Nigeria is identified as one that holds only Igbo as its ethnic group. In spite of this, the state has more than 10 separate dialects.
Igbo

Eziama Aba
Arochukwu
Asa
Aro Ngwa
Etiti
Ngwa
Oguduasaa
Osaa
Uturu
Alayi
Isuikwuato
Abiriba
Umuahia
Isiala Ngwa
Umuguru
Umu Nneochi
Ethnic Groups in Adamawa State
There are many language ethnic groups in Adamawa State even though the major ethnic group of the Northern State is Hausa. Other ethnic groups and languages include:
Bura-Pabir
Bachama
Banso (Panso)
Batta
Baya
Bilei
Botlere
Bwatiye
Bwazza
Daba
Daka
Ga'anda
Gira
Gizigz
Gude
Gwa (Gurawa)
Gwamba
Holma
Hona
Ichen
Jibu
Jirai
Kaka
Kanuri
Kurdul
Lakka
Lala
Longuda (Lunguda)
Margi (Marghi)
Mafa (Mofa)
Mbol
Mbula
Muchaila
Mundang
Njayi
Palli
Pire
Shuwa
Sukur
Teme
Tur
Ubbo
Vemgo
Verre
Wagga
Wurbo
Yandang
Yungur
Ethnic Groups in Anambra State
The major language found in Anambra State is Igbo but there are other ethnic groups such as:
Akwa Ibom State Ethnic Groups
Akwa Ibom State boasts of almost 20 languages with the major ones being Annang, Ibibio, and Igbo. Here's a list of the other ethnic groups in the state.
Anang
Andoni
Ebugu
Efai
Efik
Ekid
Enwan
Etebi
Ibibio
Ibuno
Ika Oku
Nkari
Itu Mbon Uso
Idere
Oro
Iko
Okobo
Ilue
Khana
Ethic Groups in Bauchi State
Bauchi State has 20 local governments but there are no less than 55 ethnic groups in the state. As such, Bauchi remains one of the states with the highest number of languages in Nigeria. However, Hausa is the most widely known ethnic group in the state.
Other ethnic groups in Bauchi are:
Bambora
Banka
Barke
Bele (Buli, Belewa)
Bole (Bolewa)
Boma (Bomawa, Burmano)
Bomboro
Buli
Burak
Buta (Butawa)
Chama (Chamawa Fitilai)
Chamo
Dadiya
Daza (Dere, Derewa)
Deno (Denawa) Ouguri
Duma, Galambi
Geji
Gera (Gere, Gerawa)
Geruma
Gingwak
Gubi (Gubawa)
Gururntum
Gyem
Jaku
Jara (Jaar Jarawa Jarawa-Dutse)
Jimbin (Jimbinawa)
Jere (Jare, Jera, Jera, Jerawa)
Jukun
Kariya
Kirfi (Kirfawa)
Kubi (Kubawa)
Kudachano (Kudawa)
Bauchi State, Kushi
Kwami (Kwom)
Kadung
Karekare (Karaikarai)
Limono
Longuda (Lunguda)
Miya (Miyawa)
Ngas (Angas)
Ningi (Ningawa)
Pa'a (Pa'awa Afawa)
Pero
Polchi Habe
Rebina (Rebinawa)
Saya (Sayawa Za'ar)
Segidi (Sigidawa)
Shira (Shira )
Siri (Sirawa)
Sanga
Tera (Terawa)
Waja (Warja)
Warji
Zaranda
Zayam (Zeam)
Zul (Zulawa)
Languages in Bayelsa State
There are at least 10 ethnic groups found in the 8 local government areas of Bayelsa State. They include:
Beseni
Ekpeyekugbo
Engen
Epie
Ijo
Ogbai
Okodia
Oruma
Benue State Ethnic Groups
Although there is a popular belief that Benue is a state that has Hausa as its major ethnic group since it is located in North Central, Tiv, Idoma, and Igede remain the most widely spoken indigenous languages in Benue State. However, the state that consists of 23 Local Government Areas has about 18 languages such as the following.
Akweya-Yachi
Basa
Bekwarra
Egede/Igede
Etulo
Idoma
Igede
Igbo
Jukun
Kukelle/Korring
Nyiffon
Tiv
Ufia
Utonkong
Utugwang-Irungene-Afrike
Wannu
Wapan
Yalla
Borno State Ethnic Groups
Hausa is widely spoken in Borno State but the indigenous ethnic groups are Kanuri, Babur, Shuwa, and Marghi. Other minority languages help in giving the state a number of languages that is above 25 and mostly fall under the Chadic language family. Other languages in Borno State are:
Bura-Pabir
Baggara Arabs
Buduma
Chibok – (Kibaku)
Chinine
Dghwede
Gamergu-Mulgwa
Gavako, Gwoza (Waha)
Hausa
Kamwe
Kanembu
Kanuri
Kanakuru (Dera)
Mafa – (Mofa)
Mandara – (Wandala)
Margi – (Marghi)
Mobber
Ngweshe
Shuwa
Tera
Ethnic Groups in Cross River State
Cross River contributes to the number of languages in Nigeria with about 50 languages even though Boki, Efik, Ejagham, Igede, and Yala are the major ethnic groups of the South-South State.
Other tribes of Cross River are:
Abayon
Abua (Odual)
Agbo
Agwagwune
Agoi
Akaju-Ndem (Akajuk)
Anyima
Bachere
Bahumono
Bakpinka
Bekwarra
Bette-Bende
Boki (Nki)
Efik
Egede (Igede)
Ejagham
Ekajuk
Ekoi
Etung
Evant
Hohumono
Ibibio
Idere
Iceve-Maci
Igede
Ikom
Iyala (Iyalla)
Izii-Igbo
Kiong
Korop
Kukelle
Lenyima
Leyigha
Lokaah
Mbe
Mbembe
Mbube
Nde-Nsele-Nta
Ndoe
Nkim
Nkum
Nkukoli
Nnam
Obanliku
Ododop
Olulumo-Ikom
Otak
Tiv
Ubang
Ukelle
Utugwang-Irungene-Afrike
Uyanga
Yache
Yala
Yakurr (Yako)
Delta State Ethnic Groups and Languages
Most of the ethnic groups in Delta State fall under the Igboid language cluster under the Benue-Congo branch of the Niger-Congo language family. The state boasts of 11 languages such as:
Igbo
Igala
Ika
Isoko
Itsekiri
Izon (Ijaw)
Olukumi
Oza
Ukwani
Urhobo
Ebonyi State Tribes and Languages
As a typical state in southeast Nigeria, Ebonyi State is dominated by the Igbo language. However, there are several other languages that are subgroups of the Igbo languages. These languages are found in the 13 local governments of the state and they encompass
Afikpo
Agba
Ezza
Igbo
Igbo-Esa
Ikwo
Ishiagu
Izil
Izzi
Mbembe
Mgbolizhia
Ohaozara
Orring
Ethnic Groups and Languages in Edo State
The major ethnic groups in Edo State remain the Bini, Esans, Etsako Akoko, and Etsako. The ethnicities can be found in the 18 local governments of the state.
Here's a list of the languages found in Edo State.
Bini
Ebira
Ebu
Emai-Iuleha-Ora
Ghotuo
Enwan
Esan
Etsako
Etuno
Idesa
Igwe
Ika
Ikpeshi
Itsekiri
Ivbie
Izon
Okpamheri
Okpe
Oloma
Ora
Ososo
Owan
Sasaru
Ukaan
Uneme (Ineme)
Uwano (Weppa-Wanno)
Trbes and Language in Ekiti State
Ekiti State of South Western Nigeria has numerous languages considered to be the largest subgroup of Yoruba. Mainly, the people speak Ekiti, a dialect of Yoruba known as the central Yoruba. Nonetheless, there are several other dialects with linguistic differences.
Ahan
Arigidi
Ehueun
Iyayu
Iyive
Okpamheri
Ukaan
Ukue,
Uhami
Yoruba
Ethnic Groups in Enugu State
Igbo is the major ethnic group in Enugu State that constitutes 17 Local Government Areas. However, the state is known for its Enugu dialect of Igbo which falls under the Niger-Congo language family and traces itself down to the Igboid language branch.
Among the states that share boundaries with Enugu State are Kogi, Benue, and Ebonyi States. As such, there are other languages spoken in the state that may be influenced by the boundary. They include:
Gombe State
The major ethnic groups in Gombe are Fulani, Kanuri, and Tangale. However, most people adopt Hausa as a popular language of communication here. The languages of Gombe State are numerous in its Local Governments but Fula remains a major one and occupies 6 LGAs of the northeastern region.
List of languages in Gombe State
Awak
Bangwinji
Bole (Bolewa)
Centuum
Dadiya
Dera
Dikaka
Dza
Fulanii
Hausa
Jukun
Kamo
Kanuri
Kushi
Kyak
Longuda
Loo
Moo
Tangale
Tera
Tula
Waja
Imo State
The Imo State dialect of the Igbo language remains the most widely spoken language in the state. There are however reports that there are other minor dialects that constitute 2% of the population.
Jigawa State Ethnic Groups
As in most Northern Nigeria States, Hausa makes up the predominant language. Also, Fula of the Fulanis is another major language. Regardless, there are other indigenous languages such as:
Auyoka (Sub-Hausa)
Bade
Duwai
Fulani (Fulbe, Fulfulde)
Hadejia
Hausa
Warji
Ethnic Groups and Languages in Kaduna State
Kaduna State is divided mainly into the Southern and Nothern Kaduna. This division is not only in terms of geography but also in the aspect of ethnic groups. Although the people of the state mostly speak Hausa, Gbagyi-Gbari is the major ethnic group in the southern region while Hausa is mostly spoken, Fula is the major language in the Northern part.
Languages found in Kaduna State include:
Adara – (Kadara)
Atyap (Kataf/Katab)
Attakar
Kagoro
Kafanchan
Marwa (Manchok)
Ayu
Bajju (Kaje, Kajji)
Bassa
Bina
Gwari (Gbagi)
Gwong (Kagoma)
Kajuru (Kajurawa)
Kiballo (Kiwollo)
Kono
Moruwa (Moro'a, Morwa)
Ninzam (Ninzo)
Nunku
Rishuwa
Rumada
Rumaya
Saya
Srubu (Surubu)
Kano Ethnic Groups
One of the most populated places in Nigeria, Kano State is nonetheless not a large linguistic area as it has a few groups with the major being Hausa and Fulani.
A list of the ethnic groups in Kano State
Beriberi (Kanuri)Duwai
Fulfulde (Fula)
Hausa
Nupe
Tuareg
Kebbi State Ethnic Groups
There are more than 14 ethnic groups found in Kebbi State with Hausa, Fulani, and Zarma being the most known as the largest.
Here's a list of ethnic groups found in Kebbi State
Achipa (Achipawa)
Boko-Bala
Dakarki
Duka (Dukawa)
Danda (Dandawa)
Dendi
Kambari
Kamuku
Lela
Puku
Shanga
Zarma
Ethnic Groups and Languages in Kogi State
Kogi State is a linguistic diversified State in Northcentral Nigeria. The major ethnic groups of Kogi are Ebira, Gbagyi, and Nupe. The languages of the state however are:
Agatu
Bassa Komo
Bassa Nge
Bunu
Ebira
Idoma
Igala
Igbo
Kakanda
Kupa
Magongo
Ogori
Okun
Oworo
Kwara State Ethnic groups and Languages
Kwara and Kogi State have a lot in common in terms of ethnicity and languages. The ethnic groups in the state are:
Baruba
Fulani
Nupe
Yoruba
Ethnic Groups in Lagos State
The most populous city in Nigeria and yet the smallest in terms of area, Lagos State has Yoruba as a major ethnic group. However, due to settlement amid other factors.
Other ethnic groups are
Nasarawa State Ethnic Group and Languages
In terms of ethnicity, Nasarawa State is known for its variety. The State has a great number of ethnic groups with Eggon, Mada, Koro, Eloyi, and Hausa as major ethnic groups.
Also, there are numerous languages that count more than 20 scattered across the 13 local government areas of the state.
Here are some languasges found in Nasarawa
Afo (Eloyi)
Alago (Arago)
Agatu
Ashe
Asu
Bare-Bari
Eggon
Egbura
Eloyi
Gade
Goemai
Gbagyi
Grade
Gwandara
Gwari (Gbagi)
Ninzo
Numana
Nungu
Nyankpa
Kowo Wachi
Tiv
Tsikimba
Tsishingini
Niger
The major ethnic groups in Niger State are Hausa, Nupe, and Gbayi. However, the state that is rich in cultures and traditions prides itself as a state with more than 10 indigenous languages.
List of languages native Niger State
Acipa
Adara
Bassa
Baruba (Batonu)
Baushi
Boko (Bussawa, Bargawa)
Bunu
Busa
Boko
CishinginiC'Lela
Dibo
Gade
Gurmana
Gwandara
Fulfulde
Laaru (Larawa)
Lopa (Lupa, Lopawa)
Koro (Kwaro)
Nupe
Pangu
Pongo (Pongu)
Shama-Sambuga
Tsinkaba
Tsishingi
Tsuvadi
Yoruba
Ogun State Ethnic Groups in Nigeria
Apart from Yoruba, there are 6 other predominantly ethnic groups in Nigeria found in Ogun State known as:
Awori
Egbado
Egba
Egun
Ijebu
Remo
Osun State
Osun State is one of the states in Southwestern Nigeria and has Yoruba as its major ethnic group. Nonetheless, there are several other sub-ethnic groups such as the following:
Ibolo
Ife
Igbomina
Ijesha
Oyo
Oyo State
Also known as the Pace Setter State, Oyo is home to the Yoruba people and has Yoruba as its major ethnic group. Regardless, there are other dialects, including:
Ibadan
Ibarapa
Oke-Oguns
Oyo dialect
Plateau State
Even though Hausa is common in Plateau State as a means of communication, the north-central state is rich in ethnic groups. Some of its major ethnic groups are Berom, Taroh (Tarok), Ngas (Angas), Goemai (Ankwai), and Kofyar.
Here's a list some of the more than 40 languages found in Plateau state
Afizere
Amo
Anaguta
Bada
Bashiri
Bassa
Berom (Birom)
Burma (Burmawa)
Bwall
Buji
Challa
Chip
Chokobo
Doemak
Fyam (Fyem)
Fyer (Fer)
Ganawuri
Geomia (Ankwei)
Gusu
Irigwe
Jere – (Jare, Jera, Jera, Jerawa)
Jidda-Abu
Kantana
Kenern (Koenoem)
Kulere (Kaler)
Kwalla
Kadung
Kanuri
Kwaro
Kwato
Limono
Mabo
Mada
Mama
Memyang (Meryan)
Milighili (Mighili)
Montol
Munga (Mupang)
Mupun
Mushere
Mwahavul (Mwaghavul)
Ngas (Angas)
Ninzam- (Ninzo)
Nokere (Nakere)
Nunku
Pai
Pyapun (Piapung)
Rindire (Rendre)
Ron-Kulere
Rukuba
Saya (Sayawa Za'ar)
Shan-Shan
Sikdi
Sura
Talet
Taroh (Tarok)
Tiv
Yuom
Rivers State
Often regarded as one of the most developed and beautiful places in Nigeria, Rivers is equally rich in ethnic groups. The most famous among the ethnic groups in Nigeria as found in Rivers State are Ogoni, Ijaw, and Ikwerre.
In addition, there are also at least 27 sub-ethnolinguistic groups known as:
Abua
Andoni
Asa
Babbe
Bille
Bolo
Degema
Egbema
Ekpeye
Eleme
Engenni
Etche
Gokana
Ibani
Ikwerre
Igbo
Kalabari
Khana
Kula
Ndoni
Nkoro
Nkoroo
Ndoki
Ogba
Ogu
Okrika
Saro
Sokoto State Ethnicity
Fulfulde and Hausa form the major ethnic groups in Sokoto State. This nevertheless does not mean that there are no other sub-ethnic groups in the state.
Sub-ethnolinguistics groups of Sokoto
Taraba State
Taraba has a great number of ethnic groups with the major ones being Jukun, Mambila,  Wurkum, Mumuye, Fulani, and Chamba.
Languages found in the 16 local government areas of Taraba include:
Anca
Bakulung
Bali
Bambuko
Banda (Bandawa)
Betso (Bete)
Bobua
Bura-Pabir
Chamba
Chukkol
Dangsa
Dundudun (Dunka)
Diba, Gengle
Gornun (Gmun)
Gonia
Gwom
Hausa
Jahuna (Jahunawa)
Jero, Jonjo (Jenjo)
Jukun
Kaba
Kanuri
Karimjo
Kenton
Kodei
Kona
Kugama
Kunini
Kuteb
Kutin
Kwanchi
Lama
Lamja
Lau
Mbum
Mambila
Mumuye
Munga (Lelau)
Nyam
Nyandang
Ndoro
Panyam
Pkanzom
Poll
Potopo
Sakbe
Shomo
Taroh (Tarok, Yergam)
Tigon
Tikar
Tiv
Vommi
Waka
Wurkun
Yandang
Yott
Yobe State
There are about 12 or more indigenous languages found in Yobe State in the northeastern part of Nigeria. As per tribes and ethnic groups, there are 3 major groups, Kanuri and Karai-Karai which are native to the people; and Hausa which is also widely spoken.
Languages in Yobe State
Affade
Bade
Bole
Buru
Chibok (Kibaku)
Kanuri
Manga
Shuwa
Yerwa Kanuri
Zamfara State
The ethnic groups that are most common in Zamafara are Hausa and Fulani. Regardless, there are other ethnic groups in the state, including:
Bussawa
Dukawa
Gwari
Kambari
Kamyuku
Zabarma