Augustine Azuka Okocha (born 14th August 1973; Age: 50 years old) professionally known by his stage name Jay-Jay Okocha, is an ex-Nigerian attacking midfielder and former professional soccer player with an estimated net worth of $15 million.
Apart from playing for Nigeria's national team, he played for clubs in England, Germany, France, and Turkey in his distinguished 18-year career. Considered one of the greatest players of all time and one of Nigeria's most-capped players, Okocha gained a significance in soccer that remains remarkably sparse. The legendary ex-player is widely regarded as the best Nigerian player of his generation and one of the greatest African players of all time for his excellent goal-scoring record.
Similarly, it is not surprising that Jay Jay has amassed a net worth estimated at $15 million, over 6 billion in naira. The fast and very skillful player is best remembered for his confidence, technique, creativity, sharp-shooting, and dribbling skills, and his use of feints, and mostly the stepover. He gained acclamations and won trophies and awards at the clubs he played for during his football career. Indeed, Okocha had left an indelible mark in the world of national and international football even after calling his professional career quits over a decade ago.

Profile Summary of Jay-Jay Okocha
Full name: Augustine Azuka Jay-Jay Okocha
Date of Birth: 14th August 1973
Age: 50 years old
Place of Birth: Enugu State
State of origin: Delta State
Nationality: Nigerian
Marital Status: Married to Nkechi Okocha (1997)
Children: 2
Occupation: Professional footballer
Position: Attacking midfielder
Years Active: 1990- 2008
Net Worth: $15 million
Jay Jay Okocha was Born in Enugu State 50 Years Ago
Jay Jay was born Augustine Azuka on 14th August 1973 in Enugu State, the southeastern part of Nigeria. His parents, Mr. and Mrs. Azuka Okocha, hails from Ogwashi-Uku in Delta State, Nigeria. Okocha grew up with his parents and siblings in Enugu, and that was where he developed an interest in football. There is no record of his educational background.
He has a brother James who started playing football first and passed down the name Jay-Jay to the ex-player. Also, his immediate older brother Emmanuel, who was also called Emma Jay-Jay, is a known person in football. He is a former footballer who played for the Nigerian national team. Like many other footballers, Jay Jay Okocha started playing football on the streets, mainly with a cobbled-together ball. He revealed in an interview that they played football with just about anything they could get a hold of. Also, one of Jay Jay's nephews, Alex Iwobi, is an Arsenal and Nigeria player.
How Jay-Jay Okocha Built His $15 Million Net Worth
The sublime talent spent a large part of his career at Nigeria's national team, winning 74 caps for Nigeria after making his debut in 1993. He was part of his country's 1996 Olympic gold medal-winning side and was in 1994, 1998, and 2002 World Cup squads. He officially kicked off his career in 1990 when he joined Enugu Rangers. He made many spectacular displays there, including one where he rounded off and scored a goal against experienced Nigerian goalkeeper William Okpara in a match against BCC Lions.
A few months later, Jay Jay Okocha visited West Germany to watch German league football. While in Germany, he stayed with his friend Binebi Numa, who played in the Third Division for Borussia Neunkirchen. On one of Numa's training days, Okocha tagged along and was asked to join in the training. His skills attracted the attention of Neunkirchen coach, who told him to join the next day before offering him a contract.
In 1991, He Moved to Eintracht Frankfurt
This was where Jay-Jay Okocha enjoyed a meteoric rise from being an amateur footballer to an international player and tormented defenses with his range of tricks. He got familiar with notable players such as the Ghanaian international striker Tony Yeboah and Thomas Doll. A year later, he joined 1. FC Saarbrücken, but played a while with the 2. Bundesliga side before a transfer to 1. Bundesliga with Eintracht Frankfurt.
The ex-player continued to sparkle in the German side. One notable highlight was a goal he scored against Karlsruhe, taking the ball forward in the penalty box past goalkeeper Oliver Kahn even going past some players twice. The goal was voted Goal of the Season by many soccer magazines and voted as 1993 Goal of the Year by viewers of Sportschau (an ARD German TV sports program). While details of what he earned at this time are not available, it is believed that he was handsomely compensated for his achievements.
He Joined the Turkish Club, Fenerbahçe, in 1996
In 1995, Okocha, Yeboah, and Maurizio Gaudino had a serious argument with manager Jupp Heynckes, which forced them to leave the club. The two moved to England, while Okocha stayed until the season ended when Frankfurt was relegated to the 2. Bundesliga, before he transferred to Istanbul club, Fenerbahçe.
JJ Okocha joined Fenerbahçe, where he was receiving about £1 million. In his two seasons with the team, he scored 30 goals in 62 appearances, of which the vast majority of them came from direct free-kicks. This feat made him stand out in the club. While at Fenerbahçe, he also became a Turkish citizen as "Muhammet Yavuz."
Jay Jay Okocha Moved to Paris Saint-Germain in 1998
In 1998, the French football club, Paris Saint-Germain, commonly referred to as PSG, spent around £14 million on JJ Okocha, making him the most expensive African player at the time. During his four-year stint with PSG, he played 84 matches and scored 12 goals. He has also served as a mentor, at the time, for young Brazilian footballer Ronaldinho during his time in Paris. The football star did not reveal his salary at the club.
Bolton Wanderers (2002-2006)
Okocha joined Bolton Wanderers on a free transfer after leaving PSG in the summer of 2002 after the FIFA World Cup. Despite being hampered by injury, his debut season made him a favorite with the Bolton fans, with the team printing shirts with the inscription "Jay-Jay." During his time at "Bolton Wanderers," where he played for four seasons, the club's fans sang "Jay Jay is so good they named him twice" for the iconic former player. The line was used to confer enduring praise upon him in a terrace chant. To date, Jay Jay Okocha remains a hero to Bolton Wanderers, where the Nigerian rescued the club from relegation with a series of glorious goals and mesmerizing performances.
He Spent Only One Season Each at Qatar SC and Hull City
The midfield striker played one season for Qatar, Football League Championship side before Hull City signed him on a free transfer in 2007 after being linked to Real Salt Lake and Sydney FC. During his time at Hull City, he played 18 games but scored no goal. Before he left Hull, the club won promotion to the Premier League for the first time in their 104 year history.
Jay Jay Okocha Had an Impressive International Career
In May 1993, he made his first official appearance for Nigeria in her 2–1 1994 FIFA World Cup Qualifier away loss against Ivory Coast. Subsequently, he played for Nigeria against Algeria, and they won 4-1, which qualified Nigeria for the first World Cup. Thus, he turned a favorite to the Nigerian supporters. In 1994, Okocha became a member of the Victorious 1994 African Cup of Nations squad at the 19th edition of the Africa Cup of Nations and a member of the 1994 World Cup squad.
Going further, the striker played for Super Eagles, who got to round 16 in the 1998 FIFA World Cup hosted by France. Super Eagles won their opponent Spain with 3-2. He also played with the Super Eagles in the 2000 African cup of nations Nigeria co-hosted with Ghana and scored three goals. Then, alongside Daniel Amokachi, Alloysius Agu, John Fashanu, Benjani, and Sulley Muntari, Jay Jay played for Super Eagle in a testimonial against an African select side in Warri. Interestingly, Nigeria won the game 2-1 with massive accolades to Okocha, who scored the winning goal in the match's second half.
In 2008, Jay Jay Okocha retired from international football after Nigeria lost to Ivory Coast in this year's African Cup of Nations semifinals.
Summary of Jay Jay Okocha's Career Earnings
| | | |
| --- | --- | --- |
| Club | Duration | Salary |
| Borussia Neunkirchen | (1990–1992) | Undisclosed |
| Eintracht Frankfurt | (1992–1996) | Undisclosed |
| Fenerbahçe | (1996–1998) | £1 million |
| Paris Saint-Germain | (1998–2002) | £80,000 |
| Bolton Wanderers | (2002–2006) | £2.5 million/year |
| Qatar SC | (2006–2007) | £1 million/year |
| Hull City | (2007–2008) | Undisclosed |
He Earns From Endorsement Deals
As a professional footballer who has led an excellent career, Jay Jay Okocha has sealed a good number of endorsement deals. Below are some of the brands he is associated with:
Bajaj Auto, an Indian motorcycle manufacturing company
Kwik Delivery, a top delivery service in Lagos
Xiaomi, a global electronic company
Bullet Energy Drink
New Age Charger
BetKing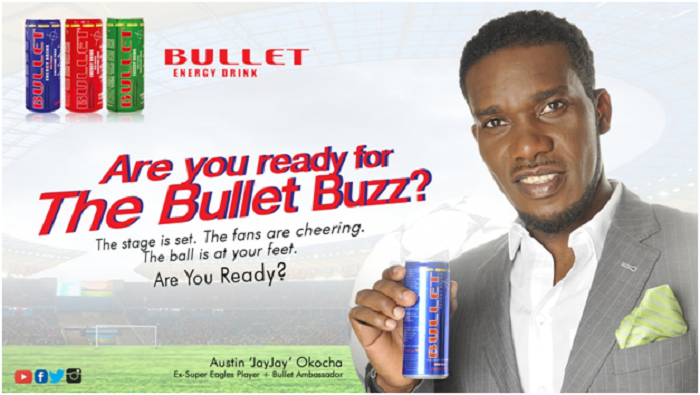 The Ex-player Has Other Business That Keeps Him Afloat even after His Retirement
For a footballer of his caliber, Jay Jay's income comes from a series of sources. With his net worth estimated at $15 million, Okocha is regarded as one of the wealthiest retired footballers. Some may think that for the fact he has retired, Okocha would suffer gross financial erosion. But Okocha remains afloat and enjoys a comfortable and enviable life with his family. Although he keeps his life private, it is widely known that the ex-footballer owns many properties, including houses and cars. Okoha wowed the public when he gifted his wife with a white Mercedez Benz G-Wagon SUV on her 40th birthday.
The former player is one who planned his retirement very well by investing in a few other businesses that currently maintain his affluent lifestyle. He is the CEO of a magnificent business empire known as Jay-Jay Okocha Group West Africa Limited. This is a business that has been in existence since 2008, shortly after he retired. It has many subdivisions such as Bureau de Change, restaurant, bar, and imports of some consumer products such as wine. The company also has its hands on property development, road construction, electronic sales and distribution, and football management.
Even though how much he earns from his business empire is not known, it is no doubt that the former player makes huge sums from it. Additionally, Jay Jay spends his retirement days encouraging young and aspiring players and partakes in motivational sports programs organized for school children. He also features as an analyst in football matches, the most recent is the 2018 FIFA World Cup in Russia.
His Awards and Achievements
Okocha was never named the African Player of Year award even though he is arguably the best player who never got bestowed with the award coming second in 1998 and third in 2003 and 2004. However, he won the inaugural BBC African Footballer of the Year and the successive one, becoming the only player to retain the award and win it more than once.
In 2004, he was named in football legend Pelé's FIFA 100 (a list of the greatest 125 living players of all time). In 2007, he took the 12th on the list of greatest African footballers of the past 50 years – a poll conducted by CAF to mark their 50th anniversary.
Also, in 1995, 1997, 2000, 2002, 2003, 2004, and 2005, Okocha won the Nigerian footballer of the Year Awards. He won club player of the year in 2005. Scorer of some of the greatest ever Nigerian goals in the 1990s, Okocha won the Africa Cup of Nations with Nigeria in 1994 and played in the World Cup the same year.
The ex- fantastic soccer finisher and a terrific goal-scorer was also decorated with the following titles:
1998 FIFA World Cup All-Star Team (Reserve)
1998 African Footballer of the Year runner-up
1996 Nigerian footballer of the Year runner-up
2003, 2004 BBC African Footballer of the Year
November 2003 Premier League Player of the Month
April 2003 Goal of the Month (England)
2005 Bolton Wanderers footballer of the year
Okocha's Money Laundering Charges in Scotland
The Nigerian Super Eagle player has faced two different charges on money laundering by the Scottish police at the Aberdeen Sheriff Court. Firstly, he was charged for allegedly procuring, being in possession of, and transferring criminal properties, while the second charge was related to concealing, disguising, and converting criminal property. These incidents reportedly took place in 2015 but were brought up to court after two years in 2017.
During the court hearing in Aberdeen Sheriff Court, Okocha made no plea and was granted bail. The case was adjourned without a specific date for further examination. However, in March 2020, the charges were withdrawn against Okocha by the Crown Office and Procurator Fiscal Service.