Ace Nigerian music producer Don Jazzy is currently single but was previously married to a UK-based model and writer named Michelle Jackson. He has no children.
Since 2002, the music producer has continued to gain ground in Nigeria's entertainment industry, creating beautiful music and grooming young and upcoming artists. However, amid his very successful career, his marital status has remained controversial as many still find it shocking to hear that the 40 year-old has not found a wife.
Don Jazzy was Previously Married to Michelle Jackson
Don Jazzy is one of the few top celebrities you would hardly find linked with some random woman which is probably why many still think he is married despite obvious revelations about him being single. It is, however, a fact that the Mavin Records boss once had a wife with whom he lived with for a couple of years until they separated.
The award-winning music producer revealed that he got married to Michelle Jackson, a UK-based model, and writer. In his bid to clear the air about his marital status, the beatmaker said he got married to his best friend sometime in 2003. Although Don Jazzy did not go further to explain how and when he first met his said best friend, more pictures and posts revealed that the two met during his visit to London.
Recall that the music artiste left Nigeria for London in 2000 following his uncle's invitation to play drums for a local church. There, he gained employment at McDonald's as a security guard and continued his music career, associating with co-Nigerian artistes like Solek, JJC Skillz, Kas, Jesse Jagz, and D'Banj.
❤️❤️❤️ pic.twitter.com/moBlgm5wzl

— ITS DON JAZZY AGAIN. 🐘 (@DONJAZZY) April 3, 2021
It is not known if Don Jazzy and Michelle had a church wedding but following his picture posts on Twitter, it appears that the two had a traditional and court marriage. Michelle Jackson is a writer, model, and fashion brand ambassador. Her Instagram page @yarnstaswitch also shows that the UK-based Nigerian model is also into hair beauty.
Why Don Jazzy Left Michelle After two Years 
Don Jazzy and Michelle were apparently in love with each other before they agreed to move their relationship much further. Don Jazzy himself described his marital life as beautiful and even Michelle, while recalling their time together as a couple, agreed that their union was beautiful.
She went further to describe the Nigerian music star as fun to be with and that even though many had expected their marriage to crash much earlier because of their young ages, they were able to beat societal expectations by living their lives so "carefree and happy," despite occasional arguments and misunderstandings.
What then happened to a once happy union, many would ask. Well, Don Jazzy had himself to blame for the fallout of his marriage with Michelle. The 53 year-old famous record producer revealed that his marriage fell apart mainly because he prioritized his music career above his family.
Taking all the blame for his short-lived marriage, Don Jazzy described his then-wife as one who is "so beautiful inside and outside with such a soft heart". He said while Michelle was busy working to put the family together, he was busy paying more attention to his musical interests.
Speaking on the matter of their divorce, Michelle who visited Nigeria in 2021, admitted during an interview that in addition to the fact that they both married too early for their age at the time, Don Jazzy's musical career was the main cause of their breakup. Michelle revealed that she was almost 22 years old and Don Jazzy was just 20 years old when they became a couple. This means that the model is older than Don Jazzy but that, according to her, was never an issue between them.
Don Jazzy Has Remained Single ManyYears Later
With many years gone after his two-year marriage to his best friend, Don Jazzy seems not to be willing to get committed again. The Mavin Records boss has also revealed that he is still not ready to be committed to a family as he is still very much in love with his musical career.
Not willing to compromise his love for his career, the music producer said he is not married because he would not want to marry another (person) and mess it up again. Explaining further why he is not linked with any woman yet, the singer said in an interview with HipTV's Street Hop that it is because he has "trust issues" and not necessarily because of his social status.
Believing he is not strong enough to be with just one woman, Don Jazzy said being in a relationship with any woman would mean lying to her that he is committed to only her.
Is Don Jazzy Married to Rihanna?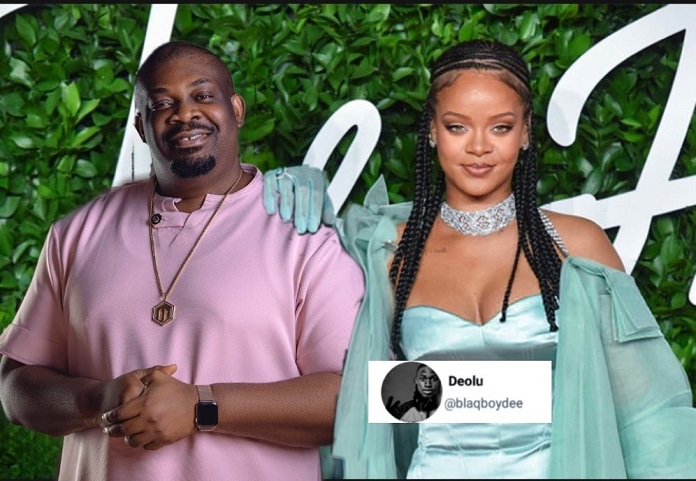 Amid all speculations of him being in a relationship with some celebrities, Don Jazzy has maintained that he is not willing to get committed to anyone. However, he once admitted to having a huge crush on Barbadian singer Rihanna.
Don Jazzy's comment sparked off speculations about the two being involved with each other. It was also speculated that the American-based singer Rihanna turned down Jazzy's request to get involved with her as she is already hooked up with the famous American rapper A$AP Rocky.
Known for his amusing posts on his social media pages, Don Jazzy has always shown himself to be a good fan of Rihanna and perhaps many took him rather too serious when he revealed his feeling for the singer. Meanwhile, Don Jazzy is not the only Nigerian artist that has shown interest in the American singer. The likes of Wizkid, Runtown, and Lynxxx have all at some point publicly indicated an interest in her.
Other Women the Mavin Record Boss Has been Linked with
Meanwhile, there were claims linking the mega award-winning producer with a couple of celebrities, including the famous and controversial actress Tonto Dikeh. Rumor had it that Don Jazzy and Tonto dated when the actress was still in her prime in the entertainment industry. The rumor was further sparked when Tonto claimed via her Twitter page that she lost her virginity to Don Jazzy.
Don Jazzy, however, debunked her claim in a rather jovial statement that signified they never had anything together.
Don Jazzy and Freda Francis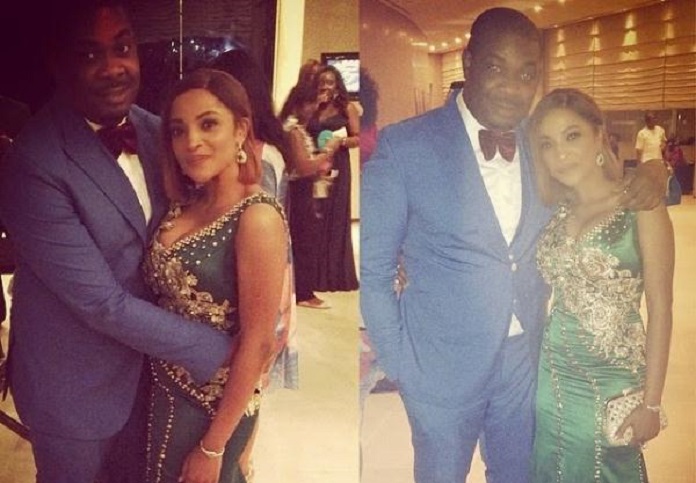 There were also claims that the record producer dated a music artist named Freda Francis. The rumor about their relationship sparked off after Collins posted a picture of the singer's wardrobe, describing her as a "friend".
Shortly after, Don Jazzy took her to Dubai as his plus-one for label-mate Tiwa Savage's wedding, holding her closely as they posed for a picture shot. Don Jazzy later uploaded a picture of himself in bed with a lady whose face was not captured and is widely speculated to be Freda.
Don Jazzy and Tiwa Savage
Another female celebrity linked to the Mavin record boss is Tiwa Savage who joined his record label in 2012. There were claims that the gorgeous Nigerian songstress was secretly having an affair with her boss even while she was still married to her former manager and husband Tunji "Tee Billz" Balogun. The rumor gained more ground as Tee Billz accused her of infidelity.
Don Jazzy has once admitted to having a crush on the beautiful singer but they both deny having a romantic relationship with each other. Amid all social media trolls, the 'Dorobucci' crooner recently revealed that though he is in a relationship at the moment, he is not in a hurry to get married.
Does Don Jazzy Have a Child?
Don Jazzy has no child of his own. The famous producer said so himself while answering questions from his fans about his past marriage and relationships. There has been speculation about the singer secretly having a son.
Some have even gone as far as speculating that the fast-rising singer Rema is his biological son. This has been proven wrong as the young artist whose real name is Divine Ikubor is not related to him. He is from Edo state and was discovered by Don Jazzy's brother D'Prince.