It's countdown to the biggest world celebration after New Year's Day, 14th February, Lovers day. Last year Valentine was ruined by the 2015 electoral elections in Nigeria.
People had lovely plans that only died in their head, as politics took over the day. It's time to make it up to your spouse this valentine. Just in case you are wondering what to do for him or her, here it is – romantic valentine's day ideas.
1. Be the First
If your partner is around your reach, be the first person s/he sees on Valentines day. For couples who live together, it's quite easy because you wake up right beside him or her already. If you don't live in the same house, find out creative ways to pull that off. Give him a wake-up call, or text, like it's his birthday. Tell him how much you love him and all the romantic words you can remember.
2. Write an Open Letter on Why You Love Your Spouse
Even if you are not good at writing, sincere words of love should flow freely. Get a book and pen down reasons why you are smitten by your partner. Do not forget to share fond memories you have had together. Do not focus on their shortcomings but let your respect and love for them show in your words. If you have a personal blog, you can publish it, and even on your social media page. You're in love and don't care what the world thinks, right?
3. Offer Massage Session
After a long day, one thing your partner will definitely appreciate on valentine's evening is a soothing massage to relax the nerves. Set up the bedroom to have that cozy romantic ambiance of love. You can dim the lights or use  scented candles with sweet fragrance, while you work on the body.
Check This Out: 10+ Crystal Clear Signs To Know It's True Love
With warm oil on the skin, soft music in the background, work your way through that back with gentle touches. Make sure it is sensual and don't break a bone. You can learn one or two things from the video below. After this session, your boo will love you forever!
4. Surprise Your Spouse With a Special Getaway
This is a killer tip! Invite your spouse to lunch or dinner in a neutral but classy restaurant. Then surprise her with either someone playing her favorite song on a keyboard, guitar or sax, or/and with the table decorated with gifts bearing her names. It has to be pre-arranged with the management of the restaurant. This effort will surely be appreciated and will create a lasting memory of love.
5. Give Her a Dozen Roses
Send her 11 roses at intervals, all on Valentine's day. Attach to the 11th stem of rose a note for a date. Then give her the 12th rose during the date.
6. All Red Gifts

Red is the colour of love and speaks volume on Valentines day. If you are separated across the miles, you can send a care package filled with things that are all red. If you are with her, take her shopping to the red session of any boutique. This won't be difficult to achieve on 14th February as most shops stock up the shelves with red items.
7. Make a Meal with Symbols of Love
Examples: You can use tomatoes, carrot, and green pepper to decorate a plate of noodles. You can write anything  to express your feelings, but keep it simple " I LOVE U" would do. You can also get him/her love shaped cookies or cupcakes. If you can bake them yourself, perfect!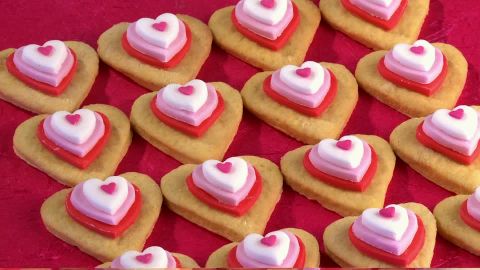 8. Wives, Show up at Your Husband's Office
Call him and tell him you are outside his office and you came to take him out for lunch. Wear a nice outfit and tell him you have something sexy underneath for him when he gets back home. Take him to a nice place for his favorite meal and bring him back to the office.
Give him some great kisses telling him how glad you are to be married to him. Then leave him with the "I'll be home waiting for you" line. If he usually closes by 5pm, don't be shocked to find him home by 4pm.
9. Kiss Pick Game
On small pieces of paper, write down every kind of kiss that you can think of (examples: peck, french, soft, passionate, etc.) Fill an inexpensive red bag with your "kisses" in paper and give it to your spouse. Ask your spouse to pick out the pieces of paper from the bag one after the other, and then give your sweetheart whatever kind of kiss is described on the paper.
10. Love Signs
Surprise your husband when he comes home from work on February 14. Place a welcome sign on the kitchen table and leave a trail of red foil-wrapped kisses to your bedroom. Another tip will be to tape notes to his car's steering wheel with reasons that you love him, or decorate the bathroom mirror with lipstick kisses.
Check This Out: 115 Cute Names To Call Your Girlfriend
11. Public Confession
With roses in hand and permission from your wife's boss, go to her workplace and read a love poem to her. A nice heartfelt write up that would make her feel special, loved and proud to be your wife. You can also write the poem on an embossed cardboard sheet, frame it and present it to her while you recite from your heart.
12. Travel Down Memory Lane
Pay a visit to the place where you had your first date. It may be a restaurant, a cinema or a beach. After you have ordered a meal, both of you should take few minutes to write your favourite moments together. Then share the lists. You will be astonished to see what pops up on this lists. It will include things that you thought were insignificant.
13. Watch a romantic movie
After the candlelight dinner and exchanging fond memories, you can round-up the evening by watching a romantic movie together, not at the cinema but in the comfort of your home, in each other's arms.
14. Make a Pencil Portrait of your Spouse
There is nothing as emotional as your spouse tearing off the foil over the valentine gift you got him or her and seeing an artwork of his or herself. There are a lot of artistes in Nigeria who can help you create an amazing duplicate of your spouse on paper. You can visit 54artistry for a variety of great artists at your disposal.
15. Make Sweet Passionate Love
By that, I mean the kind of love-making that ends with tongue-speaking, earth-shaking orgasms. In a nutshell, have all the fun you can on February 14 and remember: Love is not meant to be given and received just on Valentine's Day. It's to be practiced every single day of the entire year.