Football stars are among the most famous celebrities in the world today. Once you become a footballer, you are out for fame and a lot of people become interested in your affairs. Victor Moses, a Nigerian professional footballer is not left out in this. I believe you already know him as a Super Eagles and Chelsea player, but there are a whole lot more about him which haven't crossed your mind.
Victor Moses Biography
Victor Moses was born in Lagos, Nigeria on December 12, 1990. Judging from the facial outlook of this player, you would certainly make a mistake in guessing his age. He appears so mature, but Victor is actually a young man who is giving his best in what he is best known for – the football.
His undying passion for football began from his early stage and in Nigeria where he often enjoyed playing football with his friends. Life at that time was really harsh and unfavourable for the young man who during an interview, described how he had no shoes to wear while pursuing his passion for football. He played football for his school and later for a local Tandridge League club until Crystal Palace FC approached him. From that point, his career progressed in leaps and bounds.
 Career Journey
Moses first came to prominence at the age of 14, after scoring 50 goals for Palace's under-14s side. Playing for three years at both Whitgift and Palace, Moses scored over 100 goals as well as helping Whitgift win many School Cups, including a National Cup where he scored all five goals in the final against Healing School of Grimsby at the Walkers Stadium, Leicester.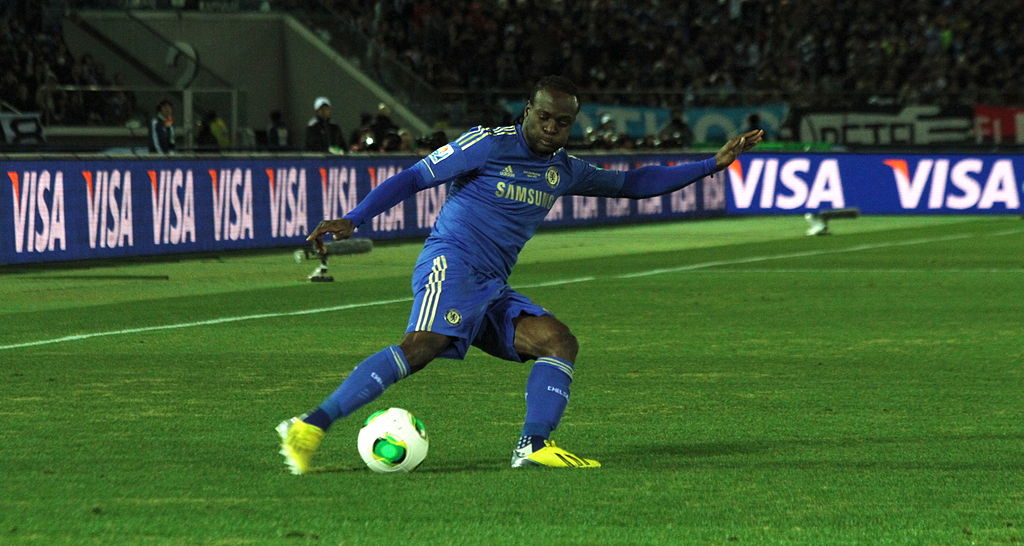 See Also: 16 Famous Nigerian Footballers You Need to Know
Moses' versatility has made him invaluable to teams, as he can play from nearly anywhere on the front field and still create opportunities to score. In an interview, he said, "I feel comfortable anywhere. He can play in a variety of positions, primarily as a winger, but also as a forward.
Having played for Wigan Athletic for two seasons before he made the move to Chelsea, Moses was already familiar playing against the famed club. After moving to Chelsea, he appeared in only 23 matches before going on loan for Liverpool for the 2013 season. He was also on loan to Stoke City for 2014 -15 season and it seemed to him as though this trend would continue for the foreseeable future.
He made his Premier League debut for Stoke City on 30 August 2014 in a 1–0 win away at Manchester City. In Stoke City's 1–0 win over Newcastle United on 29 September 2014, Moses provided the assist for the lone goal scored by Peter Crouch and was voted Man of the Match for his performance. On 19 October 2014 in a 2–1 win against Swansea City, Moses won a penalty after going down under a challenge from Àngel Rangel and after the match, Swansea manager Garry Monk claimed that Moses dived. Moses scored his first goal for Stoke on 1 November 2014 in a 2–2 draw with West Ham United. In 2015, he moved to West Ham on a season-long loan but before his move, he signed a new 4-year contract with Chelsea which will keep in the club until 2019.
Back home, Victor has proven his patriotism as a Nigerian while playing for the Super Eagles. His love for his fatherland made him choose to play for the Nigerian National team even when he had a choice not to step into Nigeria again. When the call to serve his fatherland came in March 2011 for Nigeria's games against Ethiopia and Kenya, Moses dumped England and embraced Nigeria. Being aware of the great talent that England's national team is presented with every year, Moses chose to make the move to Nigeria where he felt the full international opportunity would knock. In an interview, he talked about the great young players that England produces and felt that he would be better utilized on the Nigerian team for international play.
The Super Eagles of Nigeria and Chelsea striker, Victor Moses was part of the Nigerian national team that featured in the 2014 FIFA World Cup. He played in all three opening group matches and in the Round of 16 match against France where Nigeria lost 2–0. To prove his dedication to the growth of the Nigerian football, the superstar regularly came down to take part in the FIFA 2018 qualifying matches and even scored a brace for the country during a qualifying match against Algeria in November 2016, helping the Super Eagles to secure a 3–1 victory.
Salary and Net Worth
The 1.77 m tall right-footed attacking midfielder is one of the highest paid Nigerian footballers whose net worth is quite impressive. His market value is around €12 million and his estimated net worth is $20.1 million with a whopping $100,000 as his weekly salary.
Recently, he was rewarded with a 60 percent pay rise following his performance at Stamford Bridge. He also signed an endorsement package with Opera Mini which is bound to fetch him an additional money. His personal investment stands around $15.9 million. Like most celebrities, Victor loves luxuries. He owns fleets of luxurious cars which include Mercedes Benz G-Wagon, Aston Martin, Ford, BMW And Ferrari. He also owns a house which is worth €12 million.
Parents
Victor is born to Christian missionaries Mr. Austine and his wife, Josephine. He lost his parents in a sharia conflict at the tender age of 11. It happened that he left his house to play football but returned home to see that all his parents had laboured for had been razed down and he would never see his mother and father again. After the incident, there were threats that he is the next target and so his friends hid him and later, he found a way and left the country with the help of relatives. He left for England where he sought asylum. He was able to get assistance from a family in South London who took him and fostered him.
Girlfriend, Wife, Kids
In 2012, just two days after he scored his first goal for his new club, Chelsea FC, Nigerian international, Victor Moses, became a proud father as he welcomed a baby at 21 with his girlfriend, Josephine. Moses broke the news of his newborn baby, a son he named Brentley to his more than 45,000 Twitter followers, through his account, expressing delight at his status.
"I am really proud to announce I'm now a dad! Brentley Moses born this morning 3.960kg all healthy thank God! thanx 4 ur support" he tweeted.
The duo also had a baby girl, Nyar in 2015. In May 2017, he officially tied the knot with the mother of his two kids. The ceremony took place just less than 24 hours after he was sent off in Chelsea's 1-2 loss to Arsenal in the FA Cup final.
 Other Facts You Must Know
Victor Moses was named PFA Fans' Premier League Player of the Month: November 2016.
 Being proud of his home country, Victor has helped Nigeria's football team to win many games since 2012. He is always available to play for his home team, the Super Eagles.
He won the CAF Nations Cup with the Nigerian national side in 2013 under the guidance of late Stephen Keshi.