jumoke odetola is a 39-year-old Nigerian actress, scriptwriter, film producer, and model who was born on the 16th of October, 1983. She began her career in Nollywood English language films before delving into Yoruba movies. Jumoke made a name for herself through her exceptional method of interpreting movie roles, which have earned her the love of many. The 39-year-old is also one of the beautiful and talented upcoming actresses in Nollywood who have won multiple awards for their success. Learn more about the Nigerian actress.
Summary of Jumoke Odetola's Biography
Full name: Olajumoke Odetola
Date of Birth: 16th October 1983
Age: 39 Years Old
Place of Birth: Lagos, Nigeria
Ethnicity: Yoruba
State of Origin: Ogun State
Nationality: Nigeria
Education: Ajayi Crowther University, Oyo State and Federal University of Agriculture, Ogun State
Occupation: Actress, Model, Screenwriter
Years Active: 2013 – present
Marital Status: Single
How Old Is Jumoke Odetola and Where Was She Born?
Jumoke Odetola is 39 years old as she was born in Lagos on 16th October 1983. She is an indigene of Ijemo in Abeokuta, Ogun State; Although much is not known about her parent's profession, we know she was born into an apostolic family and grew up alongside six siblings, out of which five are girls. However, the identity of her siblings is not known, as the actress does not discuss them in the public space.
Jumoke attended primary and secondary school at Abati Nursery/Primary School, Lagos, and later graduated from Abeokuta Girls Grammar School, Abeokuta. Upon completing her secondary education, she proceeded to Ajai Crowther University, where she obtained her first degree in Information and Communication Technology/Computer Science. She had her NYSC in Abia State, after which she enrolled at the Federal University of Agriculture, where she got her Master's degree in Computer Science.
Jumoke Odetola's Parents Never Wanted Her to Pursue a Career in Acting
Actress Jumoke is in the league of actresses who do not have the support of their families at the initial stage of their career. A slight difference in her case is that her siblings got her back all the while but her parents never approve of it. She revealed in an interview that her decision of venturing into Nollywood was totally against her parent's wish because they had never liked anything that had to do with the entertainment industry from the onset, then, to talk of their child being in the space.
Jumoke developed a radical passion for acting, resulting in her constant habit of watching films. She does nothing else in her free time but watch movies and even mimic the actors when no one is watching her. Her sisters supported and encouraged her to be more serious with acting if she has a passion for it. However, her parents wanted all their children to be fully in professional fields such as medicine, engineering, law, etc. Her father even made all the provisions for her to go to Europe, study more, and practice the course as an IT expert.
She Eventually Made Her Way Into The Industry at The Age Of 30
In the middle of deciding on pursuing a career in acting or following her parents' wish, Jumoke was busy going for movie auditions without the knowledge of her parents. In a moment, she found herself in Nollywood. Jumoke Odetola had her first movie role in the 2013 Nollywood film, Heroes and Zeroes, where she played the character of a journalist. Jumoke Odetola does not just accept and interpret roles assigned to her in movies but does it with uniqueness and creativity.
Following her debut, she took another role in the movie, Binta Ofege. When asked about the project that gave her a big break, the exquisite actress said that it is Binta Ofege, narrating how the movie allowed her to play diverse roles. From the role of a con artist to the role of a pregnant mother, and where she had to disguise herself as a man. Actress Jumoke is also a screenwriter who leverages her times out of the set to write scripts.
Movies That Made Jumoke Odetola  a Household Name in Nollywood
After winning the prestigious AMVCA in 2016 with her movie Binta Ofege, Jumoke has taken the game up a notch by producing a high-tech surrealist movie that made Binta Ofege look like a child's play. Somewhere in the Dark is a 2016 Yoruba/English movie that the actress mentioned as one of her best movies where she played the most challenging role. In the film, Jide (Gabriel Afolayan) went missing when he was supposed to be buried. His wife, Karina (Jumoke Odetola), is also nowhere to be found.
What happened to the Corps? Jide's family is in disarray about the development, the police running helter-skelter looking for answers, and the devil is about to be provoked from the deepest part of hell. Starting from the first day of the shoot, she had an accident and sustained a sprained ankle and bruises on her legs.
As if that was not enough, the makeup artist on set mistakenly gushed a makeup chemical into Jumoke's eyes, which had her visiting an optician a couple of times. However, all these did not stop her from continuing and carrying out excellently all her assigned roles in the movie.
Having been in the entertainment industry for close to ten years, actress Jumoke Odetola has remained relevant and featured in innumerable Nollywood productions. She is ever ready to grace our screens with more entertaining roles. Even with hundreds of movies under her belt, there are still a select few we consider as her best.
Jumoke Odetola's Movies Include:
Heroes and Zeroes
Wetin Women Want
Bachelor's Eve
Somewhere in the dark
Binta Ofege
Heroes and Zeros
Tinsel
Papa Ajasco
Family Ties
Super Story
Iwalesin
Freezing Point
House of Badmus
Injustice
Jumoke Odetola's Awards and Nominations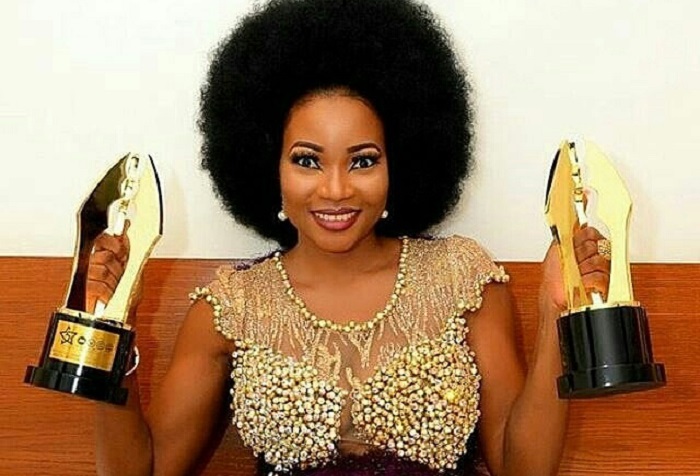 The Nollywood talent has earned some awards in the industry over the course of her acting career. Some of her awards and nominations include the following:
2016 – Best Indigenous language film at the Africa Magic Viewers Choice Awards (won)
2017 – Best Indigenous language film at the Africa Magic Viewers Choice Awards (won)
Revelation of the year category at the BON Awards (won)
2017 – Best Yoruba Actress in a lead role at Best of Nollywood Awards in Ogun State (won)
2017 – Best Supporting Actress (Yoruba) at the City People Movie Awards (nominated)
2018 – Best Actress at the City People Movie Awards (won)
Jumoke Odetola Has Also Bagged a Few Endorsement Deals
Since her rise to fame, the award-winning actress has served as a brand ambassador for notable brands. She has a million naira endorsement deal with CYK Garment and Apparel, a clothing brand. In May 2021, the actress took to her Instagram page with some cute photos of her unveiling as the brand ambassador of Creamydove Essential, one of the best cream brands.