Anambra born Nightlife boss, billionaire businessman and serial mogul, Obinna Iyiegbu, popularly known as Obi Cubana aka Okpole Yankee has thrown Nigerians into a frenzy as he has shut down down the internet due to the various activities especially the gifts and VIPs who have shown up at his mother's burial ceremony in his hometown; Oba, Anambra State Nigeria.
The 48 years old billionaire philanthropist who is the Founder and CEO of the Cubana group has got tongues wagging and kept mouths agape over the last few days as he has shut down his hometown of Oba with dignitaries and "big boys". Obi Cubana's mother passed away in December 2020 and was buried on the 15th of July 2021.
However, the burial of the late Ezinne Uche Iyiegbu aka Odoziaku was turned into a festival by his friends, staff, and well-wishers. Here are the highlights of the event.
1 Trailer Load Of Cows from Cubana Chief Priest
The week-long burial ceremonial activities first trended all over social media when his former staff Cubana Chief Priest; real name Pascal Chibuike Okechukwu aka Celebrity Bar man donated 46 cows as gifts to the burial ceremony.
The cows which were brought in a trailer truck is one of the highlights of the event amongst others. It is worthy of note, that Cubana Chief priest first came into prominence as a staff of Obi Cubana.
He was the manager of Cubana Owerri, Imo State, as well as a brand influencer for the Cubana brand on Instagram. His Nickname Cubana Chief Priest further garnered attention to the Cubana group; which with many social media users believing that pascal Chibuike owned the Cubana Organization.
However, Cubana Chief priest fell out with his boss Obi Cubana in September 2020 and even went ahead to establish his own club and bar in Owerri as well.
Although the full details of the rift were not made known to the public, Chief Priest's move of presenting 46 Cows in a Trailer points at a reconciliation. Days before the burial, Cubana Chief priest promised that "history will never forget" what he termed as a "big movie"; he made right his words as the truckload of cows is one too many a feat at Obi Cubana's mother's burial that will not be forgotten in a hurry.
Even after previously parting ways with Obi Cubana, chief priest maintained the name Cubana Chief priest and that is because the name is tantamount to his personality as a businessman and an influencer.
10 Cows From Young Billionaire Jowi Zaza
Oil and Gas billionaire mogul Joseph Eze Okafor Jnr. aka Jowi Zaza was not left out in the "Cow Gift" business as he gave ten cows to his friend and business partner Obi Cubana for Mama Cubana's burial ceremony.
The young billionaire who is extremely wealthy yet relatively private and obscure on social media also made a mark at the burial ceremony with his grand entrance of luxurious cars. The CEO of Jezco oil and gas is known for his love of exotic cars, and didn't fail to show up and show out with a fleet of them during his arrival for the burial ceremony.
346 Cows, 72 Goats, 20 Rams … and Counting
Mama Cubana's burial has become a history maker, apart from Cubana Chief priest and Jowizaza, other celebrities and persons have donated cows making the total number of cows to round up to a figure of over 300. Yomi Casual, Obisgallery, E Money, and many others donated cows, rams, and goats. Mavin act, Dj Big N first gave the update of the very many cows that are being brought to the burial ceremony, and a video shared by Lush Eby, Obi Cubana's wife, shows that a cattle ranch has been established with the cow gifts.
Social media users have reacted to the exceptional number of cows in various posts and memes with some making jokes that Obi Cubana will become a cattle herder after his mother's burial. A lot of festivities and activities are still going on at the burial ceremony with enough to eat and drink.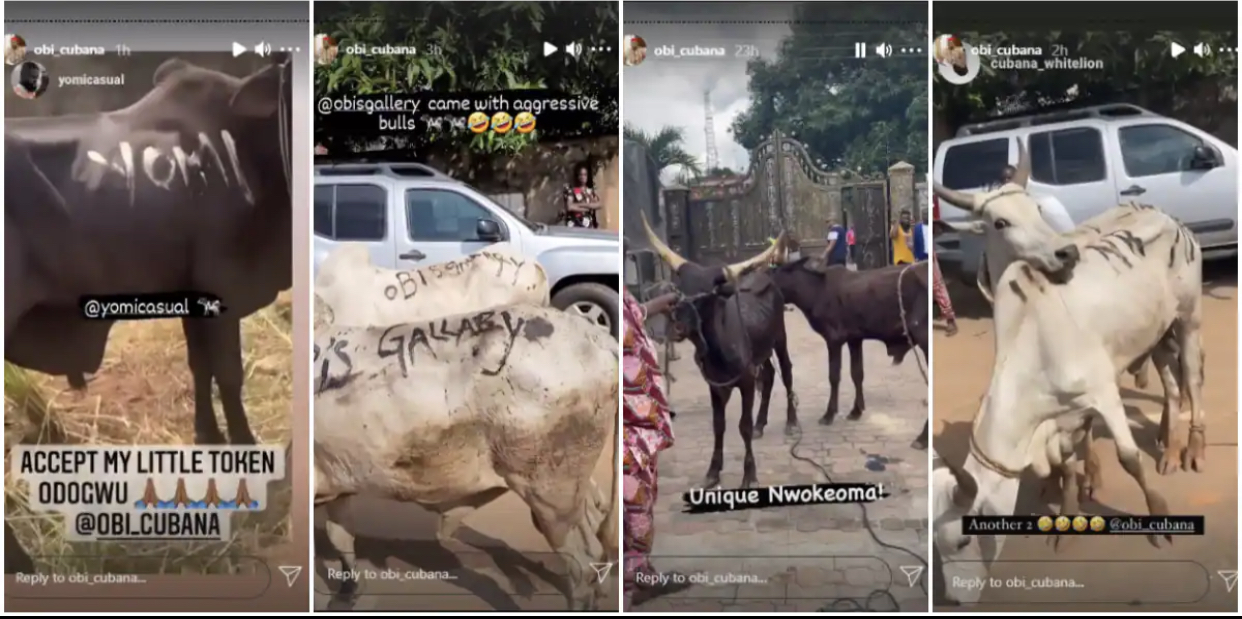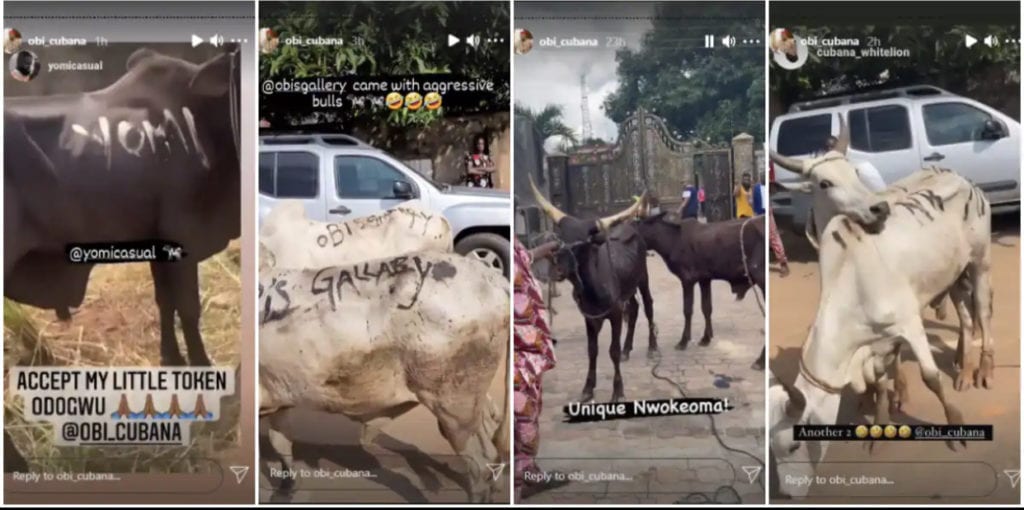 Obi Cubana's Self-Acquired Diamond Necklace Of N40m
To immortalize his mother, Obi Cubana had celebrity custom luxury jeweler, Obisgallery craft a $100,000 Diamond necklace in the image of his mother.
The forty million Naira Diamond Necklace is no small feat, proving that indeed Obi is multi Billionaire who is paying his respects to his late mother in style.
This jewelry is the latest highlight of the burial ceremony as more highlights are expected to unfold.
Multimillion Dollar Cognac and "Money Flood"
Amongst the many attractions and highlights of mama Cubana's burial is the flamboyant display and show of wealth by the friends and well-wishers of Obi Cubana.
Chief amongst them is the Louis XIII cognac which is valued at almost 4 million Naira being served at the burial ceremony.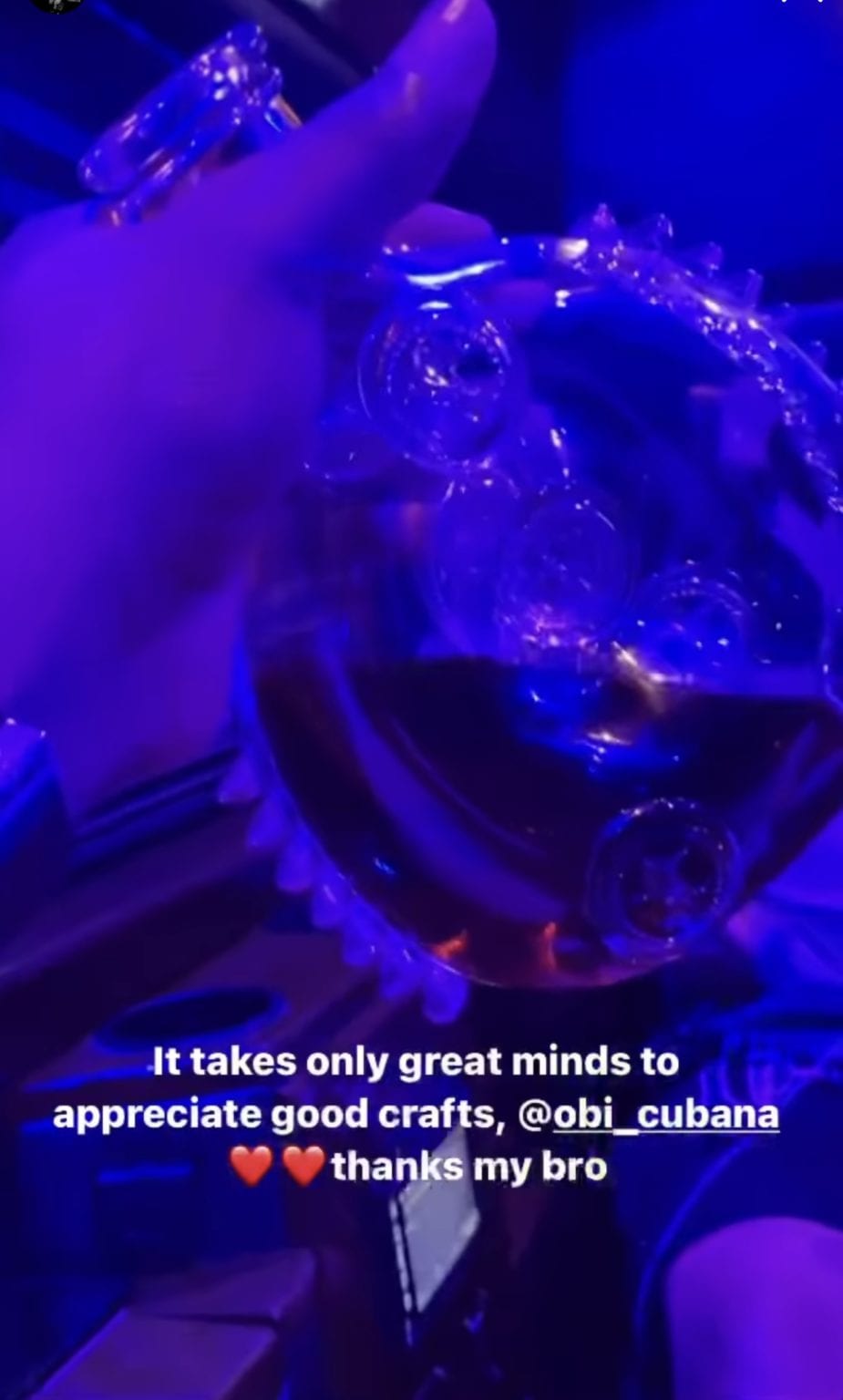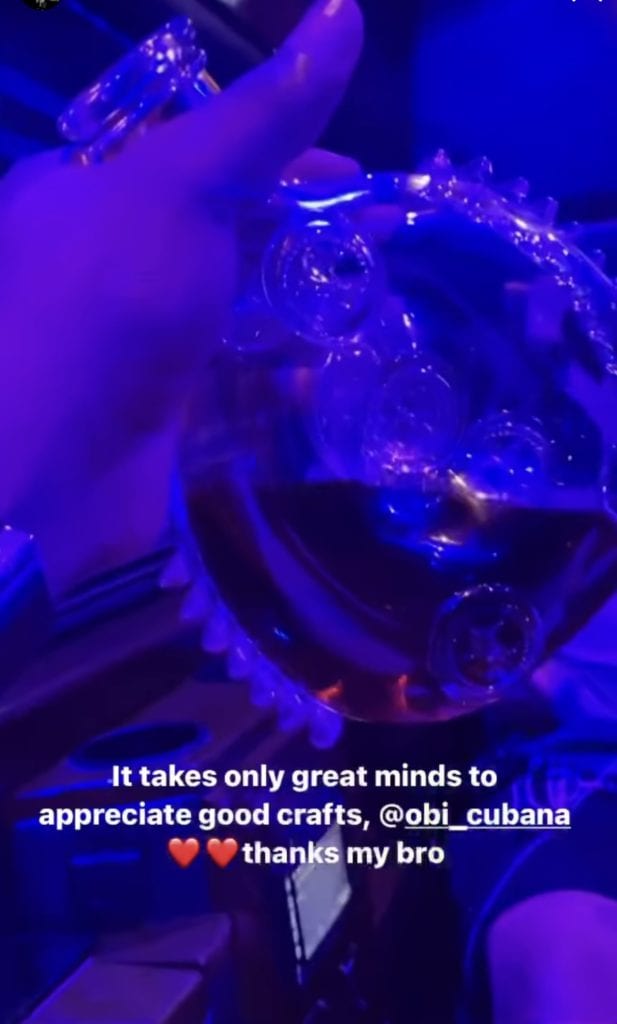 Apart from the expensive wines, whisky, and other assorted drinks that are on the menu, it rained money during the ceremony. Different individuals showed off their financial worth by splashing both foreign and local currency notes. Chief among the money show was a "money battle" where two individuals repeatedly threw money at each other.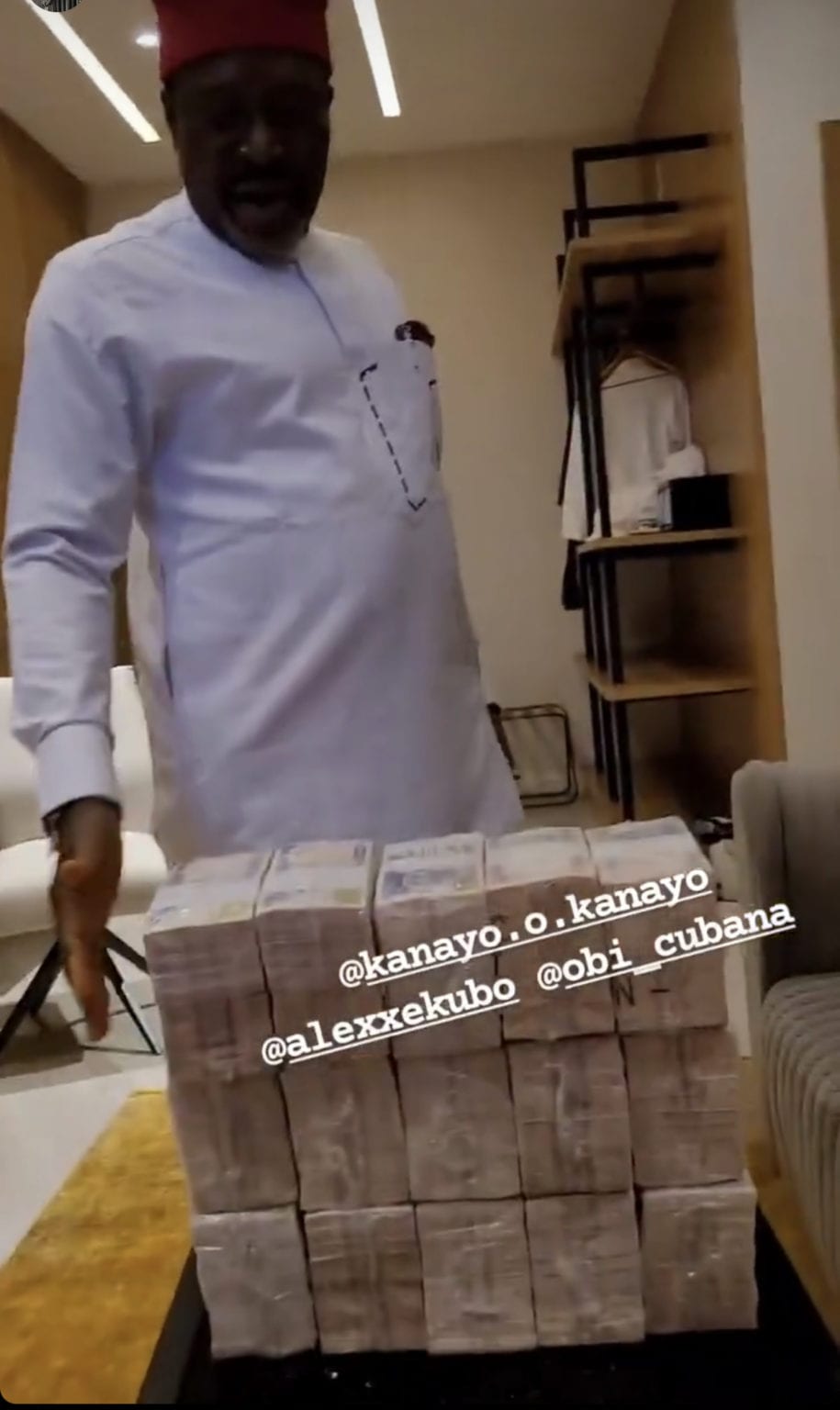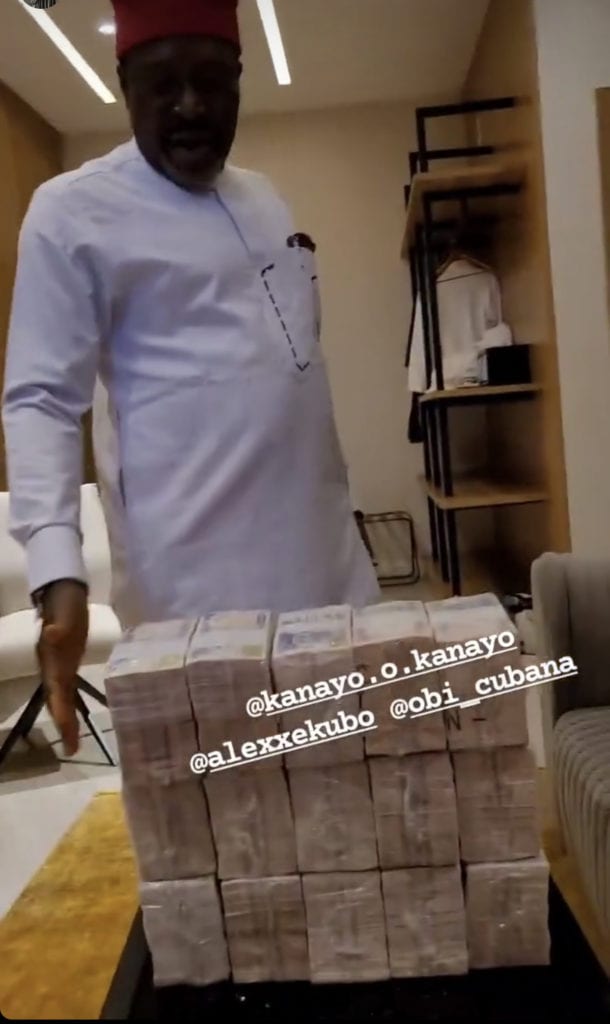 The food at the ceremony is also surplus as a video by gossipmillnaija shows the rows of roasted cows laid out.
Obi Cubana's friends, well-wishers, staff, business partners, colleagues, and family members all outdid themselves in one way or the other at the ceremony. Amongst the notable guest at the event are Celebrities like; Davido, football star Kelechi Iheanacho, Nightlife boss, and law maker. Shinapeller, Veteran Actor Kanayo O Kanayo, Ex BBN Housemate Frodd, Alex Ekubo, Ubifranklin, and many others.
Some Reactions to the Burial ceremony of Obi Cubana's Mother on Social Media 
The unfolding events at mama Cubana's burial ceremony have become a hot trending topic with various people on social media lending their voice to the flamboyance displayed at the burial ceremony.
According to a Facebook user, Jety Adaugo, the cash donations to Obi Cubana runs into hundred of millions; "Committee of friends & Business Associates Of Obi Cubana has Now Raised 257,000.000. (Two Hundred & Fifty Seven Million Naira) Plus 247 live Cow now & still counting
A trailer load of Hero Beer from a friend.
30 bags of Foreign Rice from a friend.
A Glenfiddich wine Company will be live with their truck load of different spirits & wine from a friend too.
A foreign casket worth 30 million Also donated by a business Associate.
Ego Amaka!!!
Igbo boys don burst everywhere"
On Twitter, several users wasted no time in sharing their opinions about the display of wealth; especially as it was also Wizkid's birthday, but social media was buzzing with Mama Cubana's burial and not Wizkid's birthday.
chu6x: I just they pity wizkid….. dude's birthday isn't even recognized anymore
i_am_michaelsb: Person mama burial don cover person birthday
that_june20thbaby: I love you wizkid but OBI Cuban's mum was like a mother to me I dey Oba junction like this with my Ghana must go bag
noggra_ wrote: Wizkid sef for Postpone him birthday
balo_ng: "Omo, this Obi Cubana mama burial dey like full movie o; na my subscription go suffer cos i must follow it back to back "