Oftentimes people get confused over the real identity of Obi Cubana and Cubana Chief Priest as they are often mistaken for each other. While the former is the chief executive of the luxury hospitable brand – Cubana Group, the latter worked for the Cubana Group and is currently the owner of a popular nightclub called Club Xhrine. He is an accomplished show promoter as well. Over the years, through hard work and relentless efforts in expanding his brands across Nigeria, Obi Cubana boasts of a net worth of $500 million (over ₦190 billion) according to multiple sources across the web. On the other hand, Cubana Chief Priest has an estimated net worth of $12 million (over ₦1.2 billion) according to multiple sources.
Both billionaire entrepreneurs are accustomed to a luxury lifestyle as they often flaunt their massive wealth on social media. Besides establishing themselves in the hospitality and entertainment industries, Cubana Chief Priest and Obi Cubana are renowned philanthropists. Obi serves as the founder of KIEK Foundation, a non-profit organization, whereas Chief Priest has been supporting diverse businesses of his fans in the past years through social media platforms. It's noteworthy that savvy businessmen have made worthwhile contributions to the development of the nation's hospitality industry.
Who is Worth More Between Obi Cubana and Cubana Chief Priest?
For five years, Cubana Chief Priest worked in the Cubana Group and was famously known for his role as the general manager of Opium by Cubana situated in Owerri, Imo State capital. He eventually parted ways with the ecstatic hospitable brand in late 2020 and moved on to launch Club Xhrine, a dance & nightclub situated in Owerri where he also managed Opium for the Cubana Group. Chief Priest is also the owner of another hospitable brand called De Angels Bar and Grill. Thus, the businessman has accumulated a net worth of $12 million (over ₦1.2 billion) through his successful endeavors.
Photo: @cubana_chiefpriest, Source: Instagram
He has additionally augmented his wealth by working as a brand ambassador for famous companies such as Mikano Motors, Bullet Energy Drink, Geely Nigeria, and Splendid Luxury Furniture. He is also a brand influencer of Moët Hennessy owned by LVMH Group. He reportedly acquired his first million while in Aba making shoes before becoming a staff member of the Cubana Group. He has remained grateful to Obi Cubana who, according to Cubana Chief Priest, helped him climbed the height he is today by hiring him and making him a general manager of one of his Cubana brands. Obi Cubana is apparently swimming in riches and has made the bulk of his total wealth estimated at $500 million (over ₦190 billion) from his Cubana Group.
Over the years, he has established branches of the Cuabana Group which is ranked among Africa's most ecstatic hospitable brands in many states in Nigeria including Lagos, Abuja, Enugu, and Imo. Also, he has started planning on expanding the brand outside Nigeria, as he intends to launch Cubana Dubai and Cubana Real Estate in no distant time. Obi owns three nightclubs in Lagos namely, Grind by Cubana, Montana by Cubana, and Pablo by Cubana. In Enugu, he launched Gustavo by Cubana and has another nightclub, Opium in Owerri. The Cubana Group's hotels are mainly situated in Abuja, where the brand also has restaurants and nightclubs.
List of Obi Cubana's Sources of Income
Caledonian Suites, Abuja
Puzzo by Cubana, Abuja
Pablo by Cubana, Lagos
Cubana Signature, Abuja
Montana by Cubana, Lagos
Hustle and Bustle, Abuja
The Grind by Cubana, Lagos
Ibiza Club
Photo: @obi_cubana, Source: Instagram
Summary of Cubana Chief Priest's Income Sources
De Angels Bistro
De Angels Bar and Grill
Club Xhrine
Cubana Group (former general manager)
Endorsement deals
Are The Two Billionaire Entrepreneurs Blood Relations?
For several years Obi Cubana and Cubana Chief maintained a close bond that made it impossible for people to believe that they aren't biologically related. They grew their friendship to the point that they shared an envious brotherly love as the duo were normally doing things together. The two attended many occasions together and were often seen in the company of each other. Well, for clarity purposes, Obi Cubana and Cubana Chief Priest are not blood relations. Cubana Group CEO was born Obinna Iyiegbu in Oba, Anambra State on April 12th, 1975 whereas Cubana Chief Priest who is a native of Umuhu Okabia in Orsu Local Government Area of Imo State was born on April 2nd, 1981.
Hence, Obi is 47 years old while Chief Priest is 41 years old. The famed brand influencer attended Imo State University (IMSU). He acquired a Doctor of Science degree in Event and Luxury Hospitality Management from European American University in April 2021. Obi, on the other hand, earned a West African Senior School Certificate (WASSCE) at Dennis Memorial Grammar School, Onitsha. He further acquired a Bachelor's degree in Political Science from the University of Nigeria Nsukka (UNN).
How Cubana Chief Priest and Obi Cubana Reconciled After Beefing For Some Months
In September 2020, Cubana Chief Priest made a decision to leave the Cubana Group after he and Obi Cubana reportedly had a fallout regarding the manner Chief Priest handled a female client. He subsequently moved on to launch his own dance & nightclub, Xhrine in Owerri where he worked for Obi and attracted the elites in the state with zest performances by eminent music artists including Cardi B, Davido, Kcee, Flavour, and Pato Ranking. Following his sudden departure from the Cubana Group, a rift ensued between the two which reportedly caused Obi Cubana to unfollow his former employee on Instagram.
While beefing, Chief Priest was writing emotional posts on his Instagram handle, citing how heartbroken he was about the manner his relationship with Obi Cubana dwindled as a result of a simple misunderstanding. The duo, however, reconciled in early 2021 when they met at an occasion and greeted each other with a hug that hinted that they had let go of every grievance. To show that they have actually put the past behind, the prominent show promoter paid condolence to his former boss during his mother's burial on July 16th, 2021 with a trailer load of 46 cows.
A Look at The Luxury Acquisitions of The Famous Businessmen 
Photo: @cubana_chiefpriest, Source: Instagram
Popularly known for their exquisite taste for finer things of life, Cubana Chief Priest and Obi Cubana are owners of several luxury mansions and cars. Obi Cubana recently got a diamond necklace engraved with his mum's picture at a cost of ₦40 million. The Lagos big boy also has palatial houses in Lagos, Abuja, and Anambra. His mansion in Oba is said to worth hundreds of millions of naira as it features modern amenities such as private cinema, swimming pool, and wine cellar. In December 2020, he gave a 2018 Lexus GX 460 worth between ₦35 and ₦45 million to one of his managers named Ndubuisis Okenwa.
On the other hand, Cubana Chief Priest has in possession expensive gold wristwatches and necklaces worth millions of naira. He also owns real estate assets in some states like Abuja, Owerri, and Lagos. Here's a list of Cubana Chief Priest's cars and their worths:
Range Rover Sport (₦26 million).
Geely X7 (over ₦13 million).
Toyota Prado (over ₦32 million).
2021 Toyota Land Cruiser (over ₦33 million).
Rolls Royce Phantom (over ₦176 million).
Ferrari (over ₦104 million).
Range Rover Autobiography (over ₦58 million).
Rolls Royce Wraith (over ₦132 million).
Lexus LX (₦32 million).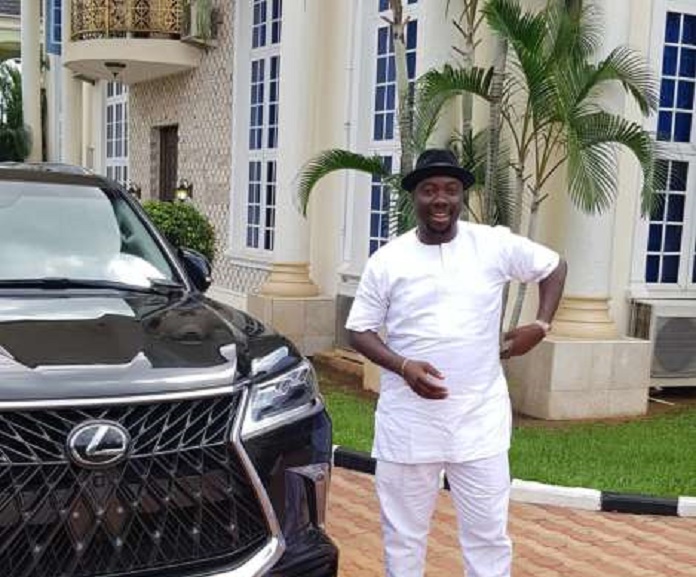 List of Obi Cubana's Luxury Cars and Their Cost
Two Lexus LX (₦36.6 million each).
Range Rover (over ₦26 million).
Rolls Royce Phantom (over ₦176 million).
Mercedes Benz 4matic S40 (over ₦38 million).