Sunday Adeniyi Adeyemo, popularly known as Sunday Igboho, is a 50  years old activist, businessman, philanthropist, and politician who has been making waves as one of the most vocal activists in the present-day Yoruba community of the South-Western region of Nigeria. He first gained prominence playing a vital role in the Modakeke-Ife communal crisis in 1996/97. However, his popularity became massive and reached many parts of Nigeria following his giving the Fulani Herdsmen a one-week ultimatum to leave the Ibarapa community following the killing of Dr. Aborode in January 2021, amidst other attacks.
Although seen as a warrior and celebrated among many of his kinsmen, the Nigerian security service has probably perceived otherwise. This has led to his home being raided and Sunday being tagged as Wanted by the Nigerian Defense Security Service (DSS). In Cotonou of Benin Republic on Monday 19 July 2021, he was arrested while attempting to leave Nigeria for Germany.
Profile Summary of Sunday Igboho
Full Name: Sunday Adeniyi Adeyemo
Popularly known as: Sunday Igboho, Akoni Oodua of Yoruba
Date of Birth: 10 October 1972
Age: 50 years old
Town/State of Origin: Igboho, Oke Ogun, Oyo State
Ethnicity: Yoruba
Religion: Christianity and the religion of Yoruba land and Oodua (Ifa)
Occupation: Activist, philanthropist, politician, businessman
Sunday Igboho's Life as a Politician, Activist, Politician, and Businessman
Born in Igboho land of the Old Oyo Empire in Oyo State on October 10, 1987, Sunday lived his earliest life in the town, where he received his primary education and his junior secondary education at Baptist High School before relocating to Modakeke in Osun State, where he lived many years of his life. His birth and early years in Igboho still influence him, leading to his being nicknamed after the community and becoming popular as Sunday Igboho.
As a child, Sunday Igboho had already started showing traits of stubbornness and toughness, which would later see him standing up for his people in a manner that seem unusual. Although he started fighting in the community early in his life, Igboho pushed himself to learn a vocation that led to his becoming a motorcycle repairer. In later years, he started to sell cars and start the Adeson Business Concept, where he is the company's current chairman.
As an activist, Igboho started by fighting on the side of Modakeke at the 1996/97 Modakeke-Ife community crisis. As much as he gathered fame, he also attracted the envy of many people in the community. However, he got the attention of many politicians, including Oyo State's former governor Rashidi Ladoja. His being able to protect Ladoja at a PDP rally in Ondo State, where he was believed to be targeted, is still an unfixed puzzle.
Sunday's relationship with many top politicians in many Yoruba States has added to his fame. His work of protection never stopped with the big men as he would fight for victims of land grabbing that led to people gifting him lands afterward.
What Happened To Sunday Igboho and Where He is Now
On Monday, 19 July 2021, Sunday Igboho was arrested in Cotonou, Benin Republic, in an attempt to leave Nigeria for Germany, where he allegedly has citizenship. His arrest has been visited by different feelings among Nigerians, including Yoruba Elders who believe that the enemies want to take their land. They also work towards assisting the human rights activist and making sure the Benin Republic Government does not send him back to Nigeria, where laws may be bent to make him suffer.
Also, his supporters may seek the help of the International Criminal Court, according to Professor Banji Akintoye. In addition, the Yoruba social-cultural group leader, Afenifere, Ayo Adebanjo, said the arrest of Igboho is more or less a declaration of war on Yoruba People by Nigeria's President Muhammadu Buhari. Before his arrest, Igboho was listed among Nigeria's wanted people by the Nigerian Department of secret service (DSS).
Earlier in July 2021, the DSS raided Sunday Igboho's home at night to arrest him. Although the Yoruba freedom fighter was not found, Adogan and Alfa, who were close allies of Igboho, were killed, and many others were arrested. Following the killing and raiding, a protest took hold of the community by the supporters of Igboho who believed that the Olubadan, one of the richest kings in Nigeria, may have received 50 million Naira as a bounty on Sunday Igboho.
Does He Have Any Supernatural Powers?
Igboho has fought wars and definitely has a daring way of approaching things, especially in his quest to fight for the freedom of his people who are perceived to be marginalized by the APC government and being attacked by the Fulani herdsmen numerous times.
In a statement after a claim by the DSS that arms were recovered in his home in Ibadan, Igboho refuted the claim saying he does not use guns or any other arms but uses spiritual protection to help his community. In addition, Igboho has maintained that he is not a criminal and does not attack peaceful herders but those who attack his people.
A Look Sunday Igboho's Home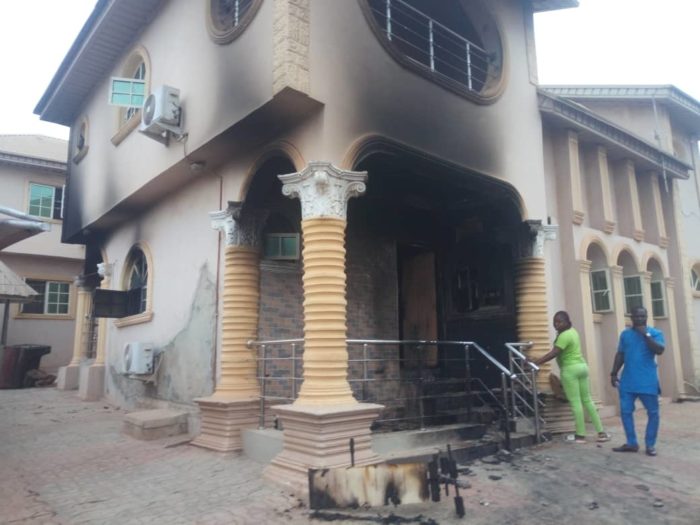 Although he may have lived in different parts of Southwestern Nigeria and other countries, Sunday Igboho has been settling in Soka Ibadan, Oyo State, for a long time. His Ibadan home has become a center of attraction for being attacked at different times by men believed to be the Nigerian Army and the DSS, which resulted in the death of many people.
His Igboho home, being the subject of attacks by the security agencies, has also faced a level of wreckage of properties that include furniture and cars. However, the activist is believed to be a German citizen who may have a home in Germany and Canada.
What We Know About the Parents of Sunday Igboho
Who are the parents of Sunday Igboho? This has rather been a frequently asked question ever since the activist has claimed fame in Nigeria. Nevertheless, it has been difficult to answer the question since he keeps his private life away from the public. However, what is known about his parents is that his father may have played a vital role in his life.
Also, it was as a result of his father that Sunday got the nickname 'Igboho,' as when they relocated to Modakeke, Sunday's father was called Baba Igboho by many people. Being the son of Baba Igboho led to many people calling him 'Sunday Omo Baba Igboho' (Sunday the son of Baba Igboho). The name did not die down even after leaving the community.
Apart from his birth father, Sat Guru Maharaj Ji, has claimed to be the spiritual father of the activist. The prophet is a supporter of Igboho and says the activist won his support after the Ibarapa incident, where he gave Fulani Herdsmen one week to vacate the place.
He Has Two Wives With Reportedly 3 Sons Who Play Professional Football
Sunday Igboho is said to be married twice. One of the wives resides in Canada while the other is in Germany. According to some sources, his wife in Canada has 5 children while the one in Germany has 6 children to make up to 11. However, the activist has not come out to give any particular number regarding his children. Although his children remain private, three of them are allegedly professional football players in Germany.