Renowned Nigerian author, Flora Nwapa is known for her legacy as the forerunner to a generation of African women writers and the mother of modern African literature.
She was the first of many attempts by women across Africa at dismantling the boys' club that was the African literary community. She is the first Nigerian woman writer and the first African woman to publish a novel.
At age 35, Nwapa became the first African female to internationally publish a novel in the English language with her highly acclaimed book Efuru.
Her book Efuru attracted much international attention although it was criticised for its "weak writing" and "inauthentic story". Efuru is an intriguing story of a woman with a savvy business mindset and a mind of her own.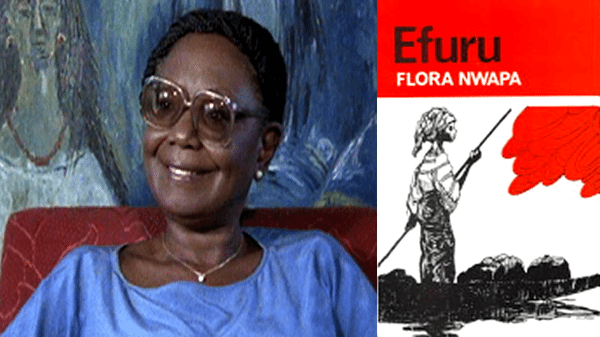 While never considering herself a feminist, Nwapa is best known for recreating Igbo life and traditions from a woman's viewpoint.
Nwapa saw her work as an intervention in an African literary culture where women were often portrayed from a male-centred perspective. She saw her novels as an attempt to think of African femininity beyond the idea of victimization.
She was tired of the way male writers depicted African women as no more than simply poor traders, prostitutes, and unhappy wives in their novels.
Writing her own novels allowed her to re-fashion African femininity through complex and multi-faceted characters.
As a writer, Nwapa drew inspiration from everywhere. Her writing was influenced by Achebe and Christopher Okigbo, who were also her close friends, but she also drew inspiration from Hemingway and Bernard Shaw.
Nwapa's work inspired a generation of writers and thinkers, the most prominent of which is Chimamanda Adichie. Adichie has said that she owes her success as a writer to Nwapa's pioneering work.
Flora Nwapa was a patriotic Nigerian known for her governmental work in reconstruction after the Biafran War. In particular, she worked with orphans and refugees that were displaced during the war.
She helped to reconstruct the homes of the families that had no other place to live in after the War. Furthermore, she worked as a publisher of African literature and promoted women in African society.
Florence Nwanzuruahu Nkiru Nwapa was born on the 13th of January 1931, in Oguta to parents Christopher Ijeoma and Martha Nwapa, who were both teachers.
In 1953, Flora Nwapa attended University College Ibadan, receiving her B.A. in 1957. While there, she was president of the Queen's Hall and met the Queen and Duke of Edinburgh during their visit to Nigeria.
Nwapa continued her studies in England and earned a degree in education from the University of Edinburgh in 1958.
She kicked off her career as a Woman Education Officer in the Ministry of Education Calabar and then moved to become a teacher at Queen's School, Enugu.
Leaving there, she headed to the University of Lagos where she started as an Administrative Assistant and rose to the position of Assistant Registrar in charge of Public Administration in 1966.
In 1970, she became the first female Minister of Health and Social Welfare for Nigeria's former East Central State.
Later, she served as the Minister of Lands, Survey, and Urban Development until 1974. In 1982, the Nigerian government bestowed on her one of the country's highest honours, the OON (Order of Niger).
Nwapa was married to Chief Gogo Nwakuche, a businessman whom she had three children with. She remained Nwakuche's first wife, although he took other wives, and because she wanted her children to have a father, she did not leave or divorce him.
Besides writing books, Nwapa established Tana Press, which published adult fiction. It was the first indigenous publishing house owned by a black African woman in West Africa.
Nwapa also set up another publishing company, Flora Nwapa, and Co., which specialized in children's fiction. In these books, she combined Nigerian elements with general moral and ethical teachings.
Read Also: Salient Facts About Popular Blogger – Stella Dimoko Korkus 
As a businesswoman, she also encouraged with her own example to break the traditional female roles of wife/mother and strive for equality in society.
On the 16th of October 1993, Flora Nwapa died of pneumonia in Enugu, Nigeria. She was survived by her mother, husband, two daughters, a son, and siblings.
Flora Nwapa who through her tales, actively sought for positive change and level of recognition for women without dragging rights with men, has left a legacy that can never be forgotten.
Some of Nwapa's work which showed her versatility as a writer include;
Novels
Efuru (1966)
Idu (1970)
Never Again (1975)
One is Enough (1981)
Women are Different (1986)
Short Stories/Poems
This is Lagos and Other Stories (1971)
Cassava Song and Rice Song (1986)
Wives at War and Other Stories (1980)
Children's books
Emeka, Driver's Guard (1972)
Mammywater (1979)
Journey to Space (1980)
The Miracle Kittens (1980)
The Adventures of Deke (1980)