Afe Babalola University, Ado-Ekiti, also known as ABUAD, is a Federal Government-licensed, non-profit private university, founded in 2009 by a prominent Nigerian lawyer and philanthropist, Afe Babalola.
The university which is a model unique in many ways is located on 130 hectares of land at an altitude of over 1500 feet above sea level.
It is the only university in Nigeria, which prior to the issuance of a provisional license by the Federal Government of Nigeria, moved to its permanent site and constructed magnificent College buildings equipped with modern teaching facilities including e-learning platform, College Hostels, Staff Quarters within eight months.
Impressed, the National Universities Commission (NUC), described the university as a "miracle, model reference point, and benchmark" for other universities.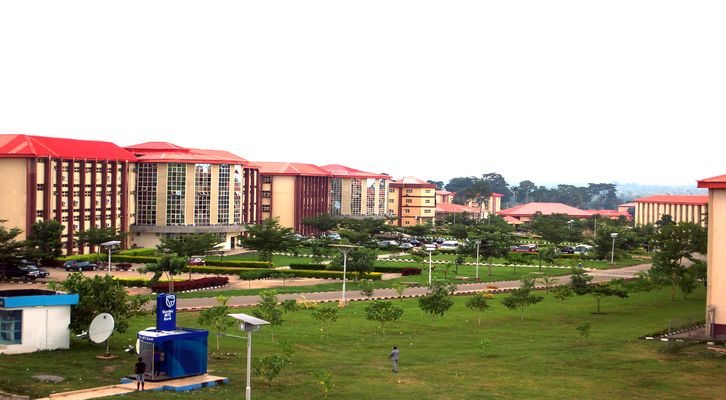 Afe Babalola University has one main campus which is located in Ado-Ekiti, situated in the hilly part of the town directly opposite the Federal Polytechnic Ado-Ekiti. The campuses house 5 undergraduate colleges, a post-graduate school, conference halls, a teaching hospital for medical students which is currently under construction.
However, due to the requirement by the National University Commission (NUC) that the school must possess a functioning teaching hospital, a Memorandum of Understanding was signed with the Nigerian Federal Government to allow its students make use of the Federal Medical Center (FMC) Ado Ekiti.
Afe Babalola University offers academic programmes in six colleges: Sciences, Law, Engineering, Social and Management Sciences, Medicine and Health Sciences, and Postgraduate Studies.
It also runs pre-degree and degree foundation programmes in all the above-listed colleges.
List of Undergraduate Courses Offered at Afe Babalola University
Administration
Business Administration
Tourism And Event Management
Arts And Humanities
English Language
History And International Studies
Linguistics
Philosophy And Religious Studies
Theatre Arts
Engineering/Tech/Env
Chemical Engineering
Civil Engineering
Computer Engineering
Electrical /Electronics Engineering
Mechanical Engineering
Mechatronics Engineering
Petroleum Engineering
Law/Legal Studies
Law
Med/Pharm/Health Sciences
Anatomy
Human Nutrition And Dietetics
Medical Laboratory Science
Medicine And Surgery
Nursing/Nursing Science
Physiology
Sciences
Biochemistry
Chemistry
Computer Science
Geology
Human Biology
Industrial Chemistry
Information And Communication Technology
Mathematics
Microbiology And Biotechnology
Physics
Plant Science
Sport Science
Statistics
Zoology
Social Sciences
Accounting
Banking And Finance
Economics
Intelligence And Security Studies
International Relations And Diplomacy
Media And Communication Studies
Peace And Conflict Studies
Political Science
Psychology
Public Administration
Social Justice
Sociology
Admission Requirements
Just like every other Nigerian university, for candidates to be admitted to an undergraduate programme in the institution, they require at least 5 credits in subjects in Mathematics, English language and other 3 subjects that are relevant to their course of study.
Prospective students are also required to have passed the Joint Admission and Matriculation Board (JAMB) Unified Tertiary Matriculation Examination (UTME) examination. After that, candidates are also required to take an oral interview with an academic staff of the prospective college before admission can be given.
The university also offers direct entry admission to students who wish to transfer from another university or have undergone either an Advanced Level program or a degree foundation program. The level at which they are admitted into is decided by the college and varies among them.
For more information, click here
Also See: How To Register And Check Your Jamb Results Online
Post-Graduate Programmes Offered At Afe Babalola University
COLLEGE OF LAW
Master (LL.M)
Master of Law
      COLLEGE OF SOCIAL AND MANAGEMENT SCIENCES
Postgraduate Diploma (PGD)
Postgraduate Diploma in Economics
Postgraduate Diploma in Management
Postgraduate Diploma in Accounting
Postgraduate Diploma in Banking & Finance
Postgraduate Diploma in Conflict, Peace and Strategic Studies
Postgraduate Diploma in Media and Communication Studies
Master (M.Sc)
Master of Science in Economics
Master of Science in Management
Master of Business Administration
Master of Science in Accounting
Master of Science in Banking & Finance
Master of Science in Finance
Master of Science in Conflict, Peace and Strategic Studies
Master of Science in Political Science
Master of Science in Human Resource Management
Master of Industrial and Labour Relations (MILR)
Master of Science in Media and Communication Studies
COLLEGE OF SCIENCES
Postgraduate Diploma (PGD)
Postgraduate Diploma in Biochemistry
Postgraduate Diploma in Computer Science
Postgraduate Diploma in Microbiology
Master (M.Sc)
Master of Science in Microbiology
Master of Science in Biology
Master of Science in Biochemistry
Master of Science in Computer Science
COLLEGE OF MEDICINE AND HEALTH SCIENCES
Master (M.Sc)
Master of Science in Anatomy
Master of Science in Physiology
Master of Science in Human Nutrition
Admission Requirements
Admission requirement for a postgraduate programme in Afe Babalola University varies between the different colleges. The Postgraduate College establishes the minimum admission requirements common to all applicants.
All candidates must have five credit passes including English, Mathematics and two other relevant science subjects which must include Physics, Chemistry, and Biology at 'O' Level.
However, the postgraduate program that you are applying to may have additional requirements. Please refer to a specific programme for more information (check here)