Patience Jonathan is a Nigerian former teacher, banker, and civil servant who rose to prominence as the wife of Goodluck Jonathan, the 14th democratic president of Nigeria.
Mainly known as Mama Peace, she thrived in various sectors of the economy before taking over the office of the First Lady of the Federal Republic of Nigeria. Asides from being the first lady, she also serves her motherly duties to her two children with the former president. Patience has been very supportive of her husband's political career and carried out her roles effectively during her tenure as the first lady, despite heavy public criticisms.
Summary of Patience Jonathan's Bio
Full name: Dame Patience Fakabelema Jonathan
Nickname: Mama Peace
Gender: Female
Date of birth: October 25, 1957
Patience Jonathan's Age: 65 years old
Ethnicity: Ijaw
Nationality: Nigerian
Zodiac Sign: Scorpio
Sexual Orientation: Straight
Religion: Christianity
Marital Status: Married
Patience Jonathan's Husband: Goodluck Jonathan
Patience Jonathan's Children: Ariwera (son) Aruabai (daughter)
Patience Jonathan's Parents: Chief Lazarus Iwori-Oba and Mrs. Charity Fyneface Oba
Occupation: Businesswoman, Philanthropist
Alma Mater: Rivers State College of Arts and Science (NCE), the University of Port Harcourt (B.Ed in Biology and Psychology)
Patience Jonathan's Net worth: N/A
Famous for: Being The Former Nigerian First Lady
Patience Jonathan Was Born In Port Harcourt, Rivers State
Dame Patience Jonathan was born in Port Harcourt, in the South-South region of Nigeria on the 25th of October 1957. She was born to the family of Chief Lazarus Iwari-Oba and Charity Fyneface Oba but further information about her family and childhood has been kept under the radar.
Patience Jonathan obtained her First School Leaving Certificate in 1976. She moved on to obtain her West African School Certificate Examination (WASCE) in 1980 and proceeded to Rivers State College of Arts and Science, where she graduated with a National Certificate of Education (NCE) in Mathematics and Biology in 1989. Having obtained a diploma in Mathematics and Biology, she headed to the University of Port Harcourt where she graduated with a B.Ed in Biology and Psychology. She bagged an honorary doctorate from the University of Port Harcourt, Rivers State.
Patience Jonathan Met Her Husband While In School
Most successful marriages begin in the early stages of a romantic relationship, as was the case with Patience and Goodluck Jonathan. She first met her husband when she was still a student at the Rivers State College of Education, Port Harcourt. Goodluck Jonathan was her Biology lecturer when they met and though he never directly expressed interest in her, their relationship began afterward.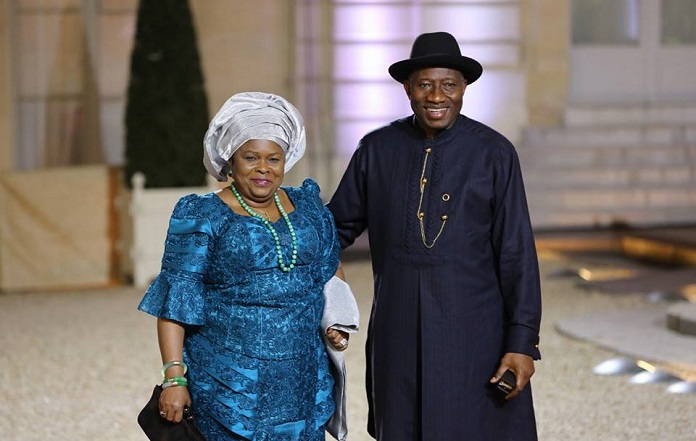 He later joined the University of Port Harcourt to pursue his Ph.D., where they met for the second time. As of then, she was an undergraduate in the same university studying for her B.Ed in Biology and Psychology.
She Became Goodluck Jonathan's Wife in 1993
The two kicked off their relationship at the university while running their various programs and got married in 1993. Goodluck Jonathan held numerous high-level political positions in Nigerian before becoming the 14th democratic president of the Federal Republic of Nigeria. Currently, he is the Chancellor of Cavendish University located in Kampala, Uganda. Patience and her husband welcomed two children in their marriage.
Patience Jonathan is not the only wife of the former Nigerian president as he got hitched for the second time. Before entering politics, the former president married a lawyer named Mrs. Lott Jonathan. After he won the seat of the Bayelsa State governor, he relocated her and her two children to the United States of America. She returned to the country in 2010, shortly after her husband won the presidential election. Lott kept a relatively low profile during his tenure as president and made no public appearances with him. Currently, she is the founder of Aduvie Montessori International, a private school in Abuja. Though Goodluck Jonathan has a polygamous family, he still maintains peace within his home as there is no news of controversies so far.
Meet The Children Of Patience and Goodluck Jonathan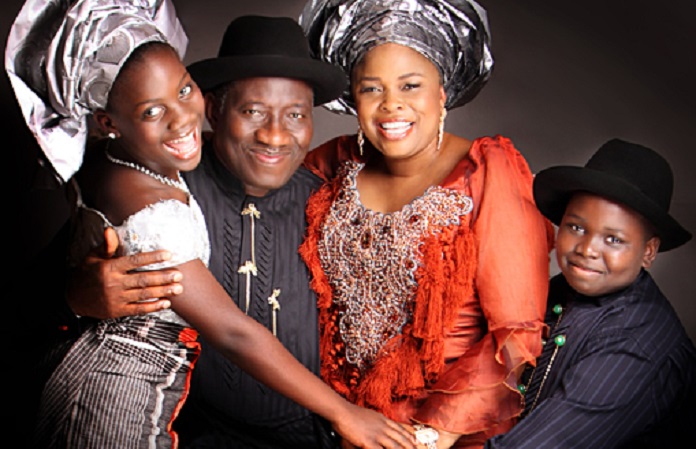 The duo is blessed with two children, a boy Ariwera Adolphus Jonathan and a girl Aruabi Jonathan. The children of the ex-first Nigerian lady have kept a low profile and appeared with their parents on a few occasions when they were still holding the presidential position. Pieces of information about the children of Patience and Goodluck Jonathan are unknown.
She Thrived Well In Various Sectors Of The Economy
Patience Jonathan, having acquired several educational certificates, started with a career as a teacher. She served as a teacher at Stella Maris College, Port Harcourt, before moving on to Sports Institute Isaka where she also impacted knowledge. The former first lady diverted to the banking sector in 1997. She proved her prowess in the sector and was promoted to the post of a marketing manager. While she was still in the banking sector, she helped in the establishment of Akpo Community Bank – the first of its kind in Port Harcourt.
Having proved her capability in the financial sector, Patience Jonathan proceeded to the Bayelsa State Ministry of Education, carrying out her role until May 29, 1999, when her husband was appointed as the Deputy Governor of the state. There's no doubt she carried out her duties well as she was appointed a permanent secretary in Bayelsa State by the then governor Henry Sariake Dickson in 2012.
Patience Jonathan was tagged a national embarrassment, highly criticized by many stating that she had no qualification or experience to get to the highest point in the civil service sector. Many found this promotion to be a result of favoritism due to her husband's post in the state. She became the First Lady of the Federal Republic of Nigeria, serving from 2010 to 2015.
Patience Jonathan Is A Businesswoman
Asides from her other career paths, she also trod on the path of business. She is known to invest in the hospitality sector. Patience Jonathan owns the Aridolf Resort Wellness and Spa located in the State capital of Bayelsa, Yenogoa. The building has been claimed to be worth over N10 billion. She is also known to own a 200-bed hotel which is located in the Federal capital territory, a property that has been confiscated by the EFCC.
She Is A Philanthropist
Patience Jonathan is known to have set up several foundations and empowerment programs when her husband became the governor of Bayelsa State between 2006 and 2007. Among the various empowerment programs and foundation is the A-Aruere Rechout foundation.
This foundation was set up with the motive of improving the status and income generation of women and youth. It also saw to supporting and helping children with heart-related diseases.
Patience Jonathan Courted Some Controversies As The First Lady
As an active first lady of Nigeria and someone who is not far from the public eye, facing controversies are inevitable. The former first lady of Nigeria courted several controversies during her tenure.
Health Trip To Germany
The ex-first lady faced criticism concerning her trip to Germany on September 4, 2012. It was alleged that she suffered severe food poisoning at the time. Around that time, she hosted a summit of First Ladies from across Africa but was down with the illness a few days earlier. This led to her admission into the Horst Schmidt Klinik in Wiesbaden and she was discharged on October 2, 2012.
The long absence from her office led to the media claiming that she left the underdeveloped health care system in Nigeria to seek medical attention in a developed country. This was immediately debunked by her spokesman Ayo Osinlu who released a statement that she went to rest and not for medical reasons.
Abduction Of The Chibok School Girls
Patience Jonathan faced huge criticism in her way of handling the case related to the 230 Chibok School girls who were abducted in 2014. She had a meeting with the parents of the abducted girls and leaders of the community after which one of the representatives, Naomi Mutah, which the first lady believed was sent by the parents was detained by the police.
This particular act was highly criticized by the community and the masses. Pogo Bitrus, one of the Chibok community leaders tagged the act as unfortunate and insensitive and hoped that she would realize her mistake. He further stated that she had no constitutional power backing the arrest.
It was reported that Saratu Angus Ndirpaya, another community leader stated that the first lady accused the activists of setting up the abduction to give the government a bad name. Saratu further went on to state that Patience Jonathan accused them of being in support of Boko Haram activities.
Privatization Of Enugu Electricity Distribution Company (EEDC)
Patience Jonathan was alleged to be highly involved in the privatization of the Enugu Electricity Distribution Company with the businessman Emeka Offor. Reports have it that the first lady, alongside the then vice president Namadi Sambo, and secretary to the federal government Anyim Pius Anyim, was using their political power to ensure that the businessman acquired the company which the Nigerian privatization agency rated very low after carrying out the test of technical competence.
It was said that they were working towards helping the businessman out because they all had a stake in interstate privatization. The First Lady's spokesman however denied the allegation levied against her. This statement drew the attention of many people and groups such as the transparency advocates and members of two Igbo organizations.
She was called upon by some groups to clear herself. Information regarding if the case has been settled or not is unknown.
Constitutional Amendment
During one of her visits to Lagos, she made a public statement that the wives of political office holders should be included in the constitution so that they will also retire with benefits like their husbands. This was highly criticized by many citizens of Nigeria. However, the first lady did not react to the criticisms, the same goes for her spokesman.
Grammatical Blunders
Patience Jonathan who is mainly known as mama peace or for her use of the phrase "There Is God oo" has not been left out by the critics for her grammatical blunder. She often thrilled Nigerians and any other person who cared to listen with her hilarious grammatical blunders. Below are some of her laughable quotes:
My fellow widows
A good mother takes care of his children
I donate my family on behalf of 20 million
The people sitting before you were once a widows
At least we all have HIV/AIDS except that some of us are negative and some of us are positive (This speech was made on WORLD'S AIDS Day)
Ojukwu is a great man, he died but his manhood lives on
We should have love for our fellow Nigerians irrespective of their nationality
The bombers who born them? Wasn't it not a woman? They were once a children now a adult, now they are bombing women and children making some children a widow
Chai! Chai! There is God oo…there is God in everything we are doing, continue!
I would rather kill myself instead of committing suicide
Her Major Accomplishments
She served as a teacher at Stella Maris College, Port Harcourt.
Patience also worked as a teacher at Sports Institute Isaka.
Bank Marketing Manager
Bayelsa Ministry Of Education
Bayelsa State First Lady (2006-2007)
Bayelsa State Permanent Secretary (2012)
She became the Nigerian First Lady serving from 2010 to 2015