Evans is a convicted Nigerian kidnapper from Nnewi in Nnewi North Local Government Area of Anambra State. He gained notoriety in 2017 after he kidnapped the Managing Director of Maydon Pharmaceuticals Ltd, Donatus Dunu, and collected 223,000 Euros as ransom from his family.
Born Chukwudi Dumeme Onuamadike, not much is known about the kidnapper's childhood but he has once said he joined the business after his father disowned him. His mother knew he was a kidnapper but was never in support. She would warn him on several occasions to stop what he was doing but Evans remained adamant.
Summary of Evans' Biography
Full name: Chukwudi Dumeme Onuamadike
Nickname: Evans
Gender: Male
Ethnicity: Igbo
Nationality: Nigerian 
Sexual Orientation: Straight
Religion: Christianity
Marital Status: Married
Evans' Wife: Uchenna Onwuamadike
Evans' Children: 5
Evans'Parents: Steven Onwuamadike and  Chinwe Onwuamadike aka Lady Nwosu
Education: Emmanuel Anglican Church Primary School, Akamili Umudim Nnewi, Merchants of Light Secondary School, Oba (dropped out at JSS 3)
How Evans Became a Kidnapping Kingpin
Anambra was the first place he started his kidnapping business. He began during the regime of former Governor Peter Obi but had to relocate to Edo State when the heat was too much for him.
From Edo State, he moved down to Lagos in 2013, where he became one of the biggest kidnap kingpins keeping as many as seven gangs which made it impossible for the police to pin him down. With the help of his team, he would kidnap his victims and take them to a rented apartment in Igando. He would keep the victims in House No. 21 Prophet Asaye Close New Igando till their ransom was paid by loved ones.
While speaking to Vanguard, Evans disclosed that he was forced to drop out of school while in Junior Secondary School Class 2, when his father, Steven Onwuamadike, drove his mother, Chinwe, away and got married to another woman.
Evans who is a native of Akamili, Umudim Quarters, Nnewi, Anambra state, explained that his father, a businessman, asked him to join another businessman who deals in spare parts, also in Nnewi.
Unfortunately, after five years of serving his master, things went bad and he (Evans) was accused of stealing and sent away without a settlement. According to him, this development embarrassed his father so much that he drove him out of his house.
Evans stated that his father's action affected him deeply and he was forced to move into his mother's house. He said his mother accepted him and she also raised money for him which he used in travelling to Lagos.
While in Lagos, Evans said he started selling diesel to luxury buses and truck drivers at Alafia Bus-stop along Lagos-Badagry Expressway. While he was selling diesel, he slept in a bus garage and that was where he joined a robbery gang. His first robbery gang specialized in attacking luxury buses plying the East-West Road, at night.
Evans was involved in several highway robberies from which he raised enough money with which he travelled to South Africa, police sources explained. According to a former anti-robbery police operative attached to Orile Police Station, who pleaded anonymity, Evans and his gang specialized in robbing traders in luxury buses travelling at night on the road.
The ex-policeman added that Evans had several informants around motor parks in Alafia, Maza-Maza and Jibowu areas of Lagos State. It was from these informants working at major luxury bus parks across the country that he used to obtain first-hand information on the movements of traders coming to Lagos State with huge amounts of money.
The source further disclosed that Evans and his gang usually attacked these buses on the highway and dispossess the passengers of their cash and other valuables. Some of his gang members were later arrested and when the police were closing in on him, he fled the country only to return a few years later and relocated to the East.
While in the East, he formed another dangerous gang that started robbing and kidnapping wealthy businessmen, especially in the commercial city of Onitsha in Anambra State and Aba in Abia State.
When his notoriety soared in criminal circles, other robbery gangs started seeking him. That was how he became the financier of arms and armorer for the fearless and deadly armed robbery kingpin in the east from Nkanu in Enugu State, popularly called Ngwu Ekekere Omu.
Ngwu Ekekere Omu robbed banks all over the country until he was killed in Anambra by a military patrol team that blocked a road on a tip-off from members of the Special anti-Robbery Squad, SARS, in Awka. He died in 2009 and most of his gang members were hunted down and eliminated by members of the Special anti-Robbery Squad in Enugu and Anambra states.
Later on, Evans carried out a bloody robbery operation at the university town of Nsukka, Enugu State, where he killed among others, a Divisional Police Officer and later shot the SARS Commander in Enugu in the knee while they were pursuing him along Adani/Otuocha road.
During that operation, he also burnt down Nsukka Police Station after raiding one of the banks and as he was escaping from the scene with his gang, they threw bundles of crisp Naira notes in different denominations to the cheering crowd and commercial motorcyclists, including school children who were on their way home.
Police sources said Evans participated actively in that deadly operation and later, after some of the gang members including their leader were killed, he again escaped abroad. On his return, according to sources, he veered into full time kidnapping with Lagos as his base. He used to pose as a spare parts dealer from South Africa with proceeds from his crime.
It was also alleged that he participated in some operations with another notorious killer, Vampire, who was killed some month ago by the Police after plotting his escape from a court in Owerri in Imo State, while on trial.
In the course of investigations, it was revealed that Evans later linked up with another notorious kidnapper called Henry Hunchman in Anambra State and they coordinated several kidnappings. They were later chased out of Anambra State and they fled to Edo State.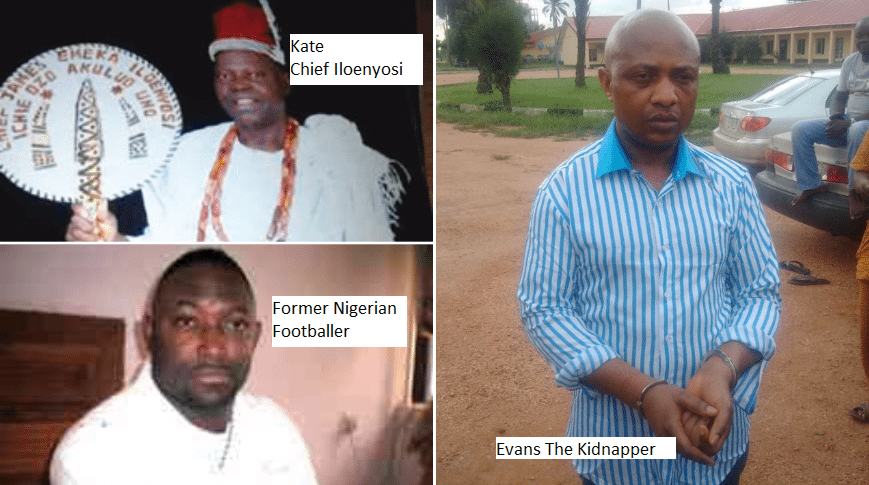 In Edo state, he told Vanguard during a chat, that he teamed up with one of his friends, Ehis, and they started kidnapping. He disclosed that Ehis introduced him to some of his friends known as Benin Papa, Odionose, Okey, and Igbo Papa and they coordinated several kidnappings.
The kidnapping lord further explained that he was forced to invite his friend, Hunchman, who he said had heavy arms and ammunition to join them in Edo State.
According to him:
"When Hunchman came in, we carried out two big kidnappings that yielded N150 million, but Hunchman who owned the arms and ammunition ran away with the money."
Further investigations also revealed that Evans' activities became so troubling that the then Inspector-General of Police, Mohammed Abubakar, deployed one of his key operatives, Patrick Ejedawe, who was the Commander of Mopol 2 Squadron Command, Lagos, to Edo State, to track him and his members down.
Ejedawe, now an Assistant Commissioner of Police, mopped up all members of the gang except Evans, Hunchman, and Sudo, who fled to Ghana.
Sources disclosed that betrayals in the gang helped the police in mopping up the gang members, leading to the death of members like Benin Papa, Odionosa, Okey, Igbo Papa and many others who were killed by the Police in gun battles.
Vanguard's source further disclosed that Evans, Hunchman and Sudo eventually came back to Nigeria and were based in Lagos, when Ejedawe was redeployed from Edo State by a new Inspector-General of Police.
At that point, Evans and his gang terrorized residents of Festac Town, Amuwo Odofin, Ojo, and Ajao Estate areas of Lagos State before he was arrested.
The Arrest of Evans the Kidnapper
kingpin, Chukwudubem Onwuamadike – aka Evans was arrested on Saturday, 10th of June 2017. Residents of Festac, Amuwo-Odofin, and environs went wild with jubilation after the arrest and parade of the kidnap kingpin Evans was shown on television.
People were seen trooping out into the streets in their numbers to praise God and the Police for the arrest of the kidnap kingpin who had terrorized them for long.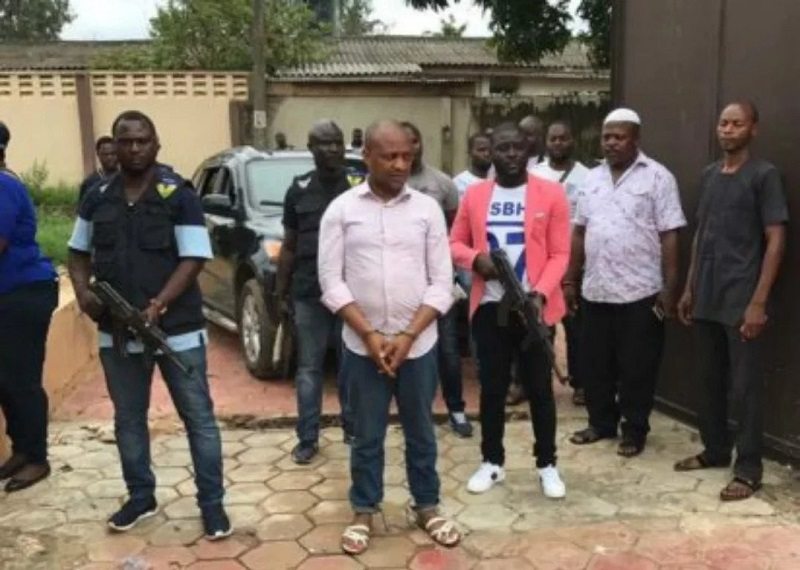 The billionaire kidnapper was arrested by the police for coordinating several high-profile kidnappings, armed robbery, and murder within Lagos, Edo, Abia, Enugu, and Anambra States with Lagos state placing a 30 Million Naira bounty on him.
But the end of the notorious kidnap kingpin who has been on the police watch list for about 7 years came just a few weeks after many members of his gang, including his second and third in command, were rounded up at different locations in the country.
Prior to his arrest, Evans had been on the police watch list for 7 years. The police declared him wanted in August 2013 when he masterminded the attempted kidnap of Chief Vincent  Obianudo, the owner of Young Shall Grow Motors in Festac, Lagos.
Evans the Kidnapper Lived a Luxurious Life at the Expense of His Victims
With money gotten from his kidnapping business, Evans acquired gigantic mansions which cost whopping sums of money. He had two Mansions in Magodo GRA Phase 2 worth about three hundred million Naira (N300,000,000). Evans is said to have another mansion worth 50 million Rand in a high brow area in Cape Town, South Africa. His South African haven is said to be where he absconded to during the heat of the search.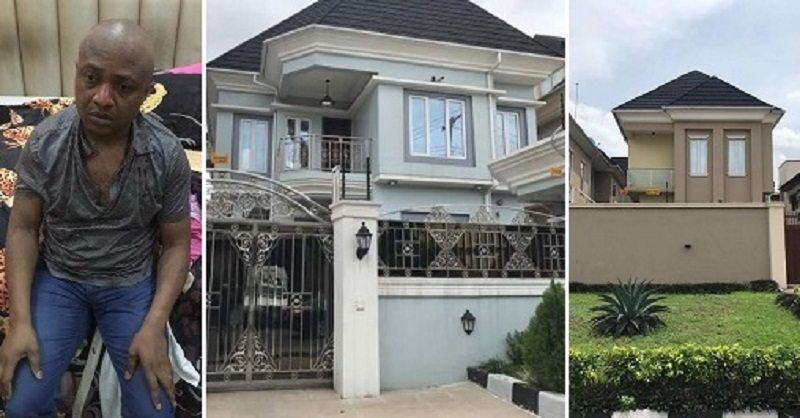 He also had two Houses in the Highbrow area of Accra City in Ghana among many other properties such as exotic cars, expensive watches, and jewelry.
Money Received from Evans Kidnap Victims
| | | |
| --- | --- | --- |
| NAME | YEAR | RANSOM |
| Mbarikatta Uboma | 2012 | N20 million |
| Paul Cole | 2012 |  N20 million |
| Mohammed Jamal | 2012 | N17 million |
| Kingsley Nwokenta | 2012 | N15 million |
| Anthony Ozoanidobi | 2012 | N15 million |
| Leo Abraham | 2012 | N15 million |
| Ojukwu Cosmas | 2016 | $1 million |
| Raymond Odu-Na–Ichida | 2015 |  $1 million |
| Uche Okoroafor | 2015 | $1 million |
| Elias Ukachukwu | 2015 | $1 million |
| James Uduji | 2016 | $1.2 million |
| Francis Umeh | 2016 | $1 million |
| Donatus Duru | 2017 | N150 million |
Evans Was Married to Uchenna Onwuamadike with 5 Children
Evans is married to his wife Uchenna Onwuamadike with whom he has five children. His wife and children were once residents in Accra Ghana.
His wife who initially had no knowledge of her husband's shady dealings was said to have found out about a few years ago when she discovered some ammunition and bags of money in their Magodo house. Series of confrontations with him had yielded to nothing but continued Kidnap operations by Evans and his team. This caused Mrs. Uchenna Onwuamadike to flee with her children to their house in Ghana. From Ghana, they relocated to Canada.
Key facts to note about Evans
Evans and his gang are responsible for the kidnap of prominent Nigerians in Lagos and many states across the country and is reputed to be the most notorious and richest kidnapper in Nigeria.
He collects his ransom in dollars. According to him, the highest he collected as ransom was $1 million, a ransom paid for someone living in Festac. Until such payments are made, he keeps the victims in the said house.
Reports have it that he caters to the victims, clothes and feeds them and does not torture them.
Where is Evans Now?
Evans has undergone trial in a 52 count charge. Although his trial stalled because a witness meant to testify refused to appear before the court. He was subsequently found guilty of all count charges and has been sentenced to death by hanging. Meanwhile, 2 of his gang members were already sentenced to 41 years in Kiri Kiri prison.