Erigga is a Nigerian singer and rapper with an estimated net worth of $1 million. Music saved the Warri native from the streets and accounts for a significant portion of his $1 million net worth. He made his wealth through his music career, endorsement deals, and other endeavors.
Erigga is a talent with a sense of belongingness. Most of his songs are about the daily life and struggles of an average Warri boy. Growing up in the streets exposed him to all the odds of street life, and he is using his music to give voice to the voiceless street boys of his hometown. In the process of doing this, Erigga has garnered an estimated net worth of $1 million to his name. We will explore how he made this wealth and what he spends it on.
Erigga Made A Name For Himself As A Rapper
If not for music, Erigga would have still been a bad boy by now. He would have still been among the street boys and hoodlums of Warri. His decision to change his lifestyle was influenced by the death of his friends. The singer wanted to live, and he also wanted to be heard; that's why he chose to sing.
His career in the music industry did not take him away entirely from his hometown. His music always reflects where he is from. The Warri boy, who also famously called 2 Seconds, transported himself from prison to fame. Rapping in his mother tongue made him famous and unique in the Nigerian music industry.
Erigga Made a Bulk of His $1 Million Net Worth From His Musical Career
After a corrective stay in prison, Eri-baba decided to explore a career in the music industry. With the release of his first song, "Mo Street Gan," and a video directed by Akin Alabi, the rapper has continued to release more hit singles and albums. As a singer, he makes the bulk of his net worth from his songs and albums.
Among his best songs include his 2018 hit single "Motivation" featuring Victor AD, "Coupé Décalé" featuring Shuun Bebe with a video that was endorsed by the Nigerian TV stations, and "Love No Be Garri" featuring Jimoh Waxiu, among many others. His contribution to the Nigerian music industry is outstanding and unique, and he has continued to grow from strength to strength.
List of His Most Successful Songs
For musicians, the sale of their songs and albums contributes greatly to their net worth. Erigga has gained not only fame from his songs but also money. This is evident in his $1 million estimated net worth. His songs are his major source of income. Let's explore some of Erigga's most successful songs, which have contributed to his fame and net worth.
Motivation – 2018: This song has accumulated over 1.9 million views on YouTube.
Mo Street Gan – Radio Continental's theme song
Situation Room – 2019
Victims – 2019
Dem No Get Two Heads – 2012
Rawbish – 2020
Area to the World – 2019 featuring Victor AD
Quarantine Cruise – 2020
Don't Die Alive – 2021
I No Wear Pant – 2021
Lagos – featuring Duncan Mighty
Erigga Has Other Businesses That Contributes To His Net Worth
Just like other celebrities, Erigga does not depend solely on the sales of his songs and albums. He has other things that give him money.
Endorsement Deals
Endorsement deals are part of what makes up the net worth of a celebrity. Erigga has bagged some endorsement deals which contribute to his net worth. Below is a list of some of his endorsement deals.
In 2019, the rapper signed an endorsement deal with Apex Network
He became a brand ambassador to View Nigeria Newspaper in 2015
He Owns a Record Label
On 31st July 2021, Erigga wrote a letter titled Letter of Appreciation to and Exit from Emirate Empire Records. He stayed with the record label for five years until he founded his own. In the letter, he announced the launching of his own record label, Area to the World (ATTW) INC. With the launch of his record label, all his productions and music will be carried out by the label. Also, he will start signing acts to his label, which will add more money to his pockets in no time.
Compared To When He Started His Career, Erigga Is More Successful Now
We have seen how Erigga struggled from the streets of Warri to fame. His rise to fame was a gradual process. He started his career by releasing singles in 2010, followed by his first album in 2012. The rapper began his career in Warri, Delta State Nigeria, and now, music has taken him around Nigeria and outside the country. He can boast of not less than 10 countries across the globe.
The Warri boy started his career, signing contracts under the New Money Entertainment record label and Emirate Empire Records. Now, he can boast of his own. He launched his own record label, Area to the World (ATTW) INC. Compared to when he started his career, we have seen that the Warri rap king is more successful now. His success story is a gradual one, and Erigga has continued to expand his boundaries.
He Has Some Expensive Cars in His Garage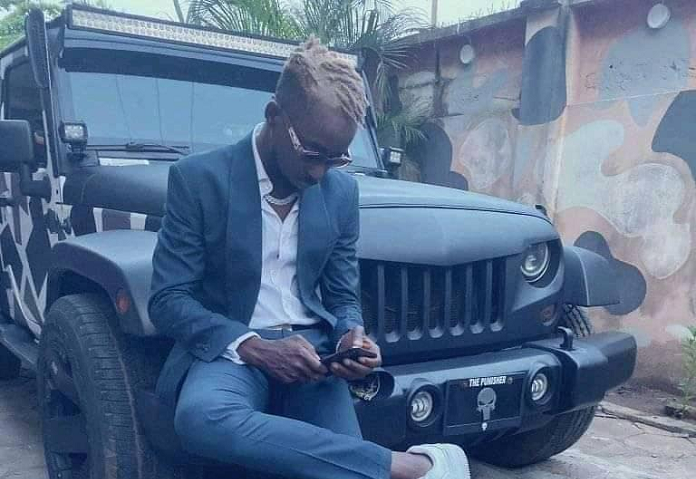 Success can also be measured by the luxurious lifestyle people live, but it can be misleading to base one's argument only on that. Some celebrities live lavish lifestyles and flaunt their riches all over social media. At the same time, some others prefer to live less lavish lifestyles for reasons best known to them. Erigga is among those that keep it low.
Music has earned Erigga a lot of money, and he also has acquired some luxurious cars from his net worth. As a successful artist, Erigga can boast of some expensive cars found in his garage. However, it is worthy of note that the rap star is not the type that lavishes his money on a luxurious lifestyle, but he acquires quality cars when he wants to buy one. The singer currently owns a Classic Toyota Prado, a Range Rover, and a Mercedes Benz. There may be more, but he is not the type that flaunts his wealth on social media.
Erigga's Net Worth Compared To Other Fast-Rising Acts
The growing number of artists in Nigeria has given rise to comparison. Artists of the same genre are now compared to know who is more popular and successful. Erigga is one of those artists who have been compared to other fast-rising acts like Zlatan and Naira Marley.
In terms of the number of years spent in the industry, Erigga is the oldest to join the music industry. He started his career in 2010, Zlatan Ibile started his in 2016, while Naira Marley started in 2014. Both artists came into prominence in 2019, while Erigga started shinning earlier than them. Judging by their contribution and the amount of time spent in the music industry, Erigga takes the lead. When it comes to their net worth, however,  Erigga is in-between the two.
Naira Marley, the popular leader of the Marlians, has a net worth of $2 million while Zlatan can boast of around $950,000. As already mentioned, Erigga has an estimated net worth of $1 million. There is big competition among these artists.