Damilola Adegbite (born May 18, 1985) is a 38 year old Nigerian model, businesswoman, television personality, and actress, most famous for her role as Thelema Duke in the Nigerian soap opera Tinsel.
The on-screen goddess has shown her prowess in the various roles she has displayed in the movie industry. Since her debut in the movie industry, she has been serving her fans hot in Nigerian movies like Flower Girl, Heaven's Hell, 6 Hours to Christmas, Before 30. The actress has equally won awards for her exceptional acting skills and has made it to the list of favorites on many fan lists.
Biography and Profile Summary Of Damilola Adegbite
Full Name: Oluwadamilola Adegbite
Date of Birth: May 18, 1985
Age: 38 years old
Place Of Birth: Surulere, Lagos State, Nigeria
Nationality: Nigerian
Ethnicity: Yoruba
Marital Status: Divorced
Ex-husband: Chris Attoh
Children: Brian Attoh (Son)
Alma Mater: Bowen University, Iwo, Osun State
Occupation: Model, Businesswoman, Television Personality, and Actress
Active Years: 2008 till date
The Actress Was Born In Surulere, Lagos State, Nigeria
The 38 years old television personality was born on May 18, 1985, in Surulere, Lagos State. She grew up under her mother and father who raised her alongside her four siblings. Her parents' names are unknown, but she revealed that her father was a civil servant and her mother a teacher.
Damilola grew up in Lagos State, where she has revealed to be fun while growing up. In an interview, the TV personality mentioned her fun parts of growing up in Lagos, from the carnivals to the memorable fun time with her childhood friends and the accommodating neighborhood.
She Was Mistaken To Be A Twin With Kehinde Bankole
After Dami rose to the spotlight, there were speculations about her being the twin of another Nigerian actress and model named Kehinde Bankole. The rumors appear to not be true but neither actress has made any statements concerning it. On the other hand, Kehinde Bankole is known to have a twin sister named Taiwo who much is not known about.
Damilola Adegbite Made Her Movie Debut In 2008
Having nurtured a passion for acting through her years as a teenager, Damilola Adegbite looked forward to making it a reality in the entertainment industry. After her last papers in the university, she was informed by her aunt, Ethel Ekpe, about a movie audition that she did not hesitate to take part in. Her mastery in acting gave her the leverage as she was selected and given a role in the MNet multi-camera production, Tinsel. She was given the role of Thelema Duke in the soap opera.
Since her debut, the actress has not ceased to amaze her fans with her magic on-screen. She has featured in many TV series and movies. Below is a comprehensive list of her filmography from her movie debut to date:
Tinsel (TV Series): 2008-2012
6 Hours to Christmas: 2010
Flower Girl: 2013
Before 30 (TV Series) : 2015- date
Isoken: 2017
The Missing: 2017
Banana Island Ghost: 2017
From Lagos With Love: 2018
Merry Men: The Real Yoruba Demons: 2018
Heaven's Hell: 2019
Coming From Insanity: 2019
Merry Men 2: Another Mission: 2019
Crossroads Siwoka: 2020
She Also Works As A TV Personality
Damilola Adegbite's charisma on-screen earned her a role on Sound City Television as red carpet host and program anchor. She had the privilege of interviewing several celebrities on the red carpet of notable events. The television personality has anchored special TV shows like the Chartroom and Global Count Down.
Damilola is a complete definition of beauty and brains as she has also played a lead role in the TV commercials of top brands. She was featured in the TV commercial of Brilliance Motors in the year 2009. The actress has also shown her prowess in playing roles in TV commercials as she was also linked to Nestle for the same role.
Damilola Has A Degree In Business Administration
The actress had all her education in Nigeria. She attended Queens College, Yaba Lagos. Having a passion for acting, she took part in the school drama society, serving as the vice president between 2001 and 2002. She also exhibited her acting talent in the church drama group as of then. Damilola Adegbite furthered her education at Bowen University Iwo, Ibadan, one of the leading private universities in Nigeria, where she obtained a degree in Business Administration.
She Runs A Few Businesses On The Side
It's no doubt that Damilola Adegbite is a woman with multiple talents as she is also a businesswoman. Though she has made a name for herself in the entertainment world, she still ventured into the business world as well. She doesn't just get described as an actress, model, TV personality, but also as a businesswoman because of her enterprise – Damiville and Kasham by Adedamme. The outfit deals on accessories, aromatherapy, and make-up products. It is situated in the highbrow area of Lagos State, Lekki.
Damilola Adegbite Was Previously Married To Chris Attoh
The actress has been previously married to the Ghanian actor Chris Attoh. The two met on the movie set of Tinsel. The duo portrayed a lovey-dovey part on the scene that viewers thought was mere acting. It later became obvious that it was real when they got engaged to each other in August 2014. The pair welcomed a son named Brian Nii Ayittey Olaferomi Attoh. Not up to a year after their engagement, the Ghanian actor and his fiancee moved to Ghana to get hitched officially on February 14, 2015. The wedding was attended by mostly family and close friends as it was quite a private affair.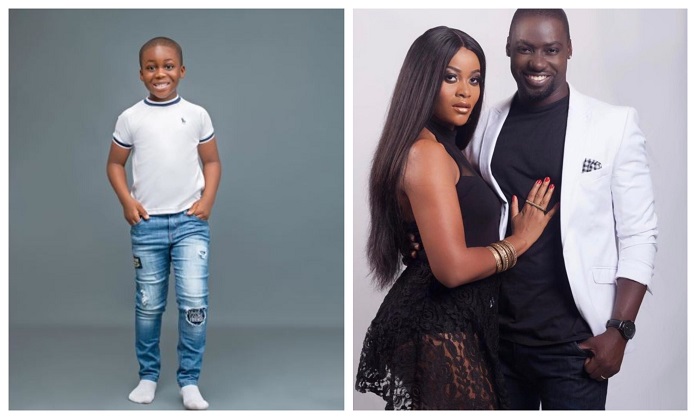 Her Marriage To The Ghanian Actor Hit The Rock Few Years After Their Wedding
Most celebrity marriages are not left without issues that result in separation, and Damilola Adegbite and her husband Chris Attoh are not left out. In September 2017, fans started speculating that the love birds were no more serving their couple goals. The speculations moved on until the actress deleted her spouse's pictures, unfollowed him, and changed her surname from her husband to her previous surname on all her social media handles.
These actions from the actress kept her fans awestruck till her husband Chris Attoh made an appearance in an interview to make their separation known to the public. While some pinned the reason for their divorce on infidelity, others said it was family differences regarding their different nationalities.
Irrespective of why they separated, Chris still adored his wife and spoke highly of her. It, however, didn't stop him from moving on to another woman while Dami appears to have remained single.
Damilola Adegbite Has Received Some Awards For Her Work
The actress has won some awards for her exceptional acting skills. In 2011, she won the Nigerian Entertainment Award for the Best Actress in a TV series. In 2013, she was nominated for the 2013 ELOY Awards for the Film Actress Of The Year. The following year, she was nominated for the Nollywood Movie Awards for The Best Actress in a Leading Role.
Best Actress in a TV Series, Nigerian Entertainment Awards: 2011 (Won)
Film Actress Of The Year, ELOY Awards: 2013 (Nominated)
The Best Actress In A Leading Role, Nollywood Movie Awards: 2014 (Nominated)