Chris Attoh is a Ghanaian actor, Radio and TV presenter, movie producer, and director. He is also famous in the Nigerian movie industry (Nollywood), just like he is in his actual home country industry, Ghallywood. He has graced an enviable number of screens, giving superb performances for the most part, and as such, has taken a comfortable place at the head of the movie industries across both countries. Beyond his career as an actor, he has had series of relationships, and he has fathered a few children from these relationships. In this piece, we will find out more about him and explore the relationships he has had thus far.
Profile Summary of Chris Attoh
Full Name: Christopher Keith Nii Attoh
Date of Birth: May 17, 1979
Age: 44 years old
Place of Birth: Accra, Ghana
Nationality: Ghanaian
Education: Achimota School, Accra Academy, Kwame Nkrumah University of Science and Technology, New York Film Academy
Occupation: Actor, Radio and TV Presenter, Movie Producer, and Director
Marital Status: Married
Children: 1
Chris Attoh Hails From Accra, Ghana
The multi-talented actor was born Christopher Keith Nii Attoh, but he goes by the name Chris Attoh. He is from and was born in Accra, Ghana. The Ghanaian celebrity has royalty running through his blood. He explained in an interview that he didn't grow up extremely wealthy, but he had the proper upbringing. He grew up with everything he needed, together with his siblings. Also, he grew up wanting to become a movie director because he was exposed to acting at a young age.
His father was a Member of the Royal Family
There isn't much information about Chris' parents and siblings. His father, Fred Attoh, died in 2019, the same year his wife was murdered. His father was a source of encouragement to him. He believes that you can do anything; it will only take time. His father is from a royal family, and he was Nii Kojo Armah IV: Paramount Chief of James Town, Accra.
Fred tried his best to bring up his children with the right morals. All there is about his siblings is that he has an elder brother, Ken Attoh. Kenneth is doing pretty well for himself. He is a movie producer and director, just like his younger brother, Chris. He has some movies to his credit, including Potato Potahto, Rebecca. Ken is also the CEO of Sparrow Productions, his wife's Television and advertising company.
Chris Attoh Studied in Ghana, the UK, and the US
The celebrity attended Achimota High School, Accra, in 1989 for his O'level education. And Accra Academy for his A'Level education in 1994. Moving forward, in 1999, he enrolled at Kwame Nkrumah University of Science and Technology (KNUST) for his tertiary education. He graduated with a bachelor's degree in Painting. While studying at the university, Chris took some courses in 3D Modelling, Graphic Design, and Basic Animation.
Not done, he enrolled at the London Academy of Radio and Television in 2004, where he got a certificate in Television Presenting. In addition to these, he acquired some diplomas from 2005 to 2010. In 2005, he got a diploma in Goal Public Relations from ICS. College, United Kingdom. Also, in 20015, he got a diploma in Multimedia and Digital Editing – level one from the Sound and Engineering Institute SAE, United Kingdom. And in 2010, he got a diploma in Film Making and Directing from the New York Film Academy, USA.
His level of education and exposure, no doubt, has enabled him to be a somewhat effective hand at investing. So, besides his acting and MC chops, Chris Attoh is also the CEO of A Factory Limited, a media and television development company with headquarters in Dzorwulu, Accra. For his acting career, these diplomas and certifications gave him the quality backing he needed to excel in the movie industry as an actor and producer. They also shaped his other careers in TV and radio presenting and Master of Ceremony.
Before Acting, Chris Started His Career in Radio and TV Presenting
After his university education, Chris did his national youth service in a radio station. After his service year, he moved to another radio station, Choice Fm, and later on, a host of other radio stations in Ghana. He later moved to TV presenting after he had toured radio presenting. He worked as a TV presenter at Original Black Entertainment (OBE) TV Ghana. He has worked as a presenter to many TV stations in Ghana.
Chris Attoh is an established actor, movie producer and director, TV host, and MC. His passion for showbiz led to his work on Ghana's top radio stations as a radio presenter and as a television broadcaster for the majority of Ghana's biggest broadcasting platforms. He had wanted to become a director, and that's why he decided to try acting.
He Made His Acting Debut on the TV Show Choices
His acting career began after he starred in the TV show Choices. However, he was shut up in popularity after his stint on the set of Tinsel, where he starred as Kwame Mensah, the often-underhanded younger brother of Brenda Mensah. Attoh delivered a powerful and detestable performance every time he appeared on the show and soon got fans from all around Africa.
He made another promising appearance on MTV's Shuga, which focuses on spreading awareness of HIV/AIDs in Africa. When MTV Shuga came to Nigeria and Ghana for seasons 3 and 4, he starred as a manipulative woman beater who appeared to the outside world as a simple and intelligent man. Since his debut in the movie industry, he has featured in numerous big-budget or more modest movies, including Flower Girl, Be My Guest, Single and Married, Oxford Garden, etc.
List of Some of His Famous Movies
Some of his notable movies include the following:
Lotanna – 2017
Flower Girl – 2013
Perfect Picture – 2009
The Perfect Picture – Ten Years Later – 2020
A Trip to Jamaica – 2016
Happiness is a Four-Letter Word – 2016
Single and Married – 2012
A Soldier Story 2: Return from the Dead – 2020
 Six Hours to Christmas – 2010
Potato Potahto – 2017
Love and War – 2013
An Accidental Zombie – 2016
Love and Cancer – 2017
TV Shows
Fifty – the series – 2020
Tinsel – 2006-2013
Shuga Season 3 – 2013-2015
A House Divided (UMC) – 2019-2020
BRAT TV – 2020
Christian Jean in Hollywood – 2015
Chris Attoh's Awards and Nominations
As a result of his contributions to the movie industry and society, Chris Attoh has received several nominations and awards. He has become a celebrated household name in many parts of the world with over 15 years of experience under his belt. Below is a list of some of his nominations and awards.
Nominations
Best Dressed Male in the 2011 Ghana Fashion Awards
Best Event MC in the 2013 Accra Nightlife Award
Best Actor in a Leading Role in the 2018Africa Movie Academy Awards
Best Actor in a Drama Series Esohe in the 2018 Africa Magic Viewers' Choice Awards
Awards
Best Pan-African Actor of the Year in the 2011 Nigeria Entertainment Awards
Mode Man Actor of the year in the 2012 Mode Men Magazine
Why is He More Known in Nigeria?
There is no doubt that actor Chris Attoh started his career in the Ghanaian movie industry. However, he is more known in the Nigerian movie industry and Nigeria at large. This is so because he has featured in more Nigerian movies than in Ghanaian movies. And his rise to fame was with the Nigerian TV show, Tinsel, which contributed to his popularity in Nigeria.
A Look At Chris Attoh's Relationship History
Attoh's relationship history is unlike any other star at his age. At 44 years old, he has had three marriages and a few other relationships. He is just unlucky when it comes to marriage and relationships. First of all, it was rumored that he was in a relationship with Yvonne Nelson. Then he got married to actress Damilola Adegbite, a marriage that ended in a divorce. Then he married a second wife, Bettie Jennifer, who was shot dead. Now, he is on the road to getting a third wife. Let's take a look at his relationships.
Relationship With Yvonne Nelson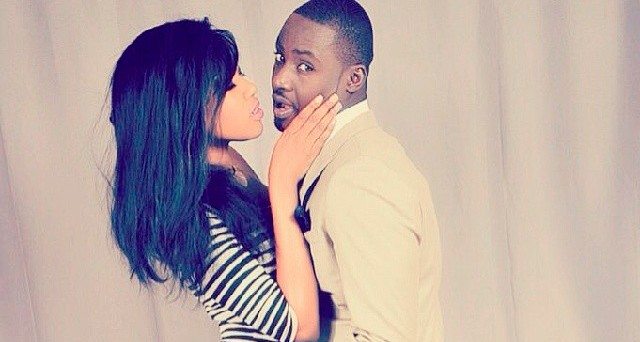 In the past, reports claimed that the Tinsel star was married to the beautiful actress Yvonne Nelson. Further reports claimed the duo had a secret wedding. This was after some pictures surfaced online, showing Yvonne and Chris exchanging vows. What seemed more real about the photos was that many Nigerian celebrities, the biological parents of the supposed couple, and Paparazzi were caught hovering around.
This turned out to be false and was only a movie scene. The two stars are good friends and nothing more attached. They have featured in many movies together. The Ghanian actor also featured in her production project titled Single and Married, where he starred as Yvonne's unfaithful husband, kissing her several times. During an interview, later on, he revealed that he enjoyed kissing the actress on set.
He Married Actress Damilola Adegbite in February 2015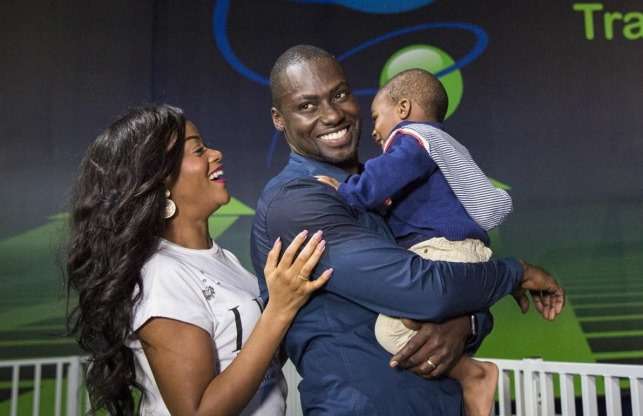 Chris Attoh used to be married to former Tinsel and Flower Girl co-star Damilola Adegbite, and together, they have a son. Their courtship was mostly private and well-hidden. However, they had a public engagement and wedding with many stars in attendance, as big as the two have come to be. He proposed to her on a boat cruise in Manhattan, New York City, in August 2014.
In 2015, the duo wedded on February 14, Valentine's Day, at La Villa Boutique Hotel, Accra. He frequently showed his undying love and support for his wife, and they were usually spotted together on Red Carpets and other casual outings. However, the actor's marriage to his co-star failed, and no one can certainly say what went wrong. They had a son named Brian while they were together.
Chris Attoh and Damilola Adegbite Went Their Separate Ways in 2017
After months of speculations and refutations, the Ghanaian heartthrob finally admitted that his marriage to the screen goddess, Damilola Adegbite, had crashed. They divorced in December 2017. Although they have embarked on an individual journey now, Chris still describes Dami as a wonderful and amazing woman. He said they will always be friends and will find ways to ensure their son Brian (their only child as a couple) has a balanced upbringing filled with love and support.
After Their Divorce, Chris Attoh Married Bettie Jennifer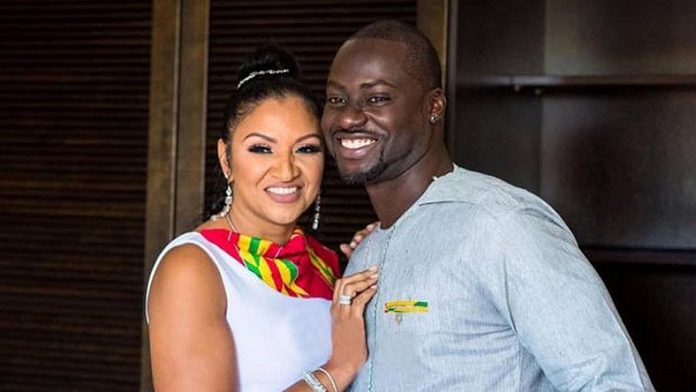 Few months after his divorce, Chris married a US-based Ghanaian, Bettie Jennifer. Information concerning how they met and when they got engaged has not been shared in the public domain.  However, on Saturday, October 6, 2018, they tied the knot traditionally in a private wedding in Ghana.
Months after their union, Jennifer was shot dead by an unknown gunman in Maryland, United States. This incident occurred at 5 p.m. on May 10, 2019, while leaving her office after work. A Greenbelt Police spokesperson reported that the suspect was a black man with a hood who aimed and shot at Jennifer several times until she was hit by at least one of the bullets.
The Legal Issues Her Death Caused Chris Attoh
In the course of investigations, Attoh was invited for questioning by the US Police. It was gathered that Chris shared some tweets about relationships and loyalty some hours before his wife was killed. In the tweet, Attoh wrote, "When it comes to relationships, remaining faithful is never an option, but a priority. Loyalty is ever…" This post made him look like a suspect in his wife's murder case.
Is Chris Attoh Still a Suspect?
Later on, it was revealed that Jennifer was legally married to two men at the time of her murder. Her other husband, Kedrick, is a drug dealer who was serving time in jail. During the period of her death, she was on the quest to get a divorce from Kedrick. Also, the police released a sketch of what her murderer looks like, and he looked nothing like Chris. These made it clear that Chris Attoh does not have any reason to remain a suspect in his wife's murder case.
Has The Actor Married a Third Wife?
Again, for the third time in 6 years, it was reported that Chris Attoh married another wife. This time around, it is a US-based Nigerian investment banker named Chinecherem Eze. She is a Nigerian with dual citizenship, the second being American. She was raised in Nigeria and later relocated to the United States to further her education. Chinecherem is also an actress and producer who has featured in TV productions like, Kill Them All, Ellen's Game, and Winners.
The marriage happened two years after the murder of his wife, Bettie. The report has it that they got engaged months before they tied the knot. The secret court marriage took place in April in California, and the traditional rites happened on May 1, 2021, at Nsukka, Enugu State, Nigeria.
Where is Chris Attoh Now?
Chris Attoh was resident in California before his dead wife's murder. From the look of things, he has married another wife who is resident in the same city, so he is still resident in the city. He mourned his dead wife and finally got married to another one. He says in an Instagram post that we learn from our troubles and discomforts, and we cannot protect ourselves from sadness without protecting ourselves from happiness. The actor ended by saying that it is easier to trust God and stay open to him.
With this post, he returned to social media months after he lost his wife, and later on, got married again. He has happily married once again, trusting that this time around, the marriage works. Although Chris Attoh has been married three times, he has only one child, Brian, the child he had with Actress Damilola Adegbite.