Nigeria is a West African country that is made up of 371 tribes with unique dialects and cultures.
These tribes are located across the 36 states of the country, with some existing across multiple state boundaries. The most popular tribes in Nigeria are undoubtedly the Hausa, Yoruba, and Igbo tribes which make up 60% of the total population of Nigeria. The Hausa are predominantly in the north while the Yorubas are found in the western part of the country. Igbos, on the other hand, are in the east.
Below is a comprehensive list of all the tribes in Nigeria grouped under the states where you can find them.
Tribes in Nigeria And The States They Occupy
1. Abia State (Umuahia)
2. Adamawa State (Yola)
Babur
Bachama
Banso (Panso)
Batta
Baya
Bilei
Bille
Botlere
Bura
Bwatiye
Bwazza
Daba
Daka
Palli
Ga'anda
Gira
Gizigz
Gombi
Gude
Gudu
Gwa (Gurawa)
Gwamba
Higi (Hig)
Holma
Hona
Ichen
Jibu
Jirai
Kaka
Kambu
Kanakuru (Dera)
Kanuri
Kilba
Kurdul
Lakka
Lala
Ubbo
Longuda (Lunguda)
Mambilla
Margi (Marghi)
Matakarn
Mbol
Mbula
Muchaila
Mundang
Ngweshe (Ndhang.Ngoshe-Ndhang)
Njayi
Pire
Shuwa
Sukur
Teme
Tigon
Tur
Vemgo
Verre
Wagga
Wula
Wurbo
Yungur
3. Akwa Ibom State (Uyo)
Anang
Andoni
Eket
Ibeno
Ibibio
Okobo (Okkobor)
Oron
4. Anambra State (Awka)
5. Bauchi State (Bauchi)
Angas
Bambora (Bambarawa)
Banka (Bankalawa)
Bara (Barawa)
Barke
Bele (Buli, Belewa)
Boma (Bomawa, Burmano)
Bomboro
Buli
Burak
Buta (Butawa)
Chama (Chamawa Fitilai)
Chamo
Dadiya
Daza (Dere, Derewa)
Deno (Denawa)
Ouguri
Duma (Dumawa)
Fulani (Fulbe)
Galambi
Geji
Gera (Gere, Gerawa)
Geruma (Gerumawa)
Gingwak
Gubi (Gubawa)
Gururntum
Gyem
Hausa
Jaku
Jara (Jaar Jarawa Jarawa-Dutse)
Jere (Jare, Jera, Jera, Jerawa)
Jimbin (Jimbinawa)
Jukun
Kamo
Karekare (Karaikarai)
Kariya
Kirfi (Kirfawa)
Kubi (Kubawa)
Kudachano (Kudawa)
Kushi
Kwami (Kwom)
Kwanka (Kwankwa)
Limono
Longuda (Lunguda)
Miya (Miyawa)
Ngamo
Ningi (Ningawa)
Pa'a (Pa'awa Afawa)
Pero
Polchi Habe
Rebina (Rebinawa)
Sanga
Saya (Sayawa Za'ar)
Segidi (Sigidawa)
Siri (Sirawa)
Tangale
Tera (Terawa)
Tula
Waja
Warji
Zaranda
Zayam (Zeam)
Zul (Zulawa)
6. Bayelsa State (Yenagoa)
7. Benue State (Makurdi)
Akweya-Yachi
Egede (Igedde)
Etolu (Etilo)
Idoma
Igbo
Jukun
Tiv
Ufia
Utonkong
Yalla
8. Borno State (Maiduguri)
Babur
Buduma
Chinine
Dghwede
Fulani (Fulbe)
Gamergu-Mulgwa
Gavako
Gwoza (Waha)
Hausa
Higi (Hig)
Kanakuru (Dera)
Kanembu
Kanuri
Mandara (Wandala)
Margi (Marghi)
Ngweshe (Ndhang.Ngoshe-Ndhang)
Shuwa
Tera (Terawa)
9. Cross River State (Calabar)
Abayon
Adim
Adun
Agbo
Akaju-Ndem (Akajuk)
Anyima
Bachere
Bahumono
Bekwarra
Bette
Boki (Nki)
Efik
Ejagham
Ekajuk
Ekoi
Etung
Ikorn
Iyala (Iyalla)
Mbembe
Mbube
Nkim
Nkum
Ododop
Olulumo
Qua
Ukelle
Uyanga
Yache
Yakurr (Yako)
10. Delta State (Asaba)
Igbo
Isoko
Isekiri (Itsekiri)
Izondjo
Ukwani (Kwale)
Urhobo
11. Ebonyi State (Abakaliki)
12. Edo State (Benin City)
Bini
Ebirra (Igbirra)
Ebu
Esan (Ishan)
Etsako
Etuno
Okpamheri
Owan
Uneme (Ineme)
13. Ekiti State (Ado Ekiti)
14. Enugu State (Enugu)
15. Gombe State (Gombe)
16. Imo State (Owerri)
17. Jigawa State (Dutse)
Angas
Auyoka (Auyokawa)
Fulani (Fulbe)
Hausa
Kanuri
Kurama
Warja (Warja)
18. Kaduna State (Kaduna)
Attakar (ataka)
Ayu
Bassa
Bina (Binawa)
Fulani (Fulbe)
Gure
Gwandara
Gwari (Gbari)
Hausa
Jaba
Kafanchan
Kagaro
Kaje (Kache)
Kajuru (Kajurawa)
Kamaku (Karnukawa)
Kanikon
Kanuri
Katab (Kataf)
Kiballo (Kiwollo)
Koro (Kwaro)
Kurama
Mada
Manchok
Moruwa (Moro'a, Morwa)
Ninzam (Ninzo)
Nunku
Rishuwa
Rumada
Rumaya
Srubu (Surubu)
Uncinda
19. Kano State (Kano)
Fulani (Fulbe)
Hausa
Kanuri
Shira (Shirawa)
Teshena (Teshenawa)
20. Katsina State (Katsina)
21. Kebbi State (Birnin Kebbi)
Achipa (Achipawa)
Dakarkari
Danda (Dandawa)
Duka (Dukawa)
Fulani (Fulbe)
Hausa
Kamaku (Karnukawa)
Kambari
Reshe
Uncinda
Zarma (Zarmawa)
22. Kogi State (Lokoja)
Bassa
Bunu
Ebirra (Igbirra)
Ebu
Gbedde
Igalla
Ijumu
Yoruba
23. Kwara State (Ilorin)
Ogori
Owe
Oworo
Yagba
Yoruba
24. Lagos State (Ikeja)
25. Nasarawa State (Lafia)
26. Niger State (Minna)
Baruba (Barba)
Bassa
Baushi
Boko (Bussawa, Bargawa)
Buduma
Dakarkari
Fulani (Fulbe)
Gade
Gurmana
Gwandara
Gwari (Gbari)
Hausa
Kamaku (Karnukawa)
Kambari
Kanuri
Koro (Kwaro)
Kurama
Laaru (Larawa)
Lopa (Lupa, Lopawa)
Nupe
Pongo (Pongu)
Reshe
Rubu
Uncinda
Ura (Ula)
Yumu
Zabara
27. Ogun State (Abeokuta)
28. Ondo State (Akure)
Ebirra (Igbirra)
Izondjo
Yoruba
29. Osun State (Oshogbo)
30. Oyo State (Ibadan)
31. Plateau State (Jos)
Afizere
Afo
Alago (Arago)
Amo
Anaguta
Angas
Ankwei
Bada
Bashiri (Bashirawa)
Bassa
Birom
Bkkus
Buji
Burma (Burmawa)
Bwall
Challa
Chip
Chokobo
Doemak (Dumuk)
Eggon
Fyam (Fyem)
Fyer (Fer)
Qanawuri
Geruma (Gerumawa)
Goernai
Gusu
Gwandara
Gwari (Gbari)
Irigwe
Jere (Jare, Jera, Jera, Jerawa)
Jidda-Abu
Jukun
Kantana
Kanuri
Kenern (Koenoem)
Kulere (Kaler)
Kurama
Kwalla
Kwanka (Kwankwa)
Kwaro
Kwato
Limono
Mabo
Mada
Mama
Memyang (Meryan)
Miango
Miligili (Migili)
Mobber
Montol
Munga (Mupang)
Mushere
Mwahavul (Mwaghavul)
Ninzam (Ninzo)
Nokere (Nakere)
Nunku
Pai
Pyapun (Piapung)
Rindire (Rendre)
Ron
Rukuba
Shangawa (Shangau)
Shan-Shan
Sikdi
Sura
Tarok
Tiv
Yergan (Yergum)
Yuom
32. Rivers State (Port Harcourt)
Abua (Odual)
Andoni
Degema
Ebana (Ebani)
Egbema
Engenni (Ngene)
Epie
Etche
Gokana (Kana)
Igbo
Izondjo
33. Sokoto State (Sokoto)
Fulani (Fulbe)
Hausa
Kyenga (Kengawa)
Shanga (Shangawa)
Uncinda
34. Taraba State (Jalingo)
Babur
Bakulung
Bali
Bambuko
Banda (Bandawa)
Betso (Bete)
Bobua
Chamba
Chukkol
Dangsa
Diba
Fulani (Fulbe)
Gengle
Gornum (Gmun)
Gonia
Gwom
Hausa
Idoma
Jahuna (Jahunawa)
Jero
Jonjo (Jenjo)
Jukun
Kaba (Kabawa)
Kadara
Kanuri
Karimjo
Kenton
Koma
Kona
Kugama
Kunini
Kuteb
Kutin
Kwanchi
Lama
Lamja
Lau
Mbum
Mumuye
Ndoro
Nyandang
Panyam
Pkanzom
Poll
Potopo
Sakbe
Sate
Shomo
Tarok
Tikar
Tiv
Vommi
Waka
Wurkun
Yandang
Yott
35. Yobe State (Damaturu)
Affade
Babur
Bade
Bole (Bolewa)
Buru
Chibok (Chibbak)
Fulani (Fulbe)
Hausa
Kanuri
Karekare (Karaikarai)
Manga (Mangawa)
Ngamo
Ngizim
36. Zamfara State (Gusau)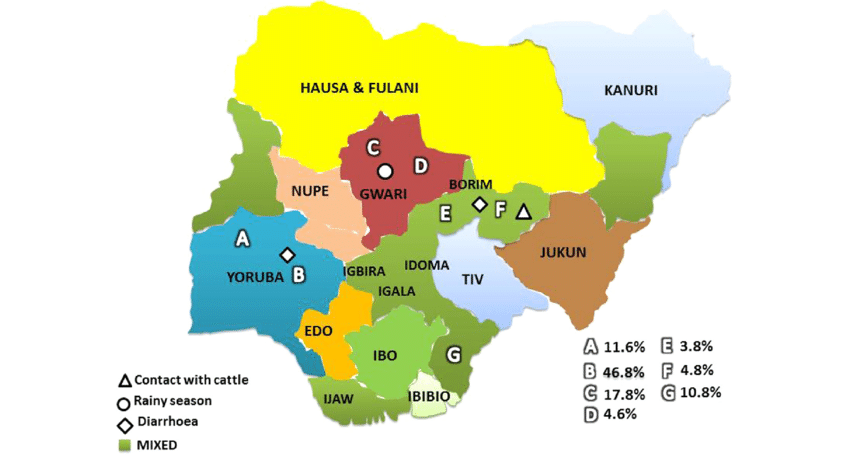 How Many Tribes Do We Have In Nigeria?
There are 371 tribes in Nigeria. A majority of these tribes are located in northern Nigeria, with states like Taraba, Plateau, Yobe, Niger, Kebbi, Kaduna, Borno, Bauchi, and Adamawa having at least ten different tribes existing under each boundary. In the south, the state with the most tribes is Cross River State. Others coming close to it are Benue, Edo, and Rivers. Below is a complete list of tribes in Nigeria in alphabetical order.
Abayon
Abua (Odual)
Achipa (Achipawa)
Adim
Adun
Affade
Afizere
Afo
Agbo
Akaju-Ndem (Akajuk)
Akweya-Yachi
Alago (Arago)
Amo
Anaguta
Anang
Andoni
Angas
Ankwei
Anyima
Attakar (ataka)
Auyoka (Auyokawa)
Awori
Ayu
Babur
Bachama
Bachere
Bada
Bade
Bahumono
Bakulung
Bali
Bambora (Bambarawa)
Bambuko
Banda (Bandawa)
Banka (Bankalawa)
Banso (Panso)
Bara (Barawa)
Barke
Baruba (Barba)
Bashiri (Bashirawa)
Bassa
Batta
Baushi
Baya
Bekwarra
Bele (Buli, Belewa)
Betso (Bete)
Bette
Bilei
Bille
Bina (Binawa)
Bini
Birom
Bobua
Boki (Nki)
Bkkos
Boko (Bussawa, Bargawa)
Bole (Bolewa)
Botler
Boma (Bomawa, Burmano)
Bomboro
Buduma
Buji
Buli
Bunu
Bura
Burak
Burma (Burmawa)
Buru
Buta (Butawa)
Bwall
Bwatiye
Bwazza
Challa
Chama (Chamawa Fitilai)
Chamba
Chamo
Chibok (Chibbak)
Chinine
Chip
Chokobo
Chukkol
Daba
Dadiya
Daka
Dakarkari
Danda (Dandawa)
Dangsa
Daza (Dere, Derewa)
Degema
Deno (Denawa)
Dghwede
Diba
Doemak (Dumuk)
Ouguri
Duka (Dukawa)
Duma (Dumawa)
Ebana (Ebani)
Ebirra (lgbirra)
Ebu
Efik
Egbema
Egede (lgedde)
Eggon
Egun (Gu)
Ejagham
Ekajuk
Eket
Ekoi
Engenni (Ngene)
Epie
Esan (Ishan)
 Etche
Etolu (Etilo)
Etsako
Etung
Etuno
Palli
Fulani (Fulbe)
Fyam (Fyem)
Fyer (Fer)
Ga'anda
Gade
Galambi
Gamergu-Mulgwa
Qanawuri
Gavako
Gbedde
Gengle
Geji
Gera (Gere, Gerawa)
Geruma (Gerumawa)
Geruma (Gerumawa)
Gingwak
Gira
Gizigz
Goernai
Gokana (Kana)
Gombi
Gornun (Gmun)
Gonia
Gubi (Gubawa)
Gude
Gudu
 Gure
Gurmana
Gururntum
Gusu
Gwa (Gurawa)
Gwamba
Gwandara
Gwari (Gbari)
Gwom
Gwoza (Waha)
Gyem
Hausa
Higi (Hig)
Holma
Hona
Ibeno
Ibibio
Ichen
Idoma
Igalla
lgbo
ljumu
Ikorn
Irigwe
Isoko
lsekiri (Itsekiri)
lyala (lyalla)
lzondjo
Jaba
Jahuna (Jahunawa)
Jaku
Jara (Jaar Jarawa Jarawa-Dutse)
Jere (Jare, Jera, Jera, Jerawa)
Jero
Jibu
Jidda-Abu
Jimbin (Jimbinawa)
Jirai
Jonjo (Jenjo)
Jukun
Kaba (Kabawa)
Kadara
Kafanchan
Kagoro
Kaje (Kache)
Kajuru (Kajurawa)
Kaka
Kamaku (Karnukawa)
Kambari
Kambu
Kamo
Kanakuru (Dera)
Kanembu
Kanikon
Kantana
Kanuri
Karekare (Karaikarai)
Karimjo
Kariya
Katab (Kataf)
Kenern (Koenoem)
Kenton
Kiballo (Kiwollo)
Kilba
Kirfi (Kirfawa)
Koma
Kona
Koro (Kwaro)
Kubi (Kubawa)
Kudachano (Kudawa)
Kugama
Kulere (Kaler)
Kunini
Kurama
Kurdul
Kushi
Kuteb
Kutin
Kwalla
Kwami (Kwom)
Kwanchi
Kwanka (Kwankwa)
Kwaro
Kwato
Kyenga (Kengawa)
Laaru (Larawa)
Lakka
Lala
Lama
Lamja
Lau
Ubbo
Limono
Lopa (Lupa, Lopawa)
Longuda (Lunguda)
Mabo
Mada
Mama
Mambilla
Manchok
Mandara (Wandala)
Manga (Mangawa)
Margi (Marghi)
Matakarn
Mbembe
Mbol
Mbube
Mbula
Mbum
Memyang (Meryan)
Miango
Miligili (Migili)
Miya (Miyawa)
Mobber
Montol
Moruwa (Moro'a, Morwa)
Muchaila
Mumuye
Mundang
Munga (Mupang)
Mushere
Mwahavul (Mwaghavul)
Ndoro
Ngamo
Ngizim
Ngweshe (Ndhang.Ngoshe-Ndhang)
Ningi (Ningawa)
Ninzam (Ninzo)
Njayi
Nkim
Nkum
Nokere (Nakere)
Nunku
Nupe
Nyandang
Ododop
Ogori
Okobo (Okkobor)
Okpamheri
Olulumo
Oron
Owan
Owe
Oworo
Pa'a (Pa'awa Afawa)
Pai
Panyam
Pero
Pire
Pkanzom
Poll
Polchi Habe
Pongo (Pongu)
Potopo
Pyapun (Piapung)
Qua
Rebina (Rebinawa)
Reshe
Rindire (Rendre)
Rishuwa
Ron
Rubu
Rukuba
Rumada
Rumaya
Sakbe
Sanga
Sate
Saya (Sayawa Za'ar)
Segidi (Sigidawa)
Shanga (Shangawa)
Shangawa (Shangau)
Shan-Shan
Shira (Shirawa)
Shomo
Shuwa
Sikdi
Siri (Sirawa)
Srubu (Surubu)
Sukur
Sura
Tangale
Tarok
Teme
Tera (Terawa)
Teshena (Teshenawa)
Tigon
Tikar
Tiv
Tula
Tur
Ufia
Ukelle
Ukwani (Kwale)
Uncinda
Uneme (Ineme)
Ura (Ula)
Urhobo
Utonkong
Uyanga
Vemgo
Verre
Vommi
Wagga
Waja
Waka
Warja (Warja)
Warji
Wula
Wurbo
Wurkun
Yache
Yagba
Yakurr (Yako)
Yalla
Yandang
Yergan (Yergum)
Yoruba
Yott
Yumu
Yungur
Yuom
Zabara
Zaranda
Zarma (Zarmawa)
Zayam (Zeam)
Zul (Zulawa)