Fulani herdsmen are nomadic herders, whose history can be traced to the Futa Jalon mountains of West Africa, and whose primary occupation is raising livestock. They are largely located in the Sahel and semi-arid parts of West Africa but due to changes in climate patterns many herdsmen have moved further south into the savannah and tropical forest belt of West Africa.
Fulani herdsmen are found in countries such as Nigeria, Niger, Senegal, Guinea, Mauritania, Mali, Burkina Faso, Benin, Cote d'Ivoire and Cameroon. In Senegal, they inhabit northeastern Ferlo and the southeastern part of the country.
History Of Fulani Herdsmen In Nigeria
The history of Fulani herdsmen in Nigeria dates back to the 13th and 14th centuries when they started migrating into Northern Nigeria from the Senegambia region.
After the Uthman Dan Fodio jihad, the Fulanis integrated into the Hausa ethnic group of Northern Nigeria. During the dry season when tsetse fly population was reduced, Fulani herdsmen began to drive their cattle to the middle belt zone dominated by non-Hausa groups, returning to the north at the onset of the rainy season.
But while managing the herd and driving cattle, cattle grazing on farmlands sometimes leads to the destruction of crops, becoming a source of conflict between the herdsmen and farmers.
To tackle this, in 1978, Nigeria implemented the land use act which gave state or federal government the right to assign and lease land and also gave indigenes the right to apply and be given a certificate of occupancy to claim ownership of their ancestral lands.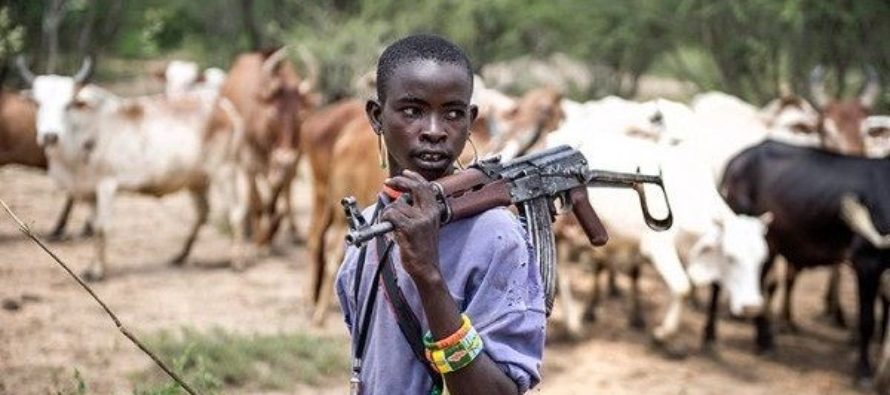 This placed the Fulanis in a difficult position because most of them did not apply for lands of occupancy of their grazing routes and recurring transhumance movement will lead to encroachment of the properties of others. This also led the federal government to carve out some areas as grazing routes but this has not reduced clashes as there have been reports of clashes between the herdsmen and farmers across Nigeria.
Fulani Herdsmen Attacks in Nigeria
From 1996 to 2006 about 121 people lost their lives in Bauchi and Gombe states as a result of conflicts between Fulani herdsmen and farmers.
Many communities, particularly in the North Central and South-Eastern states, have also recently faced severe attacks allegedly perpetrated by Fulani herdsmen.
Since January 2016, about 10 Agatu communities in Benue State have suffered unprecedented hardship in the hands of men suspected to be Fulani herdsmen. About 500 Agatu villagers have reportedly lost their lives to the herdsmen.
In Abia State communities of Uzuakoli in Bende Local Government Area, Ebem and Akanu in Ohafia and Umuchieze in Umunneochi, there have been cases of deadly clashes between rural farmers and the cattle breeders.
The invasion of farmlands in Ebem and Akanu communities nearly resulted in bloodbaths but the wisdom of the leaders in the community who timely reported to the authorities saved bloody clashes. Some of the cases were so serious that Abia State Government had to intervene, preventing the youths of the communities from retaliating. It set up a peace committee that quelled the then imminent doom.
See Also: Betting With Bet9ja: Everything You Should Know
The case is not different in Enugu State. Of the 482 communities in the State, one cannot point to one community that has not had its fair share of Fulani herdsmen's barbaric activities which leave in their wake, perennial tears of sorrow as incidents of killing, robbery, rape, maiming and kidnapping by the cattle herdsmen have inflicted pains on most farmers, leaving them in fear.
In March 2014, suspected Fulani herdsmen allegedly killed Tamgbo Ogueji, a member of the traditional rulers' cabinet at Eke Community in Udi Local Government Area of Enugu State. The deceased, aged 85, was shot in his house in the early hours over an undisclosed issue with the herdsmen.
The town of Nkpologu Community in Uzo-Uwani Local Government Area of Enugu State was, in January 2015, thrown into mourning following news of the death of a young woman on New Year's Eve, during a Fulani herdsmen's robbery attack on a commuter bus.
In April 2016, suspected Fulani herdsmen invaded Ukpabi Nimbo community in Uzo-Uwani local government area of Enugu state, killing scores. The herdsmen, numbering more than 100, reportedly stormed the sleeping community in the early hours of a Monday morning, carrying guns, bows, arrows, machetes and swords to execute their mission.
The attack of Fulani herdsmen have not only been witnessed in North-Central and South-East alone, Farmers in Lagun, Iyana Offa, Offa, Atagba, Lapata and their surrounding communities in Lagelu Local Council Area of Ibadan, Oyo State, alleged that a group of Fulani armed men attacked their communities, carting away valuables.
Government Response To The Attacks
In a bid to curb these violent clashes, a bill, sponsored by Senator Zainab Kure, was proposed.
The bill titled "National Grazing Reserve (Establishment) Bill 2016", will provide for the establishment of the National Grazing Reserve Commission which shall have power to, among other things, establish at least one Cattle Reserve in each state of the federation.
But many have kicked against the proposed bill to create grazing zones across the country, arguing that the decision is ill-advised, against the land use act and overriding public interest.