Aisha Lawal (born on May 31) is a Nigerian Yoruba actress, film producer, and scriptwriter known for her role as Simbi in the movie Simbi Alamala. She is a recipient of an Oscar Award.
Having been in the Nigerian entertainment industry for over a decade now, Aisha Lawal has showcased her multi-talents and skills in acting and is considered one of the very talented actresses in Nollywood. She is mostly known in the Yoruba film industry. Besides acting, Aisha works as an event planner, master of ceremonies (MC), and interior decorator. She also has won a couple of awards for her successful works.
Summary of Aisha Lawal's Bio
Full name: Aishat Oladunni Lawal
Gender: Female
Date of birth: May 31
Ethnicity: Yoruba
Nationality: Nigerian
Zodiac Sign: Gemini
Sexual Orientation: Straight
Religion: Islamic
Marital Status: Married
Aisha Lawal's Husband: Tony Eddie
Aisha Lawal's Children: 1 (Zee)
Siblings: 2
Aisha Lawal's Height in Inches: 5 feet 8 inches
Aisha Lawal's Height in Centimetres: 172 cm
Aisha Lawal's Weight: 70 kg
Aisha Lawal's Net worth: $700,000
Famous for: Being an Actress
Aisha Lawal's Instagram: aishalawal1
Facebook: Aisha Lawal
Where is Aisha Lawal from?
Commonly known as Aisha Lawal, she was born Aishat Oladunni Lawal to Oyo State native parents. Although she did not disclose her exact year of birth, Aisha celebrates her birthday every May 31. She was born and raised in her hometown Ibadan Oyo State by her parents alongside her siblings.
In a family of three children, Aisha is the second child. Sadly, both her parents are now late. Her father was an estate agent, while her mother retired as a secondary school principal.
Aisha is a Lawyer
Growing up in Oyo, young Aisha attended primary and secondary school at Adeen International School, Ibadan, and Federal Government College Ogbomoso, respectively. After obtaining her Secondary School Certificate, she did her A-levels in Ilorin, Kwara State, and then proceeded to Lead City University, Ibadan, where she bagged an LLB in Law.
To further her education, she moved on to obtain her second degree in Public Administration from the same Lead University. So in effect, Aisha Lawal is a lawyer even though she is not currently practicing. The actress said she was practicing before she eventually ventured into full-time acting.
"I used to practice my profession before I started full-time acting. But after I started acting, I couldn't any longer, because it is even against the ethics of the law profession. You cannot be a public person and still be practicing law, it is against the ethics," she noted.
Aisha Lawal Started Acting Professionally in 2008
Aisha began acting as a stage performer. She came into the entertainment industry by featuring in stage performances under the influence and tutorship of Nollywood veteran actor and director Femi Adebayo. At the time, she attended Femi's theatre training school, J-15 School of Performing Arts, and there, she had her skills and talents for acting honed.
Meanwhile, actress Aisha initially treated acting as a hobby until Taiwo Ibukun advised her on how to monetize her skills and talents to make a living from it. She took in the advice and has become one of the sought-after actresses in the Nigerian Yoruba film industry. Aisha Lawal landed her debut professional movie role in the 2008 movie Adun Makete, where she played the role of a prostitute.
Yet, she was shot to fame after she acted in the 2012 Yoruba movie Irugbin. The movie earned her awards and nominations and established her as an actress in the film industry. From acting, Aisha has also extended her hand to movie production. She successfully produced her first movie Ami Gbara in 2011.
Other movies she has production credit for include; Awon Iwawo and Irugbin. She has managed to win the admiration of her fans due to her unique ways of interpreting roles. Aisha has been nominated twice for the City People Award for Most Promising Actress of the Year and Best Actress of the Year in 2014.
She revealed that her role models in the acting scene are Femi Adebayo and American actress Julia Roberts. She loves the actress because of her great acting skills and personality, and Femi for being her boss and mentor. She further describes Femi Adebayo as "a natural-born leader."
Aisha Lawal has starred in more than 100 movies since her debut, some of which are listed below.
List of Aisha Lawal's Movies and TV Shows
Teniola
Ayelujara
Enu
Arewa Igbo
Irufin
Apala
The Knot
Ebun
Iyawo Mi Ijogbon
Iwalade
Iwo
Olurete
Enu Obinrin
Aisha Lawal is Married with One Child
Aisha Lawal is a married woman with one child, a daughter. The actress married a Turkey-based Nigerian man, Tino Eddie, and they have a daughter named Zizi. She delivered her baby in 2018 in the United States of America. She took a maternity break and returned after two years with a new movie, Apala.
She stated that her daughter is a gift from God because she had been praying and hoping to get pregnant for over ten years. Further details about their marriage are unknown to the public as the actress prefers to keep her personal life away from the media.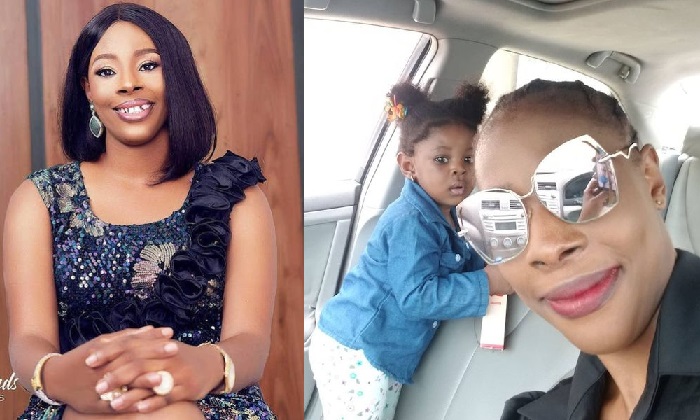 Also, there is no information about her husband and child's details. She emphatically said that she doesn't talk about her husband at all. For her, family comes first, and she does her best to always avail herself in playing her role as mother and wife. The lawyer turned actress was born into a Muslim family and married into the same religion; her husband is a staunch Muslim man.
Meanwhile, the actress revealed that even though she is married with a child, she still gets a lot of suitors. She said that a pastor had once sought her hand in marriage but rejected his proposal because she was not ready to marry a Christian.
Social Media Presence
With the advent of social media, it is no longer difficult to tell the world what you do. Aisha Lawal leverages social media platforms to bolster her popularity in the film industry and promote her brands. She is more active on the photo-sharing app Instagram where she updates her fans with her recent movies and shares a bit about her personal life.
Instagram: aishalawal1, 1.3+ million followers

Facebook: Aisha Lawal, 10k+ followers