Adesua Etomi is a top Nigerian actress, movie producer, and wife to the famous Nigerian singer and actor Banky W. She is best known for her award-winning lead role in the 2015 romantic drama film Falling. The 37-year-old actress is the last child in a family of three. Her parents and siblings are all doing well in their careers. However, not much is known about her father.
Even though she's been active since 2012, the Nollywood star became the people's choice actress since landing her first feature film, Knocking On Heaven's Door, in 2014. Besides acting, Etomi is also a fashion icon and a social media influencer with over 4.3 million followers on Instagram.
Adesua Etomi Profile Summary
Full Name: Tolulope Adesua Etomi-Wellington
Date of Birth: February 22, 1986
Age: 37 years old
Place of Birth: Owerri, Imo State
Nationality: Nigerian
State of Origin: Edo State
Education: Corona School, Victoria Island, Lagos; Queen's College, Lagos; City College Coventry; University of Wolverhampton, United Kingdom
Occupation: Actress, Producer
Marital Status: Married
Children: 1
Adesua Etomi is Currently 37 Years Old
Tolulope Adesuwa Etomi was born on February 22, 1986, in Owerri, Imo State, Eastern Nigeria. There is different information on her birth year, but during an interview with Pulse Nigeria in January 2016, the actress mentioned she was 29 years old. Since her birthday is February 22, she turned 30 that year [2016]; thus, we conclude that the Nollywood star was born in 1986, making her 37 years old.
Her Parents Are of Esan and Yoruba Descent
The celebrity is from Edo State, Nigeria, but people mistake her for being mixed because she spent half of her life in the United Kingdom. Adesua's parents are Mr. and Mrs. Etomi. Not much is known about her father, Mr. Etomi, but Buzz Nigeria gathered that he is a Soldier of Esan descent. Her mother, Eniiwaju Etomi, is a Yoruba woman, a pastor, and a Civil Engineer. Eniiwaju Etomi serves as a senior pastor at the Redeemed Christian Church of God, Coventry, United Kingdom. Her life as a pastor has greatly been of great benefit to people around her. Since she resides in Coventry, she does a lot of charity work for the less privileged in that city.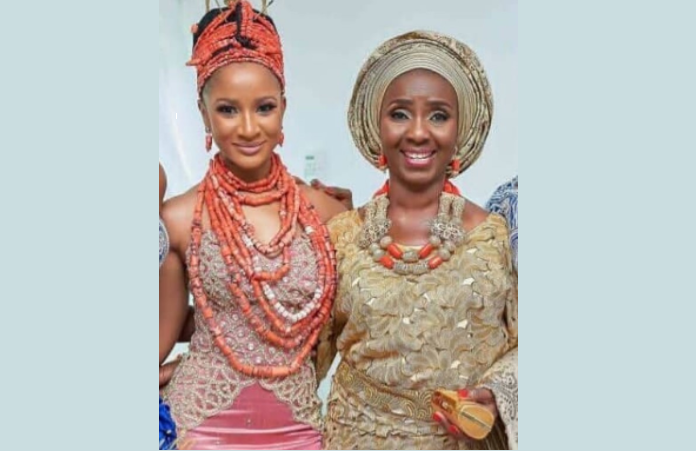 She influenced her daughter's life positively as she joined the church choir and was exposed to the things of God. In an interview, Adesua revealed that her mother encouraged her in her chosen career path when she failed in her parent's choice. She was supposed to be a doctor, but she preferred acting. Her mother did not quarrel with her on her choice; instead, she supported her daughter's choice.
Adesua Etomi is The Youngest of Three Siblings
Adesua is the last child out of the three children of her parents. She has an older brother, Tosin Etomi, and an older sister, Temitayo Etomi. They all grew up together but had individual dreams and goals they wanted to achieve. Even though we don't know much about Adesua's siblings, they are successful in their career paths. From their childhood to date, the relationship between the siblings has been excellent, and they never fail to support and celebrate each other. Meet her siblings below.
Tosin Etomi
Tosin Etomi is Adesua's elder brother. In the absence of their father, he was the one who walked his younger sister, Adesua, down the Isle on her wedding day. He is an accomplished man and has the goodwill of her sister. On his birthday on January 29, 2020, Adesua wrote a sweet post for him, appreciating his roles in her life. Tosin is a doctor and a scholar who bagged his seventh degree before he clocked 40 years. He is a private person but has achieved a lot.
Temitayo Etomi
Temitayo Etomi is Adesua's elder sister, and she is a successful woman in her own right. She founded the Redwire Marketing Group in 2010 and fueled its expansion to London in 2014. Temitayo started her career at 17 years when she worked as a paralegal officer at George and Etomi Partners. She studied Law at the University of Lagos. Later on, she obtained her other certificates and qualifications from Bristol University England and Columbia Business School New York. From her career life, she is doing well for herself and does not compete with her sister. Both sisters are successful in their careers.
She Studied in Nigeria Before Relocating to the United Kingdom at 13
Etomi had her primary and part of her secondary school education in Nigeria before moving to the United Kingdom at age 13. She attended Corona School in Victoria Island, Lagos, for her primary school education. At Corona, and at ten years old, she became a member of the school's drama club. Afterward, she enrolled at Queen's College, Lagos, for her secondary school education.
The actress completed the rest of her education in the United Kingdom, where she acquired a diploma in Physical Theatre, Musical Theatre, and Performing Arts from City College Coventry, England, in 2004. She graduated with triple distinctions from City College Coventry. She further attended the University of Wolverhampton, where she graduated with first-class honors in Drama and Performance.
Adesua Etomi Started Acting at the Age of 7
The actress has always had the dream to be an actor. She started participating in drama and theater in her primary school days at Corona School days when she was just seven years old. She later ventured into acting in her university days when she switched her career from the medical line to the theater. At that time, she has decided to carry on with her dream of becoming an actor. She participated in theater productions like The Crucible, Jesus Christ Superstar and, Miss Saigon while still a student at the City College.
At 26 years old, and with her already acquired qualifications, Adesua Etomi started building a career in the entertainment industry in 2012. She played few minor roles until her big break came in 2014 when she was 28, with a significant role in the movie Knocking on Heaven's Door. The film is a romantic one, produced by Emem Isong. From that year to date, Etomi has played leading roles in movies and television series. She has starred in various films, TV shows, and theater productions.
A Look At Her Best Movies So Far
Among her best movies is The Wedding Party, produced in 2016. In the film, she starred alongside her husband, Banky W. At that time, they were not engaged yet. The movie garnered many reviews and won them some awards. Before that, she starred in Falling which won her an award at the Africa Magic Viewers Choice Awards. She has continued to act, and her movies and TV shows are among the best-selling.
Below is a list of some of Adesuwa's famous movies and TV shows
Falling – 2014
A Soldier's Story – 2015
Up North – 2018
Out of Luck  – 2015
The Wedding Party 1 & 2 – 2016 – 2017
The Arbitration – 2016
Date Night- 2018
Makila: Warrior Queen – 2019
Couple of Days  – 2016
Sugar Rush – 2019
Shuga – 2015 – 2017
LasGidi Cops – 2016
And The Spirit Slowly Dies – 2016
Muna – 2019
10 Days In Sun City – 2017
Something Wicked – 2017
Adesua Etomi Has Won Many Awards and Nominations
Actress Adesua Etomi won her first award in 2009 when she was 23 years old. She won the 2016 Africa Magic Viewers Choice Award for Best Actress In A Drama after her excellent role in the Uduak Isong produced the romantic film, Falling. She has also been nominated and won other prestigious awards. Here's a list of some of her nominations and awards.
Nominations
Most Promising Actress in the 2014 Golden Icons Academy Movie Awards
Golden Actress in a Lead Role in the 2015 Golden Movie Awards
Best New Actress in the 2015 City People Entertainment Awards
Best Actress in a Leading Role in the 2016 12th Africa Movie Academy Awards
Best Lead Actress in a Film in the 2017 Nigeria Entertainment Awards
Best Actress Drama/TV Series in the 2017 Africa Magic Viewer's Choice Awards
Awards
Best New Actress in the 2014 Nollywood Reinvented Awards
Best Performance in a Devised Piece of Work in the 2009 Foresight Theater Awards
Discovery of the Year award in the 2015 Golden Movie Awards
Actress of the Year – Big screen in the 2015 ELOY Awards
Best Actress in a Drama (Movie/TV series) in the 2016 Africa Magic Viewers Choice Awards
Adesua Etomi Married to Banky W. at the Age of 31
Adesua Etomi and her husband, Banky W, got married in November 2017 at different ceremonies, locations, and dates. The Traditional and Court Wedding took place in Nigeria on Nov. 19 and 20, respectively, while the White Wedding happened on November 27, 2017, in Cape Town, South Africa.
Banky W (Olubankole Wellington) is a music artist, actor, and label producer who has signed artists like Wizkid, Skales, Niyola, and others. He is the founder of the Empire Mates Entertainment (E.M.E) record label, listed among the Top 15 Music Labels in Nigeria. While Adesua Etomi and Banky W remain the center of attention in Nigeria, the media discovered one surprising historical connection between the couple – they both attended the same (Corona) School for their primary education.
After dating for a year and a half, the celebrity couple got engaged in February 2017. Etomi took to her Instagram page to give fans a slight clue on how she and the famous artist met. According to the beautiful actress, Banky became her biggest fan ever after meeting in an event back in 2015, which was "the beginning of something amazing." From then, there was no going back for the couple who has become an internet sensation.
Etomi describes her husband as a "Mighty Good Man," who is "proof that God is real." In January 2021, the couple welcomed their first baby, Hazaiah Wellington. They also shared the story of their marriage and how they lost their twin babies through miscarriage. They shared this and their testimony at the Waterbrook Church on April 5, 2021.