With a net worth estimated at $5 billion, Adebayo Ogunlesi has become one of the Richest African immigrants in America. He is a prominent Nigerian investment banker and lawyer who formerly served as the head of Global Investment Banking at Credit Suisse First Boston and was later promoted to Chief Client Officer and Executive Vice Chairman. Currently, Ogunlesi is the CEO and lead independent Managing Director of private equity firm Global Infrastructure Partners (GIP).
Even though the name Adebayo Ogunlesi does not ring a bell in Nigeria like the Dangote's, Otedolas, Adenugas, etc., the man's accomplishments in the world business circle have well been celebrated across the world, especially in the investment banking and aviation sectors. He is fondly referred to as the Nigerian who owns three airports in the United Kingdom.
Ogunlesi has not only acquired massive wealth for himself but also gained fame and public recognition, first in America, Nigeria, and across many other countries. He was once an adviser to Donald Trump during his reign as the US President. Again, Nigerian famous musician, Burna Boy in his song Wonderful, pours a rain of praises and accolades to him for his hard work and success. Here, we will unveil how the prominent investment banker accrued his whooping net worth running in billions of dollars.
A Look at How Adebayo Ogunlesi's $5 Billion Net Worth Was Accrued
One of the Richest African immigrants in America, Adebayo Ogunlesi, has made huge wealth for himself via his diverse fields of interest. Besides investment banking, Adebayo Ogunlesi's net worth was achievable through some other areas he has lent his hands in. Meanwhile, we noticed that different sources have different reports about his net worth and assets, making it conflicting and difficult to ascertain the most accurate. Either way, the fact remains that Adebayo Ogunlesi's net worth runs in billions of dollars.
He Started His Career as a Lawyer
Coming from a financially stable family, his father, Theophilus O. Ogunlesi, was the first Nigerian professor of medicine at the University of Ibadan. Adebayo seemed to have wealth and fame running in his lineage. After completing his secondary education at King's College, Lagos, Nigeria, he moved to Oxford University, England, where he graduated with First class honors in Philosophy, Politics, and Economics. Thereafter, he went ahead to study at Harvard Law School and Harvard Business School. In 1979, he graduated with a J.D. magna cum laude and a Master of Business Administration (M.B.A), respectively.
During his time at Harvard, he was under the Harvard Law Review and worked as a summer associate at Cravath, Swaine & Moore. Shortly after he wrapped up his courses in Harvard schools, Ogunlesi got a job at the United States Supreme Court, where he worked as a law clerk to Associate Justice Thurgood Marshall. He took the position in 1980 and resigned in 1981.
Being a man who always has the mind of going higher in knowledge and experience, he returned to Cravath, Swaine & Moore, a law firm in New York City, where he worked as a summer associate, but now, as an Attorney. The salaries or the total amount he earned through his days in the law firms were not made public. However, because it was a paid employment, whatever he earned cannot be compared to what he currently makes as a broad investor and multiple business owner.
He Worked At First Boston Investment Bank
Adebayo's stay at First Boston Investment Bank lasted for a complete 14 years. He joined the investment bank in 1983 and started working in its Project Finance Group as an advisor for a Nigerian gas project. His job description includes giving cogent advice to clients on issues regarding transactions and financing. During his stay there, he also worked on the transactions of the Middle East, the Caribbean, Europe, North and South America, Asia, and Africa. Before resigning from First Boston Investment Bank in 1997, it is worthy to note that his position as the company's advisor contributed a share of Adebayo Ogunlesi's net worth.
Adebayo Ogunlesi's career at Credit Suisse First Boston (CSFB)
From FBIB, Ogunlesi moved to Credit Suisse Group, an investment banking division formally known as Global Energy Group. Not long after his entry, Credit Suisse Group acquired First Boston Investment Bank and renamed it Credit Suisse First Boston (CSFB). Following this development, Ogunlesi was promoted and appointed the head of the new firm's global investment banking division.
With time, global investment banking became one of the bank's most influential divisions, earning $2.8 billion in assets and employing over 1,000 bankers. For his outstanding performance, Adebayo Ogunlesi was appointed a member of the bank's board of directors and its strong 15-member operating committee. He started by cutting costs in the banking sector, which was one of the reasons for their loss of almost $1 billion the previous year.
With the division being overstaffed and equally ineffective, he furlough over 300 staff and 50 managing directors and further asked the remaining staff to accept pay cuts and reduce expenses. This economic measure taken by the smart banker brought forward a massive success when the bank's revenue increased by 25% in the following years. This great feat earned him some accolades and recognition in the industry and undoubtedly enhanced his income. Also, considering that his major clients are the government and firms into energy resources in emerging markets, Ogunlade was smiling to the bank regularly.
He Founded Global Infrastructure Partners (GIP) in 2006
Adebayo Ogunlesi is one African businessman with a wide range of global perspectives, a keen interest, and an understanding of complex financial transactions. Apparently, Global Infrastructure Partners is the major source of Adebayo Ogunlesi's mouth-watering net worth of $5 billion.
After working for several years with Credit Suisse, Ogunlesi decided to stand on his own, so he founded the private equity firm named Global Infrastructure Partners in July 2006. Alongside some business associates, Adebayo is a pioneer member of GIP. With its headquarter in New York City, GIP is a joint infrastructural investment company whose first investors are Credit Suisse and General Electric.
The company is a fund manager and integrates extensive industry expertise with operational management and industry best practices. It largely invests in high-quality infrastructure assets in the energy and transport sectors and presently employs 52,000 staff and handles above $51 billion for its investors with a portfolio of joint annual revenue of more than $46 billion. The company has investments in different sectors, including the following.
GIP Investments In The Energy Sector: Under this sector, GIP covers such areas as Guacolda Energia, Freeport LNG, CPV, Saeta Yield/Bow Power, Gode Wind 1, Hess Infrastructure Partners, Naturgy Energy Group, Borkum Riffgrund 2, Vena Energy, Medallion, Clearway Energy, and EnLink Midstream.
GIP Investments In The Transport Sector: The company has about six subsidiaries for its investors. They include Gatwick Airport, Edinburgh Airport, Terminal Investment Limited, Port of Melbourne, Pacific National, and Italo.
Adebayo Ogunlesi's GIP Acquired 3 Major Airports in the UK
Through his private firm GIP, the banking elite made a landmark in the world record by purchasing 3 international airports within a space of six years. He has joined the few African entrepreneurs that have foreign airports. As earlier mentioned, Ogunlesi started his private firm in 2006, and in the same year, he bought London City Airport. London City Airport is an international airport located in Royal Docks in the London Borough of Newham, England. Its users are primarily business travelers with destinations such as Luxembourg and Frankfurt.
In 2009, GIP bought the majority share in the London Gatwick Airport, a dispense worth more than £1.455 billion. Gatwick airport reportedly served more destinations than any other UK airport in 2019. Also known as London Gatwick, the airport is a major international airport near Crawley, West Sussex, England, and the second busiest airport after Heathrow Airport. Also, covering a total area of 674 hectares, it is the tenth busiest airport in Europe.
In 2012, Ogunlesi went ahead to acquire his third airport, the famous Edinburgh Airport. As of 2019, Edinburgh Airport was the busiest airport in Scotland and the sixth busiest airport in the UK, handling over 14.7 million passengers. It is located in the Ingliston area of Edinburgh, Scotland, United Kingdom. The airport has one passenger terminal and employs about 2,500 people.
Goldman Sach Group Inc.
In October 2012, he was appointed a member of the Board of Directors of Goldman Sachs, and in July 2014, he was named Lead Director of the company. Goldmine Sach is an American multinational investment bank and financial services company headquartered in New York City, US. By revenue, Goldman is one of the largest investment banking enterprises in the world. It provides investment banking to institutional investors and generally offers services in investment management, prime brokerage, securities, asset management, and securities underwriting.
As the lead director of the leading company, Adebayo Ogunlesi's salary is reportedly pegged at $600,257. He owns over 8,228 units of its stock worth more than $31,002,430. Since May 2013, Adebayo has made more than 11 trades of Goldman Sachs stock, and as of May 2021, he owns a minimum of 74,905 units of its stock.
Lecturing and Other Interests that Contribute to Adebayo Ogunlesi's Net Worth
Being a smart man of powerful intellect and innovation, Ogunlesi doubled as a lecturer while at Credit Suisse First Boston. He taught a course on transnational investment projects in emerging countries at the Yale School of Management and Harvard Business School. Adebayo was in 2006 named among other notable business leaders as a part of Donald Trump's strategic and policy forum, which was later disbanded on 16th August 2017. In addition, he is currently a member of the District of Columbia Bar Association.
Summary of Adebayo Ogunlesi's Income Sources
First Boston Investment Bank
Credit Suisse First Boston (CSFB)
Global Infrastructure Partners (GIP)
Goldman Sach Group Inc.
3 major Airports in the UK (London City, Edinburgh, and Gatwick Airports)
Lecturing and other Interests
How Adebayo Ogunlesi's Net Worth Made Him One of The Richest African Immigrants to America
Adebayo Ogunlesi has become internationally celebrated for his brilliance, excellence, and impressive performances in the business world. A look at the portfolio of GIP will apparently tell you the Nigerian-American business tycoon is worth a fortune. His excellent entrepreneurial skills and acquisition of three major airports in the UK instantly launched him into the global spotlight, thus placing him as one of the Richest African Immigrants in America.
Ogunlade made international headlines for buying the second-largest international airport. To understand how big a feat it was to buy over Gatwick, Nigerian Press gave him the nickname "The Man Who Bought Gatwick Airport." However, it is needless to mention how much Adeboye Ogunlesi's net worth boosted or how much he earns from the three airports and generally from GIP. Nevertheless, the fact remains that he earns massively from them.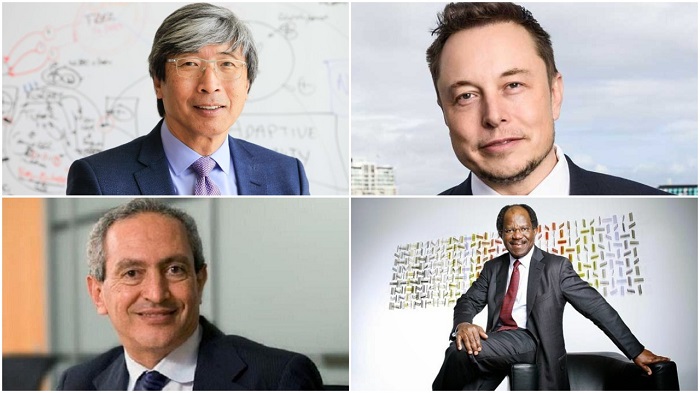 Talking about native-born richest Africans living in America, Adebayo Ogunlesi is the fourth name on the list. South African native Elon Musk is credited as the richest African immigrant to America with a net worth of $59.3 billion. He is the founder and CEO of a boring company, SpaceX; Tesla, co-founder of Neuralink and OpenAI, and one of the early investors at PayPal.
The next on the list is Patrick Soon-Shiong, with a net worth of $7.8 billion. Patrick is a South African-American transplant surgeon, bioscientist, and media proprietor. He is the owner of NantWorks, a network of health startups, and has stakes in Tribune Publishing, a media firm. Right before Ogunlesi is an Egyptian native, Nassef Onsi Sawiris. He is an international engineering and construction contractor and chemical producer and CEO of OCI N.V., a holding company dealing in natural gas-based fertilizers and industrial chemicals. His net worth is estimated at $6.3 billion.
He Has Received Several Awards and Recognition
Worthy to note is some notable recognitions, awards, and accolades the Nigerian-born smart banker has received. Even though they seemingly do not add to his net worth, they gave him the radical push to prominence across numerous countries worldwide, but more importantly in the United States of America.
List of Adebayo Ogunlesi's Accolades with dates
2020: Fortune ranked him the Seventh Most Powerful Black Executive in the United States 
2002: Time Magazine named Ogunlesi to its "Global Influentials" list of the 15 Most-Promising Young Executives
2003: International Center of New York Award of Excellence
2012:  Adebayo Ogunlesi was named as one of the Top Ten Africans making waves in the business sector
Member of Board of Trustees at New York-Presbyterian Hospital
Member of National Board of Directors at NAACP Legal Defence and Educational Fund.