Hazel Mae Gaudreau (born in 1942 and died in May 2000) was an American fine artist popular for being the wife of one of Nigeria's leading playwrights and theatre directors, Ola Rotimi.
Hazel only gained recognition following her marriage to Ola Rotimi. Rotimi, who died in August 2000, became a sensation with his book, Our Husband Has Gone Mad Again, in the US before he graduated from the university. The legendary Nigerian playwright was simply described as a complete man of the theatre. Since Rotimi is already a household name not only in Nigeria but across the world, learn about his American wife, Hazel, and the family they built together before their death.
Hazel Mae Gaudreau's Bio
Full name: Hazel Mae Gaudreau
Gender: Female
Date of birth: 1942 to 2000
Hazel Mae Gaudreau's Age:

Died at 57

Ethnicity: White
Nationality: United State of America
Sexual Orientation: Straight
Religion: Christian
Marital Status: Married
Hazel Mae Gaudreau's Husband: Ola Rotimi (Late)
Hazel Mae Gaudreau's Parents: Arthur Gaudreau and Edna Ruth
Siblings: 2
Hazel Mae Gaudreau's Children: 4
Famous for: Being the wife of Ola Rotimi
Hazel Mae Gaudreau is an American Nationale
Hazel Mae Gaudreau was born in 1942 to her parents Arthur Gaudreau and Edna Ruth in Boston, Massachusetts, United States of America. Her exact date of birth is not known. Hazel grew up with her parents in Lanesville, Harrison County, Indiana, where she also completed her early education. Her growing up in the town majorly contributed to shaping her life as she developed a passion for singing, arts, and culture.
She was a Fine Artist
While growing up, Hazel Mae got acquainted with some local artists who encouraged her artistic passion such as Walker Hancock, Leon Kroll, Paul Manship, and Aristides Dimetrios. Shortly, local jazz trumpeter, Sylvester Ahola, on an occasion heard her sing and invited young Hazel to be a part of his concert alongside his accordionist, Miriam Lane.
Meanwhile, Hazel's parents had wanted her to study a science course at the university, maths or physics to be precise. So, upon finishing high school, she decided to follow her parent's wish. She applied for and was accepted at Massachusetts Institute of Technology and Boston University where she planned on being a Physics minor and Mathematics major.
But, on a different thought and to show a streak of independence, Hazel instead enrolled to study Music, Fine and Applied Art at Boston University. This was indeed her longtime dream, so her parents didn't have a counter say over that as she also stood strongly by her decision. She started practicing her career while she was still in the university.
Hazel and Ola Rotimi Met at Boston University
Hazel Mae met her husband Ola Rotimi at Boston University where they were both undergraduates. Born on 13th April 1938, Ola Rotimi was 4 years older than his wife Hazel who was born in 1942. It is not known exactly the year the duo met but they later got married in 1965. While Hazel was in the music department, Rotimi was in Theatre.
According to records, this was at the time when inter-racial relationships were highly held against in the country. In some states, it was an illegal act and described as hazardous to the black man's health who is in the relationship. It was to the extent that he could be lynched for having a white girlfriend.
Ola Rotimi's case was even worse, because not only was he a black man dating a white girl, but he was also an African. Albeit, Rotimi and Hazel didn't care so much about the cultures and traditions as neither of them was conservative.
She Became Ola Rotimi's Wife in 1965 Amidst Inter-Racial Controversies
The two became friends, fell in love, and the more society pushed against their relationship, the more their bond grew stronger. Much to the aggravation of their attackers and critics, their "Oyibo princess", Hazel started tying wrapper and gele just like an African woman. Immediately after their graduation from BU, Ola ad Hazel traveled to Yale where they announced their wedding plans.
This stirred up another level of annoyance and resistance as many people strongly discouraged her from continuing with Rotimi."You know Africans are polygamous in nature. This African man you want to marry has two other wives back home. Do you want to follow him back to Africa and discover that you are wife number three?", they would tell her.
Young Hazel would always relate all the accusations counter opinions and she got to Ola and that inspired him to write his first play, Our Husband has Gone Mad Again. In the book, Liza arrives in Nigeria from the US and discovered that her husband has two other wives.
In 1966, Our Husband has Gone Mad Again was awarded Yale Student Play of the Year. Its stage performances generated massive reviews in the US newspapers and the news of the play hit the press back in Nigeria. Needless to say, there was no other wife in Nigeria after Hazel landed with her husband Rotimi, and there was never one until death ended their marriage in 2000.
In Nigeria, Hazel engrossed herself in learning the local culture and language and performing in dance and choral groups. She continued her interest in native poetry and taught creative arts at a local university. However, she returned to Lanesville in 1989 given the rise in insecurity and violence in Nigeria.
After she returned to the US, Hazel founded a performance group known as The Minori Miracles which focused strictly on presenting programs on Nigerian culture. Also, she founded a music group, The Brothers in Song, under which she released the album, All My Father's Children. She organized concerts of African music, taught classes on Nigerian pottery techniques, and organized dramas of Nigerian folktales.
Hazel Mae Gaudreau's marriage to Ola Rotimi lasted for 35 years. She died at the age of 58 in May 2000 and was buried in her home country, the United States of America.
Hazel Mae Gaudreau Had Four Children with Ola Rotimi
Hazel Mae Gaudreau and Ola Rotimi were parents to four children; 3 sons and 1 daughter. Their names are Enitan, Oruene Ruth Yewande, Abiodun Olawale Otonye, and Bankole Daniel Idubamo. It seems that they all consciously choose to live a private life because there is little or no information about their personal lives on the media.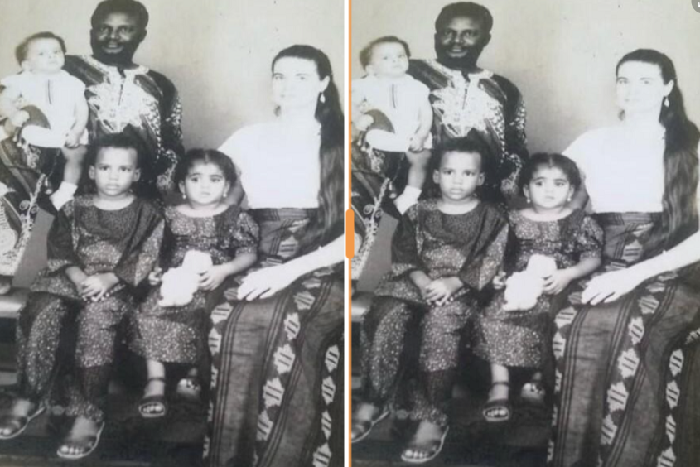 However, records have it that Rotimi never insisted on any of his children becoming playwrights, actors, or directors but he allowed them to fulfill their mission with the diverse talents deposited in them. All of them are based in the United States working in different career fields; IT consulting, teaching, and business. But, even though they took on different professions, they all have the gift of creativity.