Nnabuikem Nnamdi Okwu Kanu (born: January 4 2016; Age: 7 years old) is Nnamdi Kanu's second and last son. He is a British Nigerian who has gained recognition for his father's political activism.
Nnambuikem's father who has brought fame to the boy is one of the most famous Nigerian activists of all time. He has traversed the length and breadth of Nigeria with his advocating for secession and independence of a partially recognized secessionist state in West Africa called Biafra. He is also the leader of the Indigenous People of Biafra (IPOB).
Summary of Nnabuikem Nnamdi Okwu Kanu's Bio 
Full Name: Nnabuikem Nnamdi Okwu Kanu
Gender: Male
Date of Birth: January 4, 2016
Nnabuikem Nnamdi Okwu Kanu's Age: 7 years old
Ethnicity: Igbo
Nationality: British-Nigerian
Zodiac Sign: Capricorn
Religion: Judaism
Marital Status: Single
Nnabuikem Nnamdi Okwu Kanu's Parents: Nnamdi Kanu (father) and Uchechi Okwu Kanu (mother)
Siblings: 1 (older brother)
Famous for: being the son of Nnamdi Kanu (IPOB Leader)
Who is the 7 Year-Old Nnamdi Kanu's Son?
Nnabuikem Nnamdi Okwu Kanu was born to Nnamdi Kanu and his wife Uchechi Okwu Kanu on January 4 2016 in England, United Kigdom. He has an older brother who was born to the older Kanu from another relationship.
The young boy hails from one of Nigeria's economic states, Abia, and is of Igbo ethnicity. His father practices Judaism and admonishes Igbo people to do the same, as such Nnabuikem may as well be practicing the religion.
His parents are both British citizens and were married in 2009 after they were said to have met in the United Kingdom. Nnabuikem's father was born in Abia State, Nigeria, in 1967 before he later moved to the United Kingdom.
His mother was born in Britain to Nigerian parents. She is also decent of Abia State. With respect to her career, she is a lawyer who also clamors for justice for her husband.
Nnamdi Kanu's Second Son Was Born a Few Months After His Father's Arrest
Nnabuikem was born about 3 months after his father's first arrest which was on October 14, 2015. Nnamdi was arrested in his hotel room by Nigeria's secret police, the Department of State Services (DSS) in Lagos State.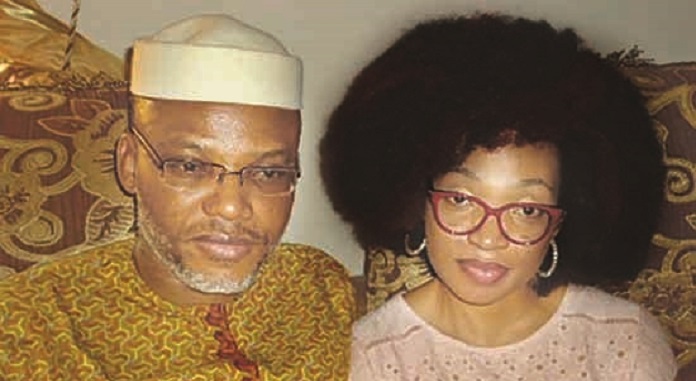 The arrest was made a month after the older Kanu told his audience at the World Igbo Congress that "we need guns and we need bullets". He made the statement in the United States but the Nigerian government thought it was treason.
Whatever the reason, he had protesters who matched the streets of several states in the southeastern and south-south regions of Nigeria. When he was arraigned in court, Nnabuikem's father's supporters numbering over 20,000 protested in many states of the nation.
This would make him one of the individuals in Nigeria to attract this many people to protest for his course.
When Nnabuikem was born in 2016, his father had stayed away from the public's attention.
Does Nnabuikem Nnamdi Okwu Kanu Live in Nigeria?
Nnamdi Kanu's son does not seem to live in Nigeria. Instead, he lives in England where he was born and where his parents reside. He is mostly being raised by his mother since his father's arrest in Nigeria.
In England, UK, Nnabuikem attends an elementary school and stays out of publicity.
On whether he visits his home country, Nigeria, there are uncertainties. His mother has opened up that the Nigerian government is trying to exterminate their whole family.
Moreso, Nnabuikem may not have had contact with his father at the earliest stage of the former's arrest in June 2021. The arrest was made in June 2021 over the accusation of terrorism, treason, inciting violence, defamation of Nigerian authorities through broadcast, especially the Radio Biafra; and involvement with a banned separatist movement (IPOB).
Uchechi claimed that when Nnamdi Kanu was arrested at the time their son was 5 years old, the family was not allowed any contact with him.