Nigerian football striker Victor Osimhem is not yet married, but he is dating a German lady named Stephanie Ladewig, with whom he has a one-year-old daughter named Hailey True.
Osimhen has quite a successful career life as a footballer. He is known for his proficiency in the air and his excellent dribbling and ball-control skills which are rudimentary in his winning the Golden Boot award at the 2015 FIFA U-17, among other awards. Aside from his fame as one of the greatest football strikers, Osimhen's private life seems to be another topic about him that has drawn people's attention lately. To know more about his love life and relationships, here are interesting facts we have to share.
Is Victor Osimhen Married?
The Nigerian professional footballer Victor James Osimhen MFR is not yet married, hence, he has no wife. The 24-year-old football striker born on 29 December 1998 is considered one of the best strikers in the world, thanks to his strength and athleticism.
Osimhen began his football career at the Ultimate Strikers Academy before moving to Europe to play for various clubs. His first breakthrough moment came in 2015 when he led the Nigerian U-17 team to victory in the FIFA U-17 World Cup, where he was awarded the Golden Boot and the Silver Ball.
His performance caught the attention of various European clubs and he eventually signed for Wolfsburg in Germany in 2017. His exploit at both Wolfsburg and Lille in 2019 caught the attention of S.S.C. Napoli. The club bought him in 2020 and he currently plays there as its forward.
Osimhen is a recipient of Marc Vivien Foe Award for the best African player in Ligue 1. He is also one of the most expensive transfers to date, thanks to his goal-scoring exploits. However, amid his popularity and career successes, he is one of the few stars who rarely flaunt their love life in the media.
While it is believed that he is not married, it is now public knowledge that he has a girlfriend whose name is Stefanie Kim Ladewig. Not many of Osimhen's fans knew of his girlfriend until the final day of the Serie A season, after the game against Sampdoria when he took her to the pitch.
Who is Victor Osimhen's Girlfriend?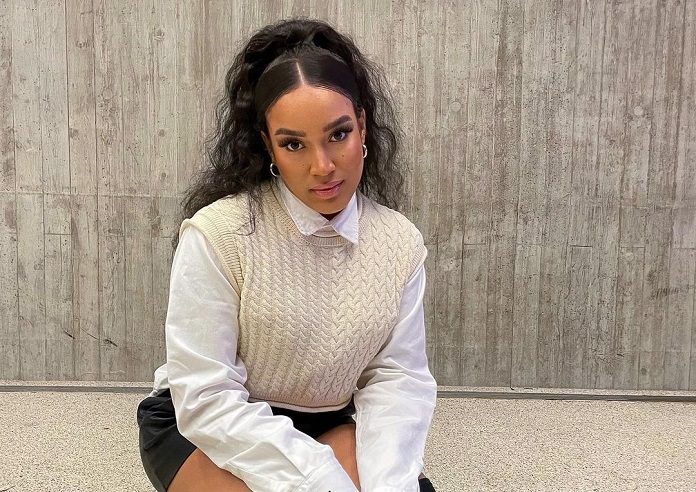 Victor Osimhen's girlfriend is Stefanie Kim Ladewig. She is a 22-year-old German who has a Cameroonian mother. Not much is known about her, but according to reports, she has been the Nigerian-born football striker's girlfriend since he was playing at Bundesliga club VFL Wolfsburg.
Osimhen's girlfriend lost her mother in 2018 and there are no details about her father or if she has siblings. Stefanie Ladewig is no doubt one of the most beautiful girlfriends of the most famous Nigerian footballers. She is also a big fan of Afrobeats and during the Afro Nation concert in Portimao, Portugal, she shared photos of herself at the event. She even shared snaps of performances from Afrobeat A-list artists like Asake, Davido, and Fireboy DML.
Osimhen and his German girlfriend, Stefanie, are currently based in Italy. However, there are claims that suggest that Stefanie is keen to return to her hometown in Germany amid his transfer links to Bavarian giants, Bayern Munich.
 Osimhen has a Daughter with His Girlfriend, Kim 
The relationship between the Nigerian footballer and his girlfriend of several years has produced a baby girl. They welcomed their first child in 2022 and she is named Heiley True. In an exclusive interview with Il Martino, Osimhen shared his excitements at his daughter's arrival, describing her as the most fantastic thing that could have happened to him.
Not many fans of Osimhen knew about his daughter until the final day of the Serie A season, after the game against Sampdoria when he took her to the pitch, alongside his girlfriend. Giving reasons for keeping his love life off the media, Osimhen said he was doing so to protect his loved ones from the insults rampant on social media. Osimhen's daughter, Heiley True, was born in October 2022, and she is currently 0years old.