Halima Buhari Sheriff is a Nigerian legal practitioner and the daughter of former military Head of State and current Nigeria's President Muhammadu Buhari and his wife the First Lady of Nigeria and businesswoman Aisha Buhari. Halima, who lives a private life, is one of the 10 children of Muhammadu Buhari from two different marriages to Safinatu Buhari and later Aisha Buhari. One of the 5 children of Aisha Buhari, Halima enjoys the attention of the public. Nevertheless, her life is largely sheltered from the media.
Profile Summary of Halima Buhari Sheriff
Full name: Halima Buhari Sheriff
Date of birth: October 8, 1990
Age: 40
State of Origin: Katsina State
Education: International School, Kaduna; British School Lome, Bellerby's College, Brighton, UK; University of Leicester, UK; Nigerian Law School, Lagos
Occupation: Lawyer
Spouse: Alhaji Babagana Sheriff
How Old is Halima Buhari Sheriff?
Halima Buhari is 40 years old. She was born as the first daughter of her parents on October 8, 1990, a year after her parents got married and 2 years after Buhari's divorce from his first wife Safinatu Buhari Yusuf.

Halima had her education in International School, Kaduna; British School Lome, Bellerby's College, Brighton, UK; University of Leicester, UK; and Nigerian Law School, Lagos, where she graduated in 2016 on an occasion that was graced by her mother and siblings.

Halima Sheriff, since she continues in the light of shielding her personal life, has made it difficult for the public to get details of her career life. Nonetheless, as a graduate of prestigious schools in the United Kingdom and the Nigerian Law School, it is apparent that she is a legal practitioner who may have a thriving career.
Halima Buari Sheriff Has 9 Siblings – Meet Them
Buhari has been married twice. First to Safinatu Yusuf Buhari in 1971 and divorced in 1988. He then married Aisha Halilu Buhari in 1989. Both women had 5 children each and Halima is the first child from the president's marriage to Aisha.
Yusuf Buhari is Halima's Only Brother
He is currently the only son of Buhari and the only brother of Halima. In 2017, he was involved in a serious accident that almost claimed his life. Since he maintains a life considerably away from the media, there is limited information about his career. Nonetheless, the 2016 graduate of the University of Surrey allegedly owns 2 5-star hotels in Abuja.

Dating back to 2016, the President's controversial daughter again made it to the news by claiming through Twitter that Muslims who don't adhere to Muslim rule will die and Christians will also continue to die until they become Muslims amidst other threats. This comment was made on Twitter after a user attacked her for being the daughter of Buhari. Nonetheless, there is no confirmation that she handles the account. But this did not stop people from calling out for her arrest which never took place.

At present, Yusuf is married to Zahra Bayero, the daughter of the Emir of Bichi, Nasiru Ado Bayero. The royal and glamourous wedding took place in August 2021.
Zahra Buhari-Indimi May Be The Most Controversial of Halima's Siblings
She was born in 1994 as one of the 5 children of Aisha and Muhammadu Buhari. Zahra has been at the centre of many controversies in Nigeria. Some of which include allegedly ordering the arrest of a man for using a line she previously used.

In another controversy, she was listed by Sahara reporters as a beneficiary of 2.5 billion Naira in a 51 billion Naira fraud of money meant to improve customs' revenue. However, she denied the allegation and also called the News outlet to publicly apologize to her for 7 consecutive days.

In 2016, she got married to Ahmed Indimi. Zahra is still at the forefront of being the most vocal of her siblings, including Halima.
Aisha Hanan Buhari is a Photographer
Named after the first lady, Aisha was born in 1998. She is a first-class graduate of Ravensbourne University in the UK. She also has a master's degree in fine art photography.

In 2020, she married Turan Sha'aban, the son of Alhaji Mahmud Sani Sha'aban – a businessman and former lawmaker of the national house of representatives.
Amina Buhari
She is the youngest sibling of Halima Buhari Sheriff as she was born in 2004. Amina's life remains a private one.
Her Step-Siblings
Zulaiha Buhari Junaid is The Oldest Daughter of Buhari
She was born as the first child of president Muhammadu Buhari. She was married to Captain Junaid Abdullahi and after giving birth to their child, she died from complications caused by sickle cell anemia.
Fatima Buhari's Husband Was Declared Wanted For $65 Million Fraud 
Born in 1975, she is the second daughter of Buhari and also the current eldest sibling of Halima. In 2016, she married Mallam Gimba Kumo Yau, former managing director of Federal Mortgage Bank. Earlier in 2021, it was reported that the presidency disassociated itself from Gimba as a result of the crash of the marriage between Buhari's daughter and Gimba. In later news, it was reported that Gimba was involved in a $65 million fraud and was wanted by ICPC.
Musa Buhari Died Of Sickle Cell
There are fewer to no details about him as he died of sickle cell anemia at an early age.
Nana-Hadiza Buhari Works With PPPRA
She was born in 1981 and works with the Africa Support and Empowerment Initiative and The Nigerian Peace Corps. Also, she works with Petroleum Products Pricing Regulatory Agency (PPPRA).
Safinatu Buhari Was Named After Buhari's First Wife
She is the last child from Buhari's first marriage. She shares the same name as her deceased mother. The immediate older sister to Halima was born in 1983 and got married in 2010.
Halima is Married Into One of The Most Controversial Families in Nigeria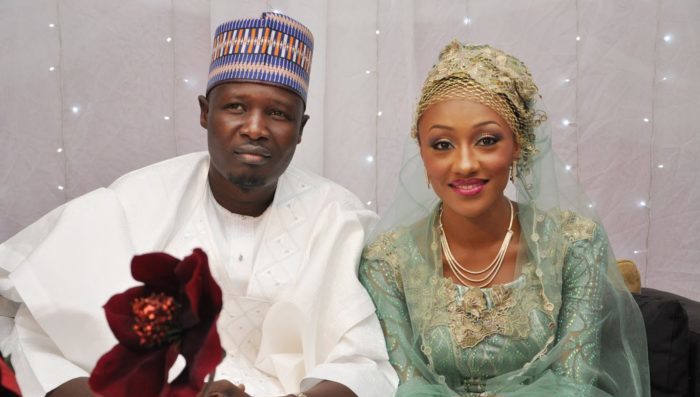 Although the Buhari family is not new to controversies that include the conspiracy theory that Muhammadu Buhari died and was replaced by Jubril of Sudan; Halima has also found herself through marriage wrapped in the coils of another controversial family – The Sheriff's family.

The controversies in the family have lasted a while and it is mainly on the former governor of Borno State, Ali Modu Sheriff, who has at many times been accused of sponsoring Boko Haram. However, others believe that Ali Modu Sheriff who is the brother of Halima's husband Babagana Sheriff may not be part of Boko Haram but only a conspiracy theory to tarnish the image of the politician.

Whatever the case, maybe, Halima, as far as the public is aware of, does not seem to be moved by either the conspiracies of her parents, siblings, or even those of her husband's family.
She Named Her First Daughter After Her Mother
In 2014, Halima became a mother to a daughter named Aisha Sheriff. The daughter is one of the many grandchildren of President Muhammadu Buhari. Also, she has been nicknamed Laraba (Wednesday – a lucky day) by her grandfather.

Since she maintains a private life, it is not known if she has other children after Aisha.
Halima Buhari Sheriff Is An Ardent Supporter of Her Father
The lawyer was 25 years old at the time her father became a president in Nigeria. Before the general elections that led to Buhari's first tenure in 2015, Halima had in many ways supported the cause of her father's ambition. In an interview, she claimed her father was not as stern as he may seem. She also believed he had the ability to turn Nigeria from the shackles of corruption, insecurity, and other vices.

Before 2015, Buhari had aspired to be Nigeria's president in 2003 under the All Nigeria People's Party (ANPP). He also went for the same seat in 2007 still under ANPP and in 2011, he aspired under Congress Progressive Change (CPC). At all of these campaigns, Halima Buhari Sheriff was not known to have been vocal about her support for her father in any way – probably because she was younger.
She Has An Interesting Relationship With Muhammadu Buhari
According to the lawyer, Muhammadu Buhari is an easy-going father who would joke around and would not intentionally hurt the feelings of his loved ones. She maintains that she has a good relationship with her father who allows her and her siblings to make their choices in life instead of pushing them.

Buhari remains an important force in how successful Halima's life is at the moment. At a point, while she was growing up, Buhari reminded her that he had nothing to give to her other than education. This contributes immensely to her studying hard in school and becoming the only legal practitioner among Buhari and Aisha's children.