President Muhammadu is currently married to Aisha Buhari but was previously married to Safinatu Buhari. He has a total of 8 living children and two deceased ones- 5 with his first wife namely: Zulaihat (deceased), Fatima, Musa (deceased) Hadiza, and Safinatu Buhari, and five with Aisha: Halima Buhari Sheriff, Zahra, Yusuf Muhammadu, Aisha Hanan Buhari, and Amina Buhari
Aisha Buhari is the first lady of Nigeria and has been known as such since her husband Muhammadu Buhari became the president of Nigeria in May 2015. Even though Buhari is the president of Nigeria, not so many people, especially the younger generation, know that he had a wife before Aisha.
The first lady is his second wife, whom he married after he divorced the first. Both have been married for over 33 years, and their marriage is blessed with five children. Meet all of Buhari's five children below and get deets of what his marriage to Aisha looks like.
Meet President Muhammadu Buhari's Children with Aisha Buhari
After his divorce from the late Safinatu, Buhari got married to Aisha in December 1989. Like his first wife, Aisha, was 18 years old when they got married. Despite her young age, the present first lady did her best to overcome the challenges of marriage and emerge a strong and independent woman, yet submissive to her husband. The couple has also been blessed with five children; four girls and a boy.
The names of the children of the president and his current wife are Hanan, Halima, Yusuf, Zahra, and Amina. All five children are adults and are doing well for themselves. Meet them below.
Halima Buhari Sheriff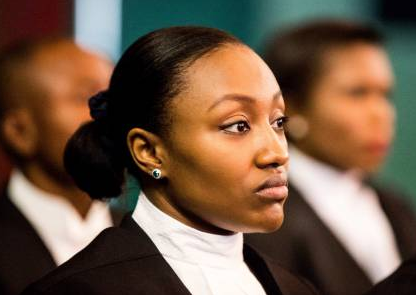 Full name: Halima Buhari Sheriff
Date of birth: 8th October 1990
Age: 32 years old
State of Origin: Katsina
Marital status: Married
Husband: Babagana Sheriff
Occupation: Lawyer
Halima is the first daughter of Aisha and the "most learned" of Buhari's five children. Born on the 8th of October 1990, the intelligent young lady has good educational qualifications. She attended several schools, including International School, Kaduna, British School of Lome, Bellerbys College, Brighton, United Kingdom, University of Leicester, United Kingdom, and Nigeria Law School, Lagos. She graduated from law school in 2016. Some media sites report that she had a re-sit and should have graduated in August 2015. Whatever be the case, she graduated in the end and now works as a lawyer.
In 2012, Halima tied the knot with her longtime friend, Alhaji Babagana Muhammed Sheriff, a well-known man from Borno state. The wedding, which took place in the Yahaya Road Jumat Mosque, was graced by her father and several other governors and prominent people. The premise was safeguarded by tight security, and only men were in attendance.
Zahra Buhari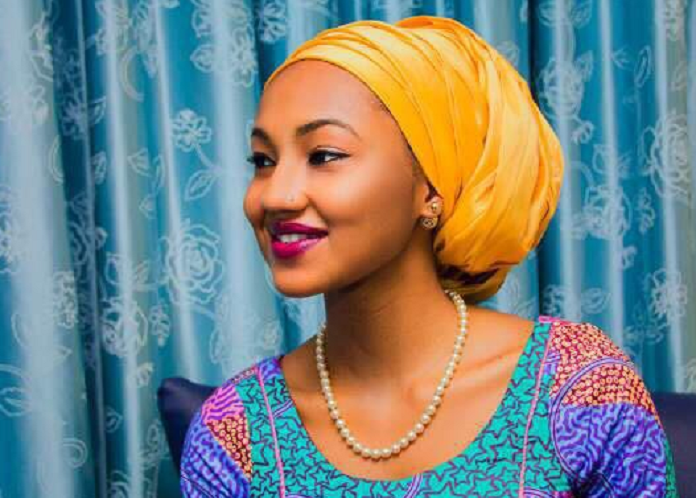 Full name: Zahra Buhari
Date of birth: 18th December 1994
Age: 28 years old
State of Origin: Katsina
Marital status: Married
Husband: Ahmed Indimi
Occupation: Humanitarian
As opposed to most of the children of President Muhammadu, who are reserved and almost inactive on social media, Zahra Buhari is very active and sometimes airs her opinion on national matters. She was born in Nigeria on 18 December 1994. She started her academic journey in Nigeria like the rest of her siblings and later left the country to complete her education. She attended Kaduna International School before enrolling at the British School of Lome. Later, she went to Bellerbys College, Brighton in the United Kingdom, and then to the University of Surrey, also in the United Kingdom, where she obtained a degree in Medical Microbiology.
She is not a practicing microbiologist; rather, she runs a Non-Governmental Organization, ACE. The abbreviation stands for Assisting, Caring, and Empowering. The NGO mainly offers free treatment and care to children who have sickle cell disease. The organization equally provides education to the less privileged, provides economic empowerment, and healthcare to those in need.
On the 16th of December 2016, Zahra married Ahmed Indimi, a wealthy man and Head of the Marketing Department, Oriental Oil, his father's company. Ahmed, who is from Borno State, attended Lagos Global College before joining American Intercontinental University in Atlanta, Georgia. He has a degree in Information Technology and a Master's degree from the same university. Their marriage is blessed with a baby boy born on the 9th of July 2018 in Madrid, Spain.
Controversies Surrounding Zahra Buhari
Zahra is the most controversial of all the children of the president. This is particularly because she is most active on social media and communicates her opinion on issues without fear or reservation. However, one of the major controversies she has had recently is with the news site, SaharaReporters. The news site reported that one Alhaji Nasiru Haladu Danu and other top custom officials diverted and shared over N51 billion and also transferred about N2.5 billion to a foundation owned by Zahra Buhari.
Reacting to this, the president's daughter demanded a retraction and an apology from SaharaReporters. She said the apology should be made on its platform and three other national dailies for seven days. She stated that her foundation had never received such money from anyone.
Yusuf Muhammadu Buhari
Full name: Yusuf Muhammadu Buhari
Date of birth: 23rd April (possibly 1990s)
Age: 33 years old
State of Origin: Katsina
Marital status: Engaged
Fianceé: Zahra Bayero
Occupation: Businessman
The only son of the first family was born on the 23rd of April, possibly in the 1990s, his exact year of birth is unknown, but he is believed to be not earlier than the 90s. Like his other siblings, he attended Kaduna International School, British School of Lome, and Bellerbys College in the United Kingdom. In 2016, he graduated from the University of Surrey, Guildford, United Kingdom. He followed that up with a master's degree from a university also in the United Kingdom. By March 2019, he completed his National Youth Service Corps.
Unlike his father, Yusuf has stayed out of the Nigerian Army. Upon graduation, he chose to instead go into private business. He is one of the most reserved of Buhari's five children with Aisha, so not much is known about him. Sometime in the past, there were speculations that he owned two hotels in the capital city Abuja, but this turned out to be untrue.
The easy-going young man is set to get married to Zahra Nasir Ado Bayero, the daughter of the Emir of Bichi. His bride-to-be is a 19-year-old graduate of architecture from a university in the United Kingdom. Zahra is from Kano State, and the president's emissary has taken the first step of declaring their intention to Nasir Ado Bayero, the Emir of Bichi, in Kano state.
Yusuf Muhammadu Buhari's Fatal Motorcycle Accident
In December 2017, Yusuf was involved in a fatal bike accident that shocked the entire country. The accident, which happened in Gwarimpa, Abuja, damaged his power bike completely and left him with several fractures and wounds. After receiving part of his treatment in Abuja, he was flown abroad for further check-ups and treatment, which stirred reactions from Nigerians as expected. Many people started to talk about the special treatments only the elites could afford. At the same time, the low and middle class face the consequences of poor health infrastructure inflicted on the society by the same elites.
Although the accident was one of the events that made him more popular, he did not leverage it to get more attention as he quietly continued his life as it was before the accident. Till now, Yusuf rarely reveals anything about his life on social media neither does he court controversy.
Aisha Hanan Buhari
Full name: Aisha Hanan Buhari
Date of birth: 30th August 1998
Age: 25 years old
State of Origin: Katsina
Marital status: Married
Husband: Mohammed Sha'aban
Occupation: Fine Art Photographer
Hanan was born on the 30th of August 1998, while her father was the head of the Nigerian Army. She started her education in Nigeria and attended Kaduna International School before leaving the country to England, where she schooled at Ravensbourne University. She studied photography and media and graduated with a first-class. Also, she recently bagged a Master's degree in Fine Art Photography from a university in the UK.
In 2009, after she completed her studies, and returned to Nigeria, where she started working as a fine art photographer. Despite being very good at what she does, she has an apparently quiet career. However, her website reveals that her talent and skills are not as quiet. Later on the 4th of September 2020, the then 22-year-old married Mohammed Turad Sha'aban, the special adviser to the former Lagos State governor and current minister of works. Their elaborate wedding ceremony took place in the presidential villa, Aso Rock.
Controversies Trailing Aisha Hanan Buhari
As you may expect, Hanan has had her fair share of controversy since her father is the president, which automatically draws attention to her as it does to almost all her siblings. In 2020, there was a court case filed against her by Anthony Okolie. According to the man, the president's daughter had sent the State Security Service (SSS) to unlawfully arrest him because he had bought and was using a sim card that she previously used.
The trader was illegally arrested and detained for ten weeks, after which he took the case to Federal High Court Asaba, where he appealed for the payment of N500 million to him due to the general damage the arrest caused him and the outright violation of his human right without regard to the rule of law.
When Aisha spoke on the matter, she said that although the sim card in question was actually an old card she used in the past, she never ordered the arrest of anyone. She added that she did not report to the State Security Service or any law enforcement agency. However, Anthony Okolie insisted that she had ordered his arrest, stating that his case file was named the first family. After many months of going in and out of court, Hanan and MTN were absolved by the court. However, in the turn of events, the Department of State Services (DSS) was ordered to pay N10 million as compensation to Mr. Okolie.
Amina Buhari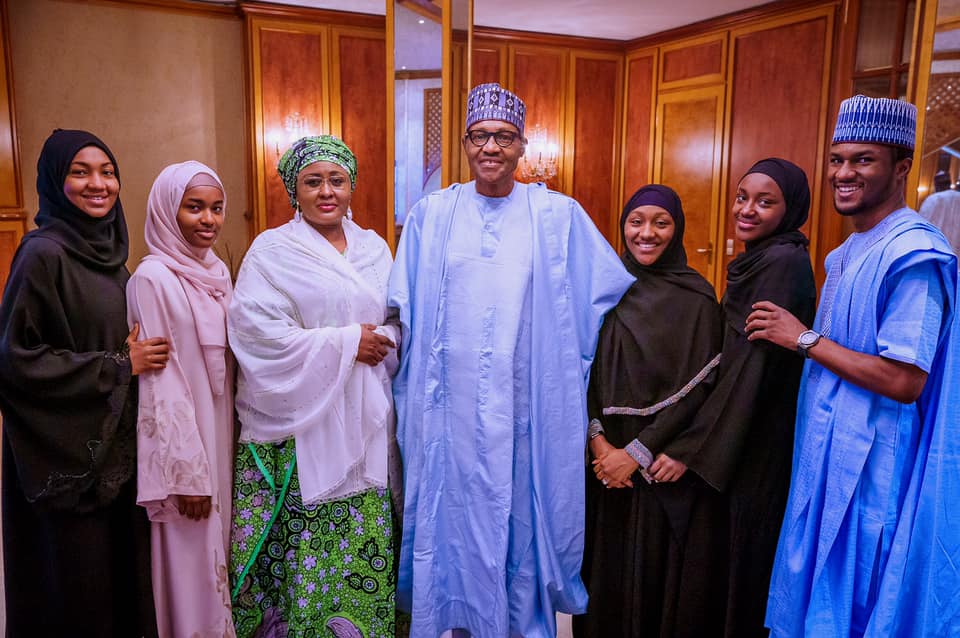 Full name: Amina Buhari
Date of birth: 14th September 2004
Age: 19 years old
State of Origin: Katsina
Amina is the youngest of all the children of the president. She was born on the 14th of September 2004. The 19-year-old is protected from the public by her family. There is little information about her in the media space, and some people did not know about her until recently because she has been kept away from the public due to her young age.
All of Buhari's five children have chosen different career paths and are doing well in them. Most of his children are reserved and love to live their private lives without being involved in politics. However, Zahra is the loudest of all the children. She is available on almost every social media space and participates in discussions concerning national issues. If anyone, she seems to be the only one inclined towards following her father's footsteps. This makes her the most famous of all her siblings, but not necessarily the most successful.
List of Muhammadu Buhari's Children with Aisha Buhari
Halima Buhari Sheriff
Zahra Buhari
Yusuf Muhammadu Buhari
Aisha Hanan Buhari
Amina Buhari
Buhari's First Wife, Safinatu Buhari, also had 5 Children with the President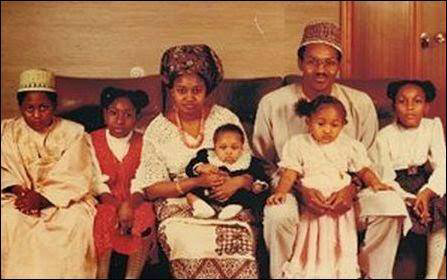 Hajiya Safinatu Buhari was the first lady when Muhammadu Buhari served as Military Head of State of Nigeria from 1983 to 1985. They met when she was 14 years old but got married in 1971 when she was 18, two days after graduating from Women's Teachers College. However, she never practiced her teaching career. Their marriage was blessed with five children, one boy and four girls. Their names include Zulaihat, Fatima, Musa (boy), Hadiza, and Safinatu.
After 17 years of marriage, in 1988, they got divorced. Sadly, Safinatu died in 2006 after a prolonged battle with diabetes. She was diagnosed with the disease in 1998. One of Buhari's five children with Safinatu, a girl named Zulaihat, also passed on in November 2012. Her death was caused by sickle cell anemia two days after giving birth at a hospital in Kaduna. Buhari's only son with Safinatu, Musa, is equally deceased. Thus, his surviving children with Safinatu are 3; Fatima, Hadiza, and Safinatu.
Muhammadu Buhari's Five Children with Safinatu Buhari
Zulaihat Buhari (deceased)
Fatima Buhari
Musa Buhari (deceased)
Hadiza Buhari
Safinatu Buhari