Adebanke Afolayan is the wife of Gabriel Afolayan, the award-winning Nigerian actor and singer. Adebanke is not as popular as her celebrity husband, but her marriage to the superstar has earned her a spot among distinguished celebrity wives. Her fresh rise to fame has increased the search to know more about her. Here are interesting facts you may like to know about Gabriel Afolayan's wife, Adebanke Afolayan.
Adebanke Afolayan's Biography Summary
Full name: Adebanke Afolayan
Gender: Female
Ethnicity: Yoruba
Nationality: Nigerian
Sexual Orientation: Straight
Religion: Christianity
Marital Status: Married
Adebank Afolayan's Husband: Gabriel Afolayan
Adebanke Afolayan's Children: 1 (Son)
Famous for: Being Gabriel Afolayan's wife
Adebanke Afolayan Hails from Osun State
Gabriel Afolayan's wife, Adebanke Afolayan, is the daughter of Mr. and Mrs. Lawal, who, apparently, hails from Oshogbo, the Osun state capital. While little is known about her parents and siblings, her name indicates that she belongs to Yoruba heritage.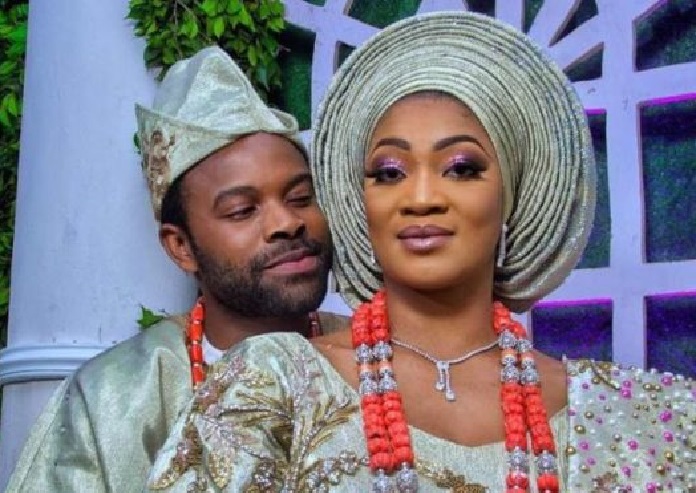 Adebanke's age and academic qualifications have not yet been revealed. However, from what we gathered, she has lived and spent most of her years in Houston, United States of America. Her husband, Gabriel Afolayan, is 38 years old, born on March 1, 1985, to Nollywood pioneer and iconic actor Adeyemi Afolayan, also known as Ade-Love.
Adebanke's husband was born and raised in Ibadan, Oyo state capital but originally hails from Irepodun Local Government Area of Kwara state. His siblings are also famous in the entertainment industry. They include Moji Afolayan, Kunle Afolayan and Aremu Afolayan.
She Was A Sigle-Mum Before She Became Gabriel Afolayan's Wife
Adebanke, Gabriel Afolayan's wife, was a single mother of a lovely son whose name is unknown, but she is proud to flaunt him on her social media platform. Also a stylish person, Adebanke takes time to show off stunning photos of herself in various outfits to show her fans.
However, not much is known about her life before her marriage to the notable Nollywood star. The only information about her past is that the beautiful Banke was based
in Houston and was a single mother to a lovely son.
Adebanke and Gabriel Dated for 18 Months Before Getting Married 
Adebanke Afolayan has been Gabriel Afolayan's wife for 5 years, but their love story didn't start in April 2018. The couple reportedly started dating 18 months before getting married, and their wedding was a huge surprise to Gabriel Afolayan's fans because he never made his relationship status public.
In fact, he is one of the few Nigerian celebrity actors with little or no relationship scandal. Gabriel was careful enough to shield all details about his love story with Aderonke. This explains why there are no details about how he met her and how their love blossomed over the 18 months.
Stories about Adebanke's past relationships before meeting Gabriel are not known. Her husband, on the other hand, has once revealed that he does not believe in having more than one affair with the opposite sex. Describing himself as a one-woman man, Gabriel Afolayan said he chose to draw a line between his personality and that of his late father, who married many wives.
A Breakdown of The Couple's Marriage and Wedding Ceremony
From what we gathered, Adebanke's introduction ceremony was held in Osogbo, Osun State. On April 5, 2018, the couple's traditional marriage followed in Ibadan, Oyo State, Nigeria. As expected, it was a star-studded ceremony with dozens of celebrities in attendance, including the likes of Wole Ojo, Banky W, Mo'Cheddah, Adesua Etomi, Adeniyi Johnson, Tope Tedela, Tunde Demuren, and a host of others.
Adebanke and her husband tagged their auspicious church wedding ceremony #GBanks2018. As expected, it was also a trending topic on social media at the time. The event was also held in Ibadan, and Banky W even went Live to give fans a glimpse of the invite. The video went viral as fans joined in to repost it on several social media platforms.
Divorce Rumours Involving The Afolayans
Just about two years into their marriage, Adebanke and her husband were said to be heading toward separation. The rumors originated from the Instagram screenshots by a blogger who claimed that Banky W (who is married to Adesua EtomiAdesua Etomi) had a fling with Adebanke. From the alleged story, it appeared Banke and Banky W  knew each other before the cheating allegations.
A  blogger further revealed in another post that Gabriel allegedly became involved in drugs and became a wife-beater, causing his wife to cheat. The issue became even more complicated when Gabriel Afolanyan and his wife unfollowed themselves on Instagram. It was further observed that the actor and Banky also unfollowed each other on Instagram amidst the cheating rumors.
Neither Gabriel and his wife nor the Banky Ws responded to the controversies. However, Gabriel later chose to address the issue as his name and the Wellingtons were involved in the mess. In an interview he granted sometime in March 2021, Adebanke's husband Gabriel explained that the controversy was personal to him and he did not want his personal life to be public, so he kept it out of the media for no other reason other than a personal principle.
The Nollywood actor also noted that his marriage, like every other marriage out there, experiences ups and downs. With that said, he reiterated that his marriage is still going strong. Nothing has since been here about the scandal afterward.
How Many Children Does Adebanke Afolayan Have?
At the time of writing this piece, Adebanke's marriage with Gabriel Afolanyan has not produced any child, but she has a son whose name has not been made public. In 2022, there were rumors that Adebanke's husband welcomed twin boys with his lover.
The news about Gabriel's alleged children came amid rumors about him refusing to sign divorce papers given to him by his wife. Some blogs also claimed that the actor was set to throw a naming ceremony for his girlfriend at her parent's house while still legally married. Presently, there is no news about Adebanke expecting a child, and the said rumor about Gabriel's children has not been confirmed by the popular actor.