Celebrity relationships are mostly celebrated and admired by fans who have high expectations that these relationships will blossom forever. Unfortunately, in most cases, celebrity love stories come crashing as quickly as it starts and is usually for all the wrong ordinary reasons. This is why Ikechukwu Mitchell Ogbonna's (IK Ogbonna) love story has become the subject of heated debate amongst social commentators, especially as it has to do with the reasons why the actor divorced his former wife, Sonia Morales.
Their Love Story Kicked Off On Instagram
Online dating feels like a numbers game. It's like applying for jobs. You have to send your resume to people you haven't met and perhaps attend a lot of interviews before finding the right fit. At least, this was what IK Ogbonna had to go through before he could find his now ex-wife Sonia.
According to the actor, he first met Sonia Morales on the popular social media app Instagram. Out of curiosity, he had clicked through to her page, which was replete with beautiful pictures and her ventures as a model which he admired. While at it, he saw Sonia as a very considerate, hard-working, and caring person and it was what led him to initiate contact with her.
That contact subsequently led to months of phone calls (with both parties opening up to each other faster and deeply), video calls, and messages culminating at last in their decision to meet each other in the flesh. Once they met, they began posting romantic photos of themselves, and of course, they were considered a perfect match for each other.
At the time Sonia first visited IK in Nigeria, he noted that he was stark broke. IK further revealed how Sonia decided to put up with him despite his financial struggles and even went to the extent of getting pregnant for him. Indeed, this confirmed her love for him. Not long after, IK Ogbonna got his break into Nollywood which helped him maintain his family, despite the rough times.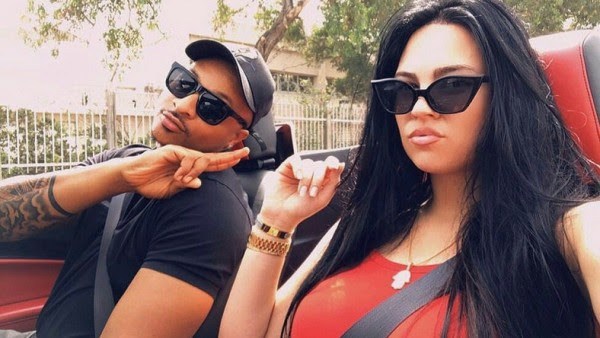 In 2015, IK Ogbonna and Sonia Morales Wedded In Italy
As things got more serious between IK and his ex-wife, the lovebirds jetted out to Italy, where they got married in 2015, and their marriage was blessed with a son the same year. During their stay in Italy, they were able to foster a strong relationship.
Later on, they both relocated to Nigeria, where Sonia, though she was willing to stick around her husband, felt uncomfortable due to the poor living conditions. Regardless, they had a happy, healthy, and loving relationship. But as time passed, the conditions worsened, and Sonia had to make the decisions that would change the fate of their marriage.
Their Divorce Happened So Quickly Yet Silently
It is said that their union, which was the envy of many did not eventually see them stay together for long as their admirers expected. Sonia Morales and IK Ogbonna were together for five years and were married for three years starting from 2015 before the rumors of the cracks in their home began to hit the internet. After a year of speculations, the news of their divorce was officially announced by Sonia in 2019.
As is the case in some crashed relationships, there are aftermath stories of ex-lovers spilling the tea and bitter truths while they were together. As expected, this became the outcome of the IK Ogbonna's love story with Sonia Morales. Occasionally, the Columbian model has been addressed as a 'bitter ex' by naysayers; this is because some of her revelations about IK Ogbonna after their marriage came crashing.
In a statement that seemed a mockery of the financial capacity of her ex-husband, Sonia revealed the poor living conditions he lived in which was characterized by mosquito bites, constant power cuts, no running water, among other things that made her leave the marriage. However, even after their divorce, IK Ogbonna's body language has shown he still got much love for his family even though they are now living separately.
Though Divorced, IK And Sonia Have Access To Their Son
IK and his wife's divorce was amicable. Even Sonia had to write an open letter to him in a post that is now deleted on her Instagram, thanking him for making the divorce a lot easier for everyone. On this note, they both share custody of their son, Ace Ikechukwu Ogbonna, known as AceOgbonna, on Instagram. While he currently lives with Sonia Morales, the actor seems to have unlimited access to him.
Take A Look At His Relationship Life Before His Marriage
Over the years, IK Ogbonna has been unarguably listed as one of the most handsome actors in Nollywood. Thus, it was not surprising that he became the cynosure of all eyes as a 'hot boy' in the Nigerian film industry.
Before he met Sonia, IK had been involved with pretty damsels both in and out of the Nigerian film industry. Aside from his relationship with Ghanaian-born actress Juliet Ibrahim, the other of his relationships did not get media attention because the light-skinned young man prefers to keep his relationship private. Thus, it was both shocking and revealing when in 2014, the Nollywood 'bad boy' revealed he was getting married to his Caucasian beau, Sonia Morales, from Colombia.
When it became obvious that IK Ogbonna and Sonia Morales were seeing each other and in a serious relationship, concerned fans of the actor were inquisitive to go on a fact-finding search to know where IK Ogbonna's wife was from. However, not much was dug out about her except that the 'pretty boy' of Nollywood was seeing an established Colombian model. This remains the much that is known about Sonia Morales.
IK Ogbonna Has Chosen To Stay Single
While IK Ogbonna's marital union with Sonia Morales supposedly brought so much joy to his fans, the same cannot be said of a few of his Nigerian female admirers, whose heart got broken by the actor's choice of woman; who is not of Nigerian descent. But, his recent divorce from his estranged wife seemed to have rekindled that fond love between him and his female admirers once again.
Well, we all know that divorces are tough, and considering the mental health benefits of marriage over being single, getting married again would seem to make sense. However, for people like Ik Ogbonna, settling down doesn't seem to make sense. At least not immediately. The actor seems uninterested in tying the knot since his divorce. Sure, it seems too early to jump into another commitment, but it's safe to say that IK really doesn't seem ready, or don't want, to mingle just yet. He has been single for a while now, and despite being seen with some beautiful women, there has been no official confirmation of IK Ogbonna dating anyone at the moment.