Odumeje (Real Name: Chukwuemeka Ohanaemere, born 9 September 1982) is a Nigerian pastor, prophet, and the general overseer of The Mountain of Holy Ghost Intervention and Deliverance Ministry, also known as the Land of Freedom and Miracle Center. Best known as Indaboski Bahose or Odumeje, he also calls himself 'The lion' and 'The liquid metal.'
With the current situation of churches in the world today, carrying about the bible, preaching, and performingZ  b   so many acclaimed miracles does not in any way qualify anyone to be a genuine child of God or even a clergyman. There have been unending controversies surrounding the Nigerian clergyman, Chukwuemeka Ohanaemere.
Given the seeming comedies he performs even in his church, people wonder if he is truly a man of God or just a religious comedian. Let's look at the ministerial journey of this man of God and how he became one of the most controversial spiritual figures in Nigeria today.
Odumeje Hails From Orsu Ihete Ukwa, Imo State
Odumeje was born Chukwuemeka Ohanaemere on 9th September 1986 in Orsu Ihete Ukwa local government in Imo state, southeast of Nigeria. Born to Christian parents, Mr. and Mrs. Pius Ohanaemere, Odumeje is the third out of six children. Chukwuemeka barely finished his secondary education at Providence secondary school when he dropped out and associated his reasons with 'financial constraints.'
Not long after he dropped out, he relocated to Onitsha in Anambra State, where he served as an apprentice to a wealthy businessman who was into leather designing. After a few years, he established his own leather designing business, though, in a little way. Admittedly, before Odumeje entered into full-time ministry, he had his humble beginning while struggling to make ends meet in Onitsha.
Odumeje Founded His Ministry in 2010
When Odumeje started a full-time ministry, it came as a surprise to many because that had never been his intention nor dream but his mum's. He rather had the aspiration to become a musician or footballer due to the burning passion he had in them while growing up. According to him, his mother had a vision of his son becoming a great and mighty prophet of God. All the time he was still struggling in his leather business, his mum was busy praying and fasting for her dream to come to actualization so that her son, Odumeje, would be miraculously arrested by God.
Moreover, he turned to a laughing stock among his peers when they knew the story of the revelation. God eventually visited him, and he called his leather business quit in 2000. According to Indabosky, he said that God revealed to him that He would use him like Gideon in the bible to deliver his people from the devil's captivity.
The very beginning of 'the call' was not easy for him, especially financially wise, but he owes all thanks to his mother, who got his back all through the period by supporting him with both prayers and advice. Chukwuemeka Odumeje went into full ministerial work in 2010 when he founded his ministry, The Mountain Of Holy Ghost Intervention and Deliverance Ministry.
It actually started as a deliverance ministry at No. 14 Osumu street Odakpu, Onitsha. Shortly after, he moved to Okija hall and subsequently to Arondizuogu, all in Odoakpu, Onitsha. Even at founding his own ministry, Odumeje still struggled to make a living while his mother remained his financial strength.
He Became Famous Following His Claims To Walk On River Niger
The Mountain of Holy Ghost Intervention and Deliverance ministry began to thrive shortly after relocating to Arondizuogu hall. The hall could no longer contain its members, so they moved yet again to No. 88 Bida road Fegge Onitsha, their current location. Odumeje's ministry can now brag about over 20,000 seat capacity. Following this, The young prophet has radically gathered many noble names and celebrities to his church, including Rita Edochie, Zubby Micheal, Yul Edochie, and others.
The Nigerian prophet started making headlines in June 2019, when he allegedly made claims in one of his services that he would defy the laws of Physics and walk on the River Niger. When people waited anxiously for him to fulfill what he said, Odumeje took to his Instagram page and denied ever saying such, describing it as "Propaganda from Haters." He warned people always to be careful with their words, especially how they attack men of God to not attract the wrath of God upon themselves.
Prophet Odumeje's Biggest Feuds Yet
The most recent trending prophet has a thousand and one controversies in his life since the emergence of his ministry. Ranging from his unorthodox method of healing and holding services to questioning the source of his power. Let's look at some of the biggest feuds the Nigerian pastor has been involved with over his ministry.
Feud With Zubby Micheal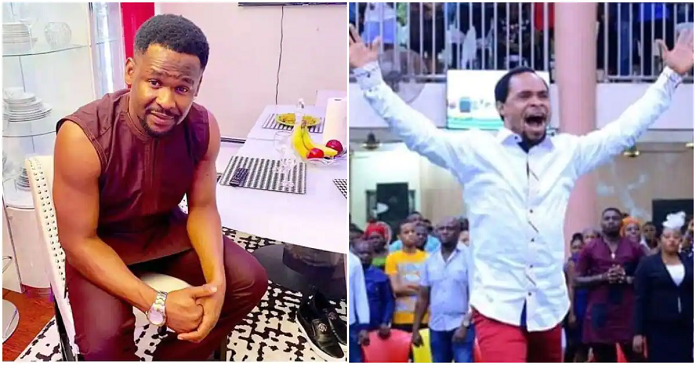 Zubby Micheal is a Nollywood actor and allegedly Odumeje's childhood friend. The two have been keeping up with themselves even after they made it to the limelight. This made Nigerians credit his success to prophet Odumeje, claiming he is Zubby's spiritual father. However, in May 2020, Zubby, on his Instagram page, made a short video denying Odumeje as his pastor and added that he has never attended his church. There is no truth in this because multiple cameras have captured Zubby in Odumeje's church, and in one of them, he was seen kneeling at the prophet's feet as he receives prayers from him.
In the video, Zubby Micheal went ahead to say that the clergyman is only his friend and nothing more, and there in blasted Nigerians for ever thinking that he got spiritual powers for his Nollywood success from him. Meanwhile, Odumeje, on seeing the video, was so much disappointed in Zubby for denouncing him but refused to get angry. He said that he forgives him based on friendship and would not hurt him spiritually. Both of them later reconciled and cited "miscommunication" as the cause of their feud.
Feud With Ada Jesus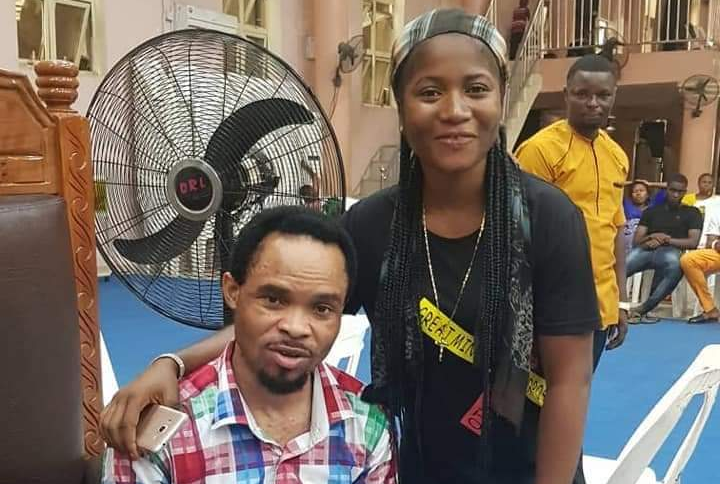 Mercy Mmesoma Obi, popularly known as Ada Jesus, is a 25-year-old comedienne who had accused prophet Odumeje of performing fake miracles. Ada Jesus also accused actress Rita Edochie of providing Odumeje with individuals who fake illness at his ministry just for a fee. The news reaching the two, they rained curses on the young comedienne, saying that she would be wreaked with a terminal disease and that they will never forgive her until she provides evidence for his allegation.
Simultaneously, Ada Jesus fell ill with kidney disease that left her paralyzed. Many accusing fingers were on Odumeje and Rita Edochie, claiming that they are responsible for this ailment. Ada's family took her to Odumeje's church to seek forgiveness at the crux of her sickness, but the prophet sturdily refused and swore never to forgive her. Thereafter, Rita Edochie released a 3-minutes video saying that she has forgiven Ada Jesus from her heart of hearts and warned her not to insult her man of God again.
Also, Odumeje, during a service session, said that he had forgiven her too. He went ahead to donate ₦1 million to her family, but her mother openly rejected the money, saying that they only want his forgiveness. Sadly, the young comedienne died on 21 April 2021. The news of her death made so many headlines with accusing fingers pointing at Prophet Odumeje, not minding that he openly said he forgave Ada Jesus before her death.
Unorthodox Method Of Healing and Conducting Church Services
Prophet Emeka Odumeje sings and dances to secular music in his church services. This is odd and not likely to the conventional Christian doctrines and conducts. In May 2020, the Human Rights Writers Association of Nigeria called the attention of the CBN governor, Godwin Emefiele, to order for the immediate arrest of the controversial pastor over the continuous abuse of the Nigerian currency. Odumeje has severally been seen spraying money on the floor and goes ahead to step on it.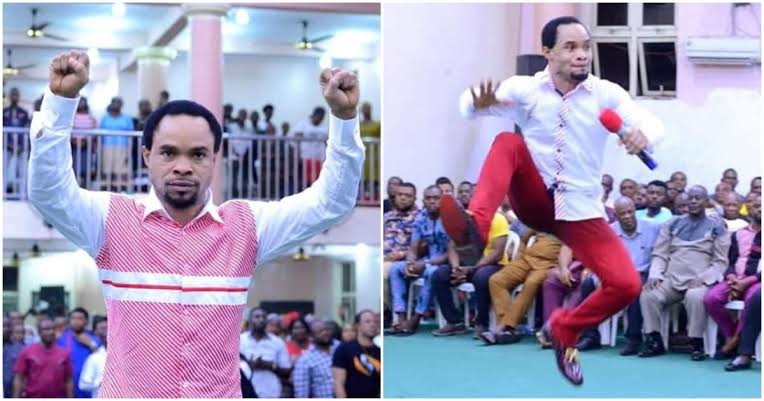 Again, the prophet's healing method has raised many negative criticisms as it is similar to that of WWE Superstar Brock Lesnar's and John Cena's. He does this by arranging empty chairs together, smacks the people in need of healing on the chairs, and declares them completely healed. All these earned him nicknames like 'The smackdown pastor,' 'The wrestling pastor,' and 'heavyweight servant of the Most High.'
Comments On His Spiritual Powers
The real source of Odumeje's spiritual power has been a topic of interest to Nigerians, especially the Igbos. Some allege that he got them by reading the clandestine personal journal of Eddy Nawgu, who was an infamous black magician before his public execution.
Despite these criticisms and many others surrounding this controversial man of God, he has paid no attention to any of them. Still, he threatens to kill anyone writing negative things about him. He maintains that his spiritual powers were given to him by God, and he would fish out all those against him one by one no matter how much they hide their identity.