Bro Gbile Akanni (born: 22 June) is a Nigerian non-denominational preacher and author. He spreads the Christian gospel through his Living Seed fellowship in Gboko, Benue state. Gbile is also the founder of Peace House. 
The preacher is widely known around Nigeria as a simple man with deep knowledge of the word of God and tenacity to go after souls. He holds the Ministers' Leadership Retreats every year and is invested in youth change and growth. As a writer, he has written books such as The Dignity of Manhood, Timely Warning, Becoming Like Jesus, and When Men of the Force Need a Greater Force.
Summary of Bro Gbile Akanni's Bio
Full Name: Gbile Akanni
Nickname: Daddy Gbile, Bro Gbile
Gender: Male
Date of birth: 22 June
Ethnicity: Yoruba
Nationality: Nigerian
Zodiac Sign: Cancer
Sexual Orientation: Straight
Religion: Christianity
Marital Status: Married
Bro Gbile Akanni's Wife: Sade Akanni
Akanni's Children: 4
Bro Gbile Akanni's Net worth: $1 million
Famous for: Preaching and being the founder of Peace House and Living Seed Ministry
Facebook: I Love Bro Gbile Akanni (fanpage)
Gbile Akanni Was Raised in a Non-Christian Polygamous Home
Gbile Akanni is an indigene of Masifa, Ogbomosho, Oyo State, and was born on 22 June. The minister is from a large idolatrous polygamous family in the South-Western part of Nigeria and his mother was the first of his father's many wives. He is the last child of his mother's 3 surviving children. His other siblings died while they were young.
The preacher grew up alongside several step-siblings with whom he shares relationships. There are reports that despite the fact that Gbile's family is large, his father's children (siblings and step-siblings) lived a cordial lifestyle such that it became difficult to separate one wife's child from another.
Due to ancient practices, some of his siblings were made priests in waiting for the oracle, and his sister was made to marry an old man very early in life. This was because Gbile's father was a strong idol worshipper and the priest of Ifa oracle. The older Akanni was famous around the community as a herbalist, practicing divination and being the masquerade custodian. Though a traditionalist, he allowed Gbile to acquire western education.
Bro Akanni's early childhood education was in Oyo State. Following his graduation from primary school, he went to Baptist Student Fellowship. He graduated from the University of Ibadan and subsequently did the mandatory one-year of national service. While he was a Youth Corp Member, he taught Physics and Home Economics in Benue State, north-central Nigeria.
Gbile Akanni Practiced Islam and Was a Free-thinker
Gbile pressed on to go to school rather than serve the deity his father served. Along the line, he got converted to Islam. His father had no issues with it since it did not directly affect his fetish practices. Unfortunately, Gbile, who joined the religion because he was looking for something to fill up the vacuum in his heart, did not find what he was looking for.
However, rather than give up, he continued his quest to find where he belonged. At the time, the minister had no regard for Christianity because he had seen a lot of Christians come to his father to perform divination over them. He then decided to become a free-thinker.
He Was Led to Christianity By an Uncle And a Strange Voice
Bro. Gbile Akanni visited a church on an Easter Sunday following an invitation from his uncle. After the church service ended, he headed home. On his way home, he heard a strange voice call out to him to go into a Baptist church and give his life to Jesus.
It was on that day that his conversion happened. He went on to burn his charms and other occultic possessions. Afterward, the preacher suffered persecution from his family and eventually even got denounced and suffered at the hands of members of his church.
How His Christian Ministry Started
His evangelical ministry began when he started to sojourn into villages and camps to preach. When he got a job at a primary school as an auxiliary staff under the Local Schools Board in his community, Gbile Akanni made it a point of duty to preach to the children about God. He went on to teach at Baptist Modern Secondary School and used the opportunity to bring the youths close to God still.
Several years down the line, Gbile began preaching and eventually opened up a weekly fellowship ministry called Living Seed in Benue State where he now resides. He is also the founder of Peace House Revival Labour which can be found in several parts of Nigeria such as Lagos, Abuja, Plateau, and Benue.
Eventually, the Living Seed has grown to accommodate about 15,000 members from all works of life. The ministry is not a church and neither does it segregate between members. Instead, it is an interdenominational fellowship set to welcome all.
The ministry also has a school and a foundation called Calvary Arrow College in Gboko. It caters to many children whose parents are directly or indirectly involved in the workings of the ministry.
Bro Gbile Akanni Has Written At Least 25 Books
The gospel minister has shown that asides from the work on the pulpit, he has a natural knack for writing. Gbile Akanni has been able to author several books under his ministry.
Gbile Akanni's Bibliography
No More Two
Finding the Bone of Your Bones: A Simple Biblical Guide For Choosing A Marriage Partner
Becoming Like Jesus- God's  key To Abundant Living
Understanding the Concept ad Conditions for Discipleship
Tapping God's Resources For Life and Ministry
Battle For The Young
He Leads Me: My Personal Stories From The Day of my Youth
Costly Assumption
Why Sit Here Till We Die?
The Price, Plight and Perils of the Anointed
What God looks For In His Vessel
Guidepost to Revival
Palace
From Bleak To Bliss
Quest For God: Bible Study Outlines From OeaveHouse Discipleship Works
Your New Beginning in Christ
Knowing God's Will
The Seduction of the Nigerian Church
Who are Gbile Akannis's Wife and Children?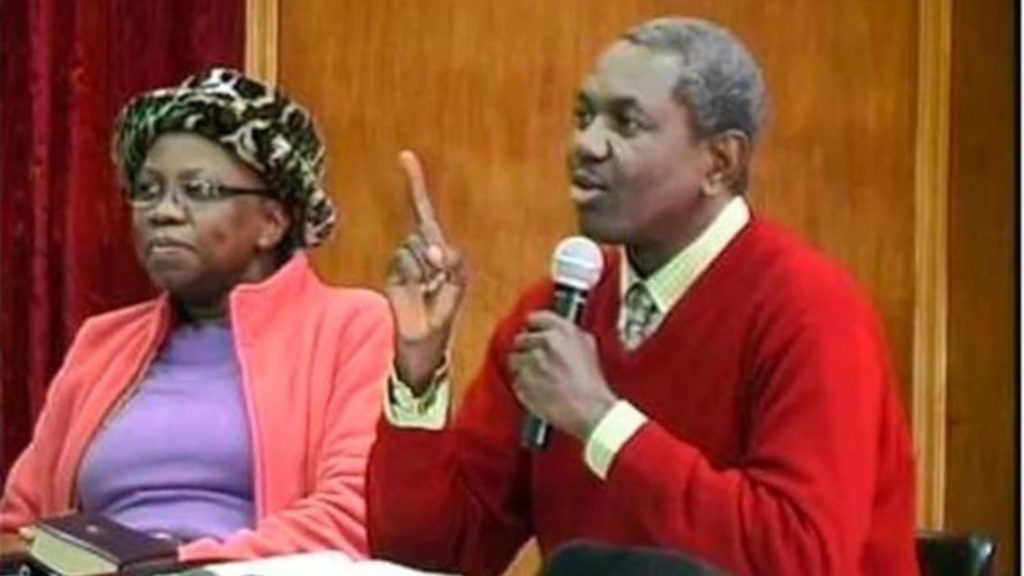 Gbile Akanni is married to a doctor and writer, Sade Akanni. She has to her credit books such as Treasures in a Woman and Beauty that Lasts. According to Bro Gbile, their marriage was delayed by 4 years but has lasted over 3 decades. The marriage was delayed because his wife's family said they needed bottles of Schnapp before their marriage can hold.
On the day of their engagement, he canceled the ceremony because his father-in-law and some elders in his wife's family wanted to cut the chicken for ancestors as well as use Schnapp as tradition demands. Akanni and his wife stood their ground that Jesus was already in their marriage and would not involve any traditions that were not in line with their beliefs.
Subsequently, they married on their terms and are parents of 4 children. In his book, "He Leads Me" Akanni mentioned the following as his children; Jola Akanni-Alechenu (daughter), Wole Akanni (son), Funto Ojo (daughter), Gbolu Akanni, Sunday Oluyinka Akanni. Jola is a graduate of Pharmacy from the University of Jos and a mother of one. She is also married to Emma Alechenu, a native of Benue State
Akanni and his wife, Sade, are, at the time of this writing, grandparents of 5 – Akowoicho, Olohikowoicho, Abolonakowoicho, Abofukowoicho, and Abolurin.
Has Gbile Akanni Faced Any Controversy?
The preacher has been able to considerably keep himself away from controversies. However, he turned heads when he claimed to have found out that he had bad experiences in some Anglican churches.
He claimed that it was in Oyo State that he attended an Anglican Church only to realize that the preacher was a drunkard. The second claim was him pointing out that after attending a church, he decided to visit the pastor's house. There, he found the pastor consulting the Ifa oracle for people. He also spiked an online debate when he urged Christians to return to their Bibles and stop being gullible.