Hope Uzodinma is currently married to Chioma Ikeaka Uzodinma but he was previously married to Augusta Uzodinma, who he married in 1993. The politician has a total of nine children from his two marriages – he has 5 children with his first wife and four (2 boys and a set of twin girls) with his current wife. Two of his older children are named Sandra Nkechi and Sophie Nkem Uzodinma while the names of the rest are unknown.
Long-standing Nigerian politician Hope Uzodinma has been in the political field since the Second Republic. He was the former senator of the federal republic of Nigeria, representing Imo State, and currently serves as Imo State governor.
Beyond his political exploits, Hope is also famous following his failed marriage to his first wife. However, he is currently married to his second wife, who is 31 years younger. As a result, his second marriage has raised several eyebrows, in addition to his political journey. So let's look at his family, his first and second marriage, and the children produced from both marriages.
A Glance at Hope Uzodinma's Political Journey
Hope Uzodinma graduated from Mgbidi secondary school in 1982 and later bagged a Higher diploma in Maritime Management Technology from the Federal University of Technology, Imo State. He further attended Washington University in St. Louis, graduating with a bachelor's degree in International Studies and Diplomacy.
The enduring politician started his career in 1983 as Imo state Youth leader under the ruling National Party of Nigeria (NPN). Following the country's transition from military rule to democracy, Uzodinma became a member of the People's Democratic Party (PDP), serving on the pioneer Board of Trustees between 1999-2017. Since then, he has held several political offices in Imo State before becoming the state's governor.
Fast forward to March 2019, Hope Uzodinma emerged fourth in the gubernatorial election that was held in Imo State. According to the result posted by INEC, The Action Alliance (AA) candidate, Uche Nwosu, came 2nd with a total of 190,364 votes, followed by Ifeanyi Ararume with a total of 114,676 votes. Emeka Ihedioha of PDP was announced the winner with a total of 273,404 votes. However, Hope was not satisfied with the INEC result and decided to question Ihedioha's victory in the Supreme court.
Then, on 14 January 2020, the Supreme court nullified the election result and declared Uzodinma the state's rightful elected Governor. The court declared the election results flawed and inaccurate, stating that Uzodinma's votes from 388 polling units were not counted. Hope Uzodinma took the reins of office as Imo state governor on 15th January 2020.
His first action as a governor was to stop the payment of all the ongoing awarded contracts in the state and ordered all the state's permanent secretaries to forward the status of all the contracts. HE governor Hope Uzodinma's administration has brought about a massive positive change in the state, especially in the area of security.
Meet His Wife Chioma Uzodinma, The Youngest First Lady
Chioma Ikeaka Uzodinma, a native of Ideato local government area, is a graduate of Law from Imo State University, Owerri. While still an undergraduate, she regularly met Hope Uzodinma in her school while he was the senator representing Imo West at the 8th assembly. The two started their love and relationship from there and eventually tied the knot in 2015. They got wedded in a secret traditional wedding due to Augusta's bitterness towards the wedding plan.
Following her husband's emergence as a governor in 2020, Barr. Chioma became the youngest first lady of the state at the age of 30. Before her marriage to Hope, Chioma is barely known in Imo State and the entire country. Hence, her becoming Hope Uzodinma's wife solely brought her to the spotlight. At 64, Governor Uzodinma's wife is 33, so the age difference between the governor and his newest wife is 31 whole years.
Meanwhile, Imo State Fierst Lady Chioma possesses a philanthropic spirit, which she showcases via numerous donations to various individuals and organizations ranging from children, women, and the physically challenged. She has grossly put in her time and resources to visiting and giving to motherless babies' homes within and outside Imo state.
Before Chioma, He Was Previously Married to Augusta Uzodinma
Imo State governor Hope Uzodinma is currently in his second marriage. His first marriage was to Augusta Uzodinma, who he married in 1993. However, the union ended in 2010 due to some irreconcilable differences. In an interview she granted when she learned of her husband's plan of getting married to another woman, Augusta said that her husband suddenly started acting strangely to her for no just cause. He told her to go back to her village, saying that the thought of seeing her around threatens his life.
This is a typical strange attitude that got her thinking about what the problem could be. When she couldn't get any answers to her thoughts, she yielded and went back to her parents, hoping that he would come soon for them to settle their differences. To date, Uzodinma did not show up in her parent's house but proceeded with his second marriage plan. When his marriage plans to Chioma began to get more serious, she tried to counter the claim of divorce made by his husband but later accepted her fate and moved on with her life.
Augusta is a gorgeous woman, who despite her age, still glows. Both of them are doing well in their different areas of endeavors. While Augusta is flourishing in her business career and living lavishly, Hope and his new wife are making waves in the political arena as the governor and first lady of Imo state. Hope's marriage to Augusta lasted for 17 years before he married Chioma 5 years after.
Hope Uzodinma Has Nine (9) Lovely Children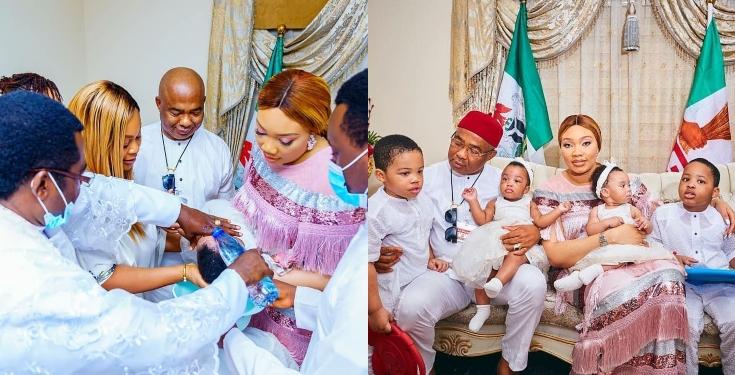 The sitting president of Imo state is blessed with nine lovely children in his 2 marriages. His marriage with Augusta Uzodinma produced five children before it crashed in 2010. He married Chioma Ikeaka, and their marriage was blessed with four children, 2 boys and a set of twin girls. He is now a grandfather through the children from his first two daughters he had with his first wife.
Meanwhile, his grown-up children do not hold any grudge against Chioma nor their father for divorcing their mother but only took it to be a destiny that cannot be avoided. However, we could not lay hands on any information as to the whereabouts of Uzodinma's grownup children, but we believe that they are doing well for themselves in their different endeavor.
His Marriage to Chioma Has Met Several Criticisms
Typical to anyone that turned celebrity, the Imo State First Lady has been dragged in a few areas since she got married. Firstly, she was accused of being responsible for the crash of Uzodinma's first marriage. Many people, especially the indigenous people of Imo State, wondered and asked rhetorically how and why a young lady of 25 could marry a 57-year-old man.
Again, she was notoriously called her out after her husband took over office to ensure a successful administration and execution of significant and weighty projects during her husband's tenure in the office. However, the Fist lady did not react nor respond to any of these criticisms. Instead, she remained focused on her title roles.
His Administration is Also Not Free From Controversies
Over the course of his tenure, Hope Uzodinma has gotten a few criticisms of his personality and administration. According to him, some infiltrators peddled rumors of calumny against him following the Supreme Court judgment in his favor. They doubted the possibilities of Uzodinma making a good governor, thereby saying some things to pull him down.
They alleged that Uzodinma was arrested sometime in 2018 by the special investigation panel for the failure to execute a US$12 million contract for the dredging of the Calabar channel in one of his companies. However, Uzodinma denied this allegation and termed it a simple attempt to tarnish his image and disqualify him as the governor.
Moreover, in Uzodinma's administration, the military conflict in the city of Orlu began. This has put the citizens of Imo state in an uncomfortable state as they point at his administration to be responsible for the State's crisis. Despite all these, Hope still discharges his duty diligently.