Oriyomi Hamzat (born 5th March 1980) is a 43-year-old Nigerian broadcast journalist, presenter, and human rights activist famous for being the founder and managing director of Agidigbo 88.7 FM in Ibadan.
Oriyomi recently launched another level of popularity in May 2022 after he was arrested by the Police Force Intelligence Bureau operatives in connection with a case of cyberbullying. Now, let's look at his full biography, career achievements, and the details behind his arrest.
Summary of Oriyomi Hamzat's Bio
Full name: Oriyomi Abdulrahman Hamzat
Gender: Male
Date of birth: 5th March 1980
Oriyomi Hamzat's Age: 43 years old

Ethnicity: Yoruba
Nationality: Nigeria
Zodiac Sign: Pisces
Sexual Orientation: Straight
Religion: Christian
Marital Status: Married
Oriyomi Hamzat's Wife: Motunrayo Hamzat
Oriyomi Hamzat's Parents: Mr. & Mrs. Hamzat
Siblings: N/A
Oriyomi Hamzat's Height in Inches: 5 feet 8 inches
Oriyomi Hamzat's Height in Centimetres: 178 cm
Famous for: CEO of Agidigbo 88.7 FM, Ibadan
Oriyomi Hamzat's Net worth: $50,000
Oriyomi Hamzat's Instagram: oriyomihamzatofficial
Twitter: @oriyomihamzat01
Facebook: Oriyomi Hamzat Official
Oriyomi Hamzat was Born and Raised in Ibadan, Oyo State
Currently 43 years old, Oriyomi was born Oriyomi Abdulrahman Hamzat on the 5th March of 1980 into a Christian Yoruba family. He was born and raised in the city of Ibadan, Oyo State, where he is also a native. For the record, Oriyomi's father previously worked with NTA Ibadan.
Oriyomi started his formal basic education at St. John Primary School and completed it at Fadil Umar Ahmadiyya School, all in Oyo State. He proceeded with his secondary education at Iroko Community Grammar School and then moved to the prestigious Pade School of Sciences, where he finally obtained his senior school certificate.
After secondary school, Oriyomi waited for some years before he got admitted to study Linguistic and Language arts at the University of Ibadan. However, he turned down the offer because he only wanted to study Sciences and Geology. Fortunately for him, in the following year, he got admitted to study his dream course, Geology, at the Polytechnic of Ibadan.
After he completed his two years ND program, things got hard in his family that he couldn't promptly continue with the HND program. But after a while, Oriyomi was able to get another admission at the then Poly Ibadan Eruwa Saki satellite which is now The Oke Ogun polytechnic Oyo state Ibadan. He finally graduated with a BSC in Mass Communication.
He Began His Career as a Journalist After Bagging a BSC in Mass Communication
While he was a Mass Comm undergraduate, Oriyomi Hamzat had the privilege to visit BCOS TV – Broadcasting Corporation of Oyo State, where he also completed his Industrial Training. Then, immediately after his graduation, he landed a job at The Guardian Nigerian Newspaper. He made commendable achievements during his time with the daily newspaper outfit.
Leaving his job at The Guardian, Oriyomi Hamzat founded Agidigbo 88.7 FM, which made a significant landmark in his media career. The radio station, which is based in Ibadan, the capital city of Oyo State, formerly operated only on the internet. However, it launched its radio station, commenced full operation, and started broadcasting on the 25th of March 2021. Agidigbo FM is fully concerned with bringing cultural values into place.
The on-air presenter is known to be a staunch follower of Jesus Christ. He hosts an on-air conflict resolution session which is described to be very helpful in promoting peace and bringing solutions to challenges in homes and society at large. This evidently shows that Hamzat is a devout Christian and believer. He also uses the platforms Kokoro slate and Kato domo eye loro to preach the gospel.
Also, he is a member of the Make A Future Alive initiative, a platform for children who are marginalized by society. Talking about being established in the course of one's career, Oriyomi Hamzath has quite made laudable feats everywhere he worked. He has won several awards on merit, some of which include an Award of excellence from integrity Human Right Leaders, English Poets, Association of Yoruba, and ROCAHAM Assembly.
Who is Oriyomi Hamzat's Wife?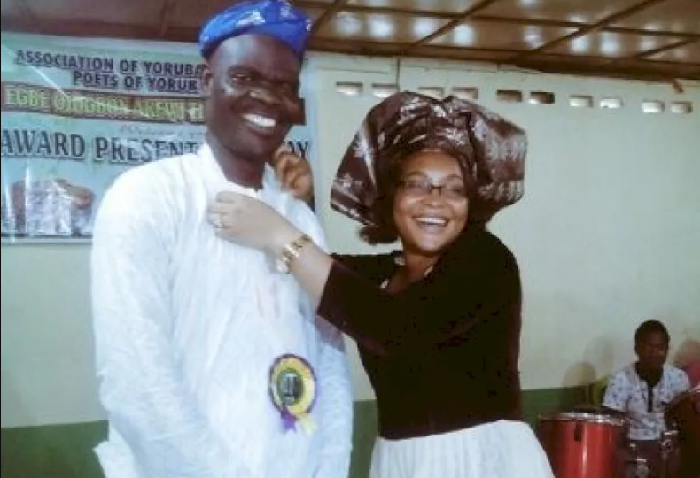 Oriyomi Hamzat is a married man. Besides her name, which is revealed to be Motunrayo Hamzat, nothing else is known about the presenter's wife. The presenter does not reveal much information about his personal life. It is also not known whether he has children from the marriage with his wife.
Why was Oriyomi Hamzat Arrested?
On 27th May 2022, Oriyomi Hamzat was arrested by the Police Force Intelligence Bureau operatives. According to the police, the reason for the arrest was in connection with a case of cyberbullying, even though they did not mention who was bullied. The police claimed that Oriyomi has severally disregarded their invitation, stating that he is under investigation. Hence, his arrest was a sequel to his refusal to honor the Police invitation severally.
The statement read, "We are looking into the petition written against him on his violation of the Cyber Crime Act, 2015, and necessary action will be taken to do justice in the matter…" When asked to shed more light on how Oriyomi defaulted the Cybercrime Act via tweet, the Force Public Relations Officer replied that people should go and read the Cybercrime Act, 2015 as a guide because he is sure that many have never seen it let alone read it.
Meanwhile, the Ibadan-based broadcaster, who is well known to be a justice advocate, had earlier advocated for justice in a murder case involving Hilton Hotel Ile-Ife owner, Chief Rahman Adedoyin. Also, the Head of Station, Agidigbo 88.7FM, Adebayo Grey, in a statement, complained that his boss was arrested after he called for justice over a Master's student of Obafemi Awolowo University, Timothy Adegoke, who was during the time murdered in cold blood.
Where Is Oriyomi Hamzat Now?
Oriyomi Hamzat spent only 24 hours under police custody. He was released on bail on 28th May to his lawyers after he was found innocent following proper conversations with the authorities. His release was confirmed by the management of his radio station.
A statement from the management read, "…As we have rightly stated yesterday, at no point was Mr. Oriyomi Hamzat found guilty of cyberbullying nor did he refuse at any point to not honor invitations from the Nigeria Police Force as wrongly alleged by the Force PRO. Why this false insinuation is being purveyed is completely beyond our grasp…, however, we are glad to announce that Oriyomi Hamzat is a free man now."
Though we can't really tell where he is since after his release, we believe the ace broadcaster is still in Nigeria, Ibadan precisely, where he had been residing and concentrating on his media career.