There are numerous Opay offices in different parts of Nigeria, including the north, south, east, west, and the Federal Capital Territory. The company has its headquarters in Ikeja, Lagos State, and some branch offices are located in Nigeria's major cities, such as Enugu, Ibadan, Benin, and Jos. 
All of these Opay offices are saddled with the responsibility of meeting the needs of customers and potential customers alike.
Where Is Opay Headquarters?
Opay headquarters in Nigeria is located in Lagos State in Alexander House, 1 Otunba Jobi Fele Way, off Doctor Nurudeen Olowopopo Way, Alausa 101233, Ikeja, Lagos. It is in the southwestern region of Nigeria.
The headquarters is Opay's centralized office. It also houses the management of the company and key staff operating and oversees overall business activities which include receiving complaints and queries, handling debit cards, overseeing accounts, and seeing the overall financial inclusion through technology in Nigeria.
Away from Nigeria, Opay's global key offices are in Beijing, China; Silicon Valley, U.S.A; and Singapore.
Where Is Opay Office Located in Lagos?
Apart from the headquarters of the company, Opay has other offices in Lagos, and here are the addresses:
103 Allen Avenue, Mosesola House, Ikeja, Lagos State
78B Lagos Road Ikorodu
4th Avenue A Close, Festac Town, Festac
Opay Office in Ibadan
There are about four offices located in different parts of Ibadan, Oyo State. Here is the list and addresses:
Anjola Building Opposite Oando Filling Station, Iyana Cele Bus Stop, Along Sango Road, Mokola, Ibadan, Oyo State
No. 7, Osuntokun Avenue, Bodija, Ibadan, Oyo State
Within the Law Hub, Ring Road, Ibadan, Oyo State
OYSADEP Ibadan/Ibarapa Zonal Office, Unnamed Road, Oluyole, Ibadan, Oyo State
Opay Office in Abuja
It is located at No 34/36 Okotie Eboh Street, Utako District, Phase 2, Abuja
Opay Office in Port Harcourt
The one-stop mobile-based platform for payments, transfers, and savings has 2 offices in Rivers State and they are located in the capital city, Port Harcourt at the following addresses:
Phase 2, 79, Evo Road, GRA Phase 2, Port Harcourt
off Woji Road, GRA, Port Harcourt
Is There an Opay Office in Benin?
Yes, Opay has 2 offices located in Edo State's capital city, Benin. They are located at:
After Magistrate court, No. 162 Benin Sapele Rd, Oka 300104, Benin City, Edo
Along Nenin-Sapele Road, Before Nigerian Prison Service, Benin City, Edo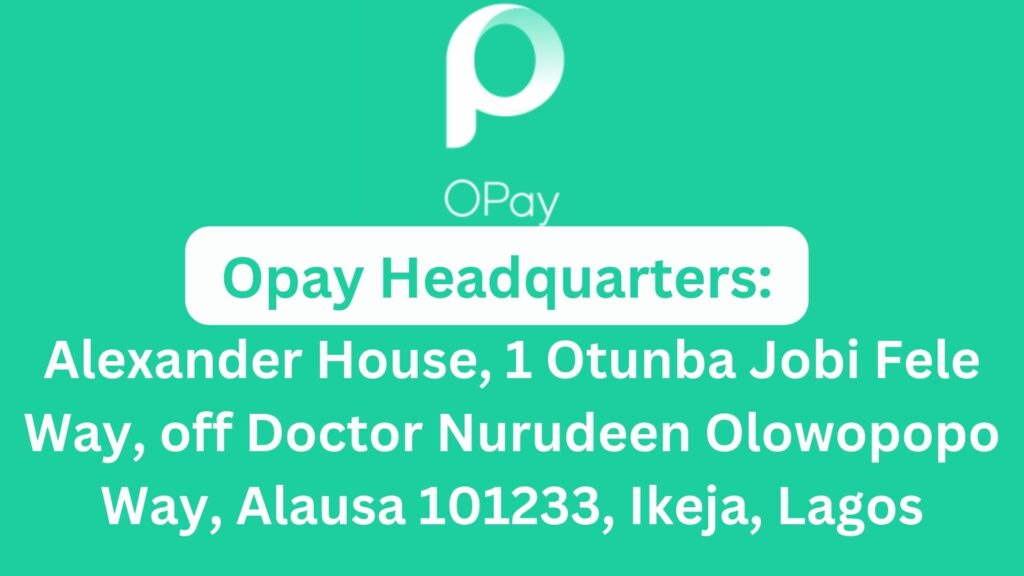 Other Opay Offices in Nigeria
Apart from Lagos, Abuja, Benin, Ibadan, and Port Harcourt, Opay also has other offices in different geopolitical zones in Nigeria.
Here is the list of states and where to find Opay offices in each of them.
Delta State Opay Offices
In Delta State, Opay offices can be found in Warri and Ugheli. The addresses are:
Along Warri-Sapele Road, after Enerhen, Warri, Delta State.
No. 13, First Amekpa Road, Ughelli, Delta State.
Opay, Oyo State
As listed earlier, there are 4 Opay offices in Oyo State's capital- Ibadan. Also, there is another Opay office in Abeokuta, at:
Ajibose Lane, Mouka House, behind Precious Pharmacy, Oluwo Omida Road, Abeokuta, Oyo State.
Anambra State Opay Office
It is located along Owerri Road, Obosi, Onitsha, Anambra State
Kaduna State Opay
No. 25, Gongola Road, Challawa Barnawa G.R.A, Kaduna, Kaduna State.
Opay Office, Imo State
No. 556, Works Layout, Madonna School Road, opposite Anagbaoso Hospital, Owerri, Imo State.
Jos Opay Office
It is located at Thilda's Center, Shop 12 Opposite GIG Logistics Dadin Kowa Third Gate.
Kano State Opay Office
Amana Plaza Second Floor beside Shoprite Zoo Road.
How do I Complain to Opay?
There are numerous ways to complain to Opay, either by visiting any office or through the use of any of the following channels:
Call: 0700 888 8328 or 01 8888328 (App & Card queries) OR 0700 888 8329 or 01 8888329 (POS Business queries)
Whatsapp: +2349165998936
Email: [email protected]
Social Media