Jowi Zaza (real name: Joseph Ezeokafor Jnr) is an accomplished entrepreneur, socialite and the CEO of Jezco Oil and Lubricants who has amassed a net worth of $74.6 million (₦33.5 billion).
He has been in the limelight for several years due to his extravagant lifestyle as he constantly displays his astonishing fortune in public. He mostly acquired his wealth through his oil and gas business. Jowi Zaza is the chief executive officer of Jezco Oil Nigeria Ltd. and Jezco Lubricants. He has been occupying executive positions in the Jezco Group for more than a decade now.
Jowi, one of the richest young billionaires in Nigeria, has kept his sources of income on the low. As a result, many have wondered how the businessman has acquired such mouth-watering net worth, considering his age. Meanwhile, Jowi Zaza, who was born in 1985, is currently 38 years old. He mostly displays his wealth on social media platforms and rarely discusses his business career and achievements. However, here's an insight into Jowi Zaza's source of wealth and his expensive acquisitions.
At 38, Jowi Zaza Has Accumulated An Estimated Net Worth of ₦33.5 billion
Though not known by many people as he has kept his profile low-key, Jowi Zaza is ranked among the wealthiest men in Nigeria with a net worth of $74.6 million (₦33.5 billion). There's no doubt he would be considered one of the top richest Nigerian businessmen soon if his oil and gas business continue to soar. The Ekwulobia native has made billions of naira from his business ventures and is richer than most celebrities of his age.
He is friends with prominent personalities such as Cubana Chief Priest, Kcee, E-Money, Obi Cubana, Mr. P, and Ushbebe. With his constant show-off of wealth on social media platforms, the socialite has attracted the prying eyes of the media, and sometimes, he makes various news headlines.
His Involvement in Oil and Gas Business Accounts For His Massive Wealth
Born Joseph Ezeokafor Jnr, Jowi Zaza paved the way to achieving a successful business career by attaining alluring educational qualifications. He attended Sacred Heart Seminary School in Nsude, Enugu State. Afterward, he enrolled at Madonna University in Okija, Anambra State, where he completed his Bachelor's degree program and then moved to England for his post-graduate studies. He achieved his first Master's degree from Coventry University and then relocated to the United States, where he attained a second Master's degree from Kelce College of Business, Pittsburg.
Jowi Zaza started building his net worth upon graduation from the university. He has been associated with the Jezco Group, founded by his father, for several years now. He is currently the chief executive of Jezco Oil Nigeria Limited, a multi-million dollar oil, and gas corporation situated in Nnewi, Anambra State. The company deals in industrial and medical gas, fuel, kerosene, engine oil, and they have established many filling stations and retail outlets across Nigeria. The Jezco Group is actually performing well in the Nigeria oil and gas sector. One of its subsidiaries, Jezco Lubricants, has reportedly been recognized with an award from Mitsubishi Motors.
Highlights of Jowi Zaza's Sources of Income
Jezco Oil Nigeria Ltd
Jezco Lubricants
Jowi Zaza is the Son of a Billionaire Businessman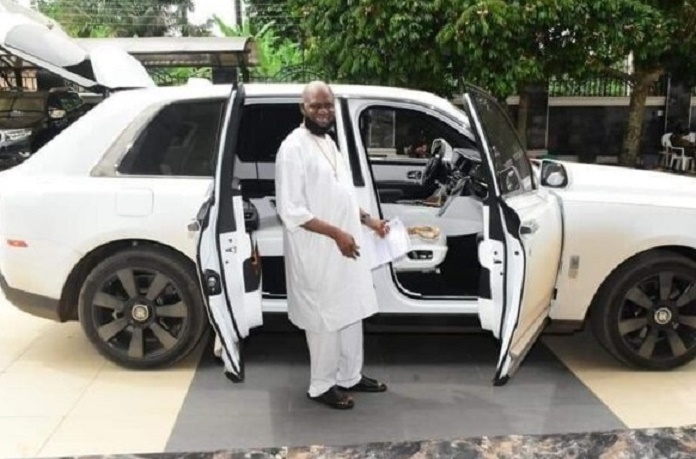 Ranked among the top richest businessmen in Nigeria, Jowi Zaza's father, Chief Joseph Ezeokafor Snr, has an accumulated net worth of $2 billion. He is the founder and chief executive officer of Jezco Group, an oil and gas conglomerate established in 1980. He was born in Anambra State, Nigeria, on April 30, 1952. His company gained a full license for oil service and became an independent marketer of petroleum products in 1988. Thus far, the oil mogul has grown the business into an empire.
It has become a force to reckon with in the downstream petroleum products marketing sector, lubricants' production, sales, and distribution. The conglomerate's operations have been grouped into sub-divisions such as lubricants factory, plastics factory, fuel dispensers assembly and sales, haulage and depot services, multi-building materials warehouse, and downstream petroleum products marketing.
As a philanthropist, Chief Ezeokafor made donations of ₦20 million to the Anambra State government during the coronavirus lockdown in 2020. He equally shared COVID-19 palliatives (food items) worth tens of millions of naira to his people in Ekwulobia and donated ₦50 million to his political party, APGA.
How Jowi Zaza Net Worth and Affluent Lifestyle Have Made People Think He is a Yahoo Boy
As the heir to a multi-million dollar corporation, Jowi Zaza has an excess wealth to spend on luxury items. He has not been shy to flaunt his expensive acquisitions and vacations on social media. Over the years, the socialite has visited numerous countries, including Netherlands, Latvia, Spain, Mexico, Turkey, Russia, United Kingdom, United States, Tanzania, Greece, Dubai, France, Brazil, and Cyprus.
Only in 2018, he went on vacation in Latvia (Riga), Turkey, Russia (Saint Petersburg), United Kingdom (London), and Dubai. He also flew to Santorini, Greece, on a chattered helicopter in 2017. Furthermore, Joseph Ezeokafor wears clothes designed by eminent fashion houses such as Gucci, Dolce & Gabbana, Louis Vuitton, and Zara.
While many rich guys who engage in fraudulent activities online to acquire wealth are also known for such public display of wealth, Jowi Zaza is believed by many to be a Yahoo boy. He has been named among the richest Yahoo guys in Nigeria, which includes the likes of Ray HushPuppi, Invictus Obi, and Mompha.
Many people don't know his source of wealth, which he has kept low-key; it's not surprising that the Anambra native is taken to be a Yahoo boy. However, the young billionaire has not commented about the accusation. Instead, he has continued to feed the eyes of his Instagram followers with photos of his exorbitant lifestyle.
The Socialite Owns Many Expensive Cars and Palatial Homes
It's no longer news that Jowi Zaza has an exquisite taste for finer things of life. He mostly spends his money on the most expensive cars and owns palatial mansions with state-of-the-art facilities. Even though he resides in the United Kingdom, where he has bought a home, he owns luxury houses worth millions of naira in Lagos State (Banana Island and Lekki) and his hometown of Ekwulobia in Anambra State.
In 2018, the entrepreneur gave his father a Rolls Royce Cullinan valued at ₦280 million as a birthday gift. During his birthday in 2019, he bought for himself a white Lamborghini Aventador worth ₦43 million. He previously purchased the same car but different color (red) some years back.
Other expensive cars in Jowi Zaza's eye-catching garage include:
Rolls Royce Phantom (₦200 million)
Brabus G Wagon (₦180 million)
Bentley Continental GT (₦90 million)
Mercedes Benz 4matic (₦30-₦60 million)
Polaris Slingshot (₦13 million)