Jide Awobona (Full name: Babajide Saheed Awobona, born 9th February 1985, Age 38 years old) is a Nigerian filmmaker, actor, scriptwriter, model, MC, and businessman best known for his role in the TV series "Jenifa's Diary".
Awobona started his acting career in 2003 with TV shows and sitcoms. He thereafter secured more movie roles after he shot into the spotlight with the TV series "Jenifa's Diary". He got married in 2019, and in 2021, it was rumored that he married another woman.
In this article, we will find out more about this actor, why people thought he married a second wife, whether he really got married to another woman, and every other thing there is to know about him.
Jide Awobona's Biography Summary
Full name: Babajide Saheed Awobona
Gender: Male
Date of birth: 9th February 1985
Jide Awobona's Age:

38 years old

Ethnicity: Yoruba
Nationality: Nigerian
Education: Olabisi Onabanjo University, Ogun State, Nigeria
Zodiac Sign: Aquarius
Sexual Orientation: Straight
Religion: Islam
Marital Status: Married
Jide Awobona's Wife: Bimbo (Olami)
Jide Awobona's Children: A son
Jide Awobona's Parents: Mr. and Mrs. Awobona
Jide Awobona's Net worth: $500,000
Famous for: Jenifa's Diary, Super Story, Tinsel
Jide Awobona's Instagram: @jideawobona
Twitter: @JideAwobona
Facebook: @Jide Awobona
Jide Awobona is From Ogun State, Nigeria
Jide was born on 9th February 1985 in Lagos State, Nigeria. However, he is from Ogun State, Nigeria. He grew up in Lagos State and had his early days there. There is no information about his parents and siblings as he keeps information concerning them away from the public.
As we have already mentioned, had his early education in Lagos. For his primary education, he attended Wesley Memorial Primary School, Lagos. His secondary school education was at Amuwo Odofin Secondary School, Lagos State.
However, for his university education, he attended Olabisi Onabanjo University, Located in Ago-Iwoye, Ogun State. He studied Mass Communication and graduated with a Bachelor of Arts degree.
The 38-Year-Old Actor Started His Career as an Actor in 2003
Jide started his career in acting with acting training at Jovies Perfection Press. His first role was in the popular Wale Adenuga TV series "Last Honour" and "Super Story". However, it was his role as Sam in the famous series "Jenifa's Diary", produced by Funke Akindele, that brought him to the limelight.
With this, his fame began to spread. He starred in many other TV series and movies as many producers wanted him in their sets. Awobona has made a name for himself through acting and as well earned himself good money.
From Acting, He Diversified into Filmmaking
It has always been his dream to take his acting career to the next level and become a director and producer. Well, Jide has actualized his dream of becoming a filmmaker as he has ventured into it and is doing well at it. Having been a good actor, it is easier for him to venture into filmmaking because he now knows the mechanics and rudiments of making a movie.
In an interview with Punch, he explained that the process of making a movie is strenuous and costs a lot; but he is gladly doing it because the outcome is always worth the stress. As a producer, he creates movies that have to do with the life of the people. He is more interested in the quality of the movies he produces and not the number. With this at the back of his mind, Awobona tries to stand out as a filmmaker.
The Yoruba movie "Alabede", his sixth movie, is about a certain era in the Yoruba culture that has to do with circumcision. Of course, the movie is fictional and it cost him millions of naira to produce. He admitted that he conceived the movie over 10 years before it came to reality. And it took a year plus to finish shooting the movie. This explains how Jide takes his time to produce quality movies.
List of Jide Awobona's Movies and TV Shows
Since his big break, Jide has starred in many more movies and series and has a load of them to his name. Below is a list of some of the movies and TV shows the celebrity has starred in so far.
Super Story
Binta and Friends
This Life
Omo Ghetto: The Saga – 2020
Face to Face
Edun Ara
Eku Meji
Jenifa's Diary – 2013
Ran Mi Lowo – 2022
House Arrest – 2019
Love and Crime – 2022
Ransom
Igbinmo
Misguided – 2019
Tinsel
The Event – 2017
Akaba – 2021
Convicted – 2019
The Bunglers – 2017
Olopa Olorun – 2019
Olokun – 2021
Clock – 2019
Alimi – 2021
City Hustlers – 2022
Jide Awobona Got Married in 2019
Jide Awobona got married to his university sweetheart, Bimbo, in a quiet ceremony in June 2019. Awobona had been in a relationship with his wife since his university days and they kept their relationship on the low. They decided to make things official with the wedding and get off the singles market. Their marriage is blessed with a son and they have been living happily ever since.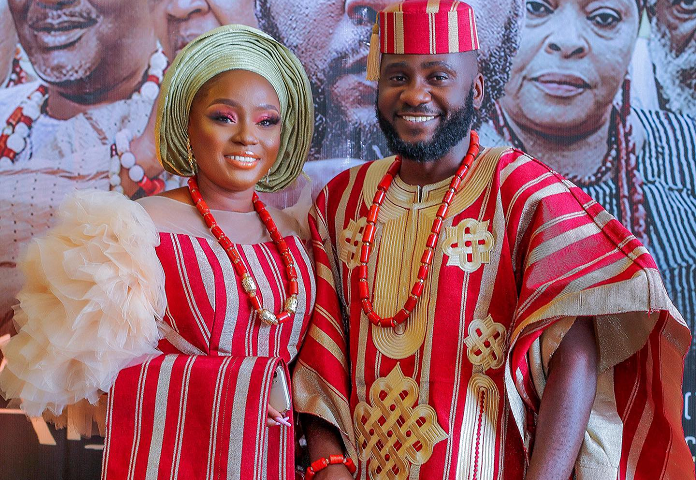 Since their marriage, Jide has kept his wife away from the public until the premier of his movie which they attended as a couple. Their marriage has been free of any scandals as both partners understand each other. In a post, Jide commented that it is good to get married to your best friend. Also in an interview, he admits that his wife is not bothered about the kind of roles he acts in movies. All these stem from understanding and have kept their marriage strong so far.
Did Jide Awobona Marry a Second Wife?
In 2021, rumors were making the rounds on the internet that actor Jide Awobona got married to a second wife. A blogger had it that he got married to a second wife after dragging fornicators. The post also had a picture where Jide was dressed in traditional attire showing that he was the groom in the ceremony. However, the picture of the bride was not taken.
With this, no one can conclude that he took another wife. And he neither announced it nor revealed the full picture of the wedding ceremony. Since he is an actor, the picture may be from a movie scene. Also, months have gone by and there's no news on this second marriage, and the actor has not admitted to getting married to another woman.