Olamide is not yet married but the musician is engaged to Adebukunmi Aisha Suleiman, his long-time girlfriend and one of his baby mamas.
Having children outside wedlock has long become a trend among Nigerian celebrities, especially in the entertainment industry and the Eni Duro crooner is of course on the bandwagon. Even though a father of three children, Olamide, popularly called Badoo, is yet to have a taste of marriage. His three kids came from his relationship with two women, Adebukunmi Aisha Suleiman and Maria Okanrende. Here are all the scintillating details you should know about the rapper's love life, baby mamas, and children.
Who is Olamide's Wife?
Olamide does not have a wife and has never been married before. It is however not surprising that people refer to his fiancee and the mother of his two kids as his wife, given the fact that they live and are seen almost everywhere together.
Again, Bukunmi recently changed her last name on Instagram to that of her rapper fiance, and speculations began to trend that the rapper could have married her in a secret wedding ceremony. However, there has been no single proof of this speculation. Hence, what we know is that Bukky remains Olamide's long-time girlfriend, fiancee, and baby mama and they share a very close bond.
How Old is Olamide's Wife?
Olamide's alleged wife, Adebukunmi Aisha Suleiman lives a low-key life and is not actively present on any of the social media platforms. Hence, it is quite hard to lay our hands on any details regarding her personal life and family background.
However, from the little we know, the mother of two celebrates her birthday every 8th of March, and the singer never fails to show her off on his social media handles. Her exact year of birth is undisclosed. Moreso, going by her name, we can say that Adebukunmi Suleiman is of Yoruba extraction just like her babies' father.
Olamide's Wife-to-be's Pictures
Below are some stunning photos of Bukunmi Aisha Suleiman, Olamide's long-time girlfriend, baby mama, fiancee, and alleged wife.
Olamide and Adebukunmi Have Been Together For Almost a Decade
Not many people know that Bukunmi has been with Badoo for a very long time even before he became famous as a musician. According to records, the duo met in 2011 during the early days of Badoo's musical career. Thus, it is safe to say that Adebukunmi has been with the rapper through thick and thin and witnessed good and bad moments with him. Meanwhile, speculations have it that Badoo's 2015 hit single Melo Melo was dedicated to her.
At first, they were keeping the relationship on a low key, but it later became glaring to the public, given the care and love Badoo showers on her. As expected, fans were keeping tabs on the lovebirds to know when they will take the relationship to the next level by making it official. Interestingly, Olamide never disappointed, after seven years of dating, in 2018, he popped the big question.
On 8th March 2018, which coincided with Adekunmi's birthday and International Women's Day, Olamide surprised her longtime girlfriend, Bukunmi with a marriage proposal. It is however not important to ask whether she accepted with a big Yes! Olamide quickly took to his Twitter to share the news with fans and the general public. Meanwhile, a few moments before then, he had given her a birthday shout-out on his same Twitter handle and wrote: My senior wife, Oya, we all have a wedding to plan.
The Couple Share a Very Close Bond
Olamide and Bukky Suleiman obviously remain together and share a great bond even though it's already four years down the line, and fans are still patiently waiting for them to officially announce a wedding date. In fact, anyone who knows the singer will equally be familiar with his fiancee Bukky as she is always at all his performances. She also accompanies him on his tours and concerts and is ever ready to shower him with a lot of motivation, love, and support.
Olamide and Bukunmi look happy together and their love is simply unquestionable and described as special. Fans are only hoping that they soon tie the knot and go on to have a lasting marriage. For now, Olamide does all to be the best father to his kids and the best man to Adebukunmi.
Does Olamide Have a Second Wife?
Olamide does not even have a first wife not to talk about a second. Perhaps, people refer to his second baby mama, Maria Okanrende as his second wife. After the singer hooked up with Maria and it became public knowledge, fans began to wonder whether his love and relationship chapter with Adebukunmi has closed.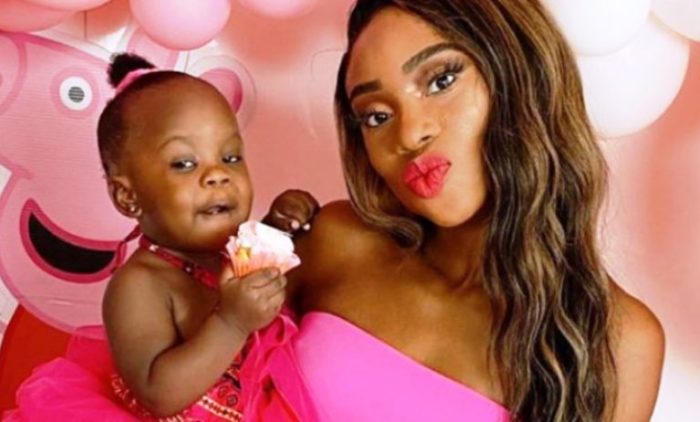 Maria's relationship with the singer is a short-lived one. According to records, the love faded away after she got pregnant, hence, it was rumored that Olamide only wanted to have a fling with her and never planned for her to bear him a child. Their relationship produced Olamide's only daughter and third child.
Maria Okanrende is also into the world of showbiz. She is a popular On-Air Personality on Beat FM. She has made her mark in the media outlet alongside other media personalities like Gbemi Olagbegi Olateru and Toolz.
Olamide Has Three Children
Olamide's three children (two boys and one girl) are products of his relationship with Adebukunmi Aisha Suleiman and Maria Okanrende. They include Maximilian Boluwatife Adedeji who is his first child and son, Tunrepin Myles, his second son, and Asaiah Monifé Maria Adedeji his only daughter. The rapper had his first two children with Adekunmi while the third was born through Maria.
Maximilian was born barely four years after Adekunmi and Olamide became an item. He was welcomed on the 30th of November 2015. With so much excitement, Olamide wasted no time in sharing the good news to fans and the general public via his Twitter and Instagram pages. Then, barely four years later, Olamide ceased to be a father of one. He welcomed his second child, Tunrepin with Adebukunmi. Tunrepin's birth happened on 1st July 2019 at an undisclosed hospital in the United States of America.
Olamide had his first and only daughter; Aisha Monifé during his dalliance with the On-Air-Personality, Maria Okanrende. Maria was born in a health facility in London, the UK on the 16th of August 2019, 45 days after the birth of Tunrepin which is quite significant.
Meanwhile, it is apparent that Olamide has a workable agreement with Adebukunmi over co-parenting their kids, but nothing is known about the same plans with Maria.