Olamide is a Nigerian rapper whose net worth is estimated at around $10 million, approximately N5 billion. The singer made his wealth through his music career, endorsements, and other businesses.
Olamide's net worth and successful music career have earned him a place among the best in the Nigerian music industry. He is among the entertainers who have gone all out in using their talents to put smiles on people's faces. The 34-year-old Afrobeat singer and rapper began his professional music career in 2000 and has achieved significant milestones in the music world.
How Olamide Accumulated a Net Worth of $10 Million
Olamide was not born with a silver spoon, but persistence and hard work brought him to the spot of fame and wealth he enjoys today. Despite all the challenges and hard times he faced while trying to make a living in the streets of Lagos, the Eni Duro singer did not quit but continued putting in a lot of effort and hard work, which would later pay off reasonably. Today, he has proven himself to be a superstar in music with so many successful records.
The three known sources of Olamide's impressive net worth include:
Music
Endorsement deals
Other Businesses
Music is the Biggest Contributor to Olamide's Net Worth
Olamide earns his fortune through different sources, but his music undoubtedly takes the cake. Even before he became famous enough to get his hands in other money-making endeavors like signing endorsement contracts, establishing his record label, etc., Olamide was already earning decently from the proceeds from his singles and albums.
It is an undeniable fact that Olamide has found his feet as a well-established and successful artist in Nigeria. After the success he recorded with his track Eni Duro, the singer stepped up his game and joined the league of Nigerian musicians who charge millions of Naira for shows and performances.
Since then, the afrobeat star has been increasing his fee as his popularity and fame grow in the industry. Currently, Olamide reportedly charges N2- N4 million per show. Furthermore, still in music, Olamide made a good part of his wealth from album sales. Considering the popularity and success of most of his albums, we would be looking at a pretty penny.
In addition to that, Olamide also has an official YouTube channel wherein he promotes and sells his songs, given the millions of views and likes he accumulates on the streaming platform.
List of Some of Olamide's Best Songs
Infinity
Loading
Triumphant
Unconditionally
Awon Goons Mi
Another Level
Up in the Club
Take Rich
Apa Ti Jabo
Famous Vision
Green Light
Confession Aiye
YBNL Record Label (Business)
Before Olamide launched his record label, he was signed to Coded Tunes Recording Company, owned by ID Cabasa. After he left the label and wanted to release his second studio album, YBNL, a rumor began to peddle that he signed a deal with D'banj's DB Records. But, Olamide was quick to debunk the rumors stating that it was already too late for any music label to sign him because he had just established his own.
Olamide became a businessman following the launch of his imprint YBNL Nation. The cipher YBNL stands for Yahoo Boy No Laptop, which indirectly means a young man earning a good income without engaging in any online fraud or internet scam. Founded in 2012, Olamide's music label can best be described as a street-oriented record label.
Meanwhile, YBNL was initially established as a group made up of Olamide and two of his old friends, 2kriss and Kida Kudz. The group was able to release a single track Road to YBNL before going their separate ways. All Olamide's nine studio albums were released under the imprint except the first album, Rhapsodi.
However, it is without a doubt that part of Olamide's net worth is built from being a record label boss. Having his music label allows him to keep all the revenues to himself, including the part that inevitably goes to a record company each time an artist wants to record music. Over its existence, YBNL has signed popular artists like Lil Kesh, Adenkunle Gold, and Fireboy.
While those have since left the label, YBNL currently has Fireboy as its signee artist, who is one of the most promising music talents in Nigeria. The record label boss, Olamide, has earned a cut from all these artists as they continue to drop hit tracks and albums.
Endorsement Deals
The Nigerian singer cum rapper has continued to attract multiple top-notch companies for endorsements due to his successful career and celebrity status. In 2013, he, alongside Ice Prince, emerged as a brand representative of Etisalat. In the same year, an alcoholic drink company, Ciroc Ultra Premium Vodka, signed him as their brand ambassador.
Apart from the fact that this deal is said to be worth millions of Naira, a notable aspect of it is that Olamide was the first Nigerian rapper to ink a deal with the company, which further saw him join international stars like Rick Ross, Ray Jay, French Montana, and others.
In 2017, Olamide bagged an endorsement contract with Sterling Bank Plc as its first brand ambassador. This made another feat for the singer as he became the second musician to be officially endorsed in the Nigerian banking sector, with Ice Prince being the first. In 2019, he joined the likes of Nollywood star Odunlade Adekola as a brand ambassador of Goldberg Lager beer.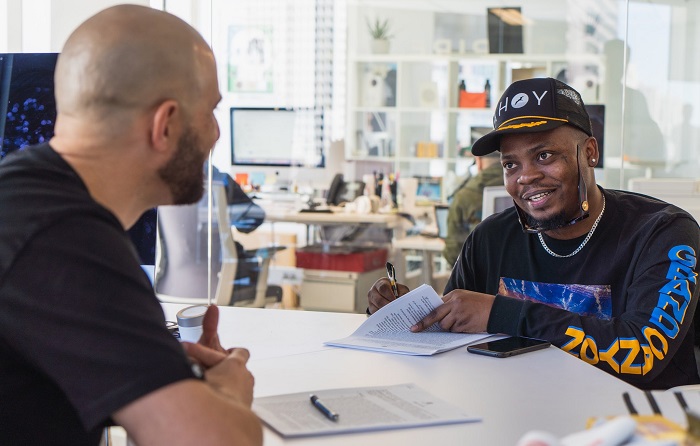 Even though the worth of these deals is not individually known, Olamide's net worth of $10 million could not have seen the light of the day without them. Below is a list of all the companies the superstar has endorsed, both past and present
Etisalat
Hennessy
Guinness
Peak Milk
Sterling Bank Plc
Globacom
Itel Mobile
Goldberg Lager beer
Is Olamide Richer Than Phyno?
Olamide and Phyno are two Nigerian stars that have made quite a lot of money in the show business. Beyond that, these two music idols have significantly influenced the Nigerian music industry. However, Phyno has been taking the lead regarding their net worth. Phyno has an estimated net worth of $12 million, while Olamide follows closely with his $10 million.
Other Nigerian artists who have achieved notable success in their music careers but are following Phyno and Olamide include Reminisce ($7 million), Kcee ($5 million), Ice Prince ($5 million), Zorro ($1 million), and others.
Similarly, worthy to note are other top musicians in the country who have made jaw-dropping fortune and fame in the industry and are ahead of Olamide and Phyno. They include Davido ($40 million), Wizkid ($30 million), Don Jazzy ($18 million), Burna Boy ($17 million), and many others.