Prepaid meter recharge is simple and straight forward but some people find it difficult at first. Just like you enter a recharge card pin into your phone to get airtime, it's the same way you input a token into your meter to recharge it. In the process of doing this, people encounter some problems and difficulties. This piece is a guide on how to recharge your prepaid meter.
Currently, there are many companies called DISCOs (distribution companies) managing the power supply in Nigeria. Each DISCO has different states they are managing, and are regulated by NERC (National Electricity Regulatory Commission). These DISCOs have the same process of prepaid meter recharge. Therefore, customers should be aware of the distribution company managing their state, especially states like Lagos with two DISCOs managing it.
A Brief History of Prepaid Meter Technology in Nigeria
Prepaid meter technology was introduced in Nigeria in 2006 by the Power Holding Company of Nigeria (PHCN). The essence of the introduction of this technology was to aid the collection of revenue. With prepaid meters, there are easy monitoring and accountability of power usage. Although the prepaid meter was meant to curb illegal use of power supply, some customers found a means to bypass it and use the power supply for free. This is a grievous offense and offenders are charged a huge fine if caught.
At first, these meters were purchased by Nigerians who are willing to pay for them. As time passed, the prices reduced, and later the meter became free. Currently, prepaid meters are free in Nigeria because of the intervention of the federal government. However, MD meters are still purchased in Nigeria. These are used by special customers like big companies and manufacturers.
Over the years, tariff charges on electricity consumption has continued to increase. Thus, the number of units allotted when you pay for power supply was reduced. Customers now purchase fewer units with the same amount that used to purchase higher units. This has discouraged many from accepting prepaid meters, leading to bypass, illegal connections and diversion of loads from the prepaid meters.
Procedure For Getting a Prepaid Meter in Nigeria
There are two main methods of acquiring prepaid meters in Nigeria. One is by MAP – Meter Access Provider, while the second one is by free meter installation. The Meter Access Provider is a process of acquiring prepaid meters through payment. Licensed contractors like MOJEC provide prepaid meters to DISCOs who in turn sell them to their customers.
How Customers Can Buy a Prepaid Meter
The customer will visit the disco office or website and apply for a prepaid meter
The customer will receive a prepaid Access Number which will be used to track the demand note for payment
Once the demand note is ready, the customer makes the payments as stipulated in the demand note.
He will submit the teller to the disco after payment for customization of his meter
The meter will now be installed within 10 working days from the payment day.
Prepaid Meter Can Be Acquired Without Payment
This is the second method of acquiring prepaid meters in Nigeria. The federal government of Nigeria subsidized meters to prevent and reduce outrageous estimated billing by the DISCOs. With this method, meter acquisition is free. The DISCOs will survey their area of coverage and find out the priorities, and the type of connection which determines the type of meter to be given to a customer. These meters will be distributed according to these priorities.
On the part of the customer, there is no contribution. All the customer has to do is to freely accept the meter and allow the engineers to do their jobs.
How to Activate Prepaid Meter After Installation
After a successful installation of a prepaid meter by the engineers and after connecting the meter to the building, it's time to activate the meter. It is worthy of note that there is always a test credit attached to every newly installed prepaid meter. This will allow the customer to use the meter before recharging it. Once the test credit is exhausted, you will now activate your prepaid meter, if not already activated by the meter engineers. Activating your meter means linking your CIU with the meter. Here's how to successfully activate your prepaid meter.
Connect your Consumer Interface Unit (CIU) directly to a wall socket. Make sure there is a power supply in your transformer or neighborhood and your changeover is on electricity, not the generator. If you have exhausted your test energy, make sure there is battery power in the CIU. If you still have some energy left, the energy will power the CIU.
Switch on the CIU
Input your meter number and press enter or the red button
Your CIU will display success, showing that it has been successfully installed, and is ready to be recharged
Ways to Recharge Prepaid Meter in Nigeria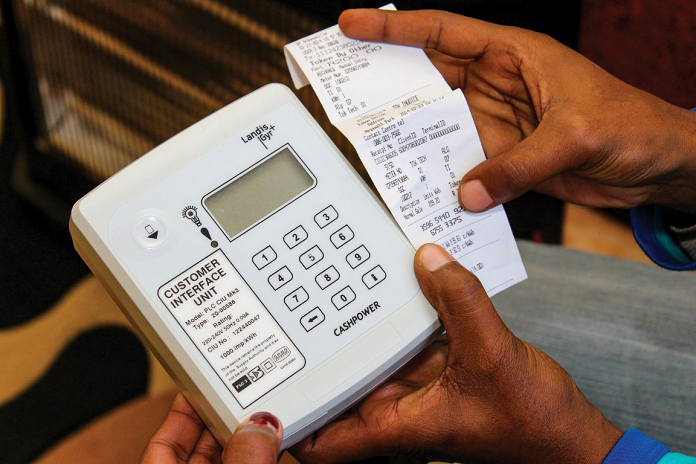 Once you have successfully activated your prepaid meter, you can now recharge it. To recharge a prepaid meter, you have to purchase a token and input it into the meter. In recent times, recharging a prepaid meter has become easy in Nigeria. It started with visiting the electricity distribution company offices and has now evolved to recharging at the comfort of your homes. There are many ways of recharging your prepaid meters.
You Can Recharge Your Meter By Visiting the Electricity Distribution Office
This is the traditional form of recharging a prepaid meter. All you need for this is your meter number. The customer who prefers to visit the DISCO office wants to be sure there won't be mistakes. To recharge your prepaid meter at the office, follow these steps;
visit the nearest disco office with your meter number
Pay for the energy
Collect a receipt that contains your token
Once you have collected the token, go home and feed it to your meter
How To Pay For Prepaid Meter Online
For you to recharge your prepaid meter online, you have to visit your DISCOs's official website. Find the make payment button and click on it. There are about 11 DISCOs in Nigeria, and they all have websites and a way to make payment from them. We will use EEDC for example.
Locate and click on the Make Payment button
On the next page, enter the meter number
Input the amount you want to pay, email address, phone number, and press next.
Select a payment option that suits you, either debit card or bank transfer
Click on Pay Now
Then follow the prompt to the end
The token may be sent to the provided phone number, but remember to save or print the receipt or write down the token.
You Can Recharge Your Prepaid Meter Through Banks and Mobile Apps
Banks also accept prepaid meter recharge. In the same vein, customers can use bank mobile services to recharge their prepaid meters at their convenience. For recharging through the bank, the customer will visit the bank with his or her meter number to make the payments, and collect the token as the receipt of payment.
There are also mobile-friendly apps that allow for prepaid meter recharge. For this method, all you need is the mobile app on your smartphone and then you follow the prompt to recharge your meter. Note that for every recharge, you must receive a token that you will use to recharge your meter.
There are also other mobile apps at the disposal of the customers, they include iRecharge, JumiaPay Nigeria, etc. Some DISCOs have mobile apps that make prepaid meter recharge easy for their customers. They include apps like IBEDC, Enugu Electric Payment App for EEDC, IE app for Ikeja Electric, etc.
You Can Also Recharge Your Meter Through an Agent
Private individuals sell energy to the public and these agents get their commission from the DISCOs and not from the customer. However, some agents collect extra charges from their customers for services rendered. Examples of these agents are Fets, Gpay, Vetebra, Opay, etc. POS stands use any of these agents to render the same services to their customers as well. If you want to recharge your prepaid meter through an agent,
Go to the outlet with your meter number
Go with service charge and pay for the amount of energy you want to purchase
Collect your receipt bearing the token
Then go home and recharge your meter with the token
How to Load Prepaid Meter Token
To complete your meter recharge, you have to load the already purchased token to your prepaid meter. Below is a step-by-step procedure on how to do it.
Plug the CIU into a socket and switch it on. If there is no supply in the building, use a battery on the CIU to power it. Make sure you are connected to the electricity supply, not to the generator.
Input your token, making sure you type the correct numbers
Then press enter to recharge
The units allotted to that recharge will appear, if successful.
How to Check Prepaid Meter Balance
It is normal for customers to check the number of units remaining on their meter. They do this to plan ahead of time and monitor the pace at which they are using the units. The prepaid meter has some features that help the customers find out their balance and other information.
Moreover, different discos have special codes for checking balance. This is as a result of the source of their meters. There are about 99 companies responsible for metering services in Nigeria, including companies like Mojec Meter Company Limited, MOMAS Electricity Meters Manufacturing Company Limited, Turbo Energy, MBH Power, etc. These different companies have various codes for checking prepaid meter balance. Customers should check the manual that came with the meter for their correct codes.
Here's a list of some of the codes to use, depending on the type of meter you are using.
For MEMCO meters, to check your prepaid meter recharge balance, type 07 on the CIU keypad and press enter.
For MOJEC meters, press 009 and then enter. Your balance will be displayed. MOJEC is used by Enugu, Ikeja DISCOs, and others.
HEXING meters make use of 801 to check meter balance
NHC meters use 009 for Conlog meters, 10 for single-phase EDMI meters, and 01 for three-phase EDMI meters.
FAQs About Recharging Prepaid Meter in Nigeria
Below is a compilation of some of the frequently asked questions about prepaid meters in Nigeria and the answers or solutions to them.
 I purchased energy on my smart card, but when inserted into my meter, it read zero. What is the problem?
It may be that your smart card chip is having loose or partial contact. Also, it could be a result of network failure at the time of purchase. If the problem does not resolve on its own, contact your DISCO's customer care for professional assistance.
Why am I seeing an error E9 message on my monitor?
When you get an E9 error message, it means that the monitor is faulty or that the monitor cord is not connected properly. To resolve this issue, visit and lay your complaint to customer care for help.
Why is my monitor showing an error E5 message?
An error E5 message indicates that the smartcard or monitor is faulty. Visit customer care for assistance.
Why is the monitor of my meter blank?
The meter-monitor can be blank because of a technical issue. Contact your electricity distribution company for assistance.
What do I do if I lose my prepaid meter smart card?
In case of smartcard loss, visit the closest office of your electricity distribution company with a copy of the receipt of your last recharge. The smart card can be replaced, and the replacement may be free.
I lost my STS card, what should I do?
In case of loss of the STS card, you can continue vending or apply for a replacement. If you want to continue vending without replacing it, check your meter or serial number on a previous vending receipt or the faceplate of your meter.
Why am I still billed even though I have a prepaid meter?
If you have a prepaid meter and still receive postpaid bills, visit the electricity distribution office with your meter installation documents and the postpaid bill. However, there is an exception to this. If you receive just one postpaid bill after the installation of the prepaid meter, then you have to pay it. This bill is for the energy you used before the installation of the meter.
Can I relocate with the prepaid meter I purchased with my money to another flat?
No. Prepaid meters are not moveable. All you need to do is to negotiate with your landlord for settlement.
Why is my meter showing an error message?
This is as a result of low or high voltage. Allow the voltage to normalize for the error message to clear.
My prepaid meter was installed newly, after using the test credit it came with, I pressed token but it refuses to come on. What is the cause and what should I do?
It may be the case of an open circuit caused by a factory setting or fault. Contact your DISCO for assistance. Also, it may be that you have not yet activated your meter by linking the CIU with the meter. You can activate your meter by following the procedure above.