GOtv Smallie is a GOtv package that offers affordable entertainment via numerous TV and audio channels. It is specifically designed for those looking for an economy bouquet that also has a variety of content.
GOtv has grown to become one of the biggest exciting bouquets that offer a wide variety of satisfying entertainment in Nigeria and Africa at large. It is an African paid TV terrestrial service founded in October 2011 by the broadcasting company, Multichoice. GOtv is actively available in countries like Nigeria, Ghana, Kenya, Malawi, Namibia, Zambia, Mozambique, Zimbabwe, and Uganda. Given its relentless improvement and introduction of new exciting packages for its customers, GOtv has managed to be at the top in the competition with other Pay-TV service providers.
What is GOtv Smallie Package?
The package is currently the cheapest GOtv subscription plan and the easiest way to watch your local favorite channels. There are 36 channels for you to choose from and they cut across areas of entertainment like movies, news, music, sports, kids and teens entertainment, Novellas, documentary, religion, and many more. Its offer of different genres of entertainment is aimed at providing customers with amazing and satisfactory screen time.
GOtv Smallie package was launched by Multichoice to replace GOtv lite package. Actually, the channel list is limited and you have to deal with missing some entertaining channels, but then, it's affordable for students and some people who do not earn a large income.
So, if you are in this category, then, you are sure to have it in the GOtv Smallie package. In this article, we will walk you through the GOtv Smallie Package list, the subscription price, and all its unique features.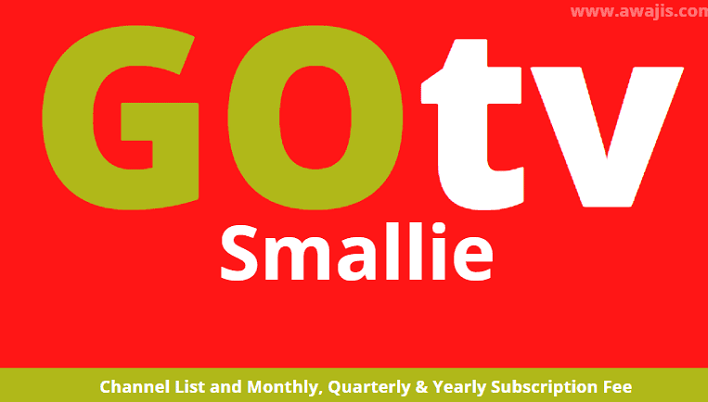 List of Channels on GOtv Smallie
Following your subscription, the GOtv Smallie package unlocks 36 channels with both local and international series. The list of the channel covers diverse genres, providing quality screen time for customers. Below is a complete list of all the channels you are bound to enjoy in this GOtv package and their different channel numbers.
General Entertainment (2)
GOtv Smallie general entertainment delivers 2 exciting general entertaining channels
TVC Entertainment – (Channel 27)
Trybe TV – (Channel 97)
Sports (1)
For lovers of sports, the GOtv Smallie package offers you this exciting sports channel that provides quality sports content, including live matches and highlights.
News and Commerce (4)
GOtv Smallie also made available these four channels for your 24/7 news and commerce, both on the local and international scene. Check them out
NTA Parliament (Channel 115 )
Al Jazeera (Channel 40 )
TVC News Nigeria (Channel 45 )
NTA News 24 (Channel 46 )
CHANNELS (Channel 48 )
Kids and Teens Shows (1)
The economy package delivers a popular and interesting channel for your kids. Jim Jam has remained kids' favorite and besides keeping them entertained and engrossed, it educates them as well.
Music (2)
GOtv Smallie package has 2 music channels. With a strict focus on music videos and programs, the package uninterruptedly keeps its music lovers' well entertained.
AFRO Music English
Urban TV
Local Channels (20)
GOtv Smallie subscribers are entitled to 20 varieties of local channels for their viewing pleasure. Check the list below
AIT (Channel 93)
EBS (Channel 104)
BCOS (Channel 105)
BISCON TV (Channel 108)
Galaxy TV (Channel 99)
Liberty TV (Channel 110)
NTA 2 (Channel 114)
ITV Benin (Channel 107)
LAGOS TV (Channel 90)
OGTV (Channel 100)
ONMAX (Channel 96)
Wazobia TV (Channel 98)
NTA International (Channel 91)
R2TV (Channel 112)
Arewa 24 (Channel 101)
WAP TV (Channel 102)
RAVE (Channel 113)
RSTV (Channel 103)
Sunna TV (Channel 84)
SILVERBIRD (Channel 92)
Documentary, Lifestyle, and Education (1)
Through this channel, GOtv made it accessible for its customers to be updated with quality programs on education, lifestyle, and documentaries
Religion (4)
For all religious content, ranging from sermons to concerts, and all, these four channels are perfect and always available for you
FAITH (Channel 80)
Dove TV (Channel 83)
Emmanuel TV (Channel 82)
ISLAM CHANNEL (Channel 81)
Audio Channels (2)
For your interesting radio programs, the GOtv Smallie package has the following channels to offer you
Naija FM (Channel 301)
Wazobia FM (Channel 303)
With as low as NGN 900, you can have access to all these channels to keep yourself entertained, educated, and updated.
How Much is GOtv Smallie?
In a bid to meet the choice of the viewers, GOtv continues to show its innovative expertise by offering more content for lower prices compared to other Pay-TV channels. The subscription price for the GOtv Smallie package will cost you NGN 900 which amounts to NGN 2,400 quarterly, and NGN 7,000 annually. The package gives you access to 36+ channels which runs for 30 days.
This amount covers all the entertainment you will get from the list of the available channels for the period of 30 days. During the period of your active subscription, you are entitled to watch 1 sports channel, 4 news channels, 4 religion channels, 2 music channels, 2 audio channels, and 20 other local channels.
What is the Difference Between GOtv Smallie and GOtv Jolli?
GOtv Nigeria has other packages which can provide you with the widest choice of channels and entertainment. Packages like GOtv SUPA, GOtv MAX, GOtv PLUS, GOtv Jolli, and GOtv Jinja. Now, let's look at the differences between GOtv Smallie and GOtv Jolli.
GOtv Jolli Package
As we earlier mentioned, GOtv Smallie is currently the cheapest GOtv package, and so, every other package is costlier than it. GOtv Jolli is another higher-priced GOtv package that offers wider genres of entertainment with flexible payment options. This package costs more than GOtv Smallie, and as such, comes with more TV and Radio channels than the former. Here are the major differences between the two
GOtv Smallie has 36 channels with 2 audio channels while GOtv Jolli has 65 channels with 2 audio channels.
The GOtv Jolli package costs N2,460 per month, making it N1,560 higher than the GOtv Smallie which costs N900 per month.
Below are all the channels the GOtv Smallie package does not have but are available in the GOtv Jolli package
Africa Magic Family – (Channel 2)
Africa Magic Yoruba – (Channel 5)
CBS Reality – (Channel 22)
Africa Magic Hausa – (Channel 4)
Africa Magic Igbo – (Channel 11)
ROK 2 – (Channel 17)
Televista – (Channel 15)
E! Entertainment – (Channel 26)
ROK GH – (Channel 18)
Telemundo – (Channel 14)
Zee World – (Channel 25)
Discovery Family – (Channel 50)
Real-Time – (Channel 12)
Novela Magic – (Channel 20)
B4U Movies – (Channel 24)
TNT Africa – (Channel 16)
Africa Magic Epic – (Channel 9)
Nat Geo Wild – (Channel 51)
SuperSport Football – (Channel 31)
SuperSport Select 2 – (Channel 34)
BBC World News – (Channel 41)
CNN International – (Channel 42)
Arise News – (Channel 44)
Da Vinci Kids – (Channel 66)
Disney Junior – (Channel 60)
PBS Kids – (Channel 65)
Nickelodeon – (Channel 62)
MTV Base – (Channel 72)
HIP TV – (Channel 74)
Sound City – (Channel 75)
Tiwa n Tiwa – (Channel 111)
From the list above, we can apparently see that GOtv Jolli has a lot of channels that GOtv Smallie does not have, and as a result, one misses lots of entertainment if subscribed to the latter. However, as we said before, the Smallie package is meant for people who earn a little income and cannot afford other packages, but if you can and have the resources, you may need to choose from other higher-priced packages as they give you the best access to more channels and entertainment.