There is a long age standing culture of burying the dead in Nigeria in accordance with cultures, traditions, and even religion. Generally, rites and rituals for the dead are principal to many African traditions from ancient times. These burial rites depend on the deceased's age, gender, social class, cause of death, and some are even based on requests. In some cultures, some of these rites are accompanied by lavish spending, while others are moderate. Some of the biggest burials have drawn serious attention across Nigeria and beyond.
These burials are central to spending millions on coffins, food, drinks, and cars to convey the corpse, among others. Also, many of these biggest burials have in attendance people from different spheres of life, including the rich and might celebrities, politicians, and business people.
What Tribe in Nigeria Has The Most Expensive Burial?
The Igbos in the Southeastern part of Nigeria carry out the most expensive burials in Nigeria. According to a report, burial rites are taken seriously, which may lead to large spendings. The report also claims that different groups and associations the deceased belonged to may bring separate lists. Apart from that, other things to spend on include buying, at least, a cow, which is mostly non-negotiable. If the deceased failed to pay any dues while alive, the family has to pay it for them; special attire is also worn by the family and friends of the deceased, among other things.
The Igbos see death as a transition and not an end. The people's long-standing belief is that the dead either join their ancestors for their good deeds or have their spirits wander in the evil forest for their evil ways. Furthermore, there is a belief that if the dead are buried without the rites of passage called Ikwa Ozu (second burial and celebration of the dead) as practiced differently in different Igbo communities, the soul of the deceased may not take its rightful place among ancestors no matter how accomplished the person was while alive. The Ikwa Ozu is mostly done for elderly people. Hence, burying the elderly is seen as a celebration of life and mostly ends up being costly. Spending mostly in the Ikwa Ozu is seen as a thing of pride in many Igbo communities.
Rites and Cost of Burial By Hausa And Yoruba People
Hausa and Yoruba burial rites are often not as expensive as that of the Igbo people. The Hausas, who are majorly Muslims, believe in burying the dead the same day they die (within 24 hours). This is followed by a 3-day prayer called Fatiha, a 7-day and 40 days prayer. The Hausa-Muslims mostly do not spend so much on coffins as traditional Islamic practitioners do not believe in using them. However, many people who have been buried in the coffin use one that may depict humility and nothingness. The Hausa people believe more in praying for the dead rather than spending huge sums.
On the other hand, the Yoruba people have different rites from the Igbo people. When a young person dies, the people mourn. In some cases, there is a small celebration for the life the person lived. When an elder dies, there is a big celebration held for their passing into the ancestral kingdom. In some parts of Yoruba, like Ekiti, the first three days from when the person dies, a crier is paid to go round the community to cry and inform them about the passing of the elder. The crier is accompanied by dancers and drummers (mostly women). Asoebi (uniform attire) is picked for different groups.
7 Most Expensive And Biggest Burials in Nigeria
1. Mike Adenuga's Mother
Name of the deceased: Omoba Juliana Oyindamola Adenuga
Net Worth of The Convener: $6.3 billion
Date of Burial: 2005
Duration: 1 week
Location: Ijebu-Igbo, Ogun State
Funeral Home Used: Unspecified
Mike Adenuga, one of the richest Nigerians and Chairman of Globacom, lost his mother when she was 90 in June 2005. Although at that time, the news of how much he spent on her funeral did not go viral – probably because the internet was not so common. However, in June 2021, the lavish spending of Obi Cubana on his mother's burial took witnesses down memory lane.
The celebration of the life of Wale Adenuga's mother purportedly lasted a week with performances from different musicians every day for one week. One cow was also reportedly shared in each street of his homeland in Ijebu-Igbo. In addition, there was an alleged delivery of trucks of cartons of beer, and there was no restriction on how much a person should have. Calling using the Glo network was also said to be free.
Adenuga also allegedly built a cathedral and a mission house in the compound where his mother was buried. What was even more surprising was that Adenuga allegedly exhumed his father's corpse, who died in 1979, and buried him in the same compound as his mother.
Some Nigerian dignitaries that attended the burial include:
The then-president of Nigeria Olusegun Obasanjo
Most sitting governors in Nigeria at that time
Former Governor of Ondo State, Gbenga Daniel (who tarred Oru/Ijebu-Igbo road and installed streets lights for the burial)
2. Obi Cubana's Mother
Name of the deceased: Ezinne Uche Iyiegbu
Net Worth of The Convener: $2 billion
Date of Burial: 16 July 2021
Duration: 3 days
Location: Oba, Anambra State
Funeral Home Used: Unspecified
Obi Iyiegbu, who is also popular as Obi Cubana, is a multi-millionaire businessman. However, many Nigerians never heard of him until the burial of his mother in July 2021. His mother, who was buried in a gold casket worth about 30 million Naira, died in December 2020 and remained in the morgue for about 7 months before the burial.
The burial, which remains one of the biggest burials in Nigeria, was visited with rains of money thrown by Cubana and his friends. According to some reports, about 67 private jets landed in Oba, which became popular due to the funeral. Also, about 500 luxury cars allegedly showed up in the town. Social media became the major place of show-off of the burial. Obi Cubana wore a diamond pendant worth $100,000. Many attendees were already at Oba a day before the funeral, and the party lasted till the 18th of July 2021.
Because of how loud the burial was, it was said to have overshadowed Wizkid's 31st birthday that was celebrated on the same day. Also, regarding the lavish spending at the burial, social media users dubbed the late madam Ezinne Iyiegbu the ghost of the year. The burial, which was seen as a carnival, also brought controversies with people wondering the source of wealth of Obi Cubana.
Some attendees of the Burial
Davido
E-Money
Akin Alabi
Sir Uyi Ogbebor
Some Gifts For The Mama Cubana's Burial
Over 240 cows were presented to Obi Cubana
Cubana Chief Priest took 46 cows to represent the age of Obi Cubana at the time of the funeral.
Friends and associates of Obi Cubana raised about 267 million Naira as a gift for the burial.
3. Former Governor of Oyo State
Name of the deceased: Abiola Ajimobi
Net Worth of The Convener: unspecified
Date of Burial: 28 June 2020
Duration: 1 day
Location: Ibadan, Oyo State
Funeral Home Used: Unspecified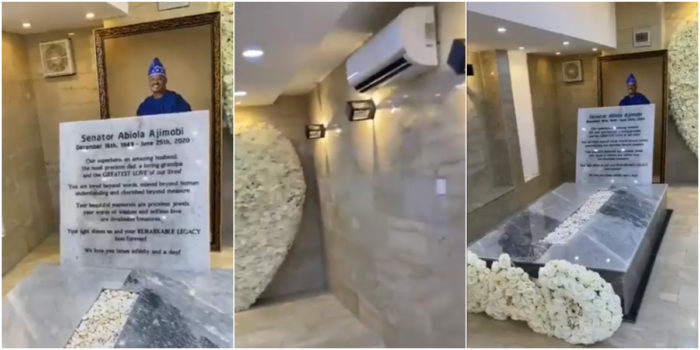 The former governor of Oyo State, the businessman and senator was rested in one of the most luxurious tombs in Nigeria. The tomb, floor, and walls were made of marbles. The resting place of the wealthy former politician also had an air conditioning unit, good lighting, expensive chairs, and a portrait of him.
Since he reportedly died of COVID-19, not many people had access to attend the funeral but 25 people. However, President Muhammadu Buhari, among many other notable Nigerians, sent their condolences. Ajimobi became one of the only Muslims in Nigeria to be buried after the day they died and also in such a manner that displays wealth.
4. Pastor T.B Joshua's Burial
Name of the deceased: Prophet Temitope Balogun Joshua
Net Worth of The Convener: Unspecified
Date of Burial: 8 July 2021
Duration: 5 days
Location: Synagogue Church of All Nations (SCOAN), Lagos
Funeral Home Used: Obi Cubana
The burial of popular T.B Joshua, a pastor, prophet, and televangelist, has also made it to the list of the biggest burials in Nigeria. He died at the age of 57 on June 5, 2021. T.B's death shook Nigeria alongside many nations due to his immense contributions in spreading the Christian gospel and philanthropical works.
T.B's church and family held burial rites for him for 5 days, and more than one casket was used. Among them include a glass casket. According to an unconfirmed claim, the caskets may have cost multi-millions of dollars. His funeral remains one of the most attended in the history of Nigeria as thousands of people of different nations, ethnicities, and races attended. In addition, Bethlehem, the birthplace of Jesus, held a light candle in his memory. Russia and Pakistan, among other countries, also held candlelight vigils in honor of the late pastor.
What remains unique in the burial of Joshua was not the display of money but the reported miracles that took place. Definitely, however, gifts may have been received from different people and probably organizations by his wife and church. Nevertheless, it has not been made public.
List of Some Dignitaries That Attended T.B Joshua's Burial
Governor of Ondo State, Rotimi Akeredolu
The Aare Oona Kakanfo of Yorubaland, Aare Gani Adams
Wife of the Ooni of Ife, Olori Naomi Adeyeye
Former Minister for Aviation, Mr. Femi Fani-Kayode
High Chief Bibopere Ajube
Christian Association of Nigeria, CAN, Lagos State chapter, Rt. Rev. S.T.V Adegbite
Governor Babajide Sanwo-Olu of Lagos State was represented by the state's Commissioner for Home Affairs, Anofiu Elegushi.
Amerian singer and actress Shirley Murdock
American gospel artist Byron Cage
5. Father of Udom Gabriel Emmanuel
Name of the deceased: Gabriel Emmanuel Nkanang
Net Worth of The Convener: unspecified
Date of Burial: 11 February 2020
Duration: 3 days
Location: Onna LGA, Akwa Ibom
Funeral Home Used: Unspecified
Udom Gabriel Emmanuel buried his father, Gabriel Nkanang, in a customized grave with 24 hours of light. He died at the age of 90 on December 1, 2019, and his burial on 11 February 2020 remains one of the biggest burials in Nigeria.
According to reports, the former teacher and preacher's burial was more of a love feast than a funeral with several politicians of different political parties in attendance. Although gifts were probably brought for the burial that hosted many dignitaries, it remains a mystery what was brought or by who.
Some Famous People That Attended The Burial
Olusegun Obasanjo, former president of Ngeria
Goodluck Jonathan and his wife, Patience Jonathan, former President and First Lady of Nigeria.
Yemi Osinbajo, Vice President of Nigeria
Bukola Saraki, former senate president
Sanusi Lamido, former Emir of Kano
Peter Obi, former vice presidential candidate
Uche Secondus, Former PDP National chairman
Kayode Fayemi, Governor of Ekiti State
6. Anthony Obiagboso Enukeme's burial
Name of the deceased: Sir Anthony Obiagboso Enukeme
Net Worth of The Convener: Unspecified
Date of Burial: 14 August 2020
Duration: 4 days
Location: Neni, Anaocha LGA, Anambra State
Funeral Home Used: Unspecified
Unlike many others in the list of the biggest burials in Nigeria that were given lavish burials by their children who made their wealth, late Anthony was a business mogul popular for Tonimas Oil and Gas. His coffin was carried by a glass casket carriage plaited with gold. The casket allegedly cost about 34 million Naira.
The burial rite started on 13 August with a Requiem Mass in Abia State. He was buried on August 14, and on the 16th of the same month, there was a thanksgiving mass held in his name.
Prominent People Who Attended The Funeral Of Tonimas.
Senator Orji Uzor Kalu
Benjamin Kalu, member of the Nigeria House of Representatives
Emeka Nwaogu, Special insurance, and legal practitioner.
Dr. Alex Otti, politician and former MD and CEO of Diamond Bank.
7. Emeka Offor's Father's Burial
Name of the deceased: Benneth Offor
Net Worth of The Convener: $5.8 billion
Date of Burial: 18 November 2016
Duration: 4 days
Location: Irefi Oraifite, Anambra State
Funeral Home Used: Unspecified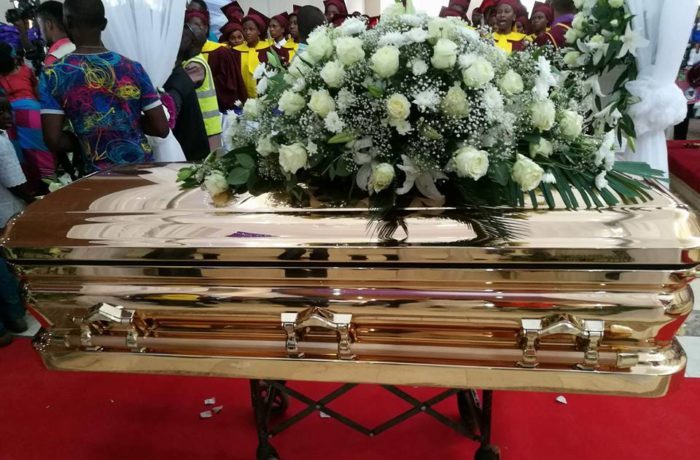 When Pa Benneth Offor died on February 11, 2016, it took his billionaire businessman son about 9 months to bury him in a procession from November 16 to November 19th. He was buried in a pure gold casket that allegedly cost 50 million Naira.
Dignitaries who attended the Burial
Former Governor of Imo State, Rochas Okorocha
Former Speaker of the National House of Representatives, Yakubu Dogara.
Victor Umeh, former national chairman of the All Progressives Grand Alliance (APGA).
Ifeanyi Uba, politician and businessman.
Summary of The 7 Biggest Burials in Nigeria
Mike Adenuga's mother
Obi Cubana's mother
Former Governor of Oyo State
Pastor T.B Joshua's Burial
Father of Udom Gabriel Emmanuel
Anthony Obiagboso Enukeme's burial
Emeka Offor's father's burial